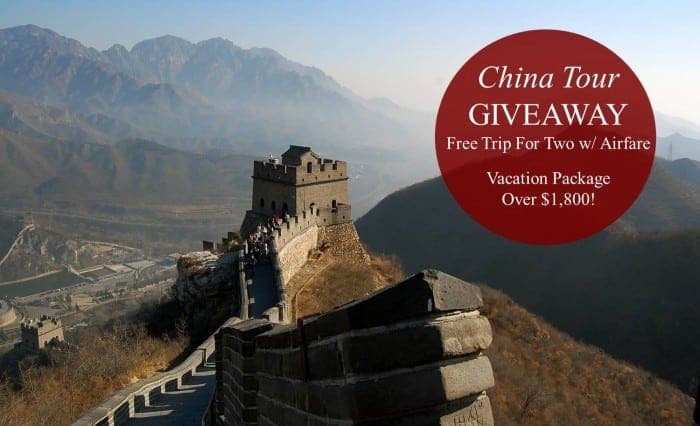 I have always wanted to go to China.  Other people would be talking about wanting to go to Europe or the Bahamas and I'm dreaming of China.  Not only is it one of the world's earliest ancient civilizations, it has had a complex economy that dates back 2000 years–I think my ancestors were still living in caves.
China is the birthplace of paper, of noodles, of silk.  It is where Buddhism flourished and the Tao Te Ching (one of my favorite pieces of literature) was written.  Along with India it's where the British learned to love tea–and I don't know about you but as a Southerner I could not live without my ice tea.
So I'm very excited to share with you this offer from smarTours:
"smarTours is offering a "once in a lifetime" journey to two of the world's most amazing destinations: Beijing and Shanghai. By simply signing up for the smarTours email list before November 9th, you will automatically become eligible to win the smarTours Beijing and Shanghai sweepstakes for a free and unforgettable trip for two to China!
smarTours' Beijing and Shanghai vacation package includes round-trip international airfare from San Francisco or New York's JFK airport, all airline fees, fuel surcharges and taxes, ground transportation, intra-China flights, accommodation at deluxe and first class hotels, daily breakfasts, optional sightseeing tours, and English-speaking tour hosts.
For a chance to win the trip of a lifetime, join the smarTours email list by November 9th! The smarTours email list provides subscribers with special deals and exclusive travel offers all across the globe — Africa, Asia, Latin America, India, and Europe.
Retail value of the promotion starts at $1800 based on double occupancy. Offer must be used for travel within one year of the promotion end date, and travel during April 2015 or a Christmas departure date is not available.
See full terms and sign up here: http://www.smartours.com/beijing-shanghai-sweepstakes/ "
Now I'm day-dreaming again and thinking about slurping noodles and shopping for cheongsam, the beautiful style of dresses worn by Chinese ladies.  Could I really sip tea in a Chinese tea house while sampling dim sum?  Maybe.
(This is a sponsored post, but I would truly love to visit China and see Beijing and Shanghai.  All opinions are that of All She Cooks and it's writers.)
The following two tabs change content below.
Melanie Goad
Melanie Goad is a freelance contributor to
All She Cooks
. She has a strong background in sales and retail management. She enjoys recipe development, crafting, photography, and travel writing. Melanie's blog is
From Scratch
. You can also find her on
tumblr
,
Pinterest
,
Linkedin
, and
Google +
.
Latest posts by Melanie Goad (see all)