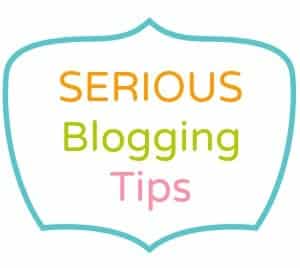 Serious Blogging Tips to Help You Grow Your Blog
Do you really want to grow your blog?  These serious blogging tips to help you grow your blog will start you on the right path:
GOALS
You'll never get anywhere if you don't have goals.  In order to have a successful blog (unless you just fall into luck), you have to set some goals.  Define what it is you want your blog to do.
Purpose
Along with goals, it helps to know what your purpose is.  What do you want to get out of blogging?
Is it financial gain?
An outlet for creative writing or a place to unwind?
Maybe you want to connect with other like-minded individuals.
Whatever it is… you need to write it down.  What specifically do you hope to gain?
Narrow the scope
I can't stress enough the importance of developing a niche early on in your blog, preferably from the beginning if you are planning to grow your blog into a traffic-generating and revenue-building website.
What are your interests?
What do you want to blog about?
It is hugely important to focus on a highly specific niche and build your blog topics around that niche.
This is not to say that if you have a cooking blog you can't write about something other than cooking, but the majority of your posts need to stem from your niche.  This is how you will develop a loyal readership and traffic.
Platform
WordPress.  WordPress.  WordPress.  Hands down, I can't recommend WordPress enough.  Not only does it have quality SEO built right in, but there are a huge number of plugins that allow for so many possibilities.
You can check out all the tools I used to set up All She Cooks on WordPress on the Resources page.
How much are you willing to invest?
Self-hosting on WordPress is the way to go, and it is it is pretty inexpensive.  I use Bluehost to host All She Cooks as well as my other blogs, and am thrilled with how easy Bluehost has been to work with.  Setup was a breeze and tutorials were available when I needed them.
For my template, I decided to go with Genesis from StudioPress Themes  because I had read so many great things about the quality of SEO built into the platform.  Genesis has many child themes to choose from to get a highly custom look without the expense of hiring a designer.  For more information on the child themes I considered check out my Resources.
The BIG investment will be your time.  To be a serious blogger takes a lot of time.  It's necessary in our Social Media age to build networks on Facebook, Twitter, Pinterest and Google +, and that's just for starters.    The more your face is seen… the more social you are… the more your blog will be recognized.
Statistics… track your growth.
It is important to know how your blog ranks if you want to work with advertisers or are interested in product review.  Here is a list of numbers you should know:
Social Media Followers/Likes: Facebook, Twitter, Pinterest, Google+
Google Analytics (or whatever analytics you use): Page views, Unique Visitors, Pages Per Visit, Bounce Rate.  You can also keep an eye on which posts are garnering the most attention, which will help you plan future posts.
Feed/Subscriber numbers
Next time, we'll talk about Monetizing…
The following two tabs change content below.
Latest posts by Jessica McCoy (see all)