Sticky Buns Recipe – Best Cinnamon Rolls
There are so many ways to enjoy a good breakfast, but we have to say that Sticky Buns have to be one of the greatest. As in…sweet and yummy and what a wonderful way to start the day.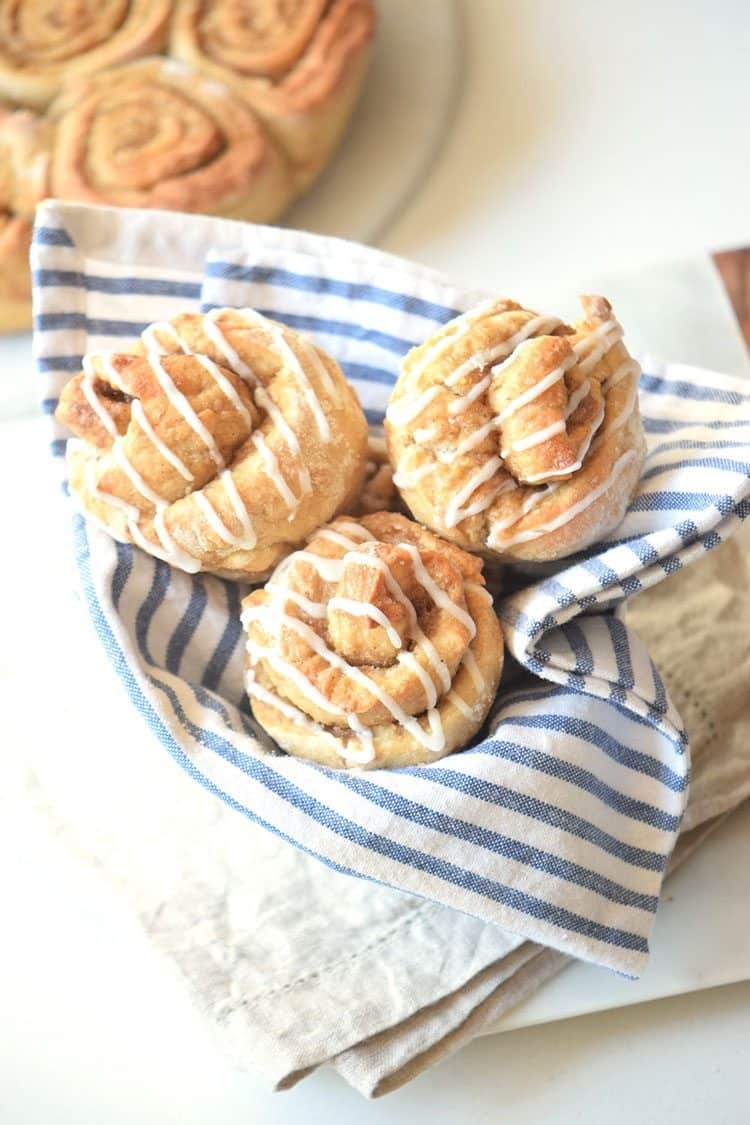 We've had our share of delicious treats here, including our fabulous Sweet Potato Rolls that are out of this world fantastic.
Breakfast sweets are always fun–and well received–whether they come in the form of Apple Pie French Toast, these tasty Cinnamon Rolls, or Chocolate Cream Cheese Croissants.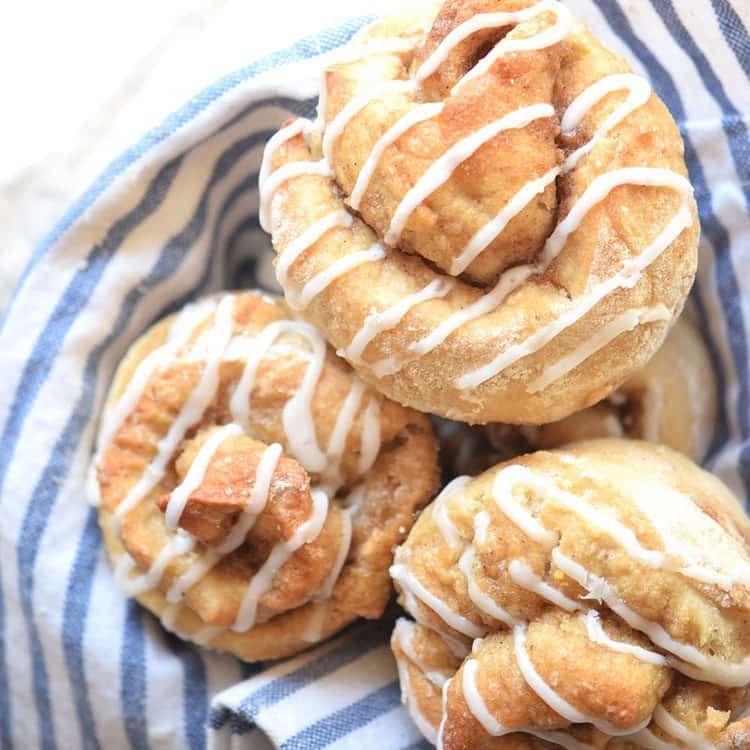 Pair our Homemade Sticky Buns up with some Oven Fried Bacon. If you haven't tried  Oven-Fried Bacon before, you will absolutely love it–we especially like it when we use our new baking bacon pan. It has amazing results.
Cinnamon Rolls take a little bit of time to make since they have to go through the rising process. Because of this, they are the perfect recipe to make on a weekend morning when you have a bit more time to be fiddling around in the kitchen.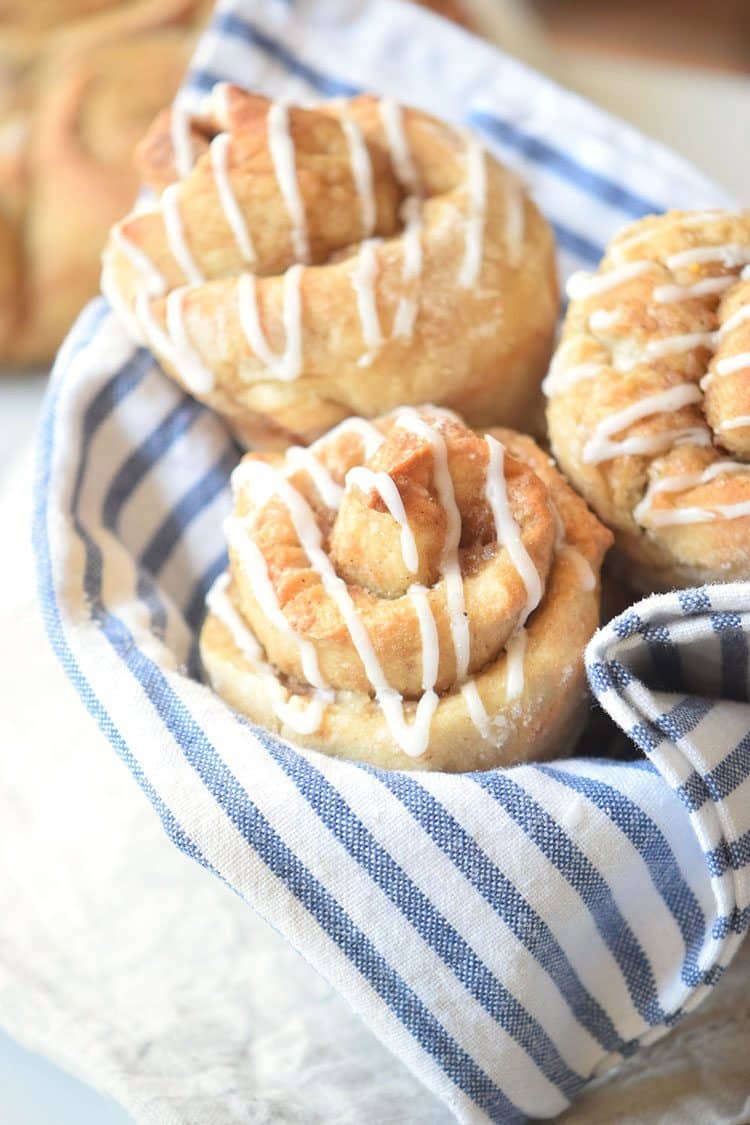 While You're Waiting–Meal Prep
While you are waiting for the dough to rise, you can do some meal prep for later in the week.  Maybe chop some vegetables so you have fresh veggies ready to go for snacking on. When vegetables are chopped up and ready to go, they tend to get used up a lot more quickly–reducing food waste.
If your kitchen is anything like ours is, when foods aren't prepped in advance, sometimes they tend to be forgotten–vegetables especially fall victim to this in our house.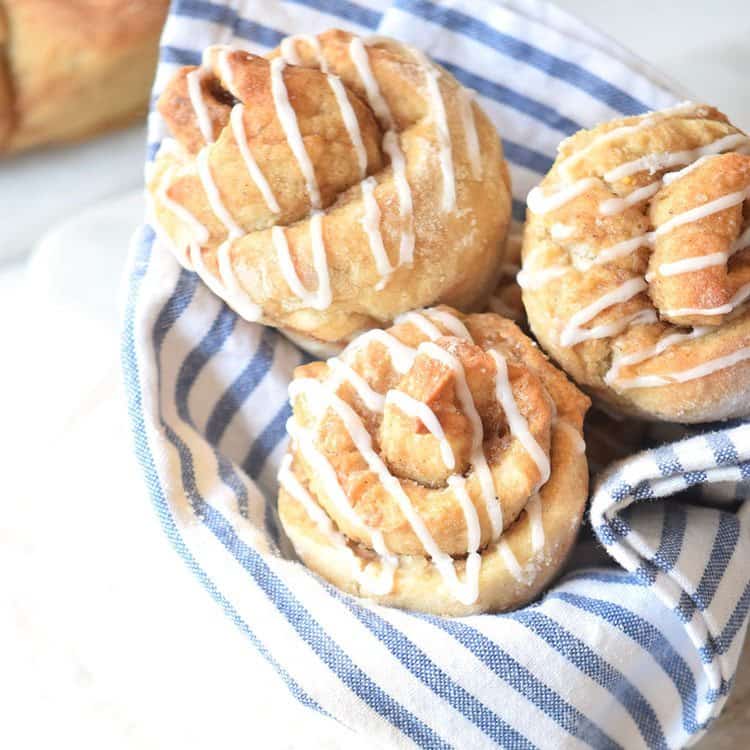 Cinnamon Roll Making Time
Once the dough has risen, it is ready to be rolled out, slathered with with filling, rolled up and sliced.
The baking is the best part (other than eating) because you are able to enjoy the aroma of cinnamon rolls wafting throughout the house. It is a winner every time.
Print
Homemade Sticky Buns Cinnamon Rolls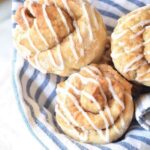 Ingredients
2 1/2 cups all-purpose flour
2 eggs
1/2 cup butter
2 teaspoons vanilla extract
1/2 teaspoon salt
1 teaspoon baking powder
3/4 cup milk
1/2 cup sugar
1 teaspoon ground nutmeg
Filling
1/2 cup melted butter
1/2 cup sugar
1 teaspoon vanilla extract
2 tablespoons ground cinnamon
Glaze
1/2 cup sugar
4 tablespoons milk
Instructions
Preheat oven to 370°F.
In a bowl, whisk the butter, sugar, and egg.
Add the flour, salt, ground nutmeg, baking powder, vanilla extract, and milk to the liquid mixture. Mix until getting a dough.
Transfer the dough to a table with flour and knead for 5 minutes.
Place in bowl, cover and let it rise for 50 minutes.
While waiting mix in a bowl the filling ingredients.
Transfer to a flat and floured surface and roll into a rectangle.
Spread the filling over the batter.
Roll it over and cut into buns.
Place in a greased baking dish.
Let them rise for additional 20 minutes and then take to the oven for 20-25 minutes.
Remove from the oven and let them cool down.
For the glaze, mix the sugar and milk in a small bowl.
Drizzle the glaze over the muffins.
Serve and enjoy.
Tips:
To amp up the crunchiness, add chopped almonds to the batter.

The following two tabs change content below.
Latest posts by Jessica McCoy (see all)