It wouldn't be summer without zucchini–especially if you're any kind of backyard gardener at all. Zucchini is one of those plants that just grows and grows. Give it a little water, a rainstorm, or even a sprinkle, and you'll likely end up with baskets of this versatile vegetable.
It's very forgiving.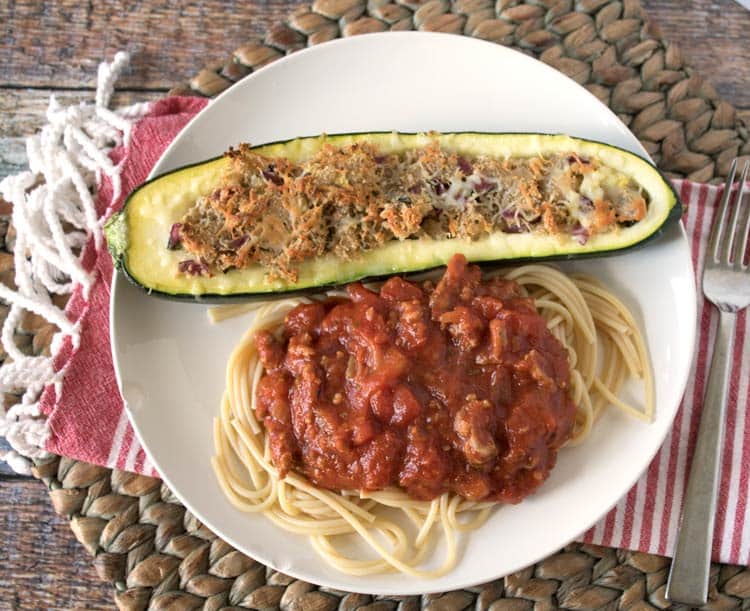 We love that we can add zucchini to just about any recipe and it melds with the other ingredients to perfection. We paired it with our homemade Spaghetti Meat Sauce, Hazelnut Cheesecake Dessert, and Copycat Olive Garden Bread Sticks.  All kind of yum happening there.
Toss some chopped up zucchini into a chili or pasta sauce, make zucchini bread or muffins, and don't forget about fried zucchini or stuffed zucchini. It's kind of like Forrest Gump and shrimp. There are all kinds of ways to use this delicious ingredient.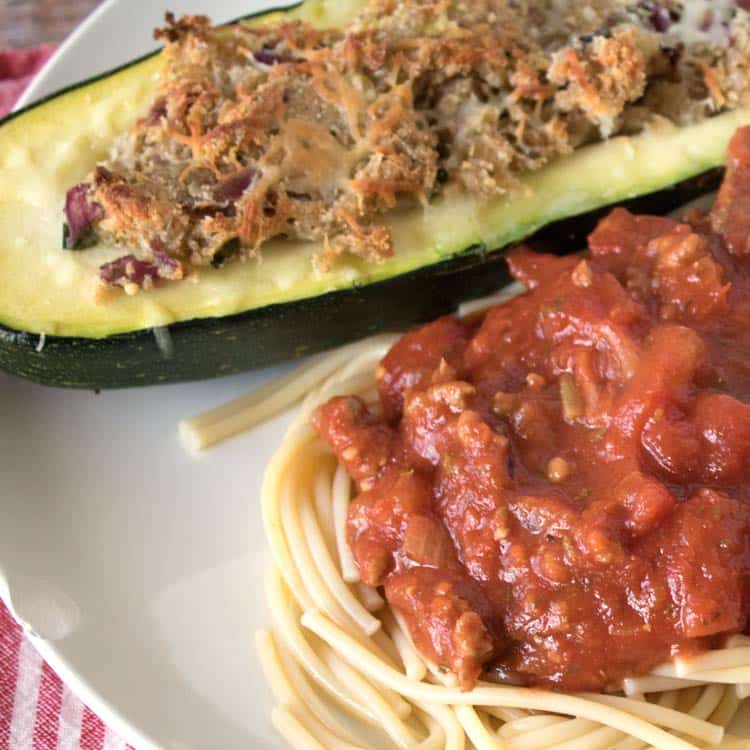 Now, this Stuffed Zucchini recipe isn't the same as a lot of other recipes I've made or tasted.  But it's equally good, just with a whole new flavor.
Breadcrumbs are the basis for the stuffing in this delicious stuffed zucchini, but its combined with a concoction of onions, seasonings and squash for a tasty experience you won't soon forget.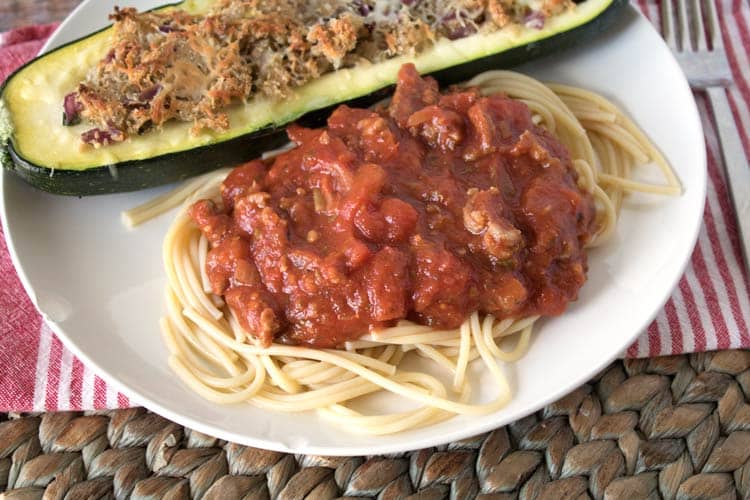 Print
Grilled Mozzarella Zucchini Boats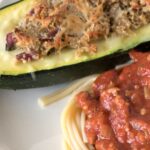 Ingredients
4 medium zucchini
5 t olive oil, divided
2 T red onion, chopped fine
1/4 t garlic, minced
1/2 C dry bread crumbs
1/2 C mozzarella cheese, shredded
1 T fresh mint, minced
1/2 t salt
3 T Parmesan cheese, grated
Instructions
Cut the zucchini's in half lengthwise.
Scoop out all the pulp leaving a 1/4 inch shell and reserving the pulp.
Brush the zucchini with 2 t of the olive oil.
Chop the zucchini pulp.
Place the remaining oil into a skillet over medium heat.
Stir the pulp and on in into the oil.
Add the onion and cook 5 minutes stirring often.
Stir in the garlic and continue cooking 1 additional minute.
Dump the bread crumbs into the skillet and stirring continuously cook for 2 minutes or until the bread crumbs turn a golden brown.
Remove the skillet from the heat and stir in the mozzarella cheese.
Add the mint and salt and stir until the cheese has melted.
Spoon the mixture into the shells.
Sprinkle the tops with the Parmesan cheese.
Grill over medium heat, covered for 10 minutes or until the zucchini is tender.
Makes 4 servings
These boats make a great addition to fish, pork or beef.  Sprinkle the top with a little paprika after they are grilled to add a little color to your meal. We skipped that step this time, but it is amazing!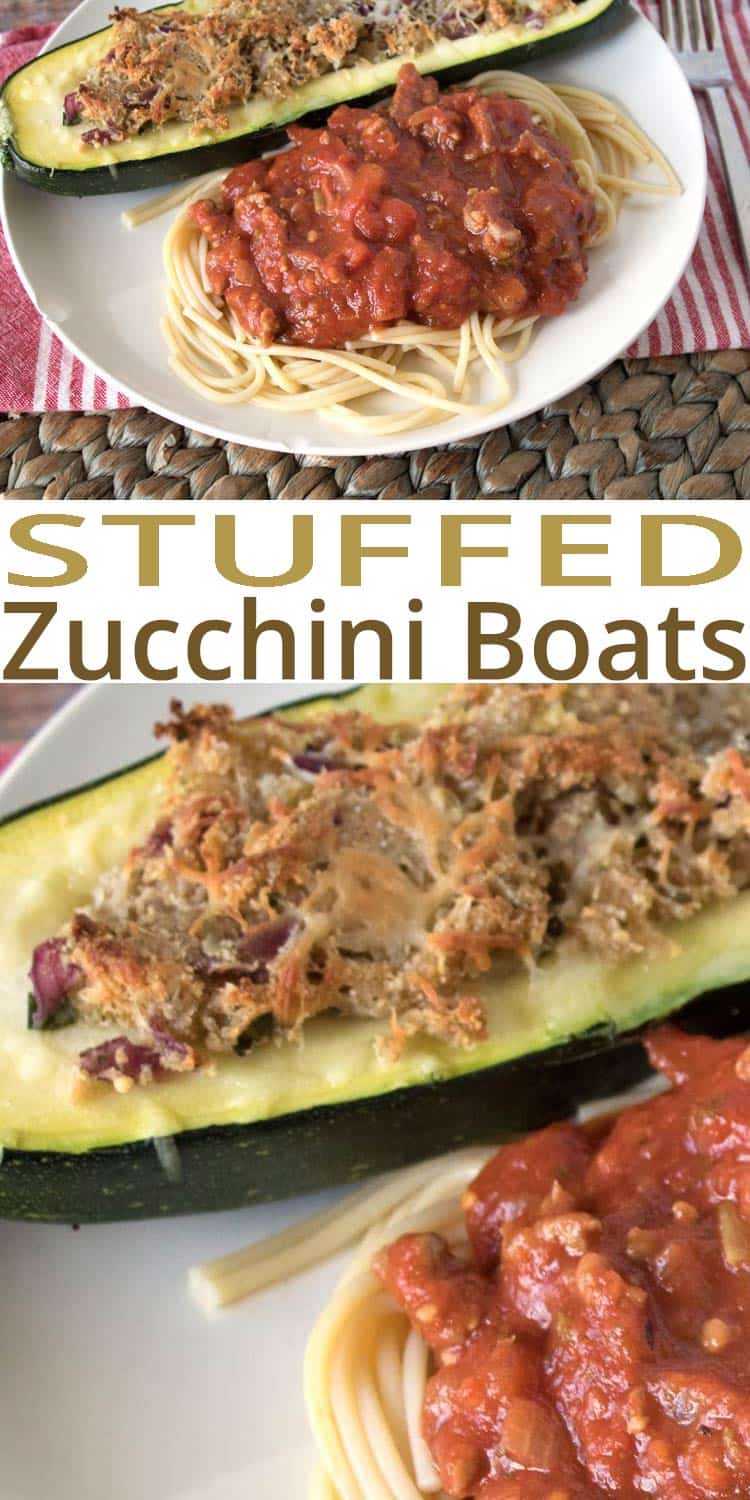 Save
Save
Save
Save
Save
Save
Save
Save
The following two tabs change content below.
Latest posts by Jessica McCoy (see all)