Sweet Potato Casserole with Pecan Streusel
Sweet Potato Casserole with Pecan Streusel?  Yes, please.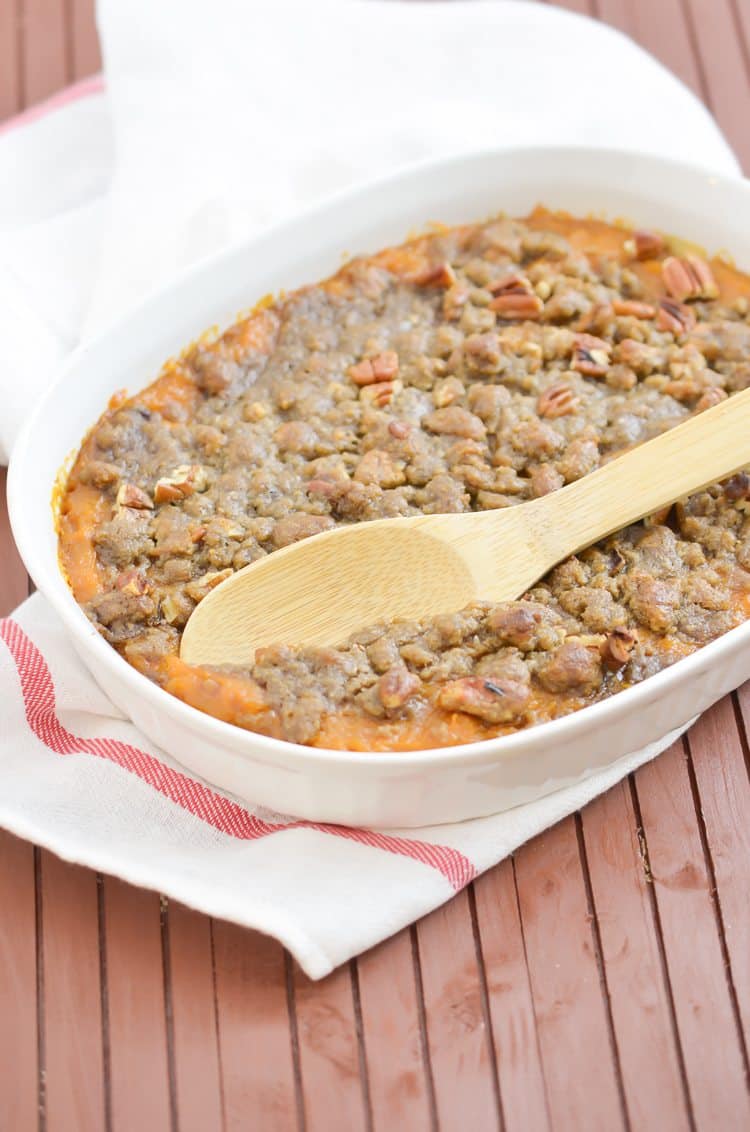 Many associate this sweet potato casserole with the holidays.  I just do not understand why this delicious yet simple dish gets no love and neglected for so many months throughout the year.  SMH.
I remember way back, when I first had sweet potato casserole I was like oh my goodness, what is this ugly beautiful masterpiece in my mouth?
Where has this been all my life? It is like a two in one. A side dish and a semi dessert.
If you like sweet potatoes, you might want to try these other delicious bites: Easy Sweet Potato Rolls, Southern Sweet Potato Pie, and Sweet Potato Frittata.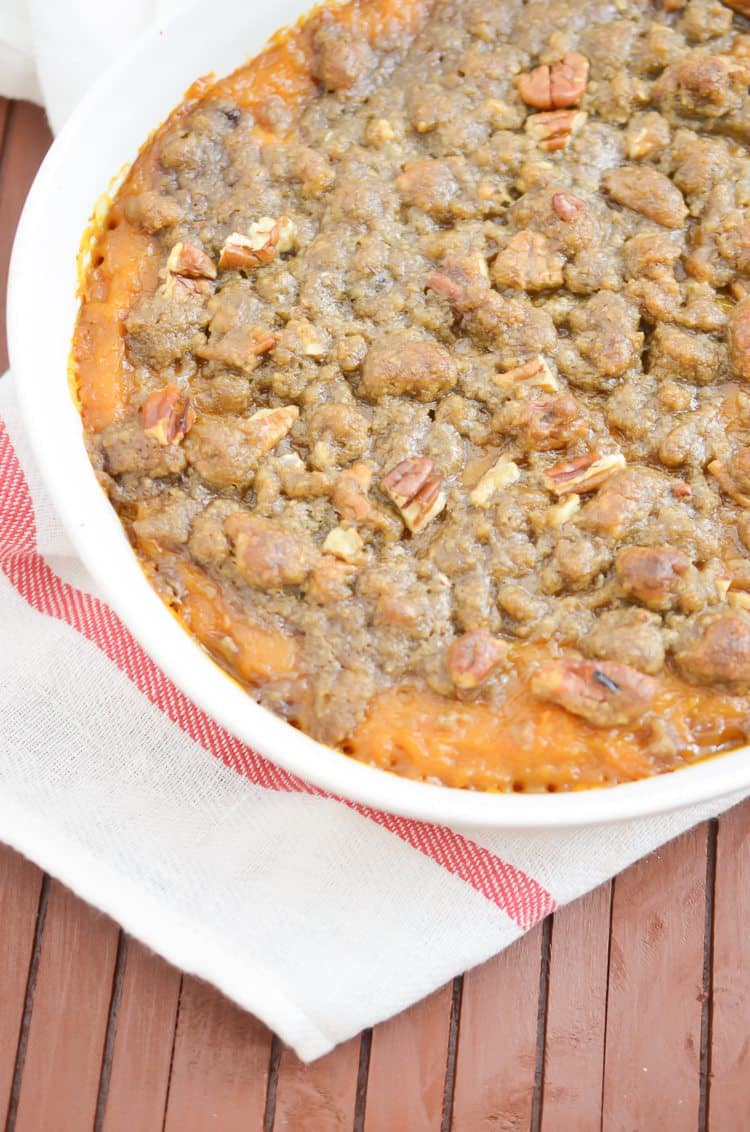 Can you beat a dish that gives you the best of both worlds?
I can't, so sign me up to eat anything  that can be both.  I hope I don't  sound too greedy, but it is what it is.
Now, about this sweet potato casserole.  Let me tell you, this dish  will have you loading up your plate with potatoes and forcing you to burn those carbs sooner than later.  LOL!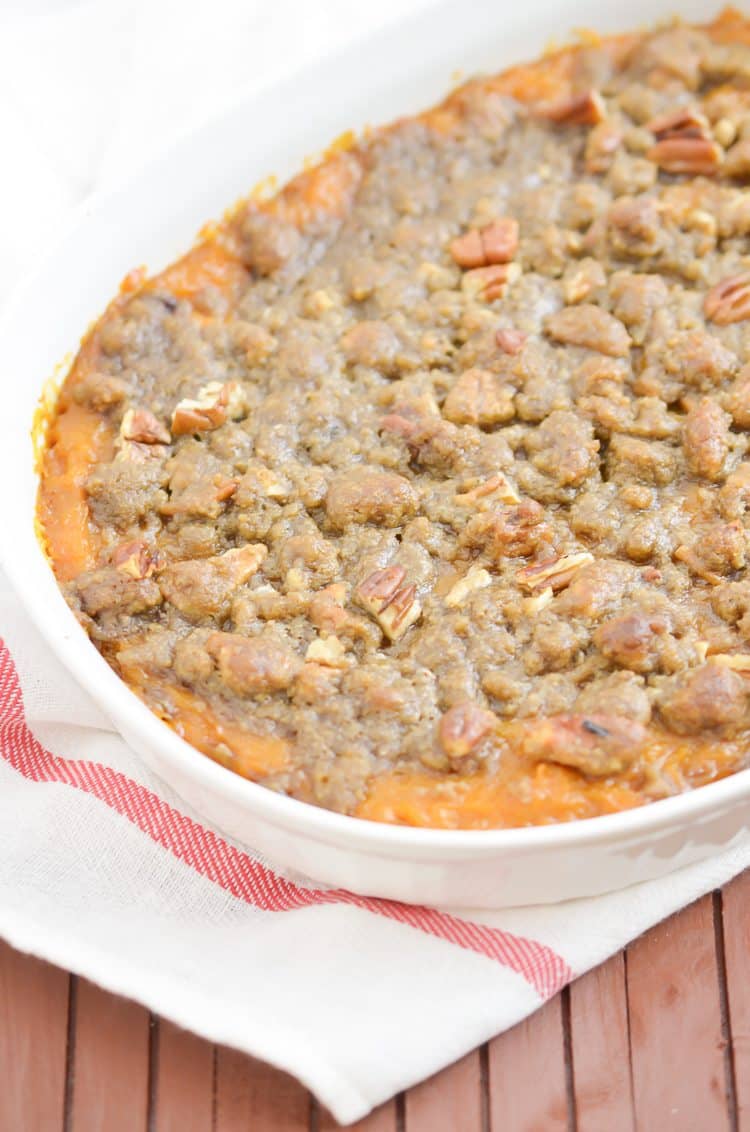 The potatoes are flavored perfectly.  Not too sweet and not too bland.  They get their flavor from cinnamon and vanilla.

 They are then topped off with with a pecanStreusel  . What more can I say?  The topping is so yummy you want to make sure you get some with your serving.
It is then baked in the oven and voila. Done. Your sweet potato casserole is ready to be picked apart and slayed with your cutlery!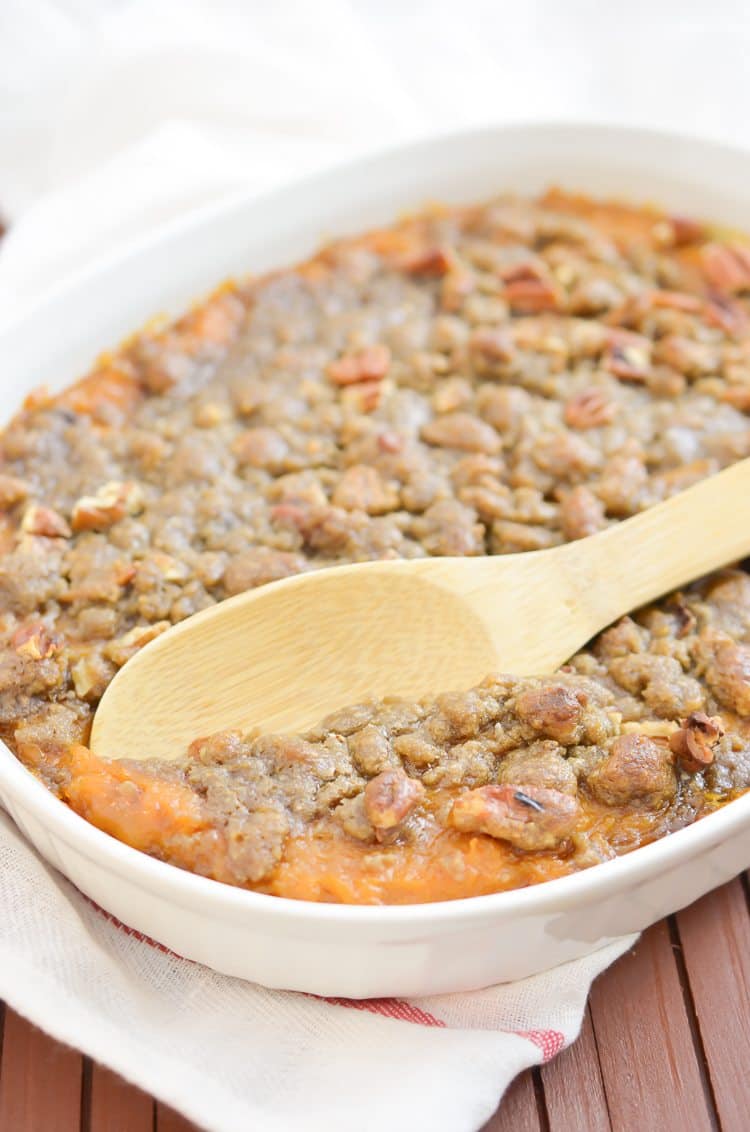 Print
Sweet Potato Casserole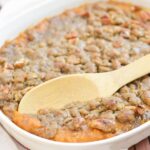 Ingredients
Sweet Potato Mixture
6 tablespoons brown sugar
1/8 cup granulated sugar
1/4 cup butter
1 teaspoon vanilla
1/4 teaspoon cinnamon
Topping
1/2 cup brown sugar
1/4 cup flour
1/2 cup chopped pecans
1/4 cup butter
Instructions
In a large pot, place sweet potatoes and enough water to cover. Heat to a boil. Let boil for about 20 minutes or until they are tender when pierced with a fork.
Drain potatoes and then peel the skin.
In a large bowl, add sweet potatoes and mash until there are no lumps.
Add sugars, butter, vanilla, and cinnamon.
Spoon mixture in a baking dish.
In small bowl, mix brown sugar, flour, pecans and butter.
Sprinkle it on top of the casserole.
Bake for about 20-25 minutes until it is golden brown.
Let dish sit for about 10 minutes before serving.

The following two tabs change content below.
Dionne is a contributor here at All She Cooks. She is the blogger behind Domestic Dee. She makes easy, quick, and flavorful recipes for people who value providing good meals to share with their family. To keep up with her she can be found on Facebook, Pinterest, Instagram, Twitter, and by subscribing to her blog.
Latest posts by Dionne Farmer (see all)