This Sweet Potato Frittata is one of my favourite recipes I reach for in the week, when I don't have the time or energy to be slaving over a hot stove! It's packed full of fresh flavors and takes less than an hour to throw it all together.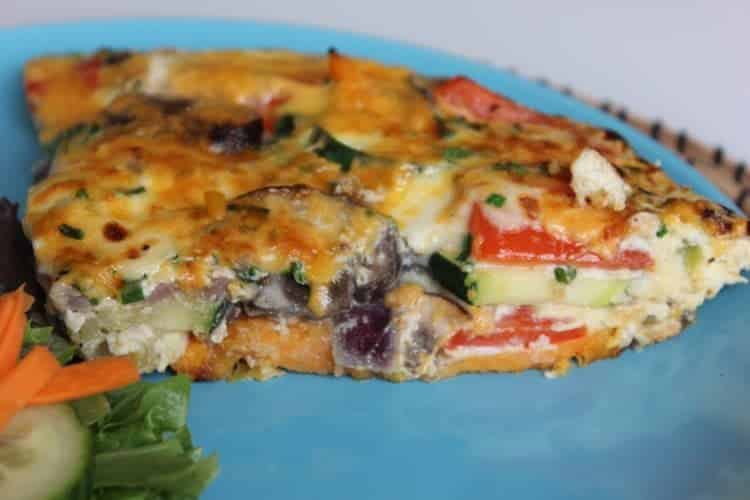 What makes this frittata stand out more than others is the layer of sweet potato at the bottom of the pan.
Looking for other breakfast recipes with eggs? Try this Egg White Scramble, Overnight French Toast with Cherries, or Southwest Breakfast Skillet.
Egg Frittata Recipe
The natural sugars in the sweet potato are released throughout the frittata during cooking to add another level of flavour to the dish. The vegetables should retain their firmness, be careful not to over cook them.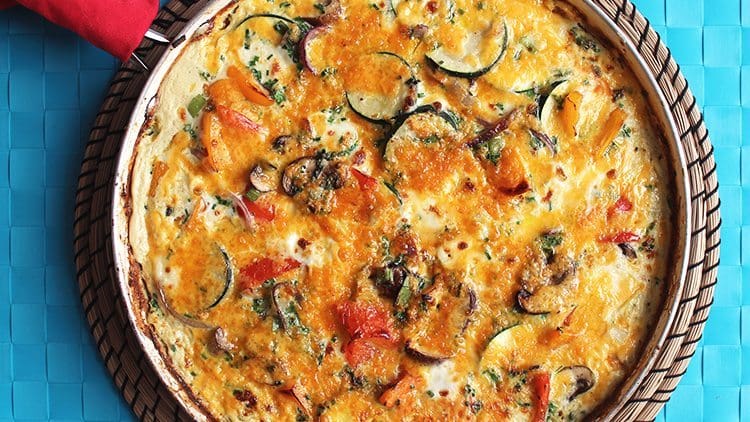 The aim here is to create a dish full of texture and flavour, no one likes a soggy frittata!
As there are only two of us in our house, this recipe makes one weeknight dinner, plus about three lunches for me, so it's a great economical dish. It's also vegetarian, healthy and gluten free.
Simple Frittata Recipes are a Win!
Use this recipe as a base for your own creations, swap in different kinds of veg or maybe add some meat, a spicy chorizo works well! Cooking is all about adapting and creating, so once you've got the hang of this classic dish make it your own!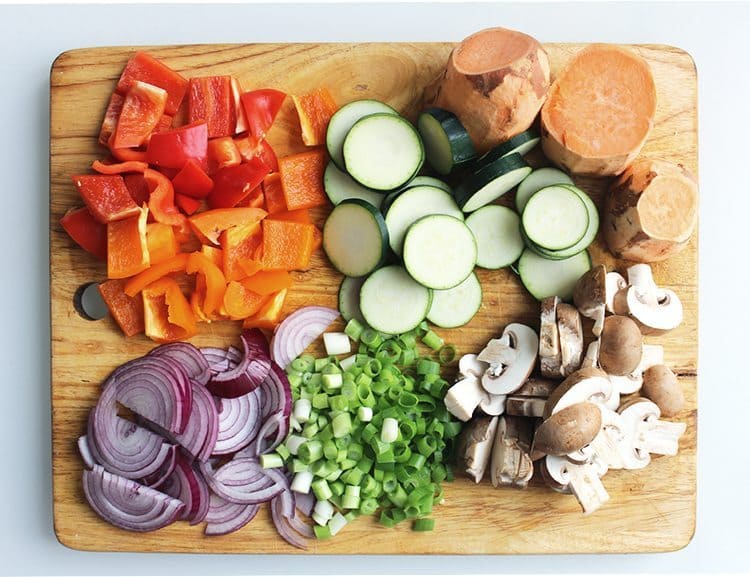 Print
Sweet Potato Frittata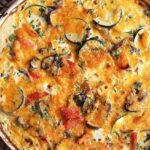 Ingredients
For the filling
1 sweet potato (around 475g)
1 red pepper
1 orange pepper
10 scallions
125g (4.4 ounces) chestnut mushrooms
1 zucchini
1 red onion
2 garlic cloves
For the egg mix
8 eggs
150ml (just under 2/3 cup) semi skimmed milk
15g (.5 ounces) fresh chives (finely chopped)
To finish
75g (2.6 ounces) mozzarella
100g (3.5 ounces) strong cheddar (grated)
salt and pepper
Instructions
Peel the sweet potato and cut into three even pieces. Put the potato in to a saucepan and top with cold water so that it is just covered. Add a good pinch of salt and put the pan on a high heat. Bring the water to the boil, and cook for about 15-20 minutes until the potato has softened slightly. It should still hold it's firmness, just test with a fork to ensure you don't over cook it. When ready drain the potato.
While you are waiting for the potato to cook, you can prep the veg. Slice all of the veg into bitesize pieces and finely chop the garlic. Heat a glug of oil in a large frying pan over a medium high and add in the garlic and chopped veg along with a good pinch of salt and pepper. Cook for around 7 minutes, stirring occasionally, until the vegetables have started to soften. Remember, you want to keep their texture, so keep your eye on them and don't over cook. You don't want them to colour too much. Once cooked, take off of the heat and transfer to a large plate.
Whisk the eggs and milk together in a large bowl and then stir in the chopped chives and a pinch of salt and pepper.
Slice the sweet potato in to 1cm pieces.
Pre-heat the grill on a medium heat.
Put the frying pan back on to the hob on a medium heat, and evenly spread the slices of sweet potato across the base. Spoon the cooked veg over the top of the sweet potato slices and tear up the mozzarella and place around the dish. Pour over the egg mix.
The trick to a frittata is not to move it around too much while it is cooking. Every couple of minutes run a spatula around the edge of the pan, and gently tilt the pan to move around the egg mix. After about 10minutes you will have a firm base with some liquid on top.
Sprinkle the grated cheddar over the frittata and put the pan under the grill for around 5 minutes until the cheese is a golden brown and there is no liquid egg mix.
Serve up with a hearty salad for a nutritious and delicious week night dinner and pop any leftovers in the fridge for easy lunches.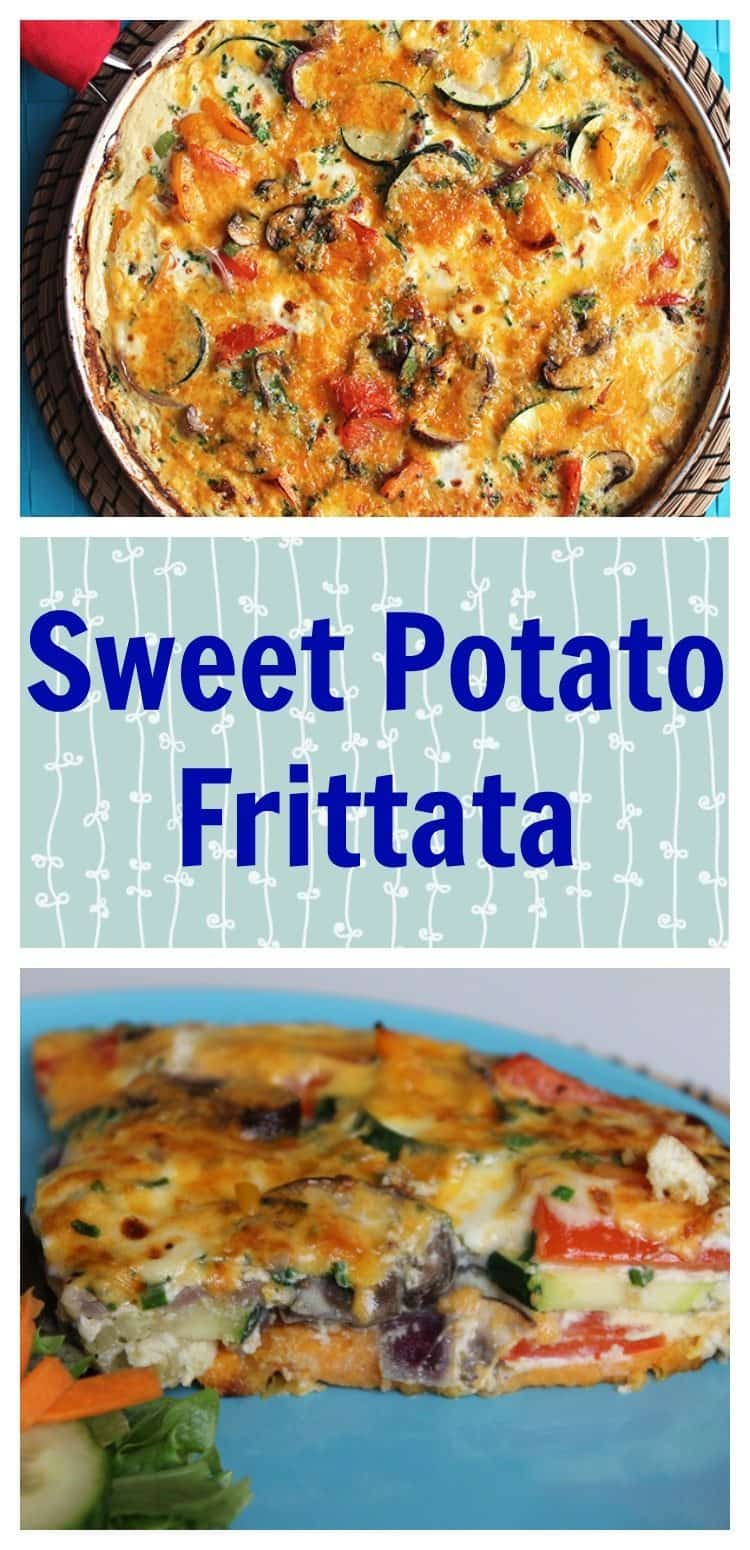 The following two tabs change content below.
Latest posts by Betty Davies (see all)