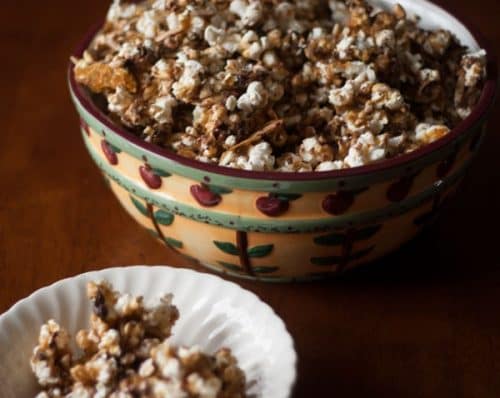 I have to admit, this was the first time I have ever made Toffee Popcorn at all, and you know me… I just had to go and add chocolate!  I couldn't go for the straight and narrow, would have been good anyway toffee popcorn.  I had to go all out and throw some chocolate in there.  Because, you know… I'm a chocolate addict.
If you want to doubt me, take a look at my Chocolate Archives.  Yeah, I wasn't kidding, was I?  My favorite seriously has to be Chocolate Peanut Butter Pretzels, but you might have a different one.
Making Toffee Popcorn with Chocolate isn't as difficult as you might think.  I won't lie… it's a multi-step process and is definitely something to make for a treat.
First, toast your almonds if you're going to include them.  They aren't a necessity, but I liked the addition: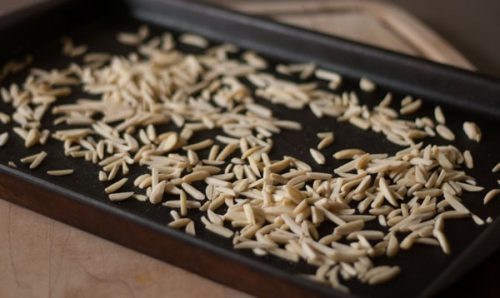 Pop up the popcorn, removed any un-popped kernels, and spread out on parchment paper lined baking sheets.  Trust me… using parchment paper will make your clean up so much easier!
The next step will be to make the toffee.  For this part you will add brown sugar, corn syrup, and butter and heat over low to medium-low heat until the mixture reaches a temperature of 250 degrees.  Patience is essential here, as is stirring while you're waiting for the toffee to reach the perfect temperature.
When the toffee has finished cooking, pour it over the popcorn and stir it around with a wooden spoon, trying to make sure that it is spread around as evenly as possible.  Don't worry if it isn't perfectly dispersed, because you will  have another chance to spread it out while it is in the oven.
Add chocolate chips, and it's time to put your Toffee Popcorn with Chocolate in the oven!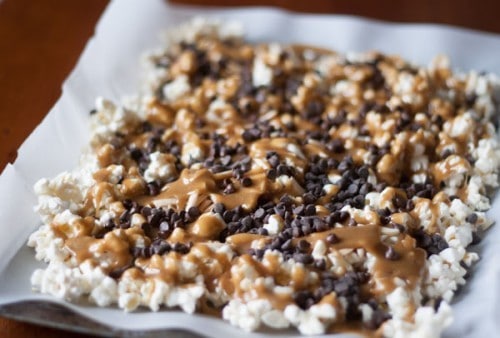 At a temperature of 225, bake the Toffee Popcorn for 15 minutes at a time, pausing to pull it out to stir.  The total oven time should be between 45 and 60 minutes, with the longer time length resulting in a crunchier toffee.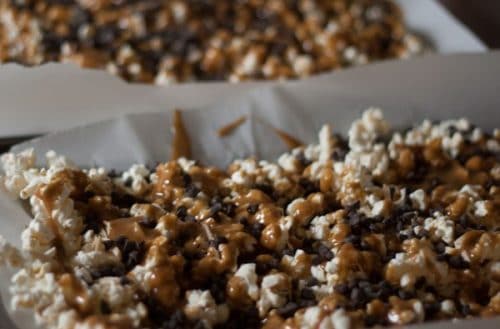 Print
Toffee Popcorn with Chocolate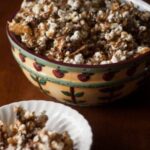 Author:

Jessica, AllSheCooks.com

Category:

Snack
Ingredients
2 regular size microwave bags natural-flavored popcorn
3/4 cup slivered almonds
1 1/2 cup dark brown sugar
3/4 cup light corn syrup
3/4 cup butter
3/4 teaspoon vanilla
3/4 teaspoon baking soda
3/4 cup chocolate chips
Instructions
Prepare popcorn. Pour out onto parchment paper lined baking sheets.
To prepare toffee, add brown sugar, corn syrup and butter to saucepan and cook over low to medium-low heat on stove-top. While stirring constantly, bring to a temperature of 250 degrees. You will need a candy thermometer for this step.
Once the temperature has reached 250 degrees, removed from heat and add vanilla, which will steam when you stir it in, followed by baking soda. Stir to combine.
Pour toffee over popcorn, stirring to disperse as much as possible. Add chocolate chips by sprinkling them over the top.
In oven preheated to 225, bake for 15 minutes at a time for 45-60 minutes. After each 15 minutes, take the popcorn out and stir to ensure toffee is well dispersed.
Let sit for 30 minutes to an hour, or until toffee and chocolate are set.
The following two tabs change content below.
Latest posts by Jessica McCoy (see all)