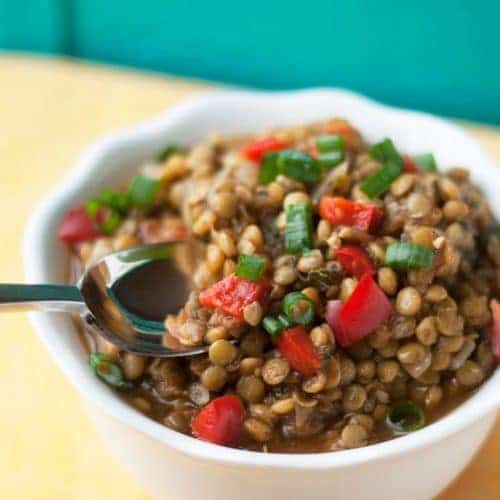 I have to be honest.
When I was a kid, I would never have taken a bite of this simple soup.  Lentils.  One of those forms of dried beans and legumes that I have only become familiar with in the last several years.
My childhood exposure to beans, at least as much as I can remember, was in the form of chili and an amazing Taco Salad with kidney beans in it that my grandma used to make.  But those were out of a can too, as I recall.
I am not knocking a can of beans. In fact, I love canned beans.  They are convenient, healthy, and taste great too.
However, there is nothing like pulling out a bag of beans, rinsing and sorting, soaking if required and then cooking a recipe completely from scratch… without using a can opener.
Seasoned just right, a legume takes on the flavor it is given.  With this soup, I chose to spice it up a little and used my DIY chili seasoning, garlic, onion, parsley, salt and pepper.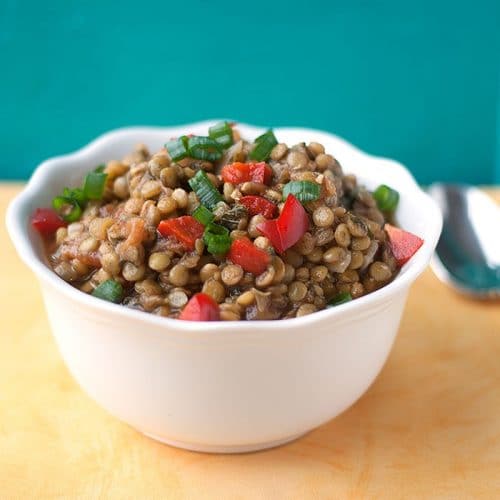 Now… I'm giving you the truth here.  This simple soup was a hit at our house.  For some of us.  My husband was out of town, so he missed out.  Our son loved it and was impressed with how colorful the dish was.  I used fresh tomatoes and cooked them down in the soup, and they were very vibrant.
Our daughter was the holdout.  She was like I would have been as a kid.  I think it had something to do with being unfamiliar with lentils.
Lentils would have been one of those words that back then would have made me think twice.  And most likely pass up this gorgeously delicious dish.
Maybe you have words or foods that do that to you?  Mine are hominy, liver, and grits.  I won't eat them and don't like to think about them.  You might call that crazy, but there is something about wrapping my head around the idea of a food that just doesn't cut it when it comes to those three.
Tomato and Lentil Soup on the other hand… I'm down with that.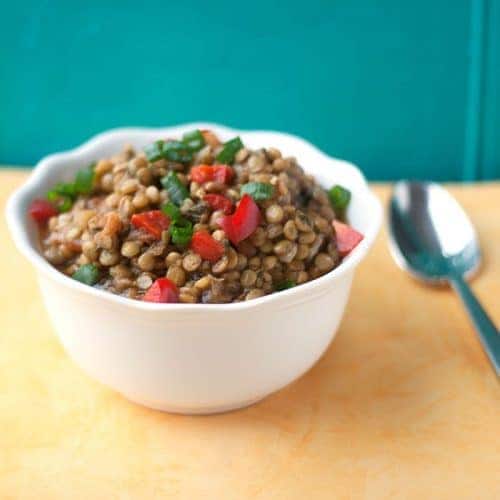 This soup is really easy to throw together and doesn't take a ton of skill in the kitchen.  Modify the spices to your liking.
Print
Tomato and Lentil Soup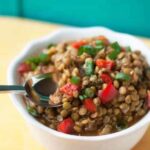 Author:

Jessica, AllSheCooks.com

Category:

Soup
Ingredients
6 Cups water (or 3 cups water and 3 cups chicken broth and omit chicken bouillon)
3 Cubes chicken bouillon
1 Quart tomatoes (whole or diced)
16 Ounce package lentils (I used brown)
2 Cups chopped kale
1 Red pepper chopped
1/2 Red onion chopped
2 Large garlic cloves
2 Tablespoons dried parsley
1/2 Teaspoon pepper
1 Tablespoon DIY chili seasoning
1 Teaspoon salt
Instructions
Combine water, prepared chicken bouillon, and tomatoes in stock pot. Heat to boiling, and crush tomatoes.
Add next 5 ingredients and simmer for 30-40 minutes or until lentils are tender but not mushy. Adjust cook time according to type of lentils used.
Add remaining spices, stir and serve.
The following two tabs change content below.
Latest posts by Jessica McCoy (see all)