Travel season is upon us, and whether traveling for business or pleasure, today's travelers are tech-savvy.  From the smallest child on up to senior citizens, travelers are equipped with the latest in technological toys.
Technology passes the time during our trips, making airport layovers and continental road-trips go faster.  The latest in digital cameras as well as iPhone protective cases allow memories to be captured in ways never thought possible.  Noise-cancelling headphones allow passengers to chill out in their own little world, while portable USB chargers allow people to stay charged up.
Check out our picks for the Top 10 Tech Savvy Travel Must-Haves.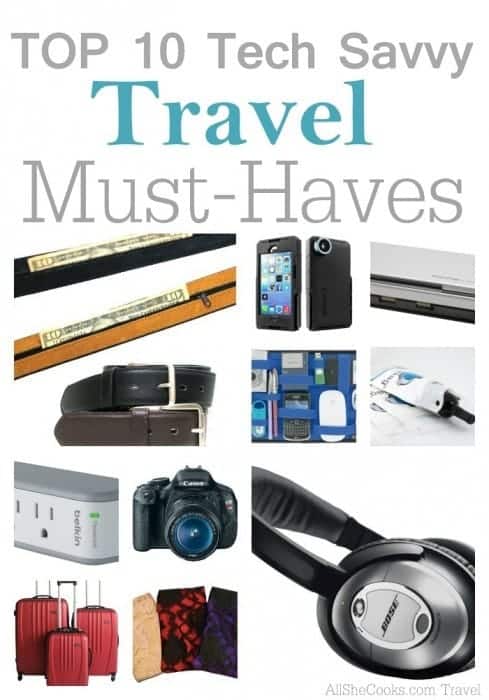 1. Keep your cell phone, iPad or tablet charged on the go.  Portable USB Charger by EasyACC, available here.   In our cell phone and technology charged era, the only way we can stay plugged in on the go and not worry about our cell phone battery drain is to ensure there is a portable charge source.
2.  The best DSLR camera to snap those memory-making moments.  Made by Canon, the Canon EOS Rebel is the way to go.  Get it here.
3.  Protect your duty-free wine and/or other alcohol by investing in reusable padded absorbent bottle bags.  I mean hey… they're looking out for you!  Jet Bag by Idea Mia, LLC., available here.
4.  A set of luggage with spinner action so you can zip through the airport or train terminal and actually make your connection on time.  Made by Travel Time, available here.
5.  Avoid the pick pocket with a money belt or secret stash!  Braza Secret Stash, available here.  Money belt by LIC, available here.
6.  A multi-outlet mini swivel charger with USB ports.  Because let's face it: hotels never provide enough.  Made by Belkin, available here.
7.  Noise Cancelling Headphones will help you relax, no matter if you are on a plane or in a van full of kids.  Made by Bose, get them here.
8.  Goodbye GoPro, hello HitCase!  Be active and capture memories at the same time.  Made by Hitcase, get it here.
9.  Enjoy a paperless vacation!  Whether you're traveling for business or pleasure, scan all your travel documents into PDF and carry them with you in the cloud.  Want even more?  Carry your ScanSnap on your business trip and scan paperwork on the go, so you don't have to bring it home.  Made by Fujitsu, get it here.
10.  Get all your handheld electronics organized with a Cocoon Grid-It Organizer.  Made by Cocoon, get it here.
The following two tabs change content below.
Latest posts by Jessica McCoy (see all)