People often dream about travel and devise ways to make a vacation happen. There's a few ways to do this, either by seeking out seat sales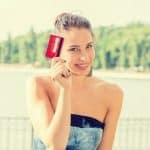 in low seasonal periods, using aggregator sites that can save you money on flights, or utilizing travel rewards credit cards.
When purchasing items with a travel rewards card, most of the time anything you buy is matched dollar to point. So if you spend $300, that equals 300 rewards points, for example.
You can imagine how easy it is to accumulate points, but once you've gathered enough points to book a trip, there's actually a finesse to making the most of your rewards.
Go to the Source
While the Internet has become handy for the intrepid traveler to seek out flights, your best bet is to simply call the airlines reward desk and ask about potential routes or alternative dates. Some airlines now charge to for this service, so to avoid paying, notate the flight number and dates of departure and arrival. Now go back on the Internet and book the flights you want directly.
Finagle Upgrades
Now that you're getting the hang of booking flights why not attempt to fly in some comfort?
Some don't know they can use their miles to upgrade to business class. International airlines like AirFrance and KLM and their alliance partners let passengers upgrade with a certain number of air miles. As well, domestic airlines such as American Airlines let you upgrade based on a chart, which is found on their website.
Read the Fine Print
Once you sign up for a travel rewards card, take a peek at the other benefits it has to offer; you'll be surprised what they are.
Travel insurance is a big perk, which likely covers lost or stolen baggage, delayed flights that might cost you to miss a connection, or medical and car rental insurance. Other perks might include using your points to pay for extra baggage when you check in for a flight.
The daily benefits are there as well. Some cards give you purchase protection, so any item you buy that is lost, stolen, or damaged may be partially reimbursed. Or sometimes you have price protection. If you buy a projection TV for $2,000 but see the same model at a different store for $1,500, obtaining a refund from the credit card company is possible.
Make Minimum Purchases
A travel rewards credit card often wants you to make a minimum amount of purchases before your points kick in. Time this well to either buy gift cards that you can apply to an online account and draw from during the year, or plan for a bigger purchase that you will pay down for the rest of the year.
One thing to be cautious of is overspending. If travel is your ultimate goal, don't accumulate debt you can't handle in the quest for travel rewards. Always balance your income with your expenditures.
Be Flexible but Plan Early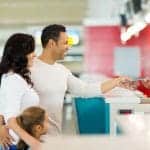 Sounds like a contradictory tip. Let me clarify: airline websites are more interactive than ever, so utilize a rewards map to research routes that sell rewards seats. Try to be flexible on what airport you arrive at. Major airports are sometimes difficult to secure rewards seats, while secondary ones don't sell as quickly.
Planning early for your trip is another key to hacking rewards. Usually airlines sell a bulk of rewards seats for one week, but then not the next week. It pays off to constantly check the airline website to see when potential seats will be available. You don't want to wait till the last minute and be caught with no seats!
Use Them for Other Travel Purposes
Rewards programs have broadened their range quite a bit and now you are able to apply rewards to hotels and rental cars, not just for flying to far flung places any longer.
Investigate a bit before booking though, as only certain hotel chains or rental car companies may be covered, and there could be other fees you have to pay.
It's a smart idea in general to review your rewards program at least monthly, since ways to maximize points and redeeming them can change from time to time.
The following two tabs change content below.
Latest posts by Jessica McCoy (see all)