Thanks for joining us for another week of meal plans.
We've been BUSY around here lately, and I do mean busy.  The blog has been hopping, and we're growing like mad.  Seriously, it seems like one positive thing after another is happening on All She Cooks… behind the scenes.  Starting in October, we're going to have a whole panel of monthly contributors, sharing recipe round-ups, their recipes and more.  I am beyond excited to have a team of such wonderfully amazing women to work with!  I'm pretty sure you'll recognize a few of them. 😉
But… that's enough about me and the ole blog.  I mean,  you came here to meal plan, right?  But first… one last reminder about this big giveaway that we've got going on.  It ends on 9/23!!  What are you waiting for?  We're hosting a giveaway of a Hamilton Beach kitchen appliance prize package, worth about $170! Giveaway is open to US residents only. You can enter it right here on All She Cooks.
Ready to get your meal plan on?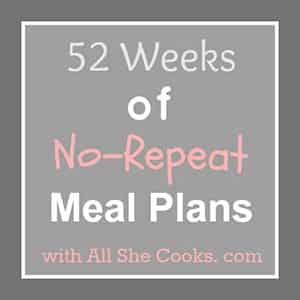 Easy Dinner Ideas:
Angola Chicken Stew
Chili Cheese Tater Tot Casserole
5 Ingredient Zucchini Linguini
Tex  Mex Rice Stuffed Pastry
Slow Cooker Chinese Hacked Pork
Creamy Chicken Enchiladas and Spanish Rice
Quick Lunch Ideas:
Broccoli & Grape Pasta Salad
Bacon, Tomato, and Brie Grilled Cheese
Baked Stuffed Tomato- scale it down to one if that is all you need
Cheesy Potato Skins
Fun Desserts and Snacks:
Applesauce Truffles
Caramel Apple Parfaits
Delicious Breakfast Ideas:
 Bacon Cheddar Scones
Sausage and Egg Biscuits
Sweet and Spicy Pancakes
Pumpkin Loaf with Cream Cheese Filling
Sausage Egg Casserole
The following two tabs change content below.
Latest posts by Jessica McCoy (see all)