It's Week 8 of 52 Weeks to a Cleaner House. The country is being pounded by a winter storm. And I'm still trying to keep my house clean and organized.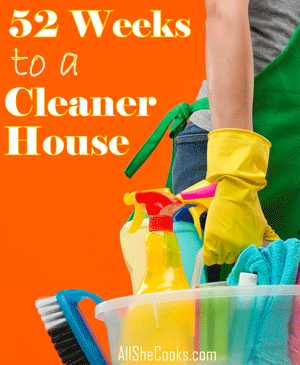 I wonder if Ice Age mothers sounded anything like me when their husband and kids came inside from being out in the snow. I get a laugh thinking about them barking the same orders that I do. (Well, sort of the same orders.)
"Don't track that slush in here! Where's your other glove? Don't just toss your mammoth skin on the couch.  Hang it up! No sir, you are not cleaning that seal carcass in my kitchen sink! I told you to leave your boots outside!"
Surely they had a better system than I did for keeping the snow-covered chaos to a minimum.
This is my first winter ever living in an area that gets more than a once-a-year millimeter dusting of the white stuff. And the main thing I've learned is that snow is messy! It gets mixed with dirt and tracked into the house where it melts in 0.9 seconds on my hardwood floors. And then there are the thirty-seven layers of clothes and snow accessories in varying degrees of wetness scattered throughout my house.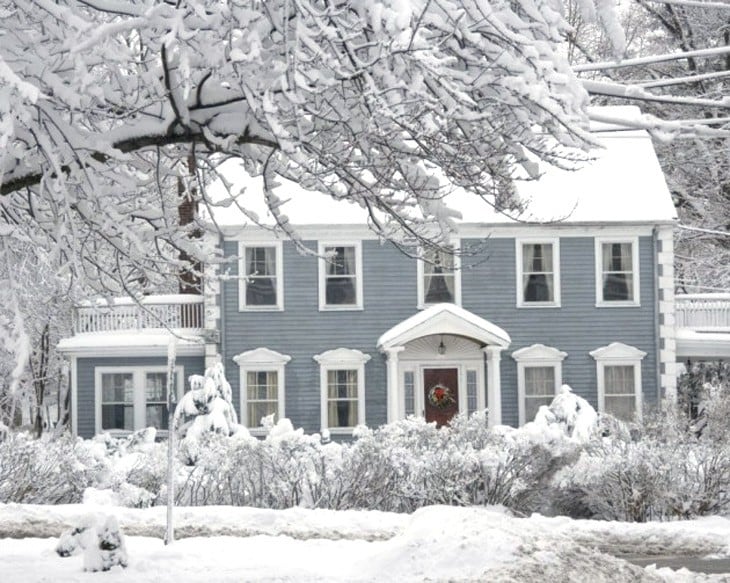 As a clean freak (or at least a clean weirdo), I wasn't prepared for this! New systems had to be devised and implemented. Being the only Southerners in a neighborhood made up of cold weather veterans, it wasn't hard to get advice on "how to keep the snow mess to a minimum."
If you're a warm weather native like me, and getting frustrated with damp rugs, slush on your floors, scattered outerwear and such, read the following organization tips from my winter-wise neighbors. They've certainly helped me.
Leah from New York:
"I keep all cold weather gear in the garage. We have lots of hooks and cubbies for gloves, socks, shoes and coats. Oh, and my boys have three sets of winter gear because it gets cold and wet so quickly. The only things that come inside (other than for washing) are when they put their boots on the heating vents to dry out. But they take them off outside first."
Shari from Maine:
"Luckily, my washer and dryer are right next to the back door. We don't walk beyond that point without taking off all our snow stuff. It goes right in the dryer. I also keep two large bins there: one for hats, scarves and gloves and the other for coats, snow pants and dry boots. They're labeled as such so the kids know what goes where."
Wendy from Pennsylvania:
"I gave up on getting my kids to take off their boots before coming in the house, so I invested in a high quality Mudhog outside doormat from LL Bean. It's the best I've seen for brushing off snow and slush. And I keep a towel at the door to wipe up the inevitable stray droplets."
Click here to check out Mudhog doormats.
Natalie from Michigan:
"Our house is small and doesn't have a garage, so I've turned the front foyer coat closet into "snow gear central." Inside, each family member has a cubby with their name on it for socks, scarves, hoodies, face masks and ear muffs. That stuff never goes upstairs to get lost in the kids' rooms. Even after being laundered, it goes right back to the coat closet. I also keep a few towels in there for wiping up messes. Coming in from the cold, we put wet items on the foyer floor vents to dry. Oh, I almost forgot the shoe rack! Last year, I hung a shoe rack on the inside of the closet door. Talk about a time and space saver!"
These are just a few tips from the smart, practical moms who I'm lucky enough to have as neighbors. If they share any other useful ideas, you know I'll share them.
Stay warm!
The following two tabs change content below.
Angela Weight is an award-winning journalist, blogger and somewhat motivational speaker, originally from Wrightsville, Georgia and currently living in Richmond, Virginia. Her laugh-out-loud accounts of life's ironies and irritations can be found on her blog angelaweight.com aka
Sanity Waiting to Happen
. You can also find Angela on
Instagram
and
Pinterest
.
Latest posts by Angela Weight (see all)