This shop has been compensated by Collective Bias, Inc. and its advertiser. All opinions are mine alone. #RollIntoSavings #CollectiveBias
I am always happy to find a new recipe that fits the bill for simple dinners and low budget meals, so I thought I would create a new recipe for all of your meatloaf lovers out there.  Zesty Mini Meatloaf uses a classic sauce you likely have in your pantry or refrigerator, but if you don't have any on hand, you can find it (along with other KRAFT products) on rollback at Walmart, which is always a nice way to save money.  For dinner I paired the meatloaf up with a couple of  yummy and simple sides: Velveeta Shells & Cheese Cup and veggies with cheese.  Now, that is a food group focused meal!
For many people, money can be tight around the 1st and the 15th of the month, or whenever your paydays are.  I remember days of my husband being active duty military (enlisted) and us relying completely on one income.  It was always a stretch.  I learned then to really watch our food budget and work to stretch groceries throughout the month.  And, its a habit that I've continued even while our income has increased.  It never hurts to be a savvy shopper!
Think you can't make a meal for $20 or less?  Think again!  Most of the meals I make are $20 or less… many of them are even less than $10.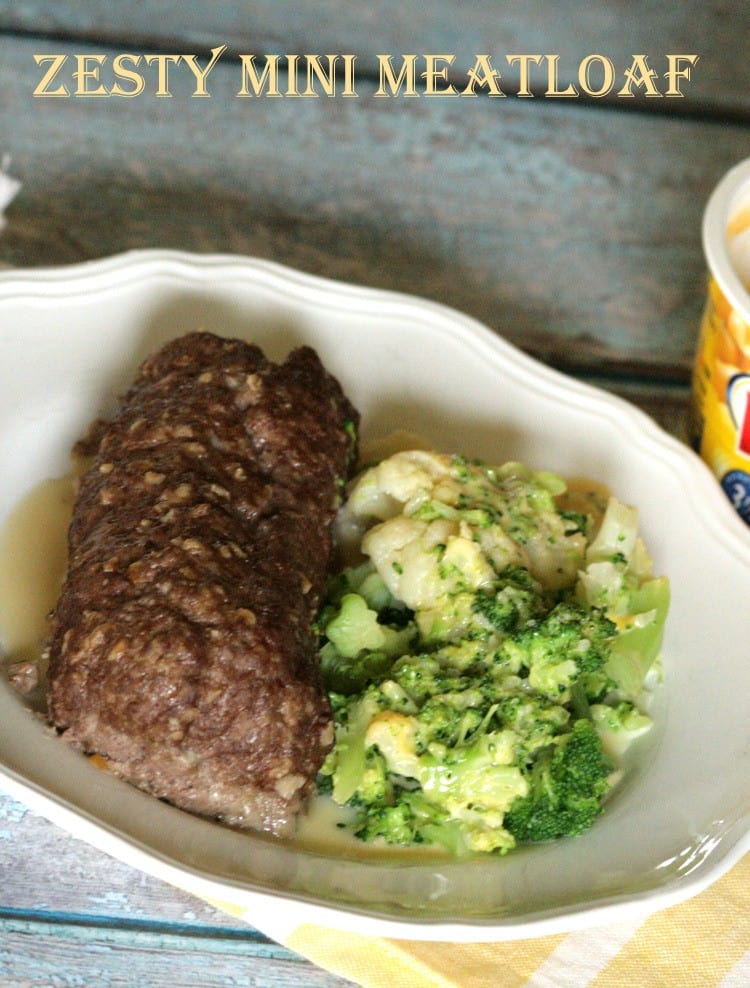 Delicious meals don't have to break the bank.  Not to mention the time-savings that you'll garner when you whip up this fantastic dinner complete with a side of KRAFT Velveeta Shells & Cheese Cup.  Or, if you want to get really creative… try stuffing your meatloaf with KRAFT Velveeta Shells & Cheese.  I'm thinking that would be a rather tasty surprise.
If you are a meatloaf lover, it's time to shake things up!  Try our Zesty Mini Meatloaves, that not only have a kick of KRAFT Zesty Italian Dressing, but also have cheese in the middle!  I'm thinking Zesty Cheeseburger in Paradise, meatloaf style.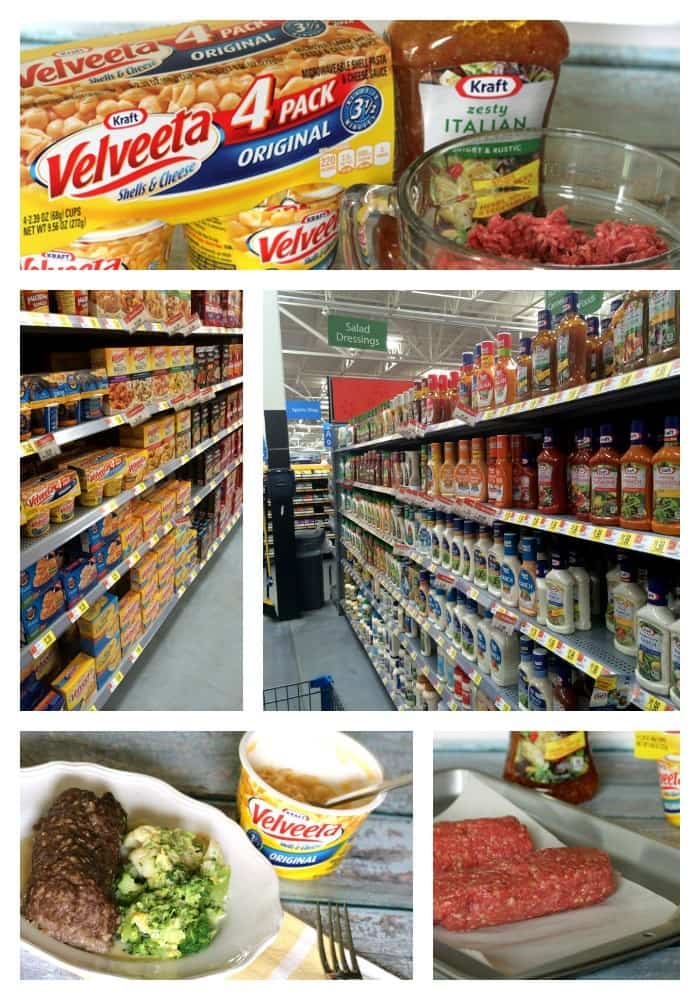 This simple recipe takes just a few minutes to prepare.
Hamburger, egg, Italian dressing, instant oatmeal, and spices are mixed together.
Divide hamburger into 2 equal portions and flatten out.
Then, place cheese in the center.
Use parchment paper to roll up hamburger around the cheese and press it down to seal it up.  You don't want all the cheese oozing out!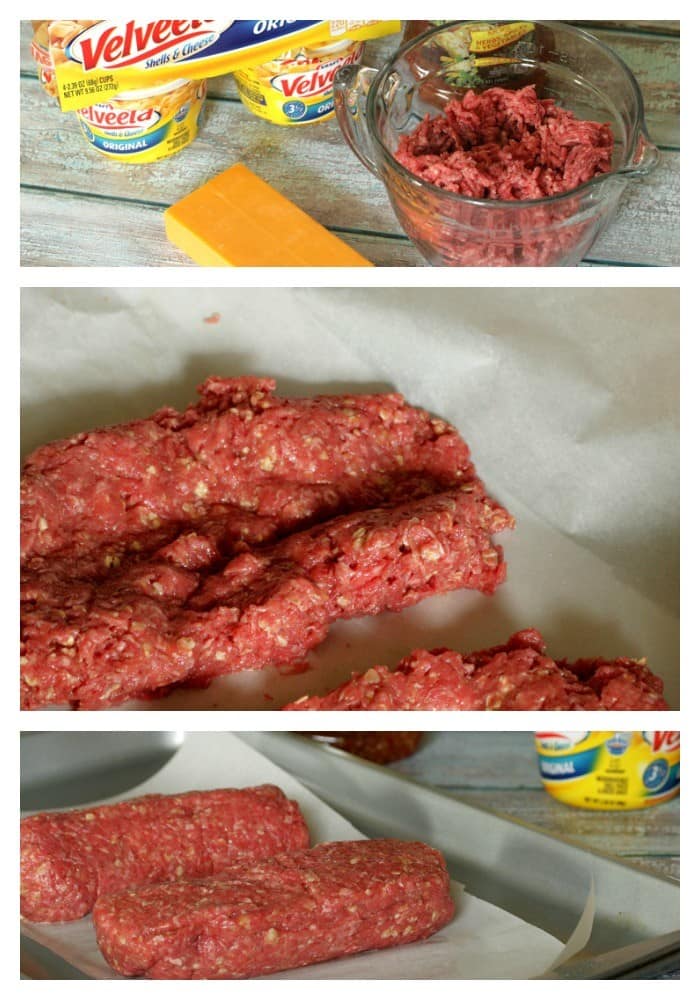 Do you have a few items that are just about always in your pantry?  For me, I like to have some easy to make Velveeta Shells & Cheese Cups on hand.  It makes for a quick and better-for-you after school snack for my daughter, which is something great for her to get in before basketball practice.  And salad dressing… well, I always have that on hand.  I use salad dressings for salads (of all things!), veggie dip, casseroles, and even for meatloaf and meatballs.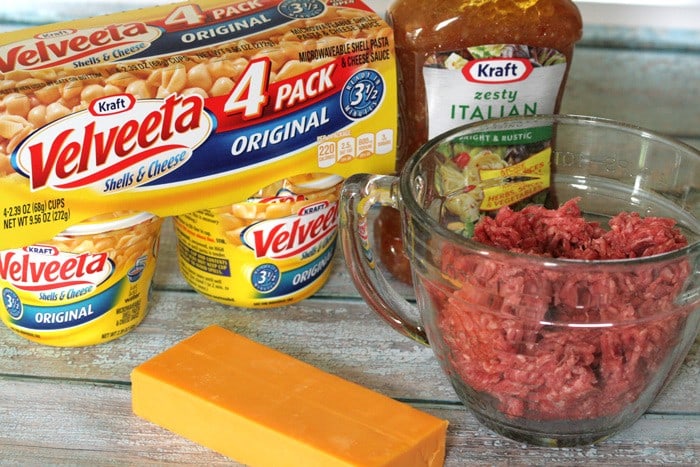 Don't these mini meatloaves look so easy?  Seriously, the best way to make a loaf is to use parchment paper.  No need to worry about hands getting all messy, bloody and greasy.  And cleanup?  What a breeze when all you have to do is toss the paper away!  Now… I don't go through a lot of paper, because I really don't like to be wasteful.  Seriously, I've had the same roll of parchment paper for 6 months!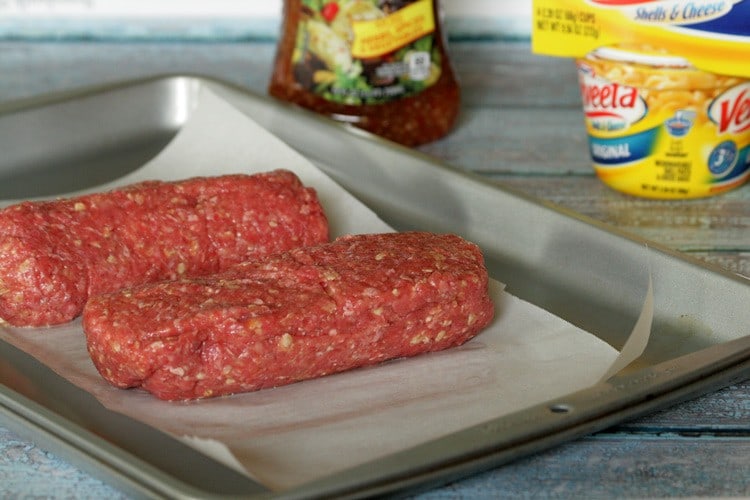 Dinner made easy!  Dinner done in no time at all… you know, I could go on and on, but I'll spare you.  My point is that there is no reason to eat out every night when you can make dinner at home for less than $20, have an enjoyable experience both making and eating dinner with your family, AND save time and money.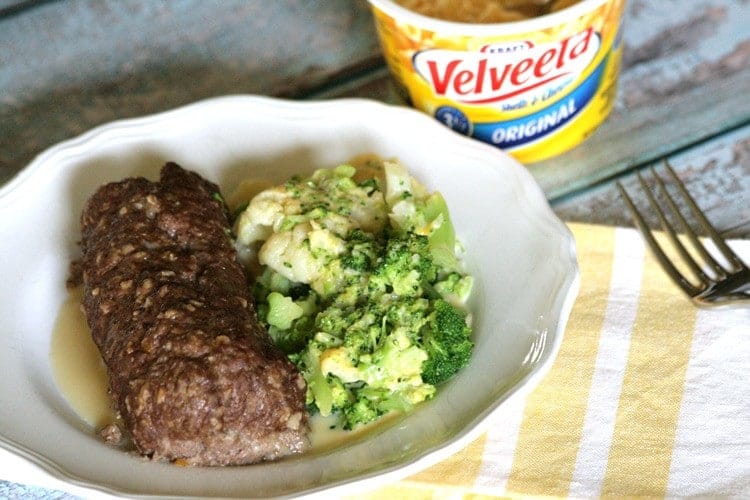 Print
Zesty Meatloaf is PERFECT for Simple Dinners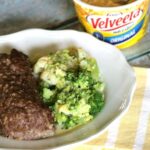 Author:

Jessica

Category:

Entree
Ingredients
1 pound ground beef
1 egg
1/2 cup KRAFT Zesty Italian Dressing
1 envelope instant Original oatmeal
1/2 teaspoon salt
1/4 teaspoon Garlic Salt with parsley
1/8 teaspoon ground Cayenne red pepper
3 ounces Kraft Velveeta Cheese or Kraft Cheddar Cheese
Instructions
Heat oven to 350 degrees.
Mix together 1 pound ground beef. Combine egg, 1/2 cup KRAFT Zesty Italian dressing, 1 envelope instant Original oatmeal, 1/2 teaspoon salt, 1/4 teaspoon Garlic Salt with parsley, and 1/8 teaspoon ground Cayenne red pepper.
Form 2 equal sized portions of meat. Flatten out and add 1/2 of the cheese to each. Using parchment paper, roll up hamburger around cheese and squish it together to seal together so cheese does not leak out.
Cook on baking sheet at 350 degrees for 30 minutes or until meat reaches correct temperature.
The following two tabs change content below.
Latest posts by Jessica McCoy (see all)