All She Cooks readers, please welcome Becca from Amuse Your Bouche today.  Becca is graciously sharing one of her vegetarian soup recipes with us today while I am away enjoying the Big Apple on a Mother-Daughter trip with my 10-year old daughter.  Don't worry, when I return I will be sharing stories of our trip to NYC, full of where we stayed, activities, and don't forget the F.O.O.D!!!
Welcome Becca!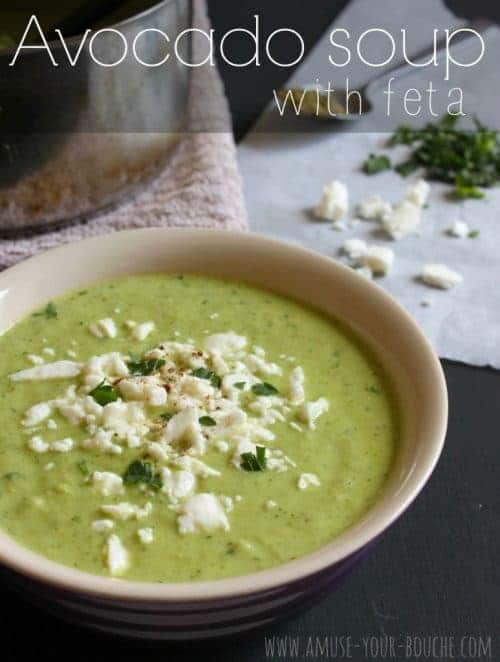 Hi! I'm Becca and I blog over at Amuse Your Bouche. Thanks to Jessica for having me here today! My blog is full of simple (read: lazy) vegetarian recipes, and I aim to convince you that vegetarian food doesn't always mean rabbit food (although thinking about it, there is actually lettuce in this soup… just ignore it, okay?).
There's not much you need to know about me really, I'm not too interesting. I live in the UK, I listen to far too much Simon and Garfunkel, and I eat an awful lot of cheese. I don't have much of a sweet tooth, I own two beautiful little rats, and I watch about thirty rom-coms a week (not really). Oh, and I'm getting married next year but am apparently the least organised wedding planner ever, despite spending a ridiculous number of hours on the wedding section of Pinterest.
Today I've got an incredible recipe for you – avocado soup. With feta. I know. My blog readers seem to go crazy for anything involving avocado, so I hope you feel the same way over here at All She Cooks. You know those days when you're all stressed and tense, and nothing's going your way, and you just need to eat something that makes your body practically melt with relaxation after every mouthful, and makes you utter an audible sigh? That's what this soup is for.
I was on the verge of calling this 'green goddess soup' because I see that term used all over the place, but to be honest I've never quite understood it. There don't seem to be many similarities between the various 'green goddess' recipes I've seen, other than the fact that they're green (obviously). And this soup is very, very green. Plus it's thick and luxuriously creamy, so if anything deserves to be called a goddess, it's this. However I thought I'd better stick with 'avocado soup', for fear of offending someone (I nearly got my head bitten off the time I asked if I could call something s'mores flavored even though it had no graham crackers).
Anyway, whatever you call it, this soup is pretty marvelous. If I'm honest, it was inspired by the abundance of green things in my fridge that needed using up – so if you have any extra greens, feel free to add them. I'm a big lover of recipes that help clear out your fridge. But make sure you don't skip the avocado!
I hope you like the soup – if so, please feel free to stop by Amuse Your Bouche one day. I have plenty more avocado recipes (such as my brie and avocado toasts, or my avocado poppers), plus quite a lot of cheese. It's great over here. I'd be glad to have you.
Thanks again to Jessica for letting me invade her little spot on the web for today!
Avocado Soup with Feta
Author:
Jessica, AllSheCooks.com
Ingredients
10g butter
1tbsp olive oil
2 spring onions, sliced
2 baby gem lettuces, roughly chopped
1 avocado, roughly chopped
350ml vegetable stock
1tbsp lemon juice
3tbsp frozen peas
1tbsp parsley, roughly chopped
1tsp basil pesto
Salt
Black pepper
40g feta cheese, crumbled
Instructions
Heat the butter and oil in a saucepan, and add the spring onions and baby gem. Cook for a few minutes until the onions are fragrant and the lettuce is just beginning to caramelize on the edges. Add the next 6 ingredients (avocado to pesto), and bring to a gentle simmer. Use your wooden spoon to mash the avocado a little.
After about five minutes, remove from the heat and use an immersion blender to blend the soup until smooth. Be thorough – you don't want any lumps remaining. Season to taste, and return to the heat if necessary.
Serve topped with the feta cheese and, if desired, more black pepper and parsley.