These Cinnamon Sugar Cruffins are super easy to make and absolutely delicious! Filled with cinnamon sugar, these are sure to satisfy your morning sweet tooth.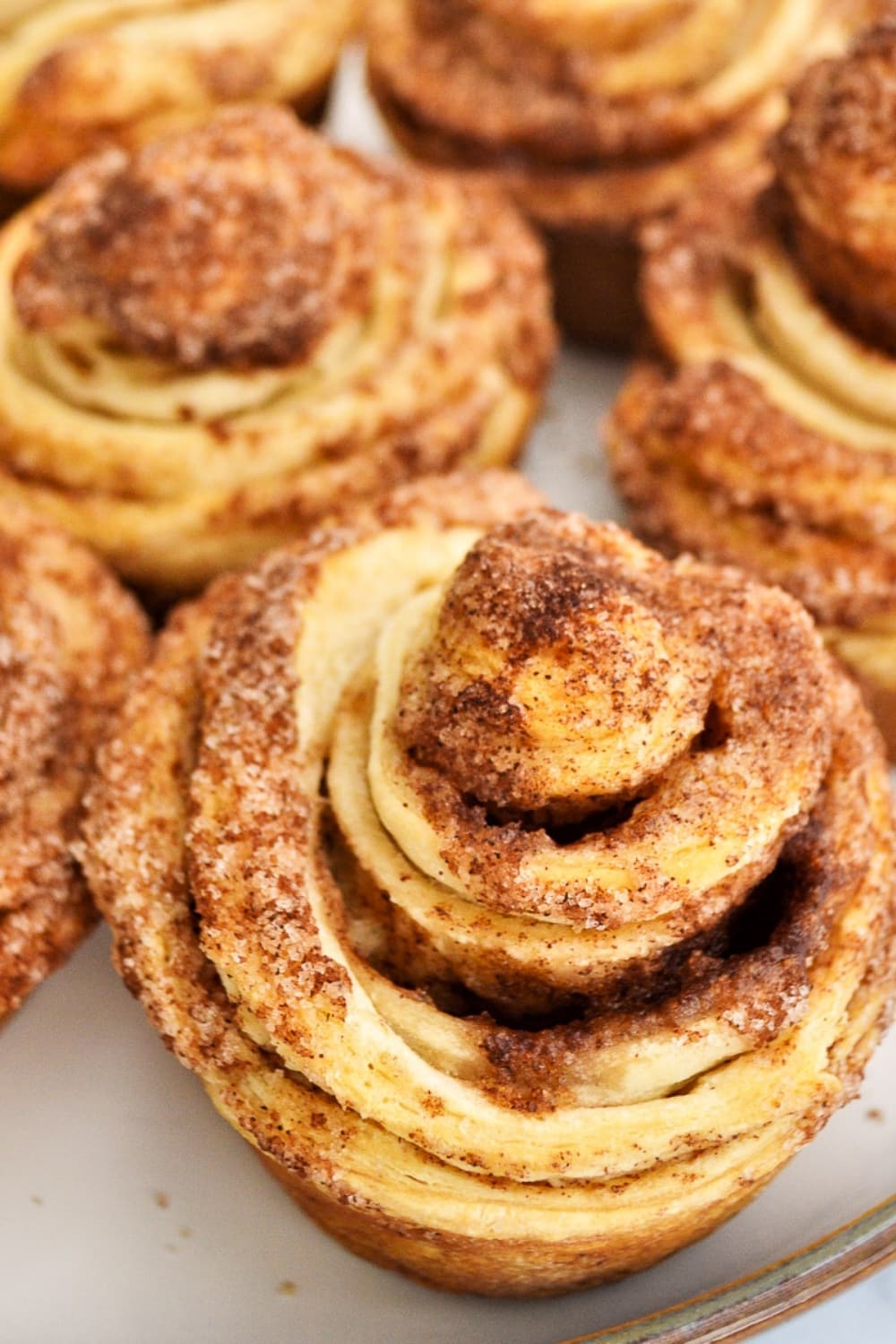 A cruffin is a hybrid of a croissant and a muffin and filled with various flavors. Cruffins can be filled with things like cinnamon sugar, cream, jam, or even custard.
I have no idea who originally invented the cruffin trend. But if you know—please send them my thanks! 😉
These tasty pastries are the perfect balance of soft and flaky, and with only 10 minutes of prep time, they're the perfect breakfast treat! (And they make a pretty awesome dessert too!)
This cruffins recipe is:
Super easy to pull together with just a few ingredients.
Ready in 30 minutes!
An easy homemade breakfast pastry.
Have you tried this recipe? Don't forget to Rate This Recipe below. While you're at it, share a picture on Instagram with #allshecooks so we can see how your recipe turned out!
How to Make Cruffins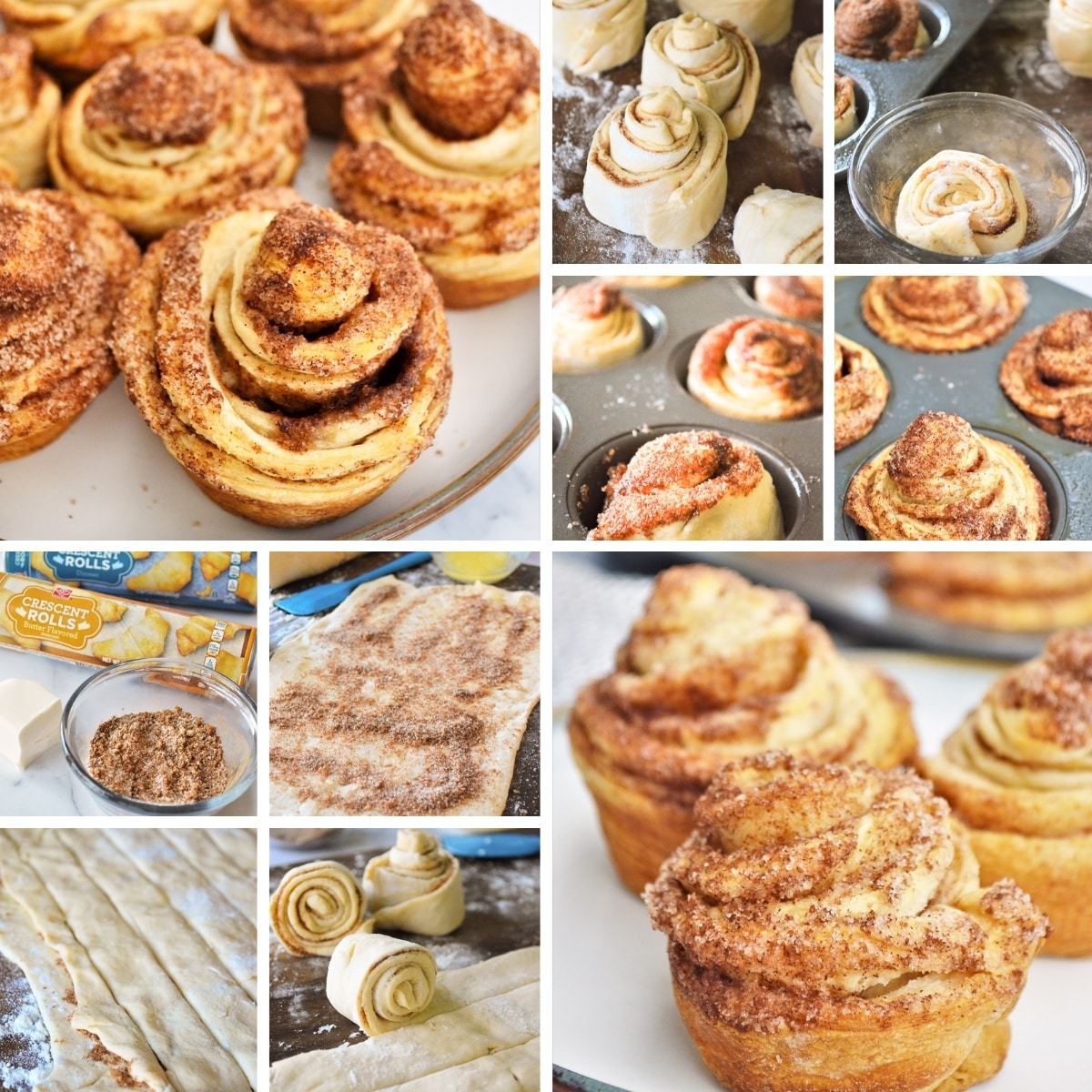 Roll out a layer of dough.
Layer with butter, sugar, brown sugar, and cinnamon.
Top the dough with a second layer of croissant dough.
Slice the dough into long strips, and roll each strip into a wheel.
Dip each roll in butter and cinnamon sugar.
Place each roll into a muffin tin, and bake.
Scroll down for the full recipe with measurements and detailed instructions.
Tips, Tricks, & Variations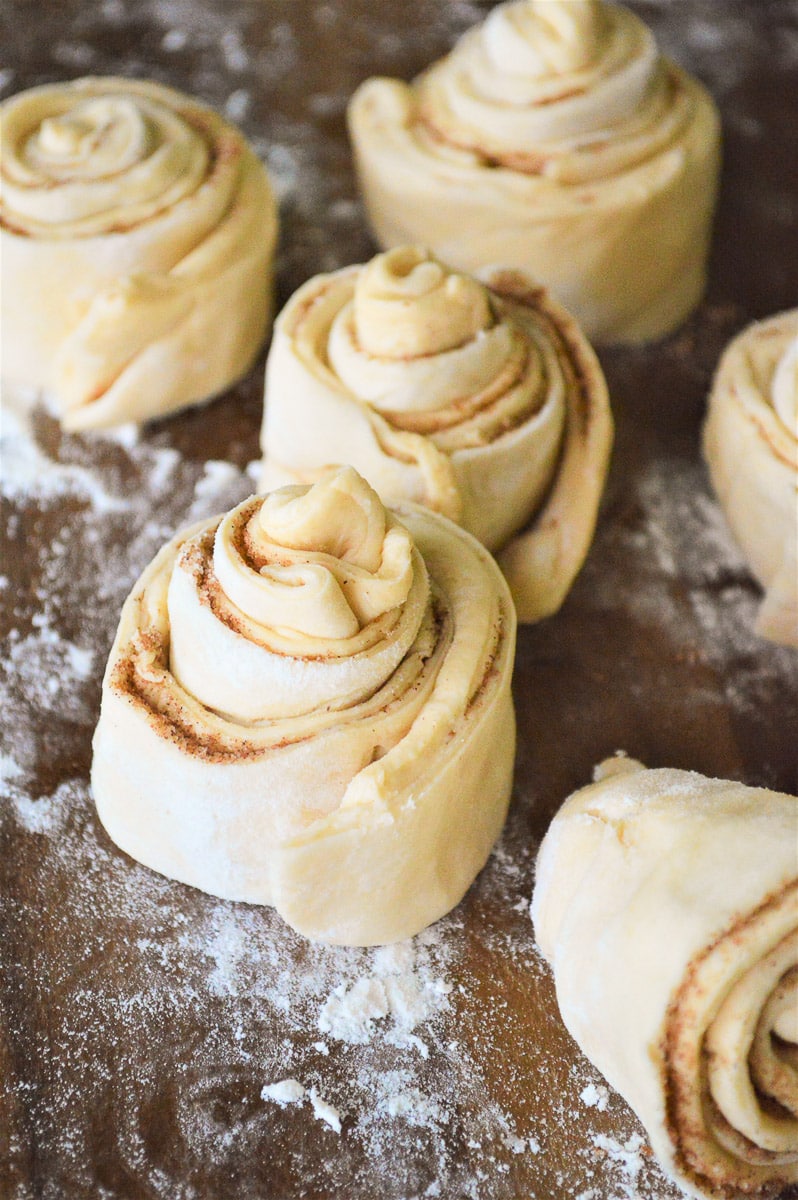 Not Too Much Flour
When you're rolling out the crescent dough, make sure you don't use too much flour. Use just enough that the dough will keep from sticking to your counter or rolling pin. Using too much flour might make your cruffins too dense.
Try Chocolate or Nutella Filling
There are a number of variations you can try when you make cruffins.
One simple way to switch it up is to replace the cinnamon with cocoa powder. This will make delicious chocolate cruffins.
You can also replace the cinnamon-sugar mixture with Nutella, a chocolate hazelnut spread, for a delicious twist.
Dust With Confectioners Sugar
Another way to add flavor and a pretty decoration to your cruffins is to dust them with powdered sugar as they cool.
This will give them a professionally-made look and make them extra tasty!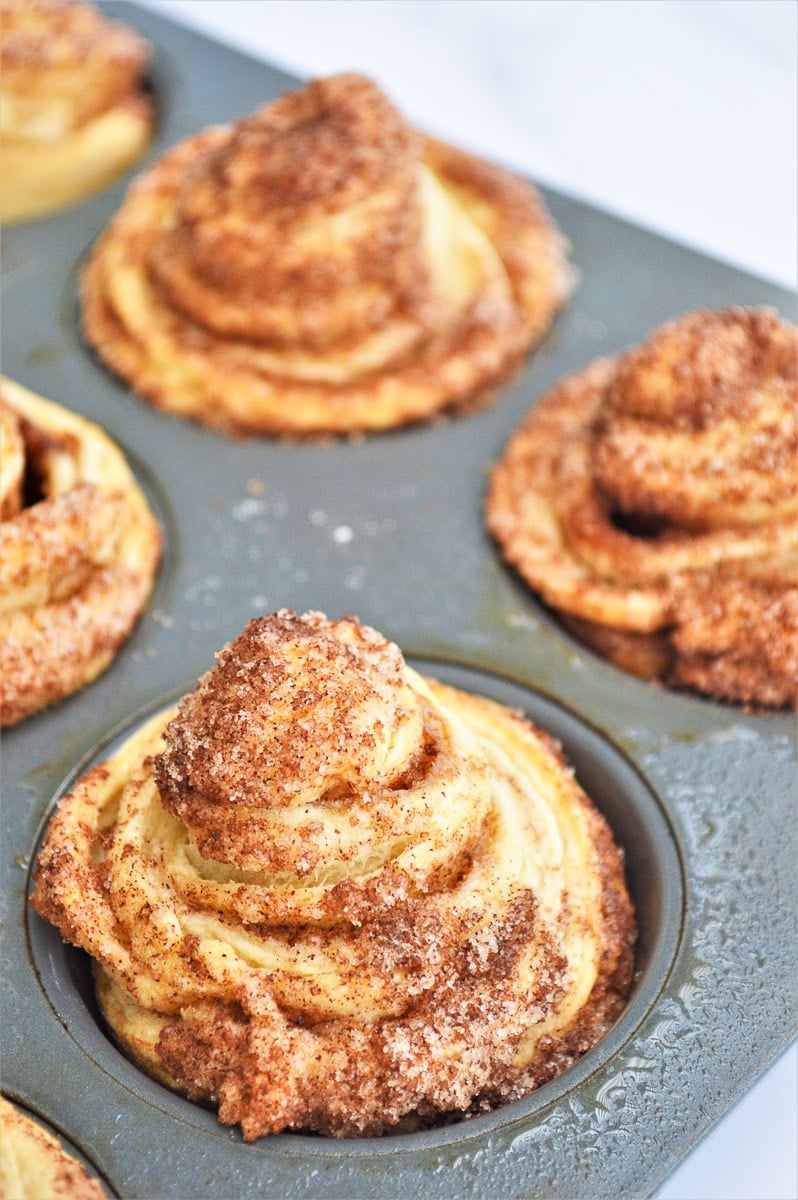 Other Cruffin Fillings
If you want to add something of a little more substance, you can fill your cruffins with raisins, chocolate chips, or dried cranberries or cherries.
Do this after you roll out the dough. Use this instead of—or in addition to—your cinnamon sugar mixture. 
Chocolate Walnut Topping
Once your cruffins are baked and then slightly cooled, melt together chocolate chips and 1 tablespoon of almond milk in a bowl. Whisk this until it is smooth.
Then put the chocolate in a piping bag, and pipe it over the top of the cruffins. Top it off with crushed walnuts, and sprinkle them with powdered sugar.
Jam Or Custard Filling
For a fruity or creamy filling, put either jam or custard in a piping bag. Use the piping tip to pierce a hole into the bottom of the cruffin, and pipe the jam or custard inside.
Finish it off by rolling the cruffin in powdered sugar.
Get the latest scoop on all the recipes I'm whipping up in the kitchen by following along with All She Cooks on Facebook, Instagram, and Pinterest. Also, don't forget to join my Facebook Group where you can share your favorite blogger recipes: Easy & Delicious Recipes.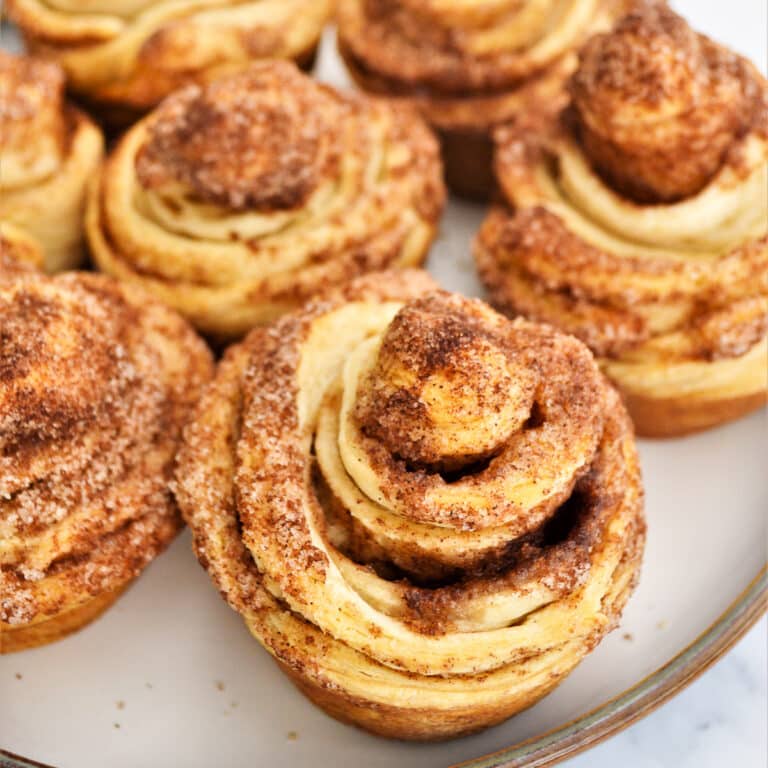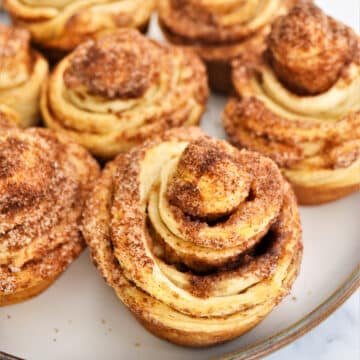 Cinnamon Sugar Cruffins
These Cinnamon Sugar Cruffins are super easy to make and absolutely delicious! Filled with cinnamon sugar, these are sure to satisfy your morning sweet tooth.
Ingredients
2

cans

crescent roll dough

2

Tbsp

butter, melted

2

Tbsp

sugar

1

Tbsp

light brown sugar

1

tsp

ground cinnamon

2-3

Tbsp

flour, for rolling
Instructions
Preheat the oven to 350°F.

Open both cans of croissants and roll them out on a floured surface. Make sure the perforations are no longer there.

In a small bowl, combine sugar, brown sugar, and cinnamon.

Spread a small amount of the melted butter on one layer of croissant dough. Sprinkle with half of the sugar mixture.

Top with the second layer of croissant dough.

Slice the dough into long strips. Roll each strip up, similar to a cinnamon roll.

Dip each roll into the remaining butter and cinnamon sugar mixture.

Place each roll in a prepared muffin tin. (I sprayed each with cooking spray.)

Bake for approximately 20 minutes or until the cruffins are golden brown.

Remove and let cool slightly before serving.

ENJOY!
Nutrition
Calories:
99
kcal
Carbohydrates:
12
g
Protein:
1
g
Fat:
6
g
Saturated Fat:
3
g
Cholesterol:
10
mg
Sodium:
107
mg
Fiber:
1
g
Sugar:
7
g
Vitamin A:
117
IU
Calcium:
4
mg
Iron:
1
mg