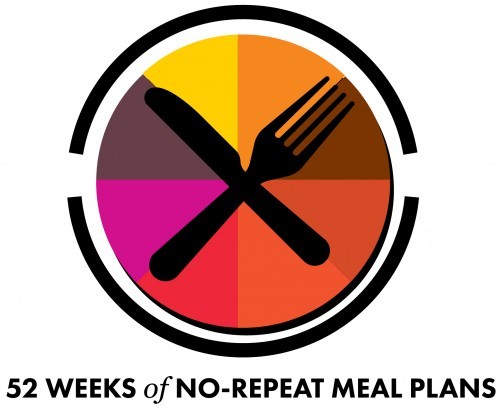 Are you tired of making the same meals over and over again? Or of not knowing what to make when it's mealtime? Maybe you've held off hopping on the Meal-Plan bandwagon because you plan what you cook based on what is on sale that week. And that is awesome! I'm a sales shopper too, and the meals I plan are budget-friendly. What's more, 52-Weeks of No-Repeat Meal Plans will set you up for success, and save you money because you won't be running through the drive-through in a pinch. Or going to the grocery store 5 times a week. Yeah, you know you've been guilty of one or the other at least a time or two. And so have I.
Benefits of 52 Weeks of No-Repeat Meal Plans:
Each week you'll receive 7 dinner ideas, 3 lunch options, 5 breakfast choices, and 3 snack or dessert ideas. While we might occasionally repeat a meal idea, no meal plan will be repeated for an entire 52 weeks!
Flexibility- with 52 weeks of Meal Plans (that you don't have to plan!) that gives you Flexibility to try new things, to veer off course, to mix and match. And by that we mean: if one week is chicken heavy and hamburger is on sale, switch up some of your meal plan options with some of our ground beef meal choices. Just because it's a meal plan doesn't mean it is written in stone. It's a planner, it's a guideline. It's not a map, and you can go a different route from point A to point B.
Subscribe to our Exclusive Email List and each week you'll receive a new week of meal planning fun delivered straight to your inbox. Start whenever, wherever. Even if we're on Week #26 here on All She Cooks, you'll start with Week #1.


Email Marketing You Can Trust


Browse around and check out 52 Weeks of No-Repeat Meal Plans on All She Cooks, we'll have them organized in one handy dandy spot for you.

52 Weeks of No-Repeat Meal Plans will provide a printable meal plan each week, links to each recipe, a printable shopping list, and suggestions on how to stretch your grocery dollar.

Each Tuesday a new meal plan will be posted. You can look it over during the week or save it for the weekend and you'll be ready to go with your meal planning for the next week.

Please keep in mind that if you're signing up in a season opposite from when the meal plans first started, you might find the need to hold on to some of the recipes. For example, grilling recipes could be set aside for summer. Either way, we're sure you'll find a lot of great recipe suggestions that will work for you right now!

Ready to get started? This email list is exclusively for 52-Weeks of No-Repeat Meal Plans. Signing up for this service does not subscribe you to All She Cooks general email list. If you would like to be signed up for that email list also, please sign up on our side bar.     52 Weeks of No-Repeat Meal Plans has always been a free service and will always be a free service, if you subscribe to the email list to get the weekly meal plans and grocery lists. However, I know that might not be the most convenient way for some people to meal-plan, so I decided to put together a few 12 Week Meal-Plan eBooks. The first is available now, and there will be others out later this year. If you're brand new to the program and want several weeks of meal plans in one sitting, so you can find the recipes that work best for you and plan accordingly, then you might want to check this out.

Welcome to Week #36 of 52 Weeks of No-Repeat Meal Plans! Last week we gave you Mexican inspired recipes, and this week we're bringing you Italian…