If you're totally obsessed with Cheesecake Factory's Pumpkin Cheesecake like me, this copycat recipe is a dream come true. It tastes just like the restaurant favorite, but it's easy to make at home.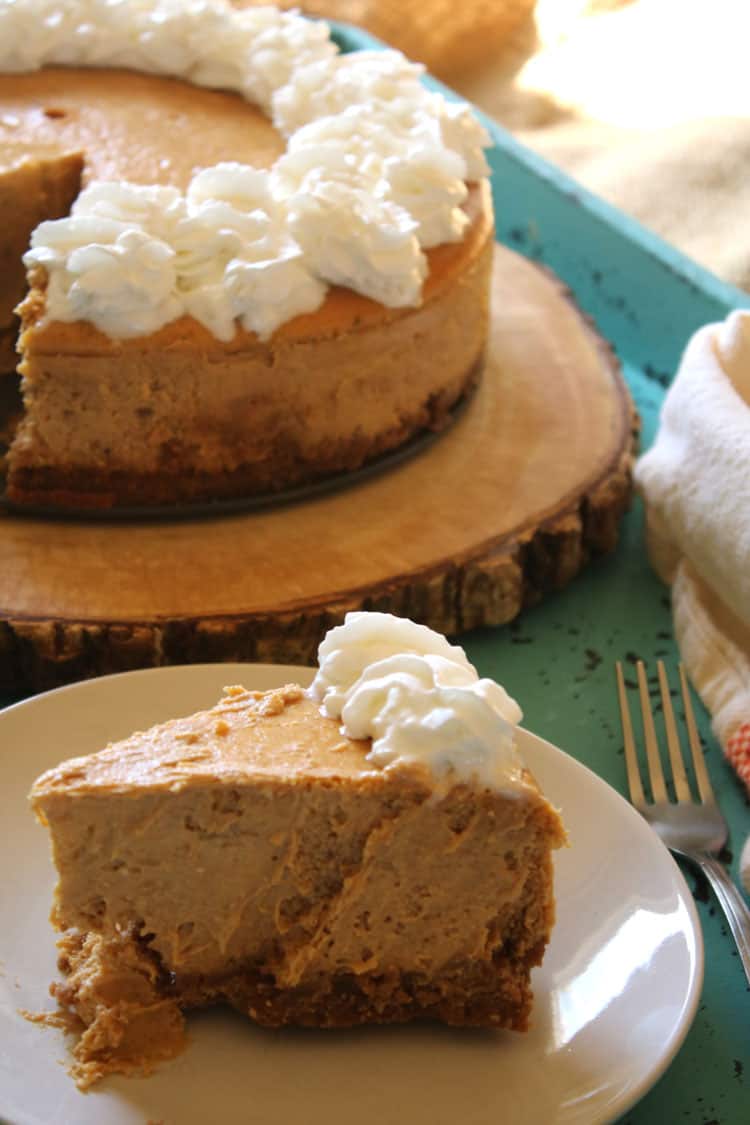 My Cheesecake Factory Menu Favorite - Pumpkin Cheesecake!
Pretty much everyone who has been to to the well-know restaurant has a Cheesecake Factory menu favorite. I know I do. Well, of course pumpkin cheesecake is my favorite because I absolutely LOVE pumpkin.
Pumpkin is one of those yummy ingredients that I really can't get enough of. As in, I long for the time of year when local restaurants start serving Pumpkin Spice shakes and the like.
Much of it is due to the seasonings!
You really can't go wrong with pumpkin pie spice or a combination of cloves, nutmeg, cinnamon and ginger. Or allspice. These are the warm fall inspired seasonings that can take an ordinary apple or pumpkin recipe to full out inspirational fall flavor in seconds.
It's all about the seasonings. And fall seasonings, more than any other seasoning I know...absolutely nail it. Every single time.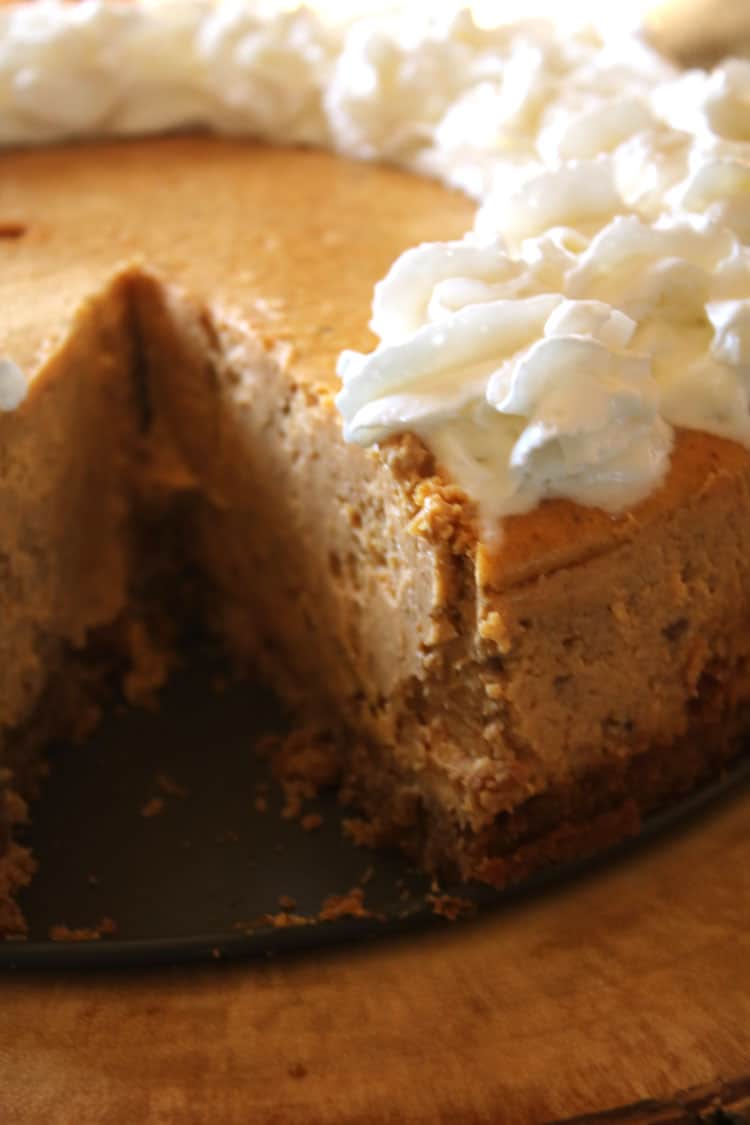 So when FALL Flavor Calls- It's Pumpkin Recipe Time!
For instance, I have about a gazillion recipes that call for pumpkin. Okay, so I exaggerate a tad bit. But in all seriousness, pumpkin recipes are abundant around the blogoshere.
Every year in the fall, without fail, Pinterest becomes overloaded with images of every type of pumpkin recipe imaginable. And they are ALL good.
Yes, there are a few people here and there who will respond to a pumpkin recipe on Facebook asking if we can please (or other not so nice words) stop posting pumpkin recipes because that is all they are seeing. MAKE it STOP.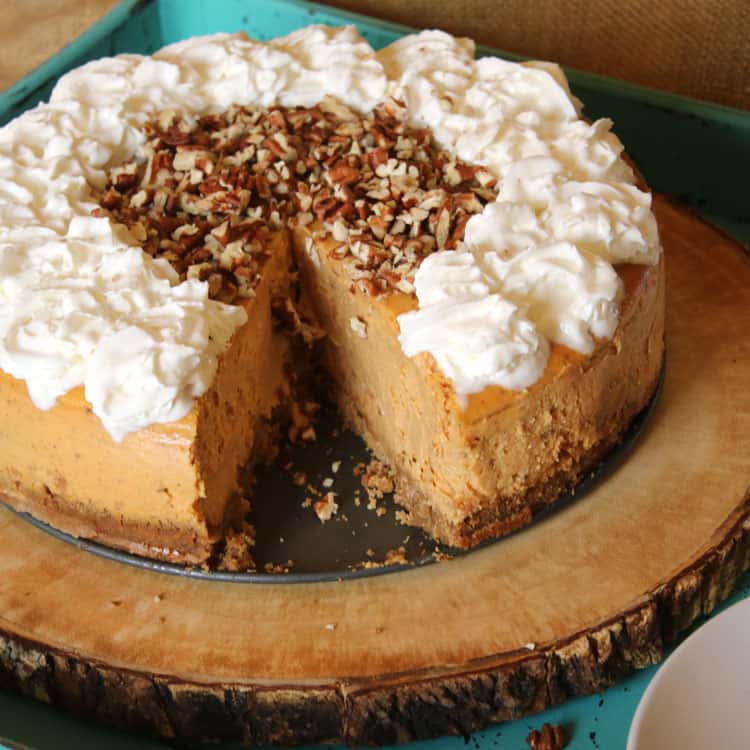 Sorry folks. If you don't want to see pumpkin recipes from September through the end of November, you might as well stay off social media. Seriously.
Because, not only are bloggers and so many of their followers posting pumpkin recipes...that is what EVERYONE and their dog is searching for on Google and Pinterest. And if it is what people are looking for, you better believe that bloggers are going to deliver.
Which is EXACTLY why this pumpkin cheesecake recipe is one of our most popular recipes ever, and IS the highest traffic post from mid-September to the end of November, year after year. And yes, traffic explodes the few days leading up to Thanksgiving.
SO- Save this recipe now, because it is the BEST Thanksgiving dessert recipe you can make and everyone will LOVE you for making it. Yum!
More Pumpkin Desserts to Enjoy
And if that's not enough for you - you can find even more pumpkin desserts here.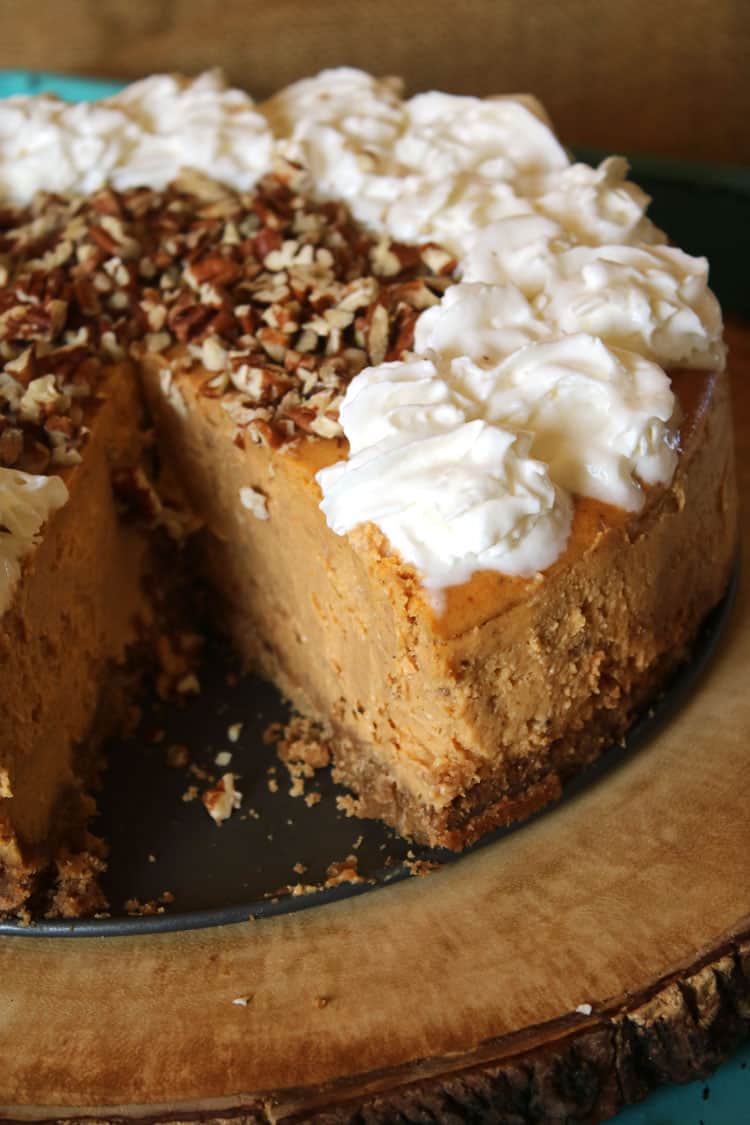 Some of our Favorite Pumpkin Recipes
We like to keep up with the trend and share as many pumpkin recipes on All She Cooks as we can. Like our delicious Pumpkin Milkshakes.
Pumpkin milkshakes are so cold and refreshing, and packed full of fall flavor that will have you sipping and contemplated what pumpkin recipe to make next.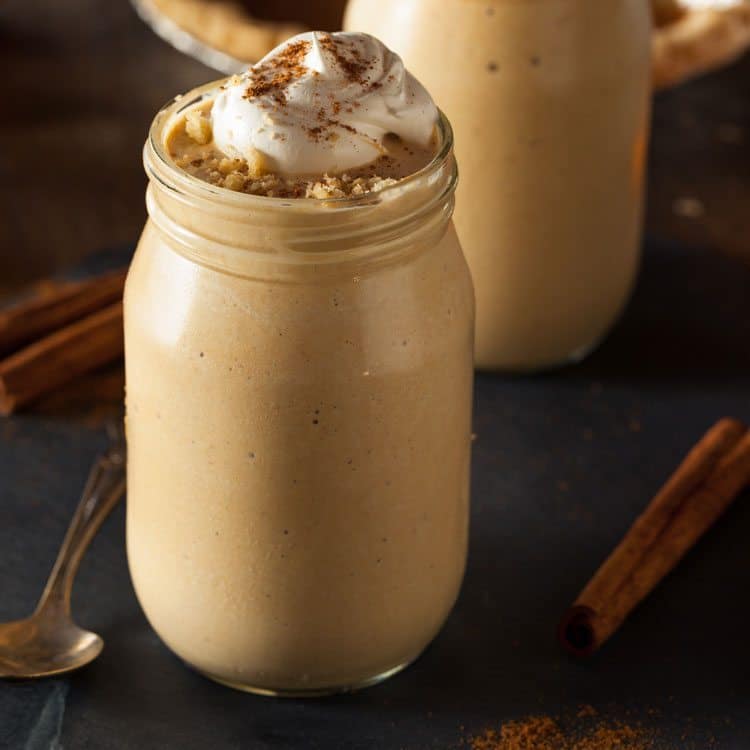 Or a few of our other favorites like these Easy Pumpkin Bars. Not only are pumpkin bars a decadent fall flavored recipe, they are automatically a winner because they are so easy and family friendly too.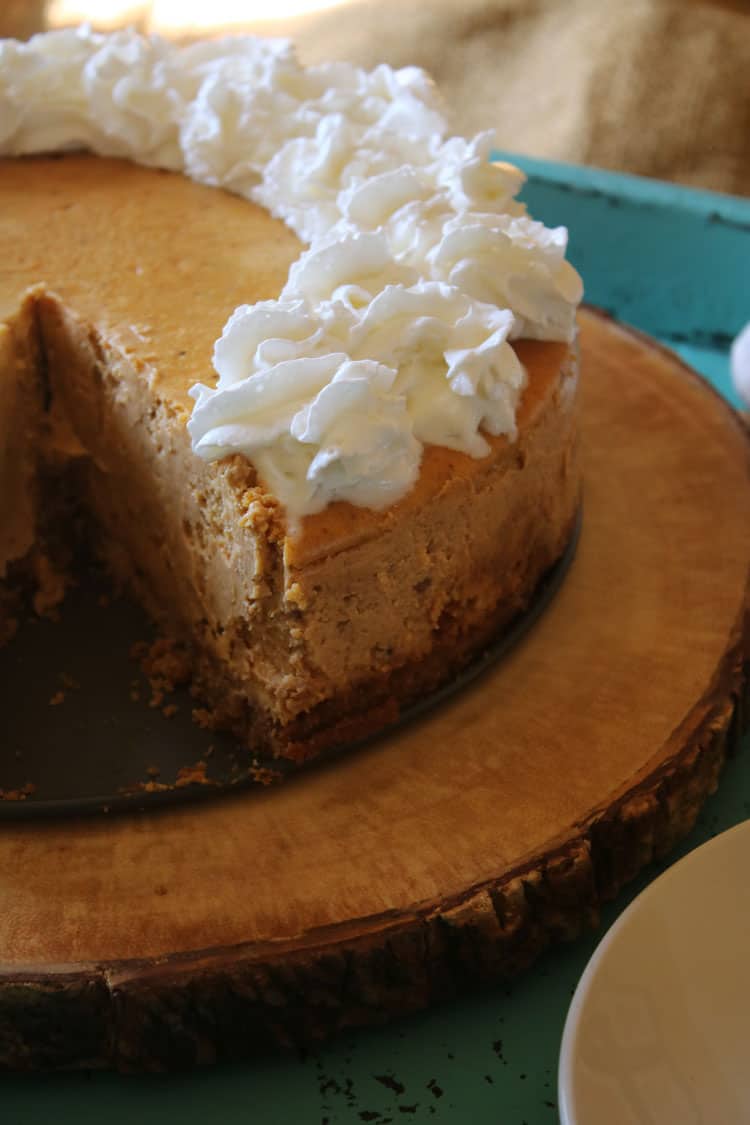 Another one of our favorite pumpkin recipes that is savory instead of sweet is Pumpkin Soup. And let me tell you - pumpkin soup is where it's at!
When you think of pumpkin recipes, ten to one your mind automatically goes to dessert. And that is absolutely NOT your fault. Because again...think of all the pumpkin recipes you've been scrolling through on social media. Dessert, dessert, dessert.
Savory pumpkin recipes should NOT be skipped over. And this soup recipe is every bit as delicious and warming as it looks. And OH, if that's not perfect on a cool day!
Seriously, once you try a bite of this smooth and delicious soup, you'll wonder why you've never had it before. It is so good!
Thanksgiving Recipes You'll Want to Try
So many people start searching for pumpkin desserts because they are looking for recipes for Thanksgiving menus. And we totally get that. Seriously, we do.
We spend time on and off throughout the year playing around with recipes to add to our compilation of Thanksgiving and holiday recipes for All She Cooks too!
And this year, we created some easy Thanksgiving recipes to help make holiday meal prep hassle free and stress free. You can start off by browsing these delicious and creative Thanksgiving turkey recipes!
If you're looking for more ideas to round out your Thanksgiving Day menu, we've got some fantastic recipes that are perfect for the big day:
Cranberry Sauce Recipes
Homemade cranberry sauce - classic cranberry sauce that is beyond yum.
Instant Pot Cranberry Sauce - It doesn't get any easier than in the Instant Pot!
Stuffing Recipes
Cranberry Stuffing - formed in a Bundt pan... making it the perfect addition to any holiday foodscape.
Instant Pot Cranberry Pecan Stuffing - perfectly fluffy and moist stuffing.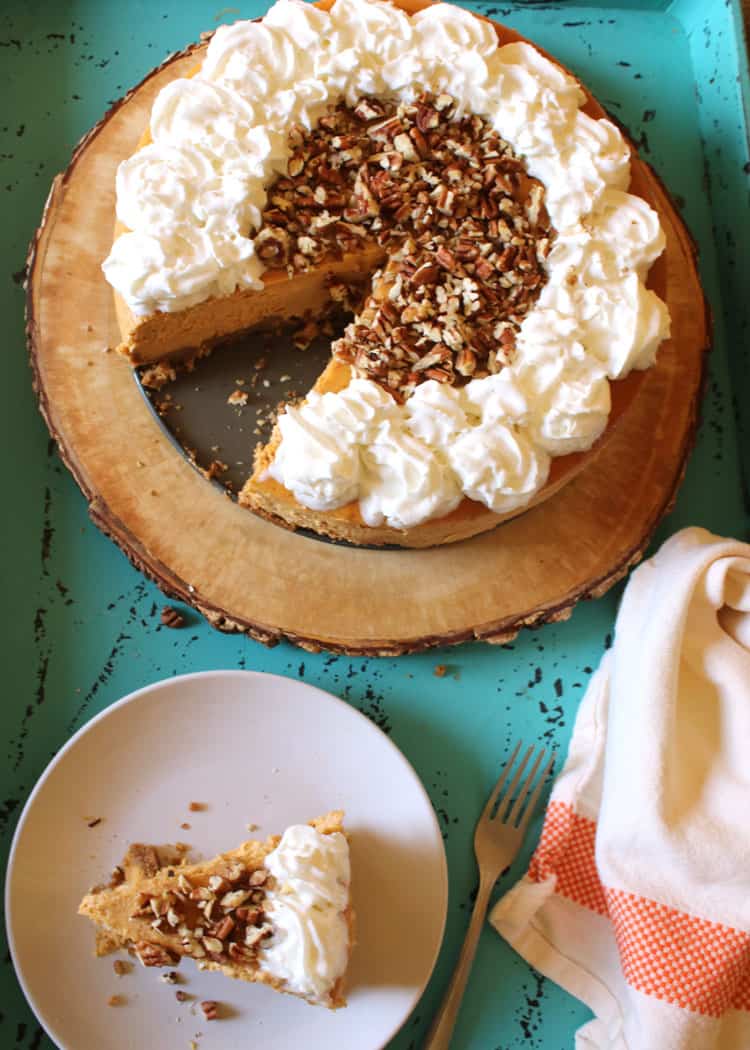 Pumpkin Desserts for Thanksgiving
Pumpkin pie has long been the culmination of Thanksgiving dinner for my family. And for a long time, I thought that it was the only dessert that was used to celebrate Thanksgiving.
Sometimes there would also be an apple pie, and when we would make the long trek (or so it seemed at the time) to celebrate Thanksgiving with my mother's family, there would be additional desserts.
But, most of the time Thanksgiving consisted of just the four of us, gorging on Thanksgiving dinner, pumpkin pie, and leftovers for days.
When I met my husband and started going to his family's Thanksgivings, I realized what Thanksgiving in a bigger family entailed. Or, more specifically what Thanksgiving in a bigger Southern family entailed.
They would have the standard turkey, mashed potatoes and stuffing...well, dressing (one thing that I never really got used to, while it was good, it was just different), and so much more.
Side dishes for days: sweet potato casserole that was so dreamy I spent a lot of time trying to replicate it, cheesy potatoes, broccoli and rice casserole, green bean casserole, rolls, gravy, and more.
And then the desserts: pecan pie that I've only dreamed of mastering, chocolate pie, dessert bars and oh my, the pumpkin pie! But as good as it was - this pumpkin cheesecake is even better.
Instant Pot Cheesecake Recipes
If you're anything like me, you've spent the past year obsessively collecting Instant Pot recipes. Specifically, Instant Pot Cheesecake recipes.
At the top of this list is Instant Pot Pumpkin Cheesecake Recipe. It combines everything that is amazing about my beloved Cheesecake Factory Pumpkin Cheesecake, with the set-it-and-forget it ease of cooking with the Instant Pot.
And you can't miss this totally indulgent Instant Pot Amaretto Cheesecake!
If you haven't already made cheesecake in the Instant Pot, you simply must give it a try! You won't believe how easy it is.
Sweet Pumpkin Recipes Deliver!
Leading up to Thanksgiving, I like to indulge in pumpkin inspired treats. One of my favorites was inspired by an old bagel shop that I used to frequent when I was 19-21 and working in a mall. Every fall they had Pumpkin Pie bagels. And can you guess what I had for breakfast every day?
Inspired by those Pumpkin Pie bagels, I created this yummy pumpkin cream cheese recipe. It's an easy recipe that is fun to use in a variety of sweet pumpkin recipes, as well as the perfect addition to go atop some of my favorite things.
If you're so inclined, click on the recipe for Pumpkin Cream Cheese that I use for all kinds of good stuff including topping my bagels. You will fall in love! With food...yes, but it still qualifies as LOVE.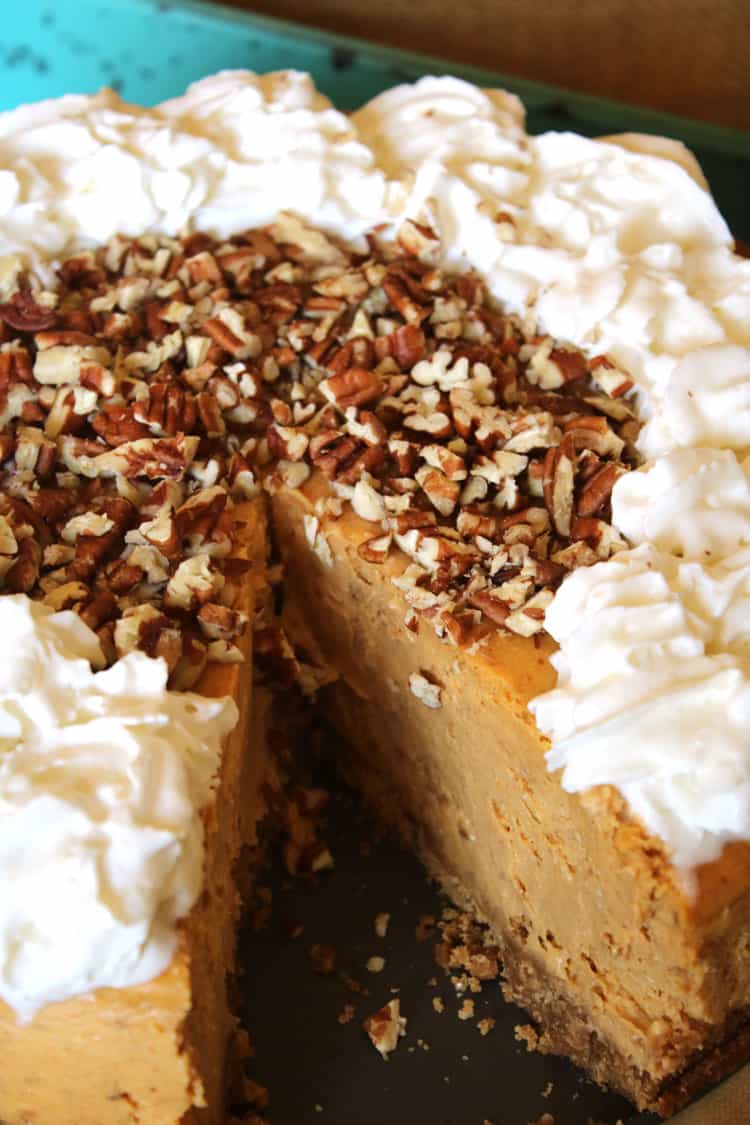 I absolutely LOVE copycat recipes. They are tried and true recipes that you can go back to again and again that replicate many of your restaurant favorite meals and desserts.
This copycat Cheesecake Factory Pumpkin Cheesecake not only allows you to create this restaurant favorite in your own home, but it gives you the perfect opportunity to make and share a favorite dessert with friends and family.
What dessert will you be taking to Thanksgiving this year? Maybe you'll be one of thousands making this delightful Pumpkin Cheesecake to share with their friends and families. It is SO delicious, smooth and decadent. You will ALL love it!
Simple Pumpkin Cheesecake Recipe - Easy Does It.
Pumpkin everything, right? Now, we can count among those recipes something that I would consider one of the best easy cheesecake recipes.
If you have a spring form pan at home and a few essential ingredients, you'll be ready to serve this up in no time!
Just remember to allow time for your scrumptious cheesecake to chill out in the fridge for at least 8 hours. I mean, you want the cake to perform it's best, don't you?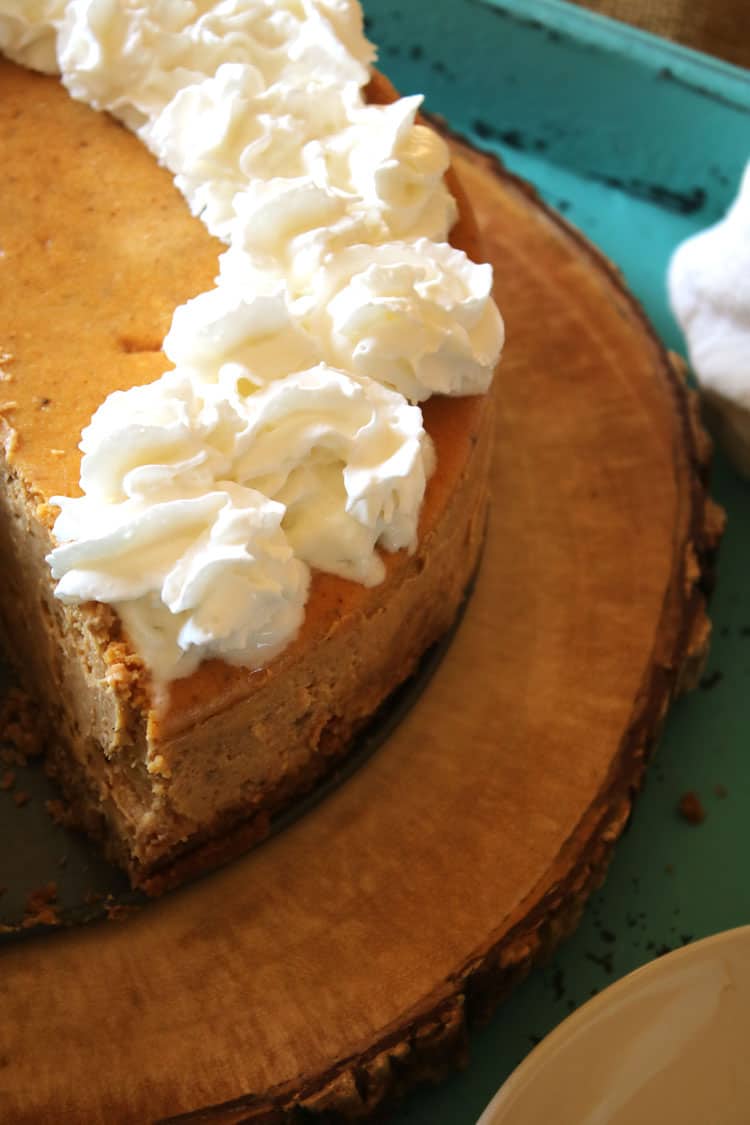 Tools to Use for This Recipe
It is always a great idea to make sure that you have all of the necessary cooking tools (and ingredients) on hand before starting a new recipe. I don't know how many times I've started to make a new recipe only to discover that I either don't have an ingredient or that a pan or special utensil that I need is missing.
These things happen when you share a kitchen with family and aren't the sole person responsible for doing the dishes and putting things away. Which is a good thing...don't get me wrong. It's just that sometimes other people (kids, husbands, etc.) don't understand the importance of everything having a specific place.
Um hmm. Hopefully someday everyone will get it.
Here are a few essential things that you will need for this recipe. Well, the Amazon Prime free trial is just so you can get free shipping and watch fun shows.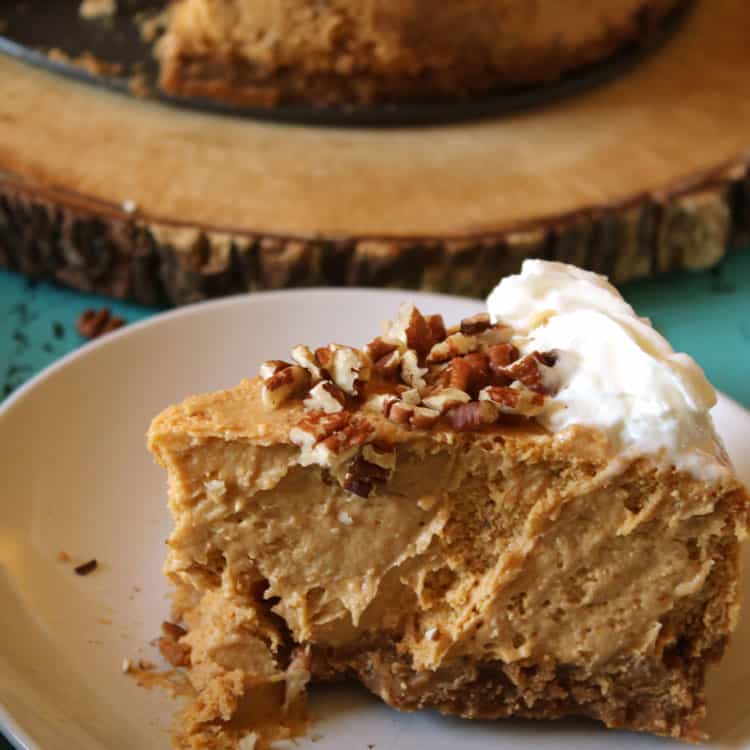 Pumpkin Cream Cheese Dessert Recipes
If you like pumpkin as much as I do, you'll really enjoy this pumpkin cheesecake recipe. It is absolutely amazing.
You can dress it up or dress it down, but no matter which way you serve it up, Pumpkin Cheesecake is the bomb. It's really the best homemade pumpkin pie recipe I've ever had.
And seriously, I have tasted and tested SO many pumpkin pie recipes over the years that I have been working on this blog. One of my favorite parts about being a recipe blogger is that I get to try out all sorts of recipes, make variations and share the best of the best with you.
There is never a dull--or tasteless--moment. But there are plenty of moments that are as sweet as this irresistible creamy Pumpkin Cheese Cake dessert.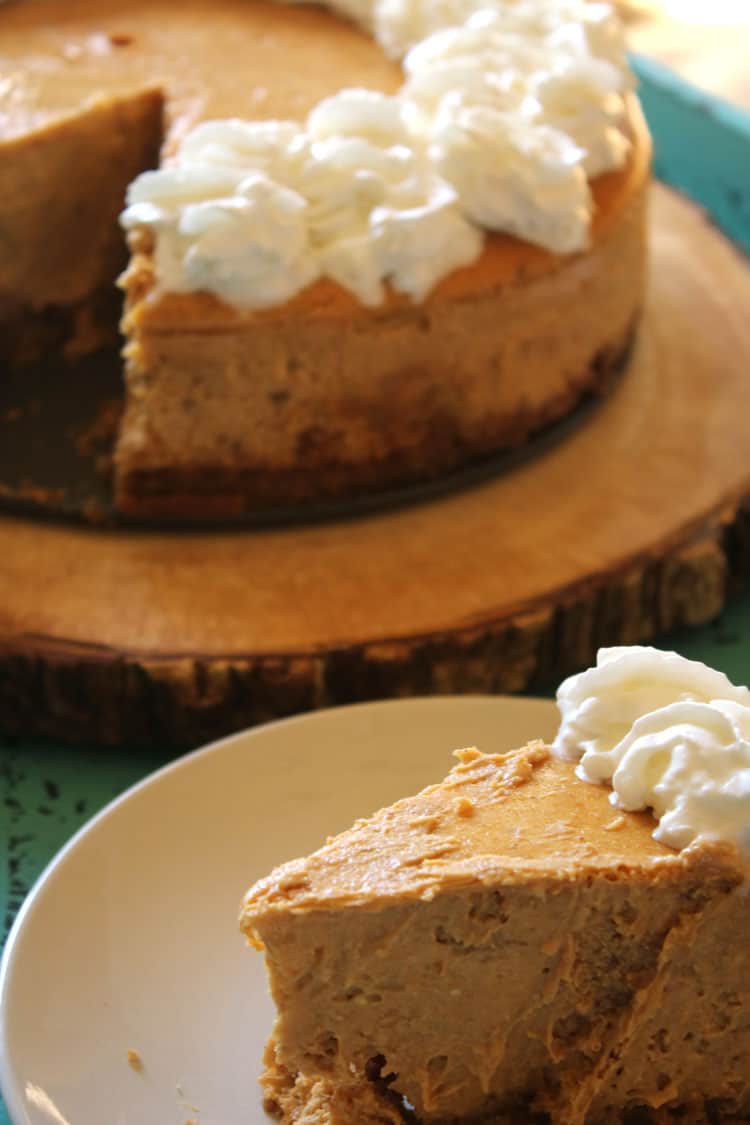 Pumpkin Pie Can Be Enjoyed All Year Long
And please--do NOT make the mistake that pumpkin cheesecake is only for the fall season!
Trust me, there was a time and place when I associated pumpkin strictly with Thanksgiving dessert recipes, and for good reason. The only time we had pumpkin was in pumpkin pie at Thanksgiving.
At least, that was the only time I remembered having pumpkin. So, you can see that those pumpkin memories really stuck out for me. It could have also been because I was almost always in the kitchen when it was time for pumpkin pie making.
We'd make a huge batch of pies, because you know we typically needed at least 6 pumpkin pies for the four of us. But...pumpkin is a vegetable, right...so that has to be healthy? Only if you are somehow forgetting about the sugar.
But pie after pie of pumpkin flavor...
Of course, that makes the memories of youthful Thanksgivings so much sweeter--watching the Macy's Day Parade on the television while eating a huge slice of pumpkin pie made from scratch, heavily loaded down with just as much whipped cream mind you.
Sometimes, I think the ratio of pumpkin pie and whipped cream might have been a bit off. I've always been one to indulge in an extra scoop or two of whipped cream. It is SO tasty and SO worth every last bite.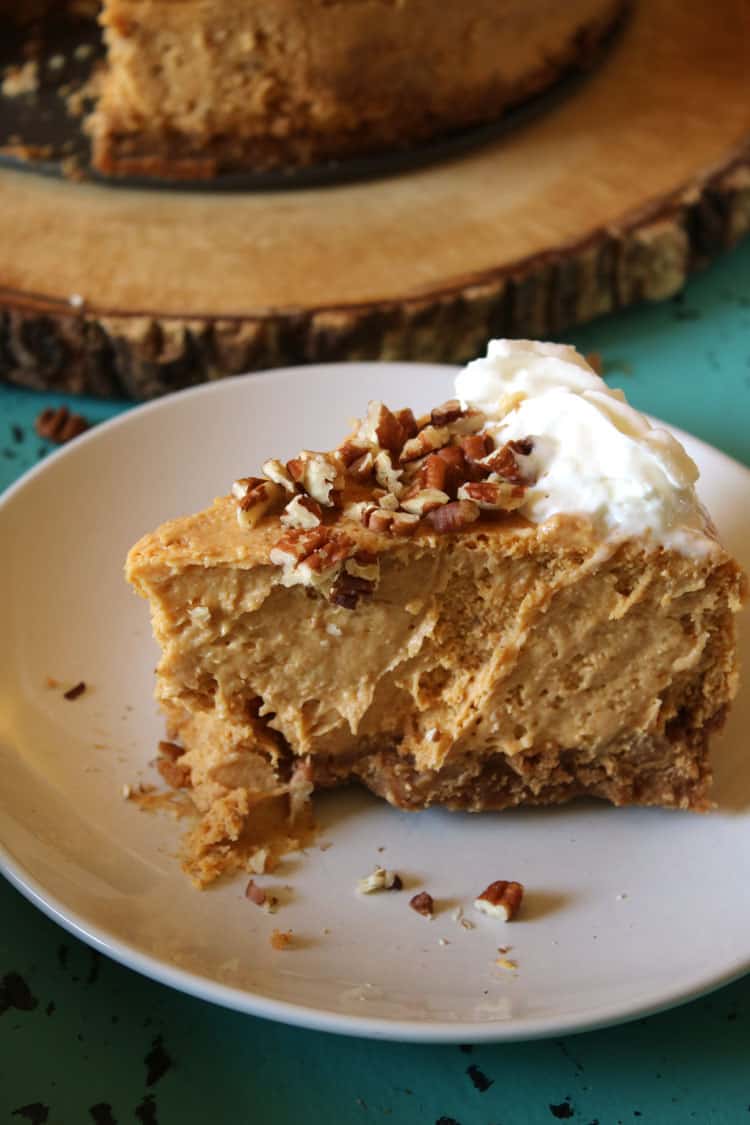 I can't say enough positive things about all the restaurant copycat meals I have tried out at home. Not only are they SO delicious but most of the recipes have actually been pretty easy to make. And we can all use some easy recipes from time to time, can't we?
If that sounds amazing, go check out the popular Taste of Home Copycat Recipe Cookbook.
How to Make Pumpkin Cheese Cake
So, I made the yummiest Pumpkin Cheese Cake copycat recipe again for a couple reasons. #1--so I could take new pictures including step-by-step instruction pictures, and #2--so I could eat it up.
Do you know which step was my favorite? The eating, of course!
This first picture series (below) shows how to make a graham cracker crust. You can either buy graham cracker crumbs ready to go, crush graham crackers up in a plastic bag, or do like I did and process them in a food processor.
Using a food processor to crush graham crackers results in a much finer consistency and a crust that will be a little more dense because of how packed together it gets.
Whichever way you process the graham cracker crumbs, the other steps remain the same.
First, melt the butter. You will use this for two things.
One, you need to coat the cheesecake pan bottom with just a little bit of butter. You could actually grease the pan with butter before you melt it too. That is actually the better way to do it.
This will help prevent the cheesecake from sticking to the bottom of the pan and allow you to lift a slice out of the pan and onto your plate. An essential step.
Two, the rest of the butter goes into the bowl with the graham cracker crumbs and a little bit of sugar. Make sure to be careful on this step--the sugar in the recipe is divided, with a small part of it going into the crust and the rest going into the pumpkin cream cheese mixture.
After you've buttered the bottom of the pan and mixed together the crust, it's time to pack the crust down into the cheesecake pan.
Now, for this recipe, you could do it one of two ways. One, pack it all down on the bottom. This is what we do and it is super easy.
The second way would be to pack the crust down on the bottom and part way up the sides. Either way works, but we prefer the way the pumpkin cheesecake looks with the crust all packed down on the bottom.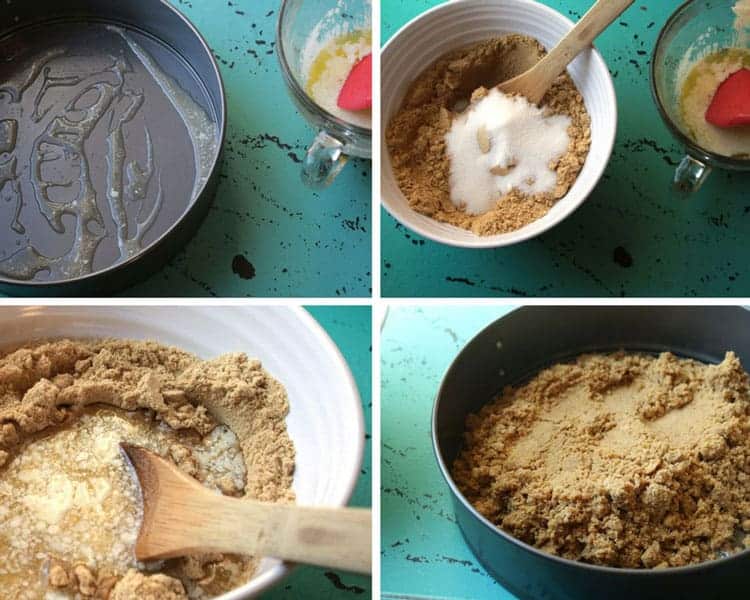 So, decide which way you want to pack down the crust and start packing it down. You'll also want to preheat the oven if you haven't already done so.
Then, it's time to bake the crust of the cheesecake only, which is a critical step to help set the crust before adding on all the wet ingredients.
After the crust has baked and cooled, it's time to wrap the 12-inch spring-form pan with foil. This will help keep any water from seeping into the pan. The spring-form pan is then placed in a large roasting pan.
While the pan is cooling, it it is time to start mixing together the cream cheese. This is also a good time to put on a kettle or pot of water that will be added to the roasting pan later.
When you're following the recipe directions (below) you'll see that you are supposed to use cream cheese that is at room temperature. If you take the cream cheese out while you're making the crust, it will have plenty of time to get to room temperature.
Mix the cream cheese until smooth, and then add in the sugar and beat to combine. I got a little bit ahead of myself in following my own instructions and added the pumpkin at the same time. OOPS!
We are all human, and let me just tell you...this pumpkin cheese cake was just as creamy and good as the last one.
After you've creamed together the cream cheese and sugar, as well as added the pumpkin, it's time to add the eggs. Beat them up slightly before you add them to to the mixture. This will make the eggs easier to combine with the cheesecake filling.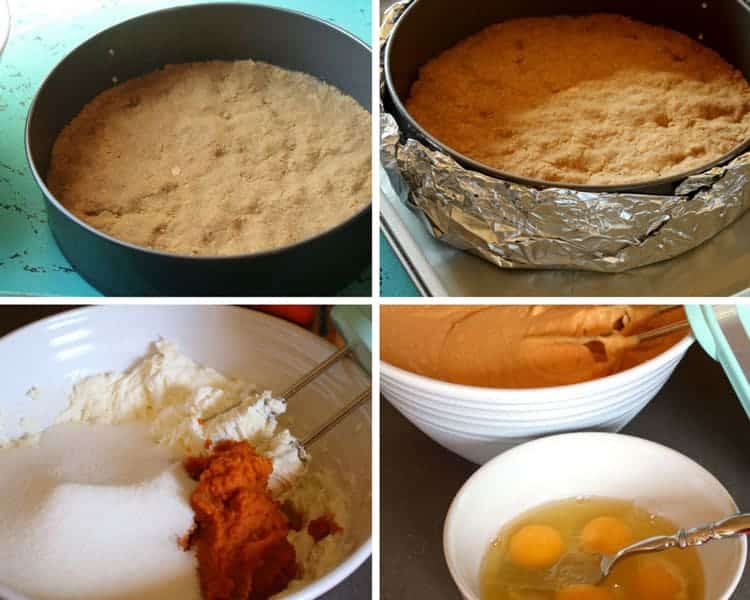 There are only a few steps left to making the absolute best Pumpkin Cheesecake.
Mix in the eggs until you have a nice smooth consistency to the batter. then, add in your vanilla and spices.
And oh, how I love fall spices! Just wait until the cheesecake starts baking and you'll get to embrace the aroma as it's wafting through the air--such an amazing smell!
Once it's all mixed together, it is time to pour the cheesecake filling into the spring-form pan that is already sitting inside the roasting pan.
Next, carefully place the roasting pan onto a middle shelf in the oven, without pulling out the oven rack.
After the pans are situated, poor boiling water into the roasting pan up to the halfway point of the spring-form pan. The water helps with the baking process and is an essential step.
Set the timer and wait.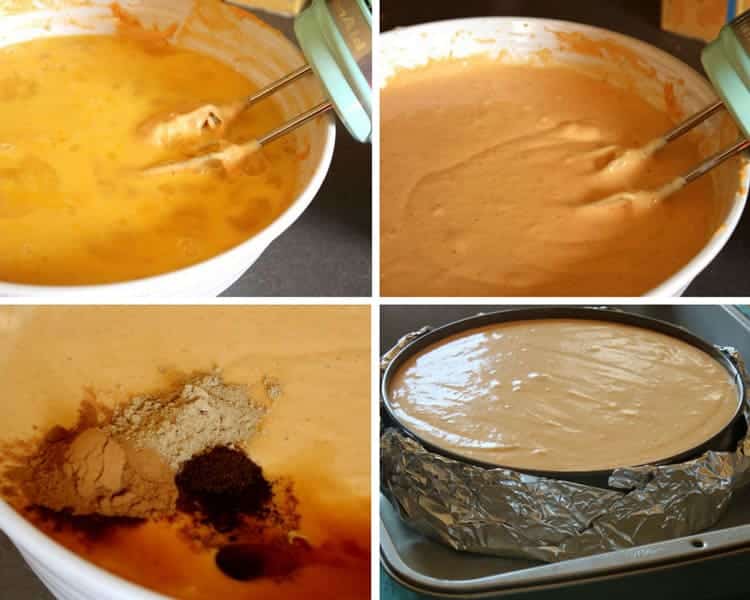 The cheesecake has essentially 3 baking periods.
The first is for the crust, the second is the main baking for the cheesecake. And then the third time-frame is when the cheesecake is still in the hot oven but the oven has been turned off. It is still cooking at this point.
Once the baking has finished, the cheesecake has another hour to cool on the counter, followed by at least 8 hours setting time in the refrigerator.
After all that is done...oftentimes the day after the cheesecake was baked...it is finally time to decorate the delicious cheesecake with whipped cream. Pecans are optional, but definitely add to both the presentation and flavor value of the finished product.
Either way you serve it up, this is one winning pumpkin cheesecake recipe!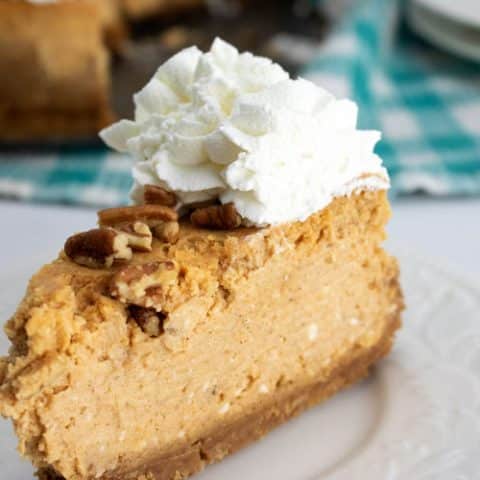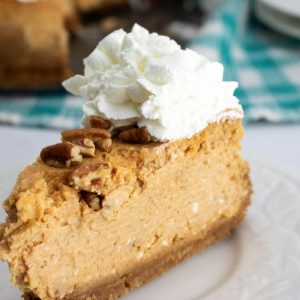 Copycat The Cheesecake Factory Pumpkin Cheesecake Recipe
You should make this cheesecake at home!  Tasting like the Cheesecake Factory menu favorite, this Copycat Cheesecake Factory Pumpkin Cheesecake recipe is easy to make at home. The best pumpkin pie cheesecake! Make pumpkin cheesecake for your next party or potluck.
Instructions
Preheat oven to 325 degrees Fahrenheit with rack in the center position.

Using some of the butter, coat a 12-inch spring-form pan.

In a bowl, mix the rest of the butter with the graham cracker crumbs, ¼ cup of the sugar and a pinch of salt.

Packing it tightly and evenly, press the crumb mixture into the bottom and up the sides of the pan. Alternatively, you can pack a thicker firm crust just on the bottom of the pan.

Bake for 15 to 20 minutes, until golden brown.

After cooling on a rack, wrap the outside of the spring-form pan with aluminum foil.

Place the wrapped pan into a roasting pan.

In a medium pot, bring water to a boil.

While waiting for water to boil, using a mixer; beat the cream cheese until smooth.

Add the rest of the sugar and beat until just light. Scrape down bowl sides and beaters as needed.

Whip in the sour cream.

Add the pumpkin, eggs, vanilla, 1 teaspoon salt and the spices.

Whip until just mixed and once done, pour into the cooled crust.

Without pulling the rack out, gently place the roasting pan in the oven.

Pour the boiling water into the roasting pan until it comes about halfway up the side of the spring form pan.

Bake the cake about 1 hour 45 minutes, or until the outside of the cheesecake sets but the center is still loose.

Turning off the oven; open the door briefly to let out some heat.

After leaving the cheesecake in the oven for 1 more hour, carefully remove the spring-form pan from the roasting pan.

Cool on a rack for at least an hour.

Run a knife around the edges to loosen it somewhat, and then cover pan and place in refrigerator for at least 8 hours or even overnight.

minutes before serving, bring the cheesecake to room temperature.

Unlock and remove the spring-form ring.

Place a spoonful of the whipped cream on each slice.

Top with a sprinkle of the toasted pecans.
Notes
Top with whipped cream and pecans.
Nutrition
Serving:
1
g
Calories:
549
kcal
Carbohydrates:
52
g
Protein:
6
g
Fat:
37
g
Saturated Fat:
19
g
Polyunsaturated Fat:
15
g
Cholesterol:
100
mg
Sodium:
379
mg
Fiber:
2
g
Sugar:
41
g