Old-Fashioned Peanut Butter Cookies are delicious, easy, soft, and chewy! If you're looking for a simple cookie recipe that you can make and serve to a crowd, these cookies will really fit the bill.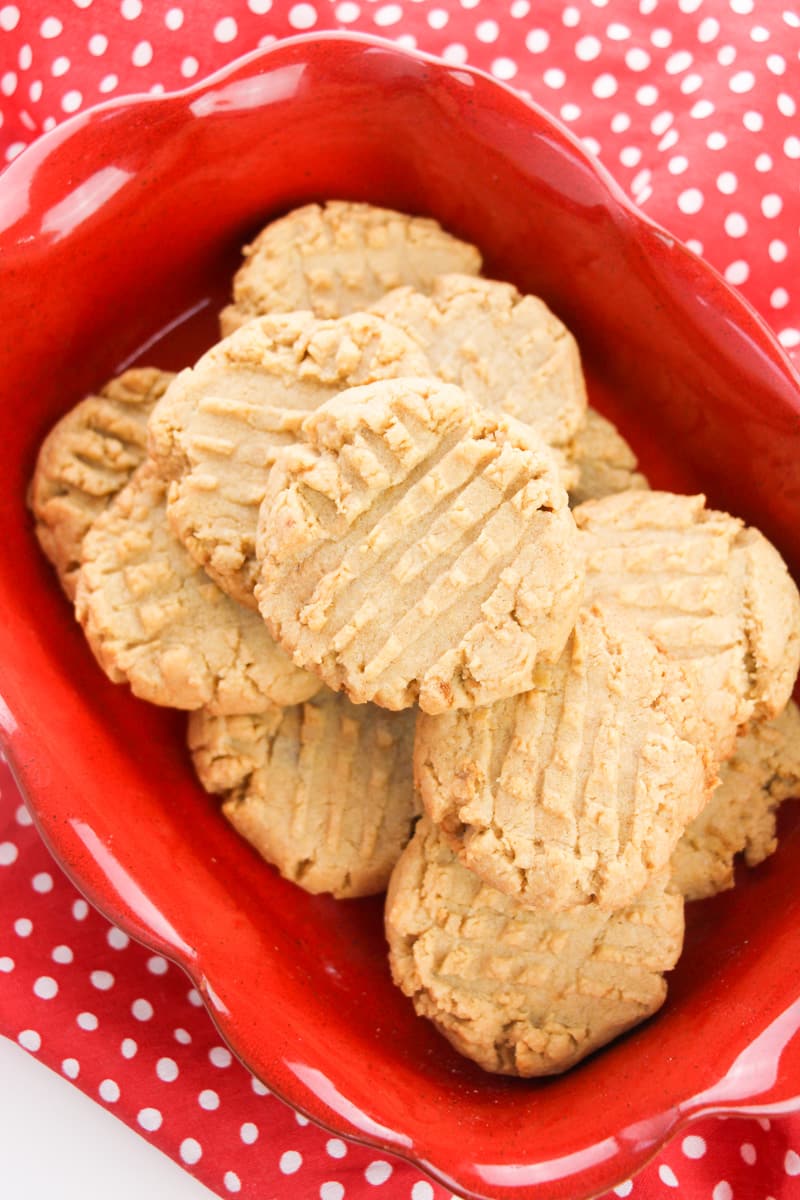 In this Article:
This classic cookie recipe has been around for ages. These tried and true cookies are soft, delicious, and crispy edged. Serve them with some cool ice cream, dipped in a mug of hot chocolate, or on their own. Grab that peanut butter and lets get to cooking!
This Old-Fashioned Peanut Butter Cookies recipe is...
Homemade
Soft and chewy
Made for thick cookies
Freezer-friendly
Get the latest scoop on all the recipes I'm whipping up in the kitchen by following along with All She Cooks on Facebook, Instagram, and Pinterest. Also, don't forget to join my Facebook Group where you can share your favorite blogger recipes: Easy & Delicious Recipes.
How to Make Old-Fashioned Peanut Butter Cookies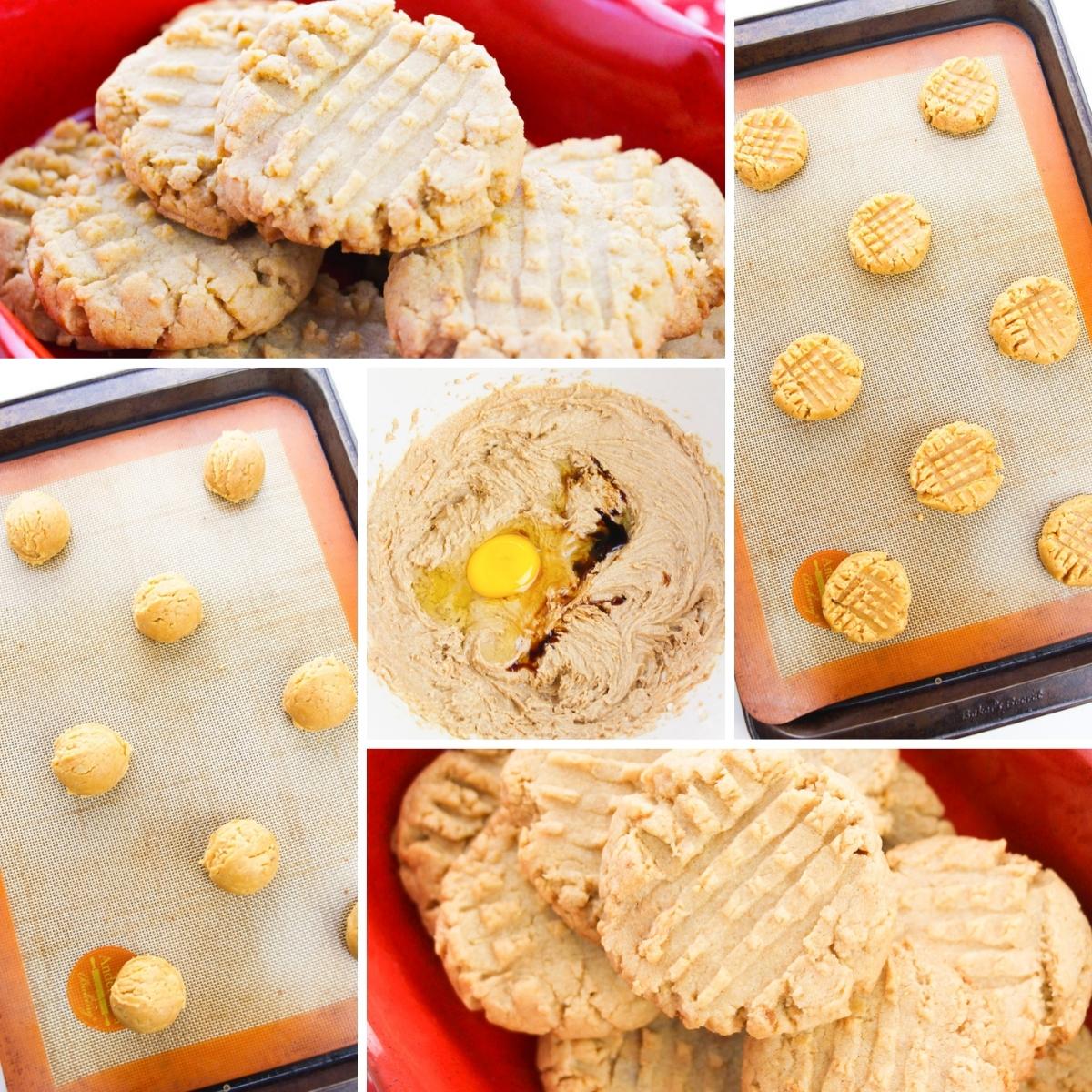 Preheat and prep baking sheet.
In a bowl, mix together dry ingredients.
In a new bowl, combine butter and peanut butter together until well mixed.
Add sugar and mix for 2 minutes until fluffy. Then add egg and vanilla.
Add dry ingredients to wet mixture and mix to combine.
Scoop onto baking sheet, and then put the classic fork print on the cookies.
Bake, cool, and serve.
Full directions for how to make Old-Fashioned Peanut Butter Cookies are in the printable recipe card at the bottom of the post.
Tips & Tricks for Old-Fashioned Peanut Butter Cookies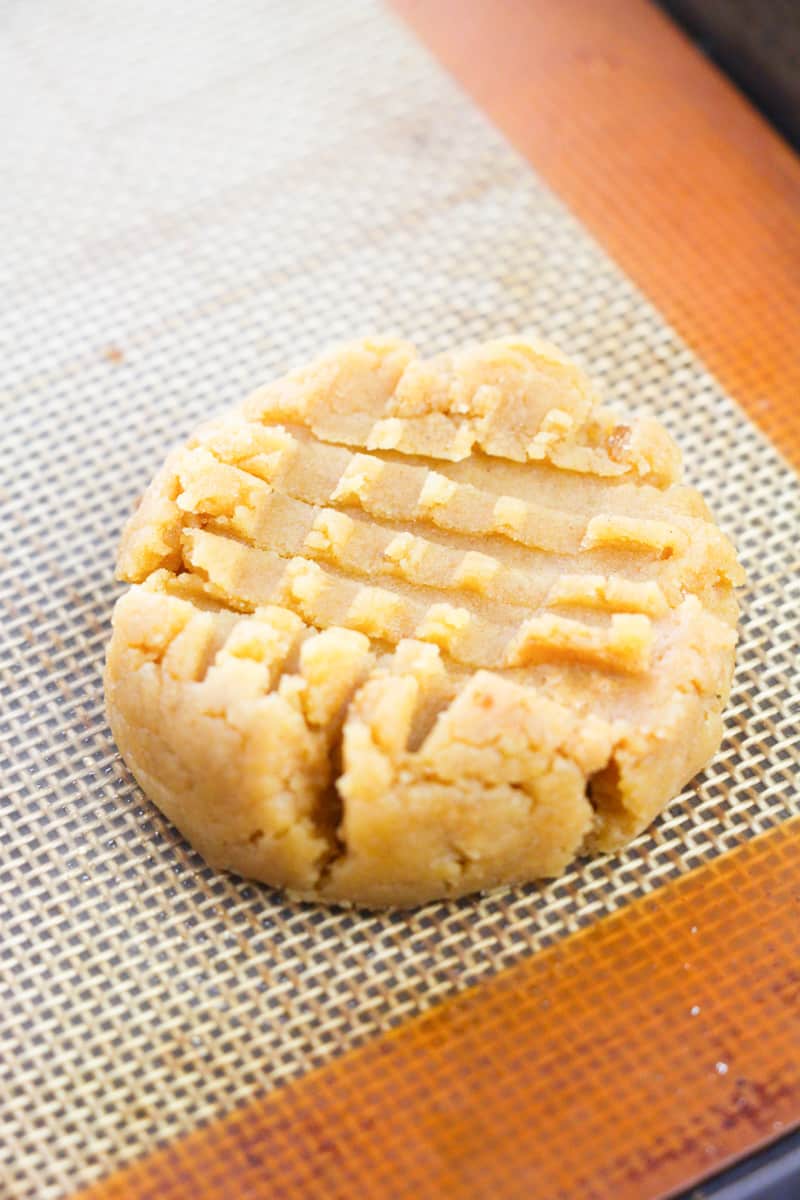 Creaming Sugar
It is important to cream the sugar in with the peanut butter and butter for 2 minutes. This will give your cookies a nice, light texture.
Fork Prints
The classic peanut butter cookie has fork prints on the top of it. These marks are optional, but I like to add them since they're so classic. When pressing your fork into the cookie dough, don't be too hard or you might smash the cookies too much.
Variations to Old-Fashioned Peanut Butter Cookies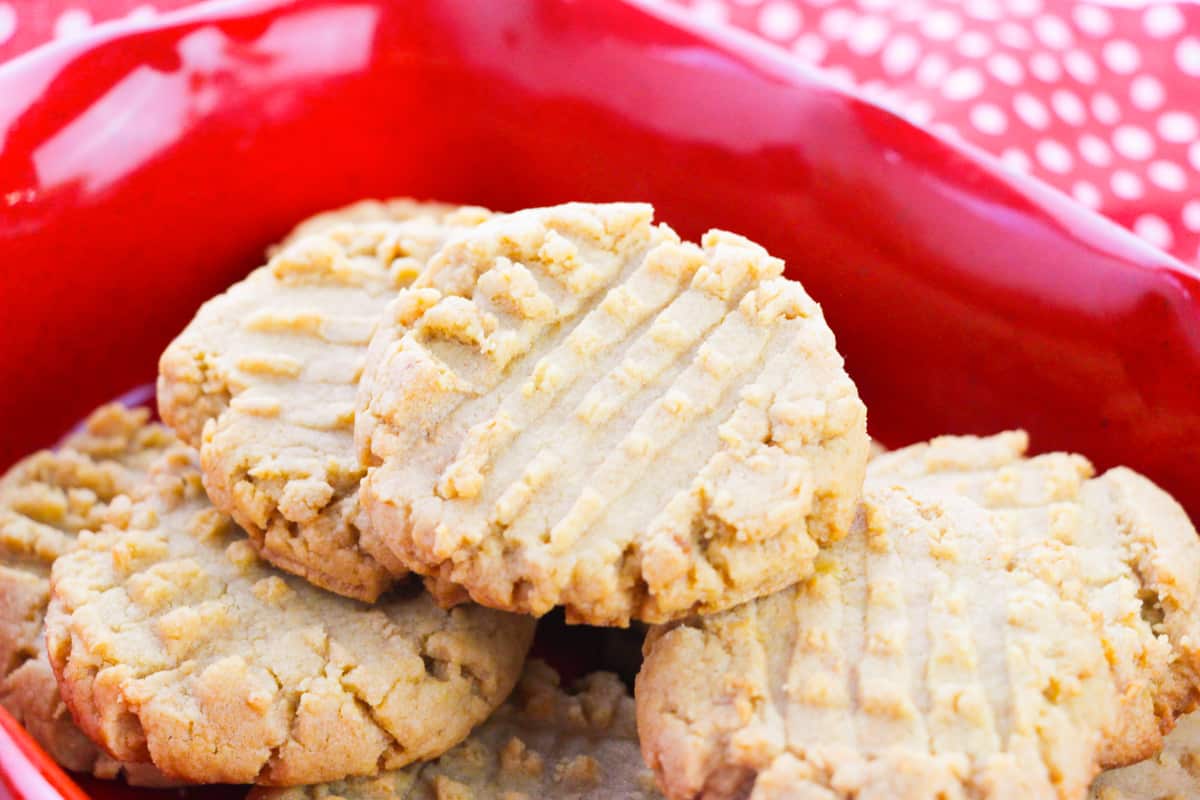 Nutty Peanut Butter
You can use creamy or nutty peanut butter to make these cookies. It's up to your preference in terms of texture.
Peanut Butter Blossoms
Instead of adding the fork imprint, just bake cookies as normal. When you are done, remove the warm cookies from the oven and place a mini Reese's peanut butter cup in the center of the cookie.
You can even take it another step and place the cookies in a mini muffin tin where you stick the peanut butter cup in at the end.
Old-Fashioned Peanut Butter Cookies FAQs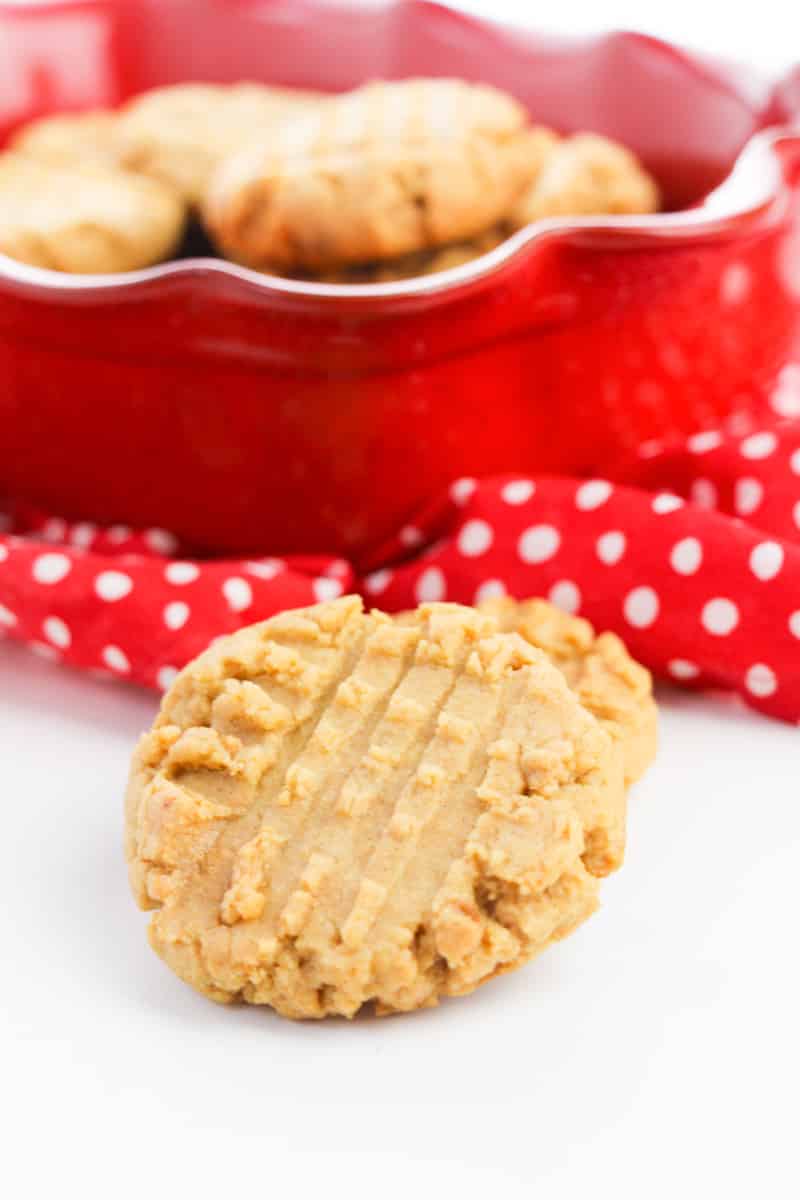 How should you store peanut butter cookies?
You will want to store your cookies in an airtight container. These will last for around up to a week. If you place a slice of bread in the container with the cookies and replace it every few days, it will keep your cookies soft.
Can you freeze leftover peanut butter cookies?
You can freeze any leftover cookies you have. Simply place them in an airtight container and freeze for 3–4 months. If you stack the cookies, just make sure to place wax paper in between the layers to prevent sticking.
Recipe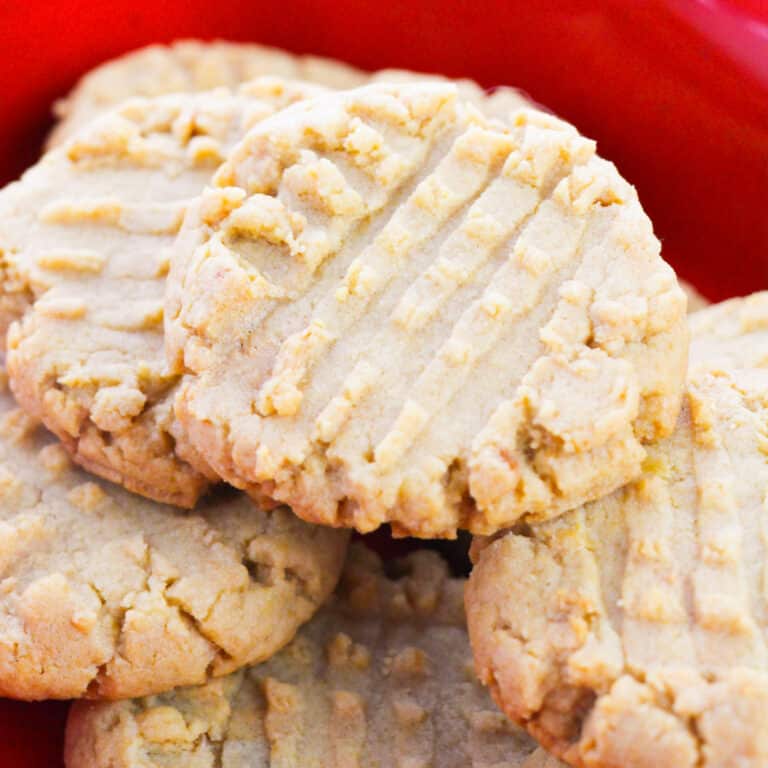 Old-Fashioned Peanut Butter Cookies
Old-Fashioned Peanut Butter Cookies are delicious, easy, soft, and chewy! These cookies will really fit the bill.
Instructions
In a small bowl, stir together the flour, baking soda, baking powder, and salt. Set aside.

In a large bowl, beat together the butter and peanut butter thoroughly.

Add the sugars and beat for 2 minutes, until creamy and light.

Add the egg and vanilla extract, then beat for 30 more seconds.

Then slowly mix in the flour mixture until just incorporated.

Use a cookie scoop to portion out the dough on a lined cookie sheet.

Optional: Use a fork to press down on the cookies, flattening them and making the classic criss-cross pattern.

Bake cookies for 8–10 minutes until lightly golden and set.

Cool on the cookie sheet before storing or serving.
Nutrition
Calories:
112
kcal
Carbohydrates:
16
g
Protein:
3
g
Fat:
4
g
Saturated Fat:
1
g
Polyunsaturated Fat:
1
g
Monounsaturated Fat:
2
g
Trans Fat:
1
g
Cholesterol:
7
mg
Sodium:
149
mg
Potassium:
75
mg
Fiber:
1
g
Sugar:
10
g
Vitamin A:
18
IU
Calcium:
20
mg
Iron:
1
mg