Looking for the perfect Instant Pot Steel Cut Oats recipe? You've found it! By making steel cut oats in your Instant Pot, you get the incredible flavor and texture of steel cut oats without the wait.
Instant Pot Steel Cut Oats
I love oatmeal and porridge for breakfast. It's warm, comforting, completely delicious, and there's so many possible add ins / toppings. So today, I'm sharing how to make easy Instant Pot Steel Cut Oats!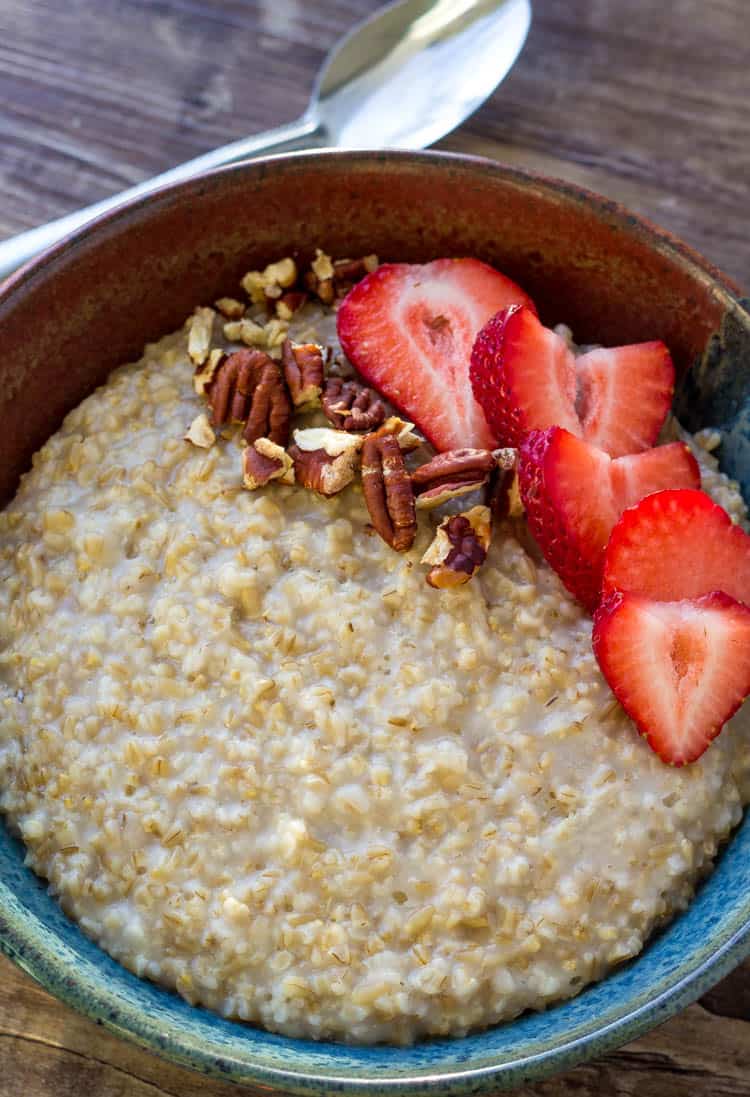 Instant Pot Steel Cut Oats —What You Need to Know
Steel cut oats, or pin-head oats, are the traditional type of oats for making porridge. When the oats are processed - they're cut into a few pieces, instead of being rolled. They're super delicious because they have a little more texture than instant oats or rolled oats and they have a nuttier flavor.
However, there's one main downside to making steel cut oats. They take way longer to cook than rolled oats or instant oats. Traditionally steel cut oats take anywhere from 15-30 minutes on the stove top.
So when I learned I could make Instant Pot Steel Cut Oats - I was definitely excited. You can make a big batch for breakfast in under 5 minutes. So you can have warm, comforting porridge - without having to wait.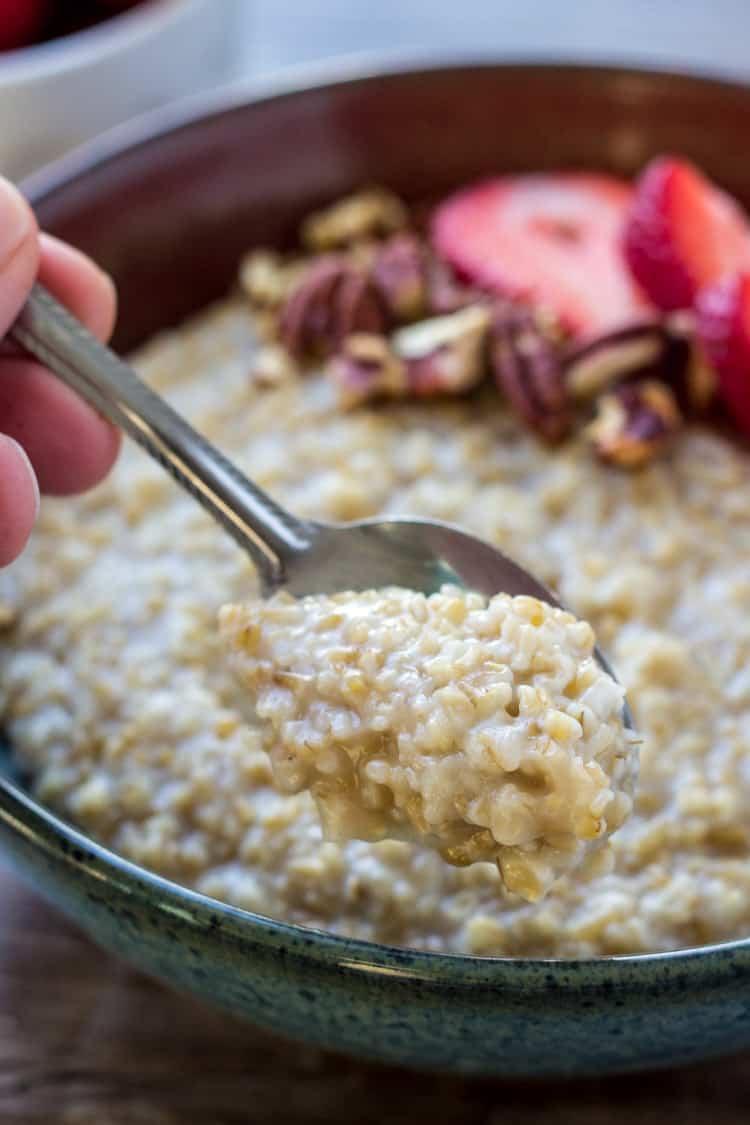 (Isn't technology amazing????)
How to Make Instant Pot Steel Cut Oats
It turns out that making Instant Pot Steel Cut Oats is really easy. Tip: To avoid the oats from sticking to the side of the pot, I like to lightly grease it using a little butter or non-stick cooking spray.
Then add in your oats and water to the pot. You can use almond milk instead of water if you prefer, but definitely don't use regular milk because it will burn. Then cook for 4 minutes. The Instant Pot will take about 8 minutes to get up to pressure before it cooks, and then after it's done just let the pressure release naturally.
You can also make rolled oats/large flake oats in your Instant Pot too. I've included the proportions of oats to water in the recipe notes.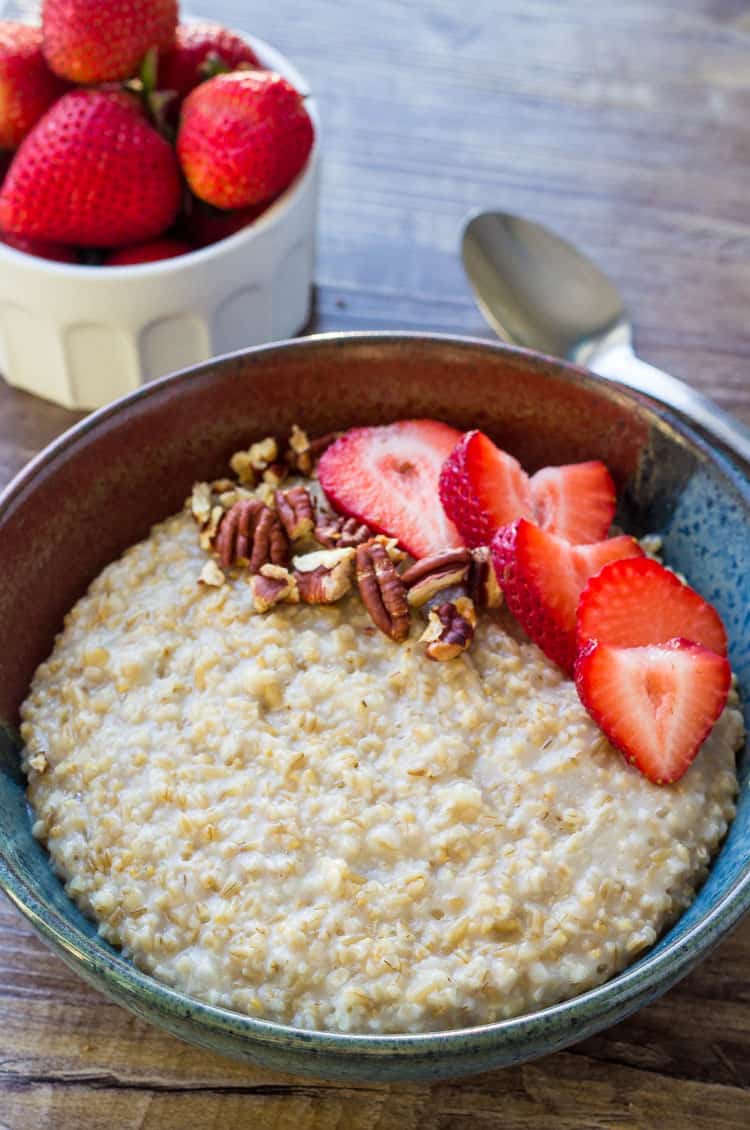 How to Serve Your Instant Pot Steel Cut Oatmeal
Sometimes I like to add a little pinch of cinnamon to the oats too. And then top as you choose. I love making them with fresh berries and a drizzle of honey or maple syrup. Or a little peanut butter is always super tasty too.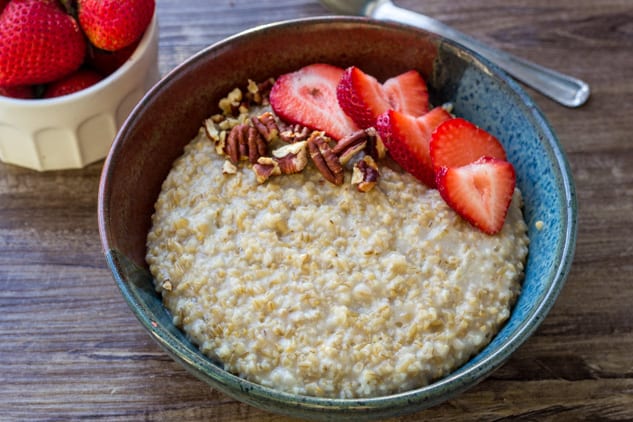 More Healthy Breakfast Options
For other healthier breakfast options, here's some of my favorites: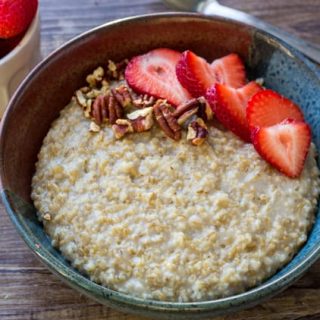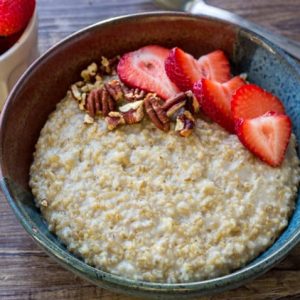 Instant Pot Steel Cut Oats
Learn how to porridge in your instant pot. Instant pot steel cut oats is the perfect warm, comforting, healthy breakfast, that's so easy to make
Ingredients
_empty_
1

cup

steel cut oats

3

cups

water

or almond milk - don't use regular milk though, as it will burn
Instructions
Lightly grease the Instant Pot with non-stick cooking spray to avoid sticking (optional)

Add the oats & water to the Instant Pot & secure the lid.

Press the Manual or Pressure Cook button (depending on your model), and set to 4 minutes.

The Instant Pot will take about 8 minutes to warm up, and then starts to cook the oatmeal.

After it's done cooking, it'll beep. Then let it release the pressure (about 10 minutes).

Open the lid and give the oatmeal a stir.

Serve & top with desired fruit, sweeteners, cinnamon & nuts.
Notes
Recipe can be easily doubled.
Use the delay start method and set to about 30 minutes before you wake up to have your oats ready first thing.
For rolled oats, use 3 cups oats & 5 ½ cups water. Cook for 4 minutes.
Nutrition
Calories:
154
kcal
Carbohydrates:
26
g
Protein:
6
g
Fat:
3
g
Saturated Fat:
1
g
Sodium:
9
mg
Fiber:
4
g
Calcium:
25
mg
Iron:
2
mg