Did you know that you can cook burgers in your Instant Pot? These Instant Pot Burgers are sure to blow your mind! Cook these juicy, flavorful beef patties in your pressure cooker for a delicious hands-off dinner.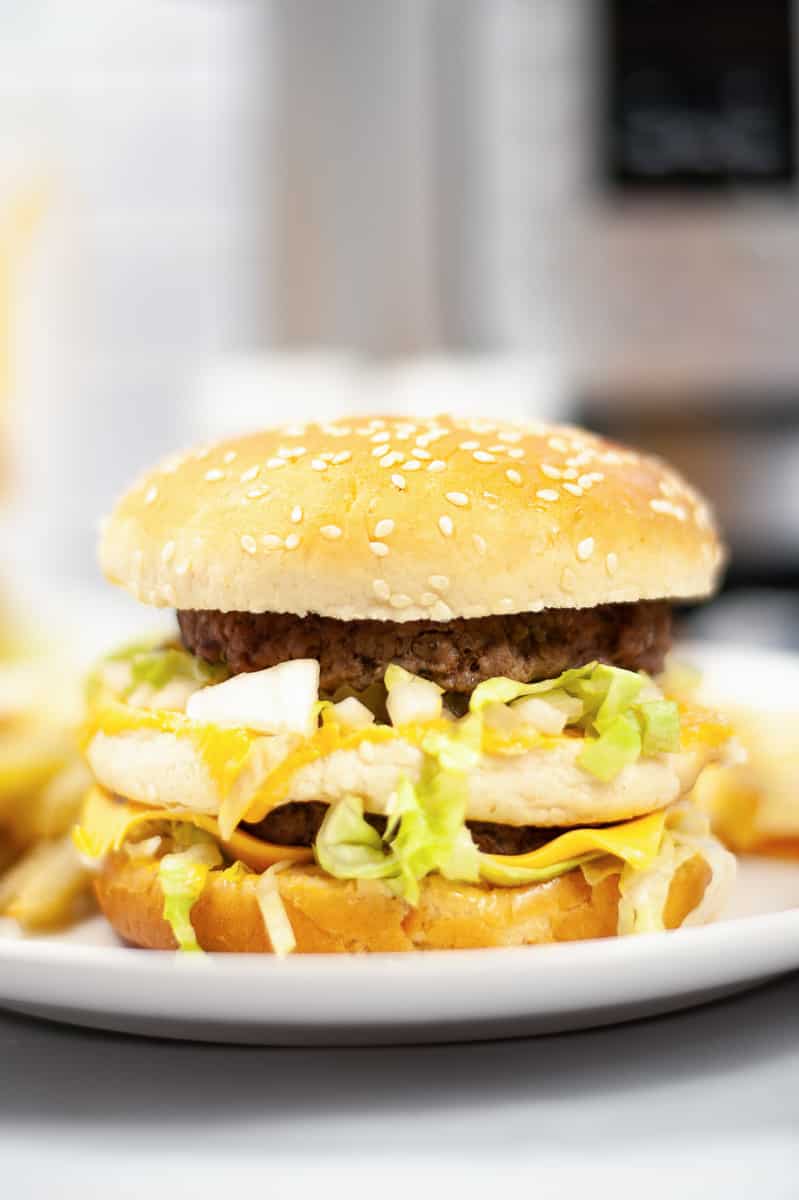 In this Article:
Pair these burgers with your favorite condiments and ring that dinner bell. You can even serve them on a toasted bun for some restaurant-style flair!
Don't forget the fries and nuggets on the side! You can make these burgers into a full meal with a nice side salad and a tasty dessert. Or use your Instant Pot to make some Lentil Sloppy Joes instead!
This Instant Pot Burgers recipe is...
Easy
Quick
Ready in under 30 minutes
Hands-off
Easily made low-carb (just leave out the bun!)
How to Make Instant Pot Burgers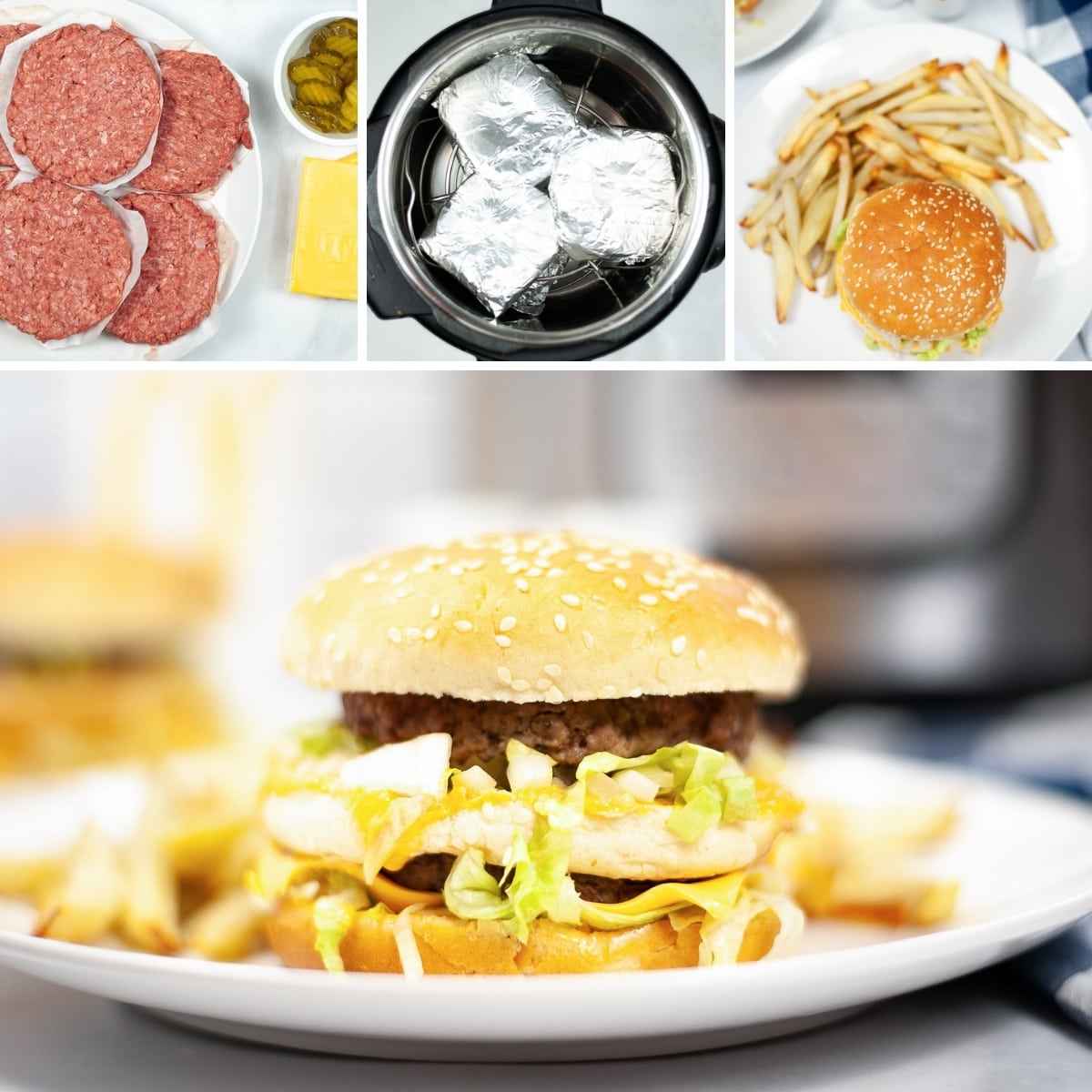 Season beef patties with salt and pepper.
Wrap each patty tightly in aluminum foil.
Place trivet and water in pressure cooker. Set the wrapped burgers on the trivet.
Close the pressure cooker lid, seal the valve, and pressure cook for 10 minutes.
Once done, unwrap burgers and serve on buns with all your favorite toppings.
Tips & Tricks for Instant Pot Burgers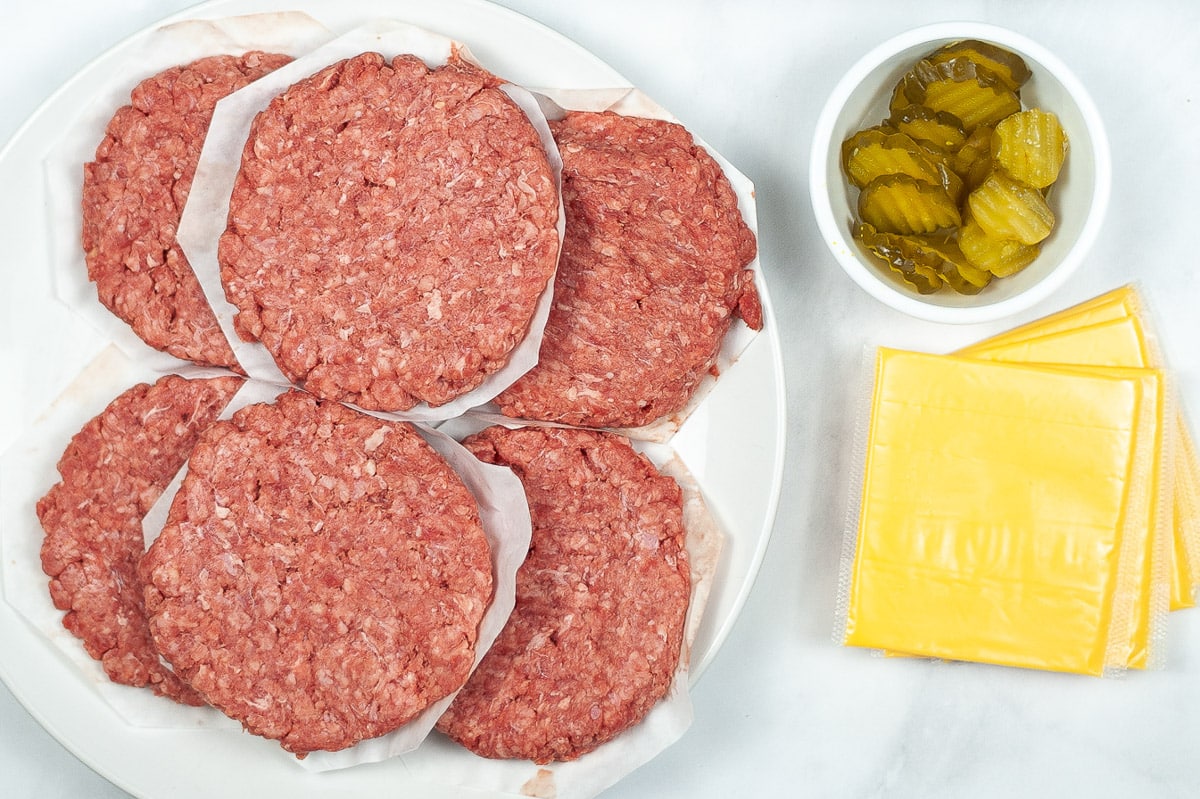 Patty Sizes
Give your hamburgers the same size and thickness. This will help to ensure an even cooking time. For this recipe, I used quarter pound beef patties.
Use a Trivet
Make sure to use a trivet for this recipe. If you don't have one, you can make balls of aluminum foil for your hamburger patties to sit on.
You don't want the meat to be sitting in the water while cooking; the water can get into the aluminum foil and make your burgers soggy.
Pressure Time
Make sure to take into consideration the time that your Instant Pot will need to build up pressure. It can take anywhere from 5–20 minutes. Add this pressure building time on to the actual cooking time for a better estimate of how long you will need to make this recipe.
Variations to Instant Pot Burgers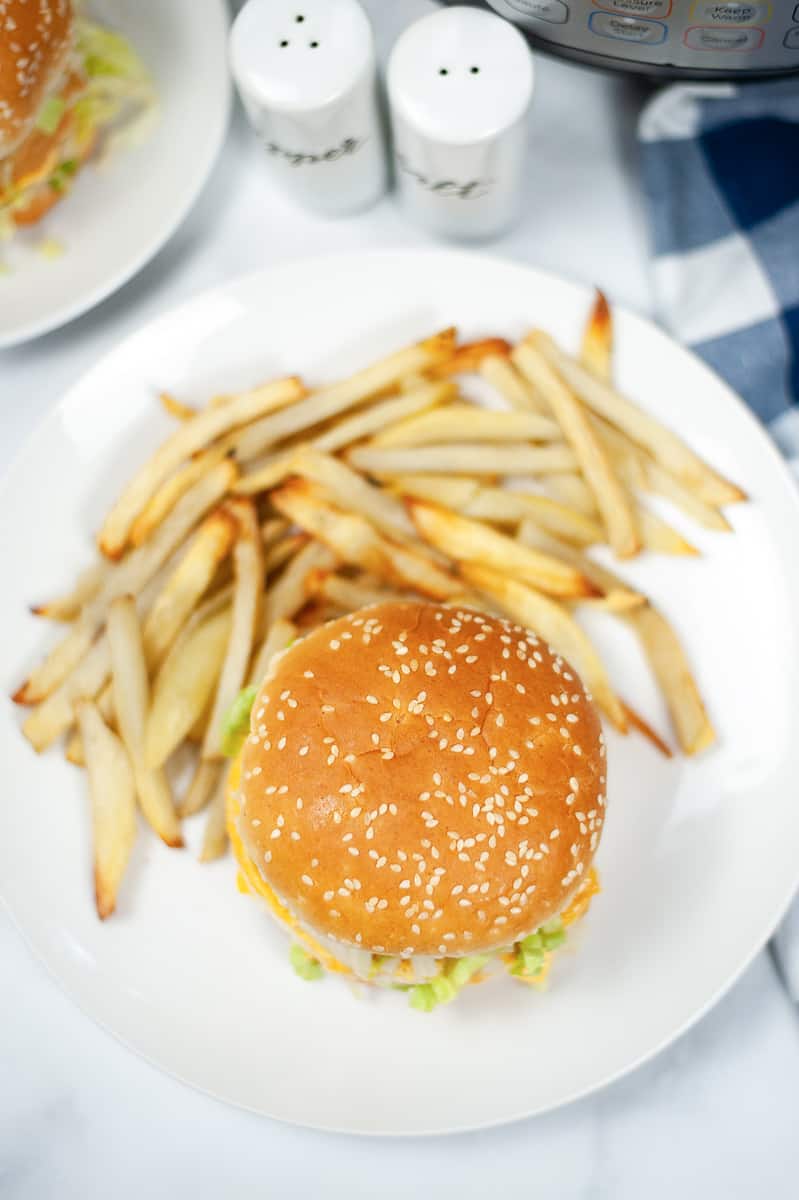 Seasonings
Season your beef patties to your taste! I love the classic salt and pepper, but if you want get creative, try some seasoning salt, garlic, or onion powder. If you have a favorite spice blend, go ahead and sprinkle it on your burgers!
Low-Carb Dinner
Instead of serving your burgers in a bun, consider offering a bun-less option. Or even try a lettuce wrap burger! To make a lettuce wrap version, take large lettuce leaf and use that to wrap around your burger in place of a bun.
Instant Pot Burgers FAQs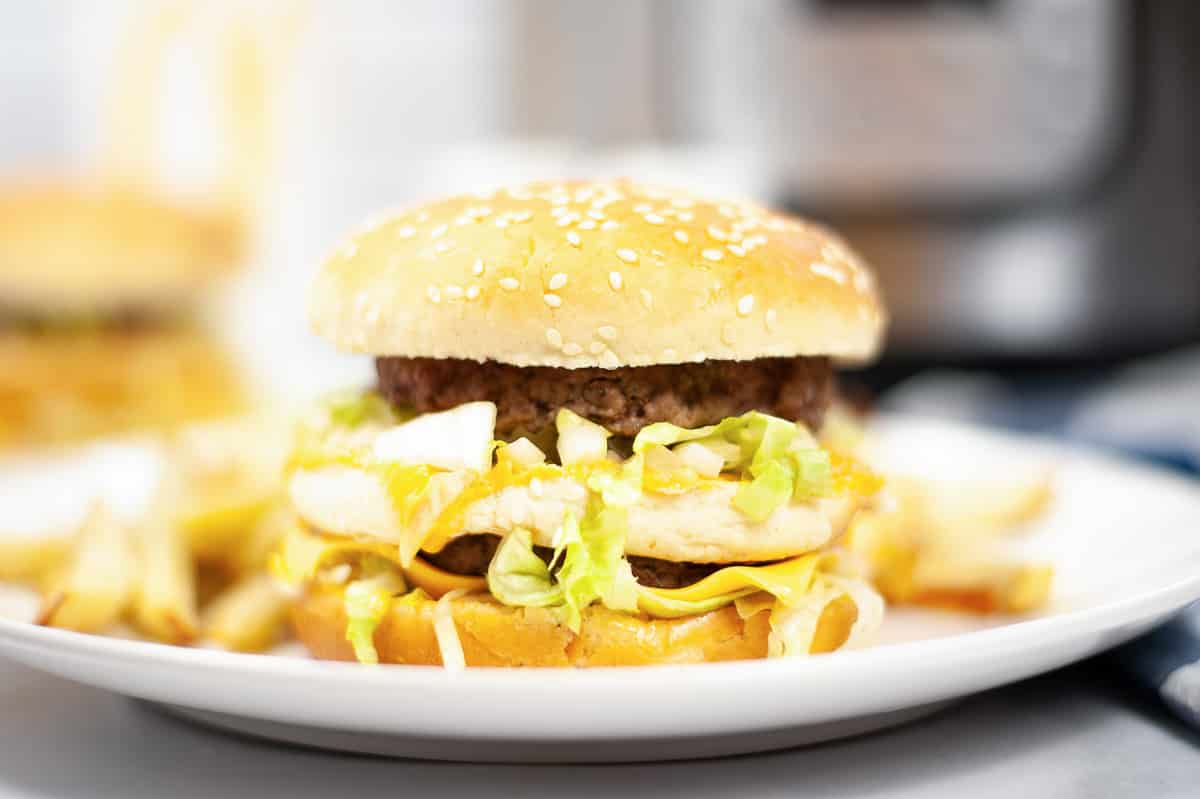 Can I cook frozen beef patties in the pressure cooker?
You can easily and safely cook frozen beef patties in your pressure cooker. In fact, you can cook patties straight from the freezer!
Wrap the frozen patties tightly in foil just as you would the unfrozen patties. Also keep the cook time the same. The only difference is that your Instant Pot will take longer to come to pressure with the frozen patties.
How should I serve pressure cooker burgers?
I served my burgers like Big Macs. I added Thousand island dressing, shredded lettuce, tomatoes, etc. and served the burgers with a side of fries! Feel free to dish up your burgers as intricately or simply as you would like.
How do you store leftovers?
You can store these burgers in the fridge for 2–3 days. When you want to eat one, just reheat it in the microwave or in a pan on the stove. If you use the pan method, add a little water to prevent the burger from drying out.
Recipe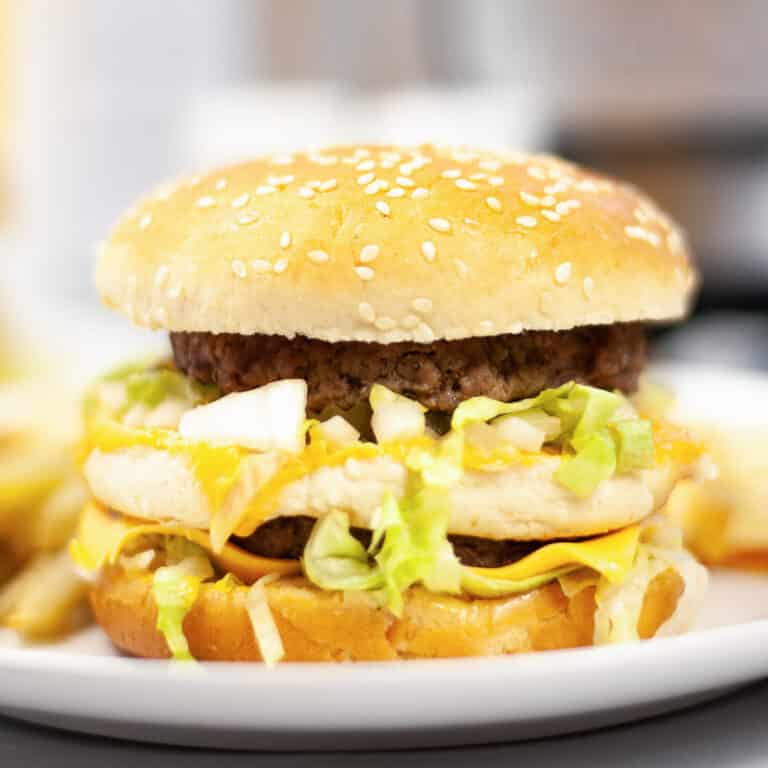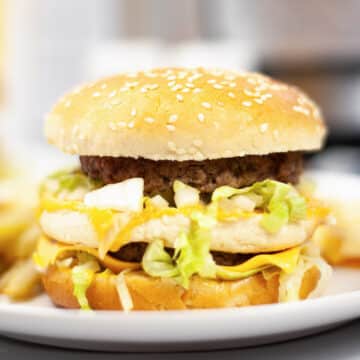 Instant Pot Burgers
Did you know that you can cook burgers in your Instant Pot? These Instant Pot Burgers are sure to blow your mind!
Ingredients
Instructions
Season beef patties with salt and pepper on both sides.

Wrap each patty in a piece of aluminum foil.

Place beef patties on a trivet inside the Instant Pot. Add a cup of water to instant pot and close. Set the pressure valve to Close. Pressure cook on high for 10 minutes. (Don't forget to let your cooker come to pressure before beginning cook time.)

When finished, open the pressure valve to release, being careful not to burn your fingers.

Remove patties from aluminum.

Serve patties with a toasted bun and your favorite toppings.
Nutrition
Calories:
110
kcal
Carbohydrates:
5
g
Protein:
8
g
Fat:
6
g
Saturated Fat:
2
g
Polyunsaturated Fat:
1
g
Monounsaturated Fat:
2
g
Trans Fat:
1
g
Cholesterol:
28
mg
Sodium:
582
mg
Potassium:
130
mg
Fiber:
1
g
Sugar:
1
g
Vitamin A:
65
IU
Vitamin C:
1
mg
Calcium:
60
mg
Iron:
1
mg