One Pot Butternut Squash Lasagna Soup is an amazingly flavorful, rich and indulgent fall treat.
This soup has all of the delicious butternut squash lasagna flavor that we love, packed into a one pot soup for an easy weeknight meal!  The best butternut squash soup you'll find to warm you up on a cool fall evening.
You guys. THIS is the soup you've been waiting for your whole life.  I need to prepare you for two things here.
One, how out of this world blow-your-mind delicious this soup is.
Two, the fact that your mind will be even more blown because you can make this pretty much any weeknight ever.  It's impossibly easy!
Who doesn't like a big old warm bowl full of soup packed with noodles, cheese, and buttery squash that can be in your mouth in approximately 30 minutes?
Guess what else I'm going to make super easy for you?
Peeling and seeding squash!
Please, do not be intimidated by your squash, they only think they're tough.
Here is a quick and simple list of what you'll want to do to make your squash cutting simple:
1. Using a sturdy, sharpened chef's knife, cut off ¼ inch from the bottom of the squash and ¼ inch from the top of the squash.  Make sure you slice evenly.  This gives you an even base to stand your squash up on.
2. Stand the squash upright on your cutting board and peel in downward strokes with a vegetable peeler.  If your peeler isn't sturdy enough, you can carefully use your chef's knife to peel the skin downward.
3. Using your knife again, make a long cut down the middle of the squash from top to bottom.
4. Use a metal spoon to scoop out the seeds and stringy pulp from inside the squash cavity.
5. Lay the squash flat (cut side down) on your cutting board.  Cut the squash lengthwise, then into cubes.
Why am I posting squash cutting directions instead of step by step soup making directions here?  Because while this soup is really simple to put together, but, some people find handling a squash intimidating.
I know that when I first ever worked with a squash, I had no clue what I was doing, and desired quick and easy directions to get me through the process.  I also felt the same way the first time I cut a mango.
Anyone else?
Some fruits/vegetables/gourds are confusing.  This way, you don't have to be confused, and can get down to eating soup a whole lot faster!
Ok, now that we have instructions out of the way, let's talk about SOUP!  I'm all about soup right now, and the chilly part of the year has only just begun.  I can live off of soup for the six cold months out of the year.  I'm not sure if everyone else in my house feels the same way.....but, I'm the one cooking so I get to decide.  Right?  Right.
The inspiration for this soup basically came from all of the other butternut squash soup recipes I've seen out there.  And, also from the fact that I adore noodles and cheesy lasagna.
I have tried many a squash soup and they're all so good, but when I'm really hungry on a cold night I want something really savory and hearty.  That's where this heavenly soup comes in!
Let me tell you all why I adore this soup so much for so many reasons.  It's just screaming with encouragement for us to all start cooking at home more often.
Best Butternut Squash Soup Recipe
I mean, why not when you can have something so amazing on your table in no time?  This soup is soooo co-zy.  It's one of those meals that you should come home after work, and get into your fuzzy pajamas before cooking.
It's a soup that leaves minimal cleanup, which means, more time to be snuggled up in your fuzzy pj's with the ones you love when the weather is cold this year.
Did I mention, that it's also smooth and creamy from the squash, packed full of garlic herb flavor, delicious with noodles and melty mozzarella and Parmesan?  You just can't not like this soup!
Get on your pajamas, and get this soup on your fall menu!
This recipe serves 6-8 people.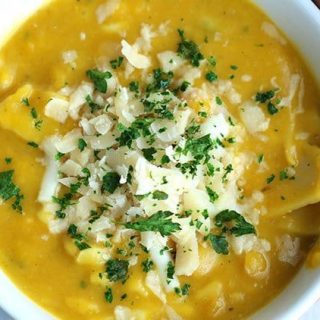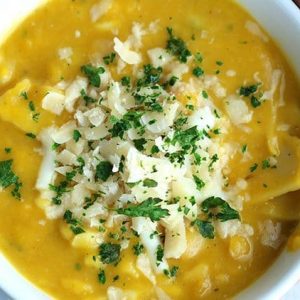 Butternut Squash Lasagna Soup
Enjoy this Butternut Squash Lasagna Soup!
Ingredients
1

Large butternut squash

about 3 pounds, halved vertically and seeded

1

Yellow onion

minced

4

Cloves

garlic

minced

4

Tbsp

butter

divided

2

Tbsp

Olive oil

10

Lasagna noodles

broken into pieces

8

Cups

vegetable or chicken stock

divided

½

Teaspoon

dried oregano

½

Teaspoon

dried thyme

¼

Teaspoon

ground nutmeg

1

15 ounce Can cannellini beans, drained and rinsed

1

Cup

shredded mozzarella cheese

½

Cup

freshly grated parmesan cheese
Instructions
Cut squash into 1 inch chunks and set aside.

In a large stock pot or dutch oven, heat the olive oil and two tablespoons of the butter over medium high heat.

Add the onion to the pot and cook until soft, add the garlic and cook one more minute.

Add the squash and 6 cups of the stock to the pot along with the oregano, thyme, and nutmeg.

Simmer for 15-20 minutes until squash is fork tender.

Remove the squash chunks to a blender and puree until smooth, then return to pot.

**Alternately, using a handheld immersion blender, puree the squash right in the pot until smooth.

Add the remaining broth, and broken lasagna noodles to the pot with the squash.

Simmer for 10 minutes, until noodles are al dente.

Add the cannellini beans, and both cheeses, and allow cheese to melt.
Nutrition
Calories:
589
kcal
Carbohydrates:
86
g
Protein:
23
g
Fat:
18
g
Saturated Fat:
7
g
Cholesterol:
32
mg
Sodium:
2285
mg
Potassium:
921
mg
Fiber:
7
g
Sugar:
12
g
Vitamin A:
21244
IU
Vitamin C:
42
mg
Calcium:
427
mg
Iron:
3
mg