Healthy Chicken Recipes
I love it when a meal comes together so perfectly.  And is eaten by everyone in the family.  When you've got picky eaters in the family, that's a big thing.
Baked Enchiladas
My kids are not big chicken eaters.  I really don't know why, but they will not eat baked chicken.  It's got to be in something, or every once in a while we'll go for fried chicken.
So, I tend to make casseroles and enchiladas, tacos and burritos, chicken salad and chicken kabobs.  Because if it has a spear through it, at least it's interesting.
Best Enchilada Recipe
No baked chicken for my kiddos.  Chicken Enchilada Casserole on the other hand: bring it on.
I baked this yummy dinner and it was gone in 2 seconds flat.  Okay, I exaggerate.  It was more like five minutes.  What's more… everyone wanted seconds.  Sometimes, I'll divide the recipe into two 8-inch pie plates instead of a 9X13 baking dish and put one in the refrigerator for the next day.  Lunch.  Spring break.  Had to feed kids.
And take pictures.  Because lets face it.  The reality is, taking pictures at dinner time is not good.  Unless you're somewhere that its daylight 24 hours a day.  Then maybe.
So, I baked the second enchilada casserole the next morning.  Because this is the BEST enchilada recipe for a casserole. Hands down.
And it was delicious.  Because we all know that good-looking food tastes good, right?
Best Chicken Enchilada Recipe – In a Casserole
Two 8-inch pie plates or a 9×13 baking pan… you choose.  If you like portion control, the pie plate is the way to go.  Put the second in the refrigerator for the next day, or the freezer for a nice freezer meal.  Beats take out any day of the week.
Easy Shredded Chicken Recipes
This would also be the perfect dish to bring to a neighbor who is sick, just had a baby, or someone who's day you want to brighten.
The chicken is SO easy to shred too. You can use the two fork method and shred the chicken by hand, or you can toss all the chicken meat into a mixer and let the mixer shred it up. Seriously, you will be so surprised how fast chicken can be shredded using this method. I love it!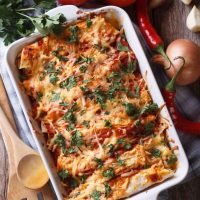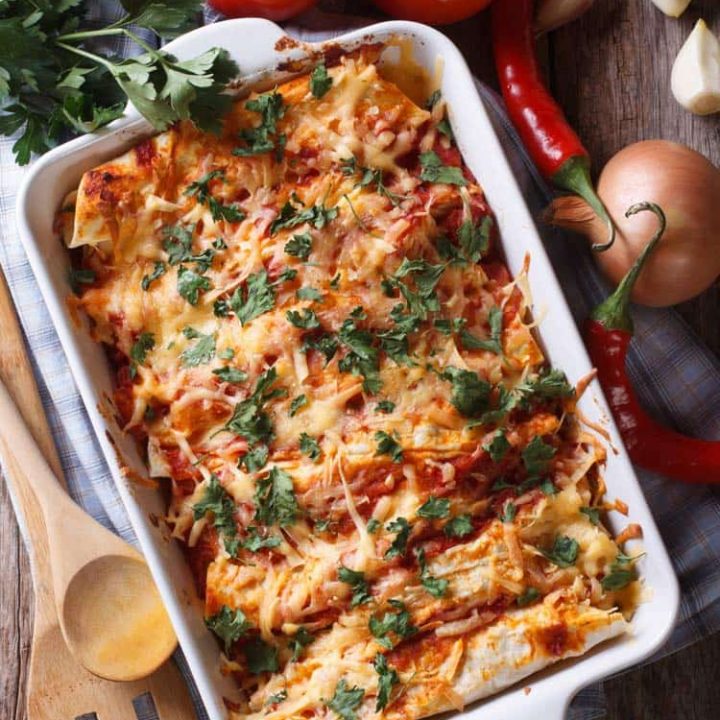 Chicken Enchilada Casserole
Chicken Enchilada Casserole recipe is an easy casserole that the whole family will enjoy. Freezer meal, quick dinner fix and kid friendly.
Ingredients
1 to 1 1/2 Pounds shredded boneless chicken breast
Flour tortillas (I used 7 (10-inch) tortillas)
1 (15 ounce can) enchilada sauce
1 (16 ounce can) Refried beans
2 Cups shredded cheese
Instructions
Use either a 9x13 baking pan or 2 (8-inch) pie plates.
Spoon a small amount of enchilada sauce in the bottom of the pan.
Then, you can either fill the tortillas with the beans, shredded chicken, cheese and enchilada sauce--or you can layer ingredients in this order: tortillas (tear to fit the pan), refried beans (spread over tortilla), shredded chicken, enchilada sauce, cheese.
Repeat layers until pan is full.
Add a final layer of tortillas, enchilada sauce, and cheese.
Bake on 375 for 25-30 minutes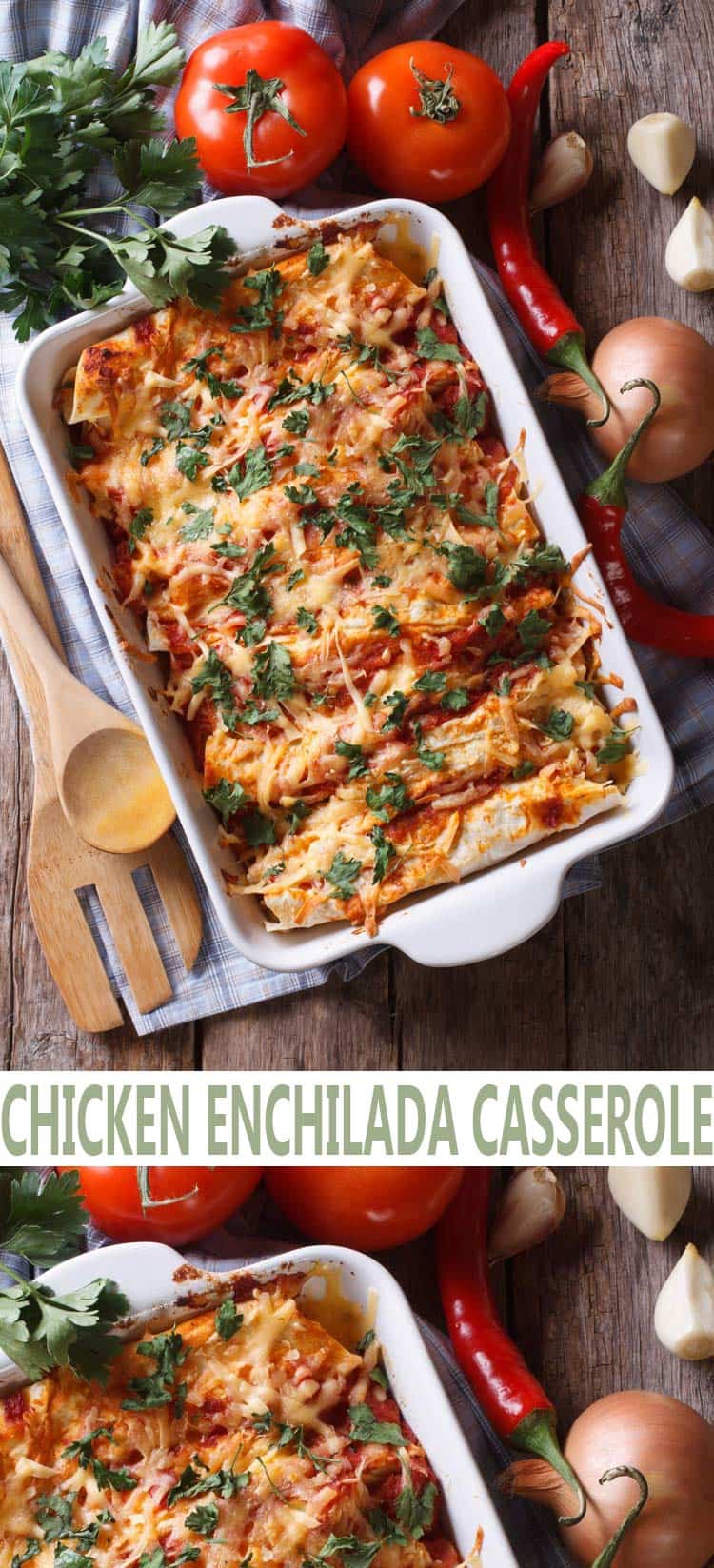 The following two tabs change content below.
Latest posts by Jessica McCoy (see all)