Recipe and photos provided by the COCOA EXCHANGE.
'Tis the Season for Cranberries and Chocolate Cranberry Sauce
I love a good homemade cranberry recipe. In fact, we've made some tasty cranberry sauce for Thanksgiving, Cranberry cocktails like our favorite Cranberry Margarita and Moscow Mule and one of our favorite seasonal treats: Cranberry Cashew Bark.
One of my favorite flavors of the season is cranberries.
In part, it's because of the fun, tart flavor that the ingredient adds to whatever recipe you introduce it to. The other reason is solely because it is a colorful addition to any display and can as easily be used for holiday decor as it can be used in holiday food.
Last year, I introduced cranberries to my favorite stuffing and combined the idea of decor and food into a holiday display of a Cranberry Sausage Stuffing using a bundt pan. It made for a gorgeous presentation on the holiday table.
Next on my list will certainly be Cranberry Scones...or now that I've been introduced to this recipe, perhaps Chocolate Cranberry Scones. They would probably pair up perfectly with Chocolate Cranberry Sauce. Yum!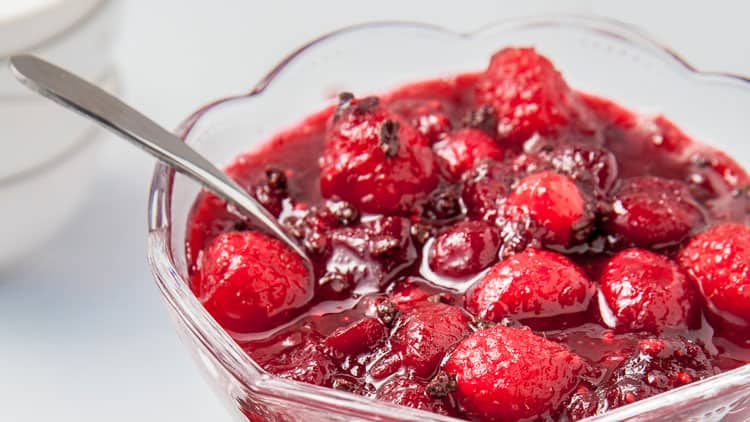 Not Your Grandmother's Cranberry Sauce
I have to admit I was mildly surprised and a little taken aback when I initially read this recipe that was sent to me by the Cocoa Exchange's press team. It's always fun reading new recipes, so I pondered a little on this one.
Chocolate together with cranberries.
In cranberry sauce!
The idea definitely had me wondering, but just looking at the gorgeous photos, I knew that this was a recipe that I was going to have to try, and I have to say it is very appealing.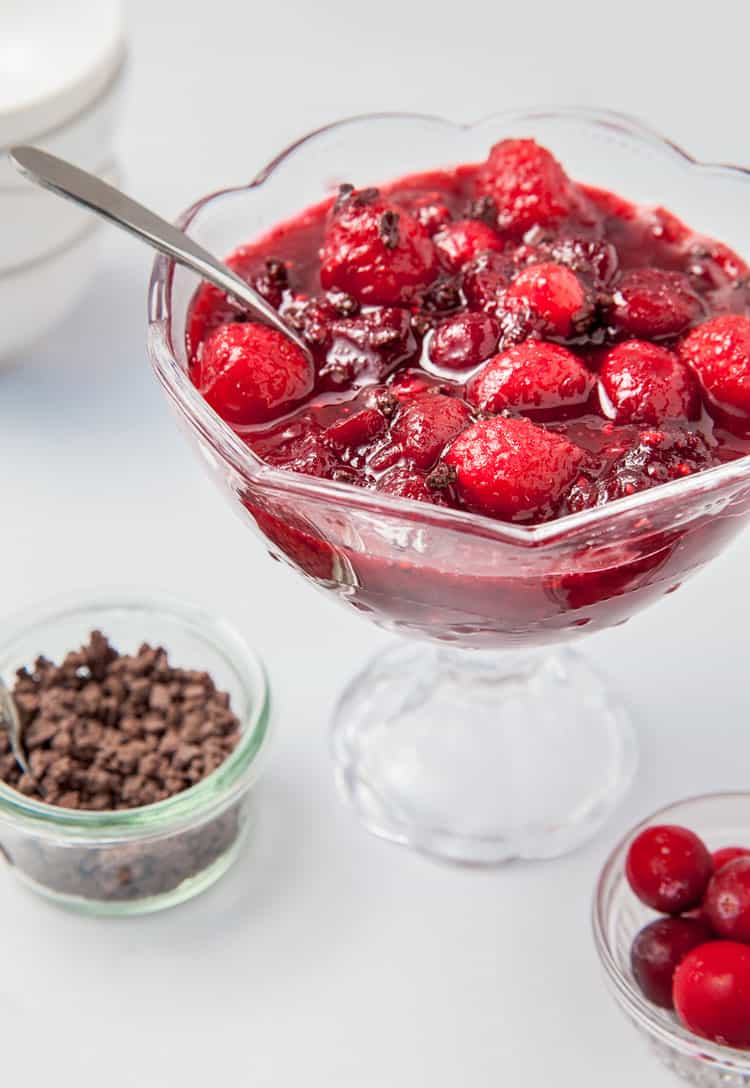 A Sweeter Cranberry Sauce
Not only does this recipe include cranberries and chocolate, but it also includes raspberries.
And raspberries...well, they are a much beloved and I have to say vastly underused berry ingredient. If raspberries were more readily available (and less expensive!) I would cook with them much more frequently.
But, the combination of these 3 interesting ingredients makes for a delicious side dish that leans much more toward the dessert end of the table than the relish. In my humble opinion.
Not only do you have chocolate and raspberries sweetening the pot, but added to that is sugar! Yes, this is a sweetened up cranberry sauce just waiting for you to tall in love with it!

It's a Cranberry Sauce Off!
Like a chili cook-off, it wouldn't be an ill-conceived idea to toss together a Cranberry Sauce Off. There are so many ways to make what is often thought of as a super simple Thanksgiving relish.
Now, I have to admit...I grew  up thinking that cranberry sauce was something that came out of a can at Thanksgiving and that was the only use for the berries.
Aside from the cranberry pill or cranberry juice that I'd heard about being great for UTI's the only familiarity I had with cranberry sauce was spooning up a small dollop of  can-shaped cranberry sauce on the holidays.
I'm sure that our foray into canned jellied cranberry sauce at the holidays had much more to do with the fact that we were just a family of 4 and one person cooking everything from scratch for four people to gobble up in a matter a minutes would be pretty pointless. Especially when there was a turkey to roast, potatoes to peel, stuffing to perfect and gravy to master.
All in all, that introduction to cranberry sauce was memory making, and I wouldn't want it any other way.
It's probably because of that, that visiting a cranberry bog during harvesting is now on my bucket list.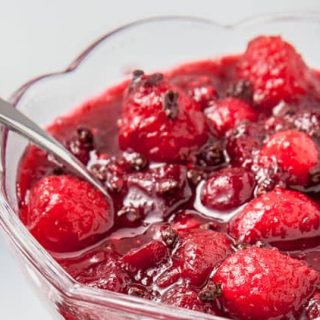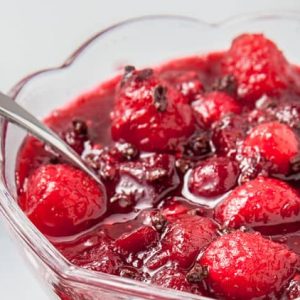 Chocolate Cranberry Sauce Recipe - Perfect for Thanksgiving Dinner
Learn how to make cranberry sauce with chocolate. This cranberry sauce is a fun and tasty twist on a classic holiday recipe. Perfect cranberry sauce for Thanksgiving.
Ingredients
1

lb.

cranberries

fresh or frozen

¾

cup

apple cider

¾

cup

granulated sugar

¼

cup

Pure Dark® Cinnamon Chocolate Nibs

½

pt.

fresh raspberries
Instructions
To a medium size saucepan over medium heat, add cranberries, apple cider, sugar and Pure Dark® Cinnamon Chocolate Nibs. Stir gently and bring to a boil.

Simmer over low-medium heat for 15-20 minutes until cranberries begin to burst and sauce starts to thicken.

Add raspberries and stir very gently so raspberries maintain shape.  Allow to cool on stove before transferring to dish to refrigerate.
Nutrition
Calories:
248
kcal
Carbohydrates:
63
g
Protein:
1
g
Fat:
1
g
Saturated Fat:
1
g
Sodium:
5
mg
Potassium:
230
mg
Fiber:
9
g
Sugar:
49
g
Vitamin A:
88
IU
Vitamin C:
31
mg
Calcium:
27
mg
Iron:
1
mg
Save
Save