This 3-Ingredient Glazed Ham is the perfect centerpiece for a holiday meal or a big Sunday brunch. It's sweet, savory, and super simple to throw together. Let's dig in!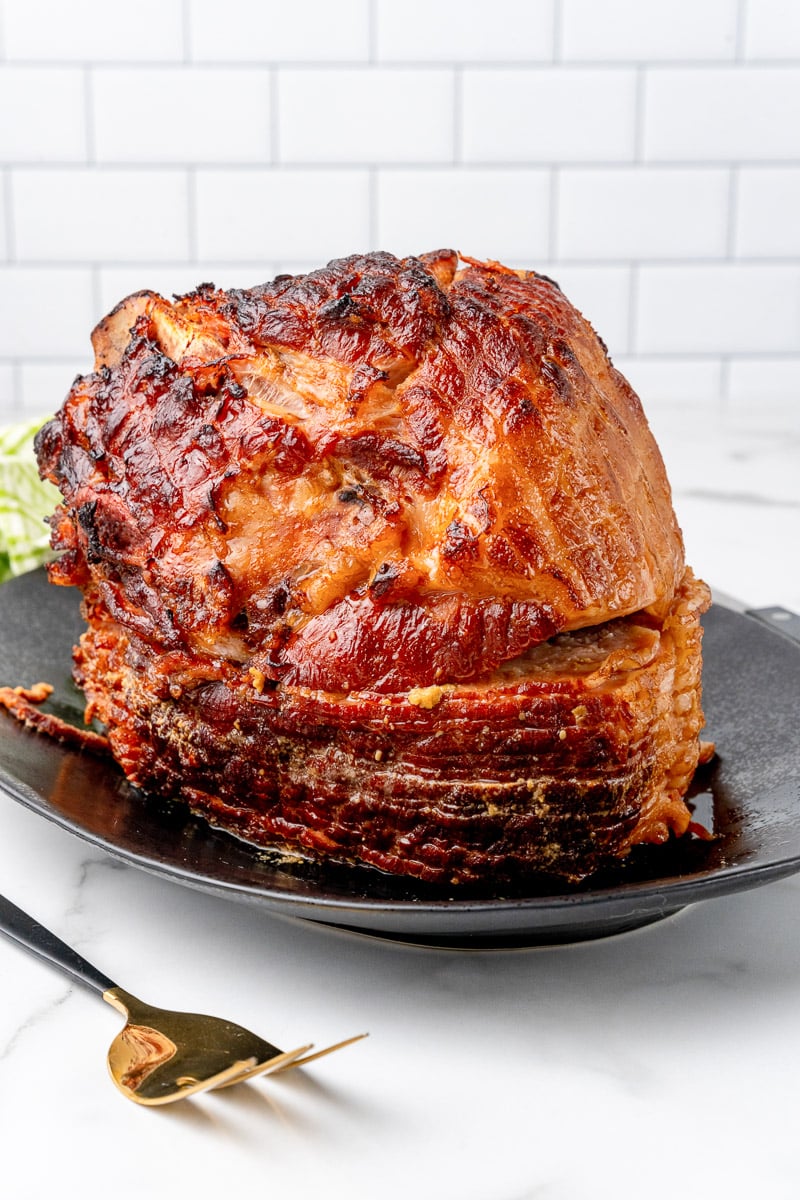 When it comes to holiday meals, baked ham is a classic that just about everyone loves. The aroma of a perfectly cooked ham wafting through the house is enough to make anyone's mouth water. But what really sets a ham apart is the glaze. A good glaze can take a holiday ham from ordinary to extraordinary, and it doesn't have to be complicated. In fact, with just three simple ingredients, you can create a delicious and impressive glaze that will have your party guests asking for your recipe.
3 Simple Ingredients!
The three ingredients in this glaze are:
Brown Sugar
Ginger Ale
Dijon Mustard.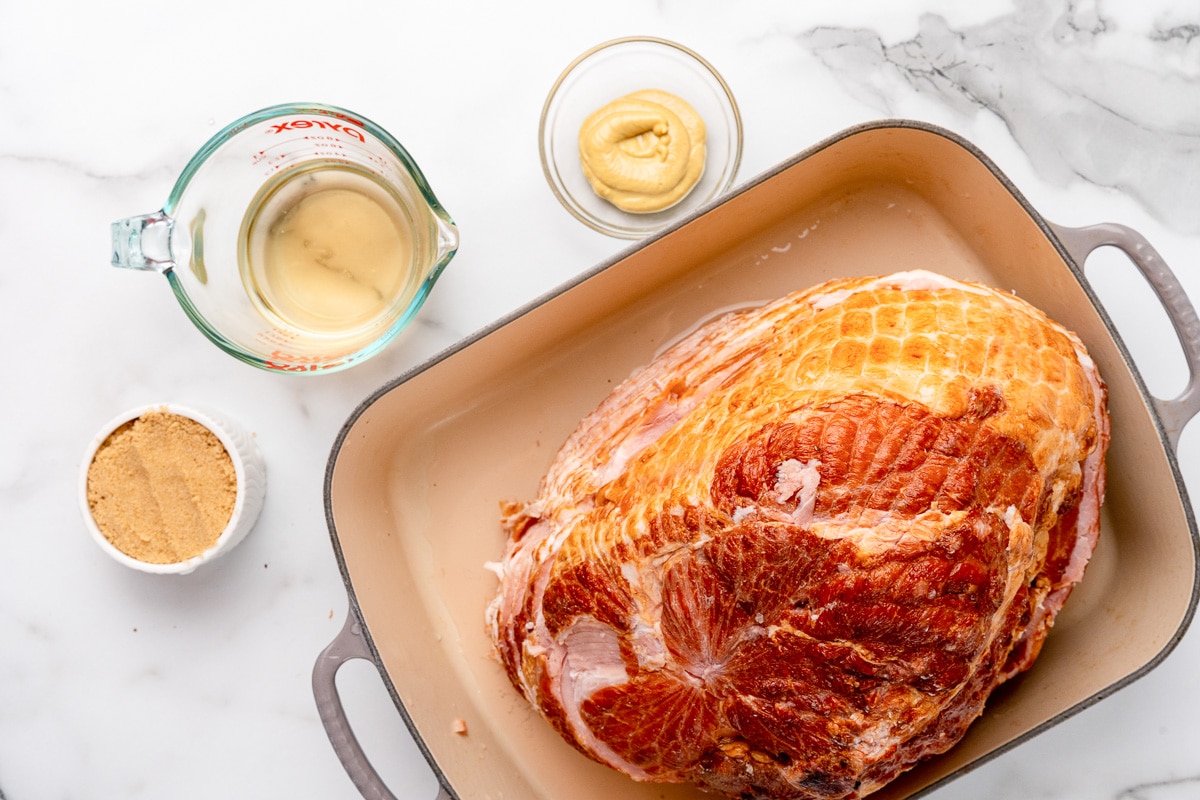 It may sound like an unusual combination, but trust me, it works. The brown sugar adds sweetness and caramelizes beautifully, while the ginger ale gives a subtle tang and helps to create a sticky glaze. The dijon mustard adds a bit of complexity and cuts through the sweetness, resulting in a perfectly balanced glaze that complements the ham without overwhelming it.
This glaze is perfect for a pre-cooked ham that just needs to be heated through, but it can also be used on a whole, uncooked ham that you plan to roast yourself.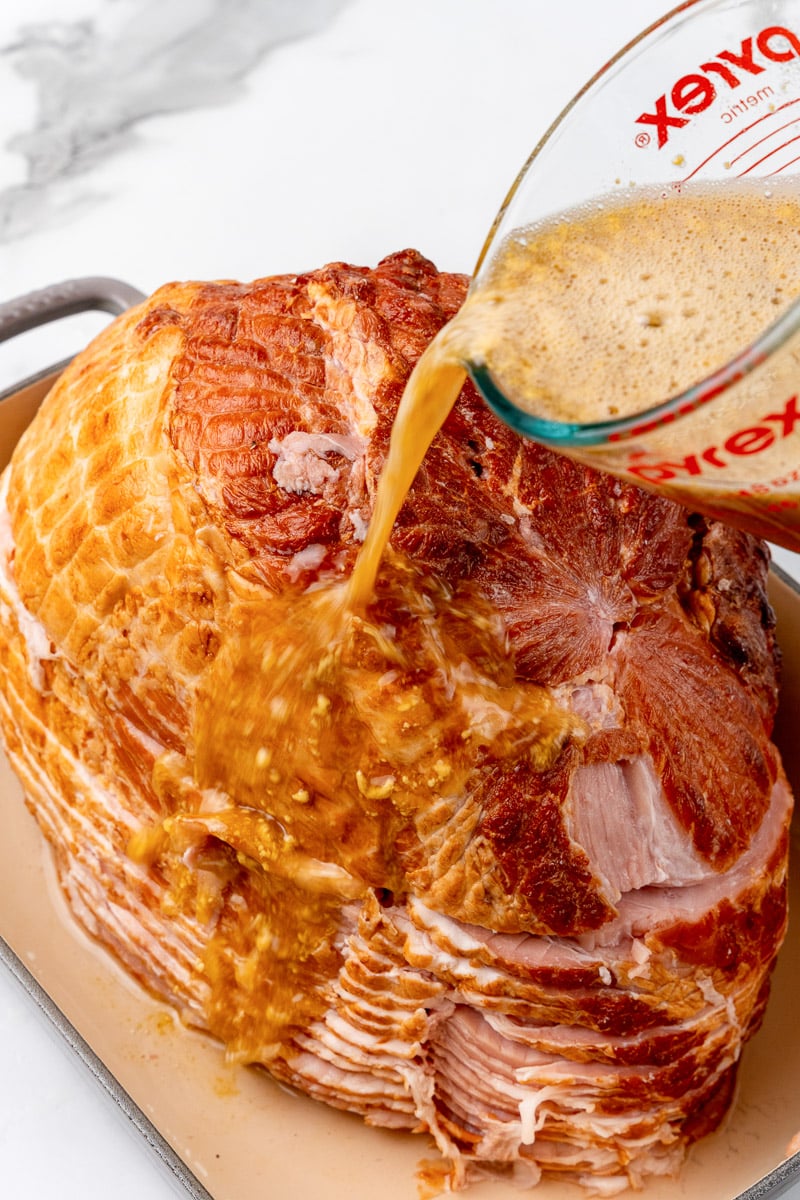 How to Make the Glazed Ham
To make the glaze, start by preheating your oven to the desired temperature. While the oven is heating up, mix together ½ cup of brown sugar, ½ cup of ginger ale, and 2 tablespoons of Dijon mustard in a bowl. Stir the ingredients together until they are well combined. And that's it - you've made the glaze!
Next, place your spiral cut ham cut side down in a roasting pan and pour the glaze over top. Cover the whole thing with foil and bake at 325 degrees Fahrenheit for 2 hours. Baste the ham a few times while it bakes.
To finish off the ham, remove the foil and increase the temperature to 400 degrees Fahrenheit. Baste it again and roast for 20 minutes or until the glaze is nice and caramelized.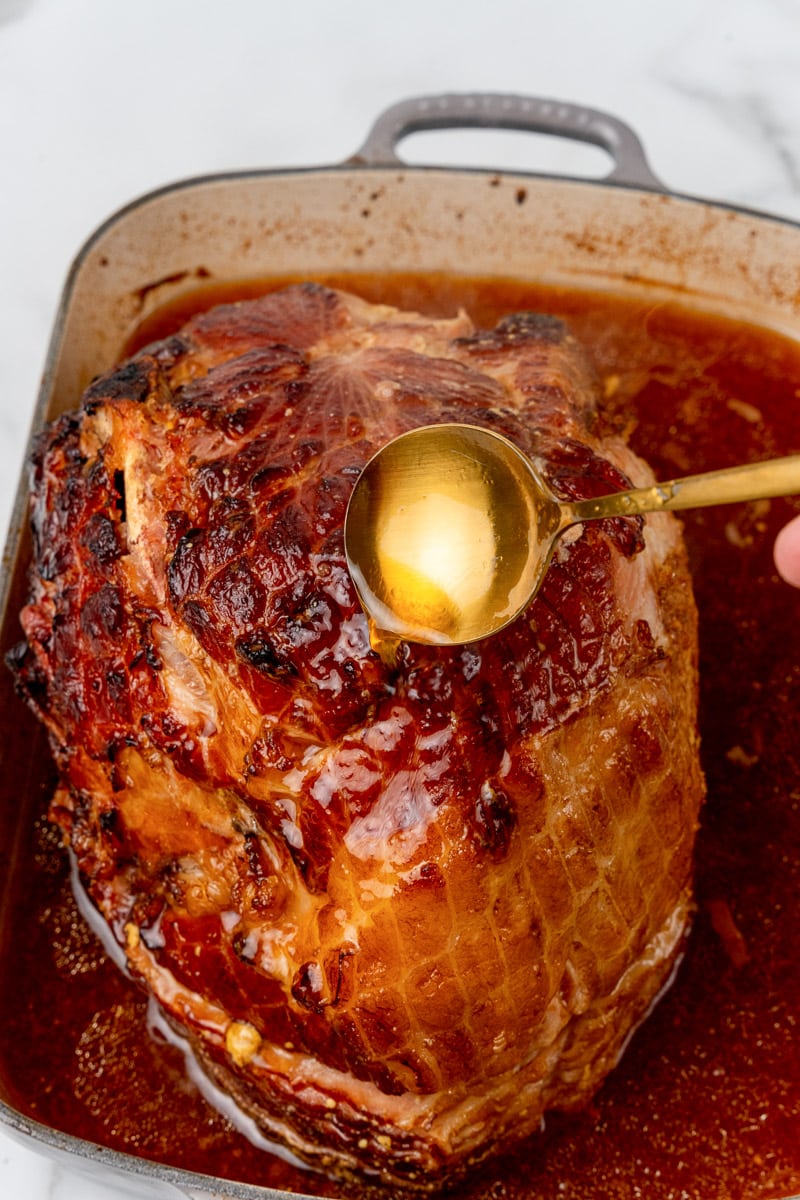 Tips for Perfect Ham
Applying the glaze. When glazing the ham, it's important to apply the glaze evenly and generously. You want to make sure that every inch of the ham is coated in the glaze so that it can caramelize and create that beautiful glossy finish. I like to use a brush to apply the glaze, but you can also use a spoon. I don't find a baster to work well for this recipe, as the glaze is too thick.
Cooking Time. You may need to adjust the cooking time for the size of your ham. I find that baking it at 325°F for about 15 minutes per pound, or until the internal temperature reaches 140°F, is the perfect formula.
Let it rest. Let the ham rest for at least 10 minutes before serving. This allows the juices to redistribute and ensures that each slice is juicy and flavorful.
Making the Glaze Ahead of Time
If you are prepping for a holiday meal, it can be helpful to make the glaze in advance and assemble your ham when you're party ready! You can mix up the glaze and keep it in the refrigerator for 2-3 days.
Alternatively, you can freeze the glaze for up to one month. (It may freeze fine longer than this, but I have only tested for up to a month!)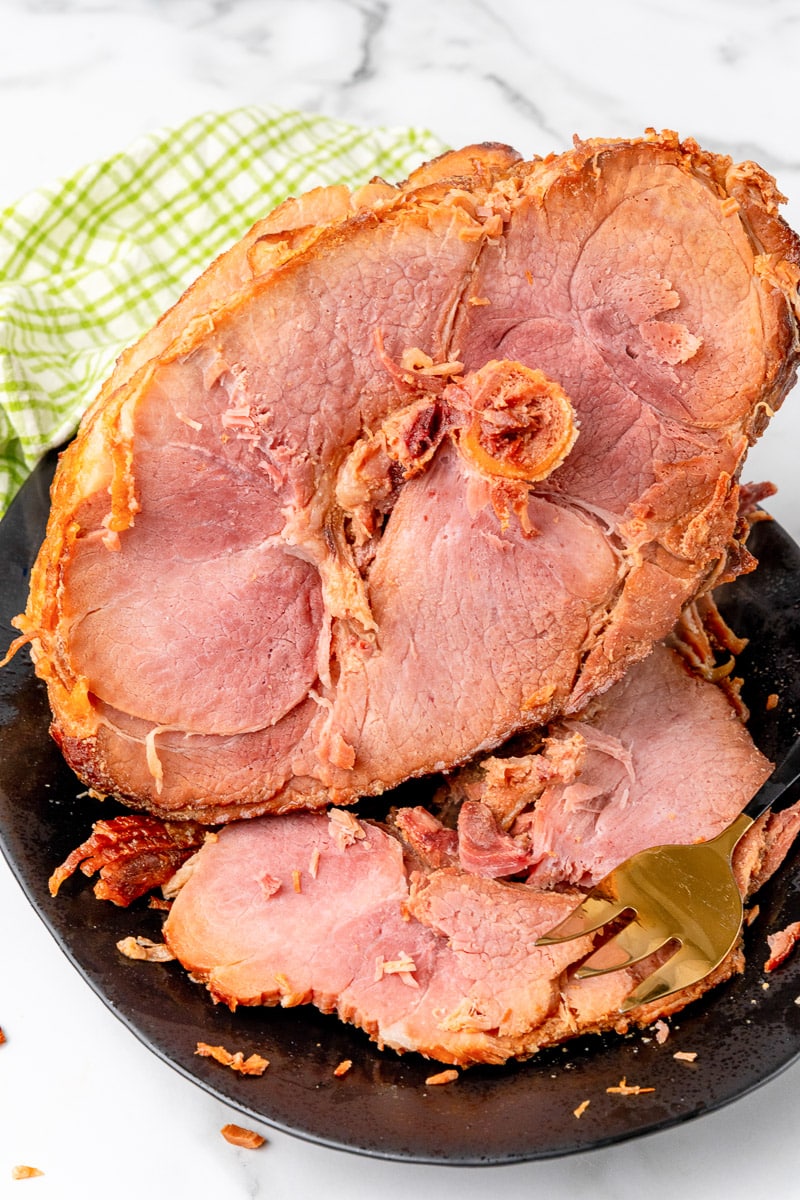 Storing Leftover Ham
In the Refrigerator: If you have any leftover ham, you can store it in the refrigerator for 3-5 days. Wrap it tightly in plastic wrap or aluminum foil, or store in an air tight container.
In the Freezer: You can also freeze leftover ham for up to six months. Wrap it tightly with plastic wrap or aluminum foil or place it in an airtight container. Label the container with the date and contents, so you don't forget when it was prepared! When you are ready to use the frozen ham, thaw it in the refrigerator for 24 hours before reheating it.
It is important to note that freezing the ham may affect its texture and flavor. The ham may become slightly dry and lose some of its flavor. However, it is still safe to eat and can be used in a variety of dishes. We like to use leftover ham in ham and cheese frittatas or in an old fashioned ham salad.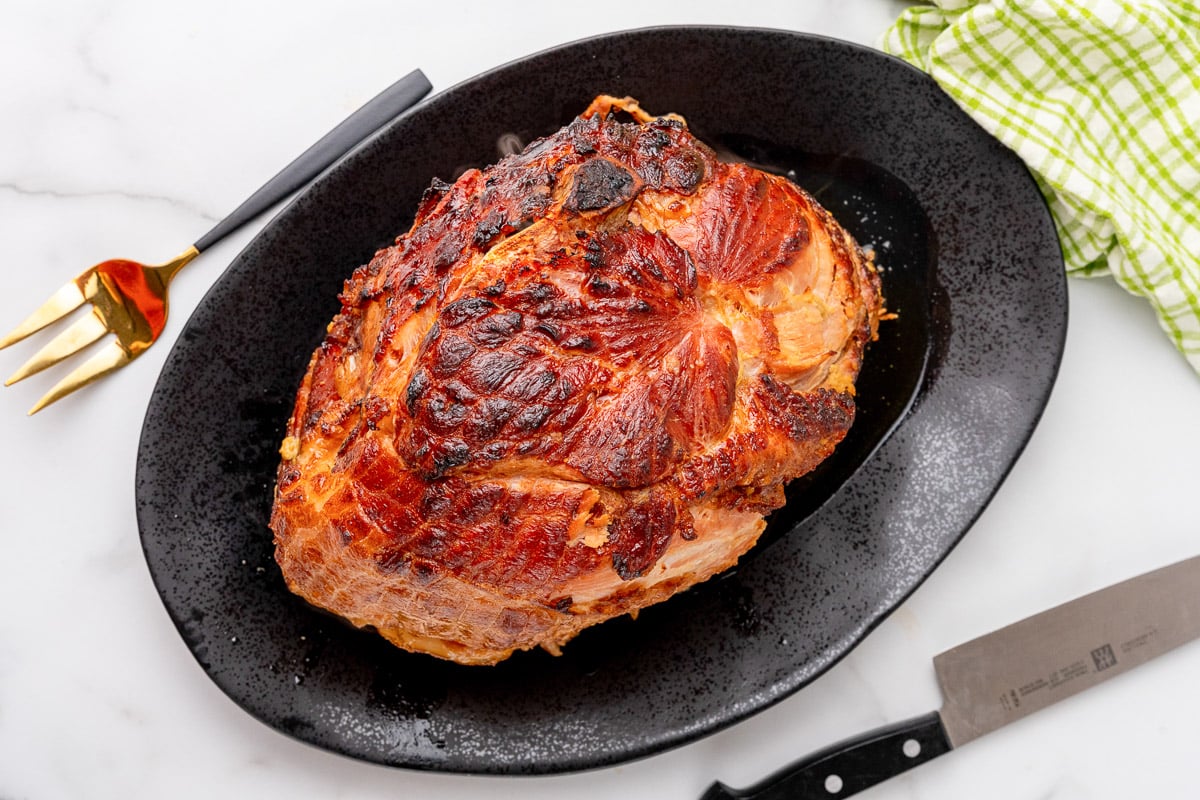 Variations & Substitutions
Substitute the Ginger Ale: If you don't have ginger ale, you can use lemon-lime soda. This recipe also works with cola, although it will have a different flavor profile.
Mix up the Mustard: If Dijon mustard isn't your jam, try experimenting with honey mustard or whole grain mustard instead. Use horseradish mustard for a spicy glaze
Swap the Sugar: You can use maple syrup, honey, or agave syrup in place of the brown sugar, if you prefer. You can also use a low carb brown sugar blend for a healthier option.
Add some more spice. Add a bit of cinnamon, minced garlic, or ground cloves to your glaze for an extra burst of flavor. You can even add a dash of soy sauce for a unique twist.
Add fruity flavor. For a sweet and tangy twist, you can add orange, pineapple, or apple juice to your glaze. These juices will add a fruity note that complements the savory taste of the ham.
Make it a boozy glaze. If you want to add a boozy kick to your ham, you can make a bourbon glaze. Combine bourbon, brown sugar, and Dijon mustard in a saucepan and cook until the mixture thickens.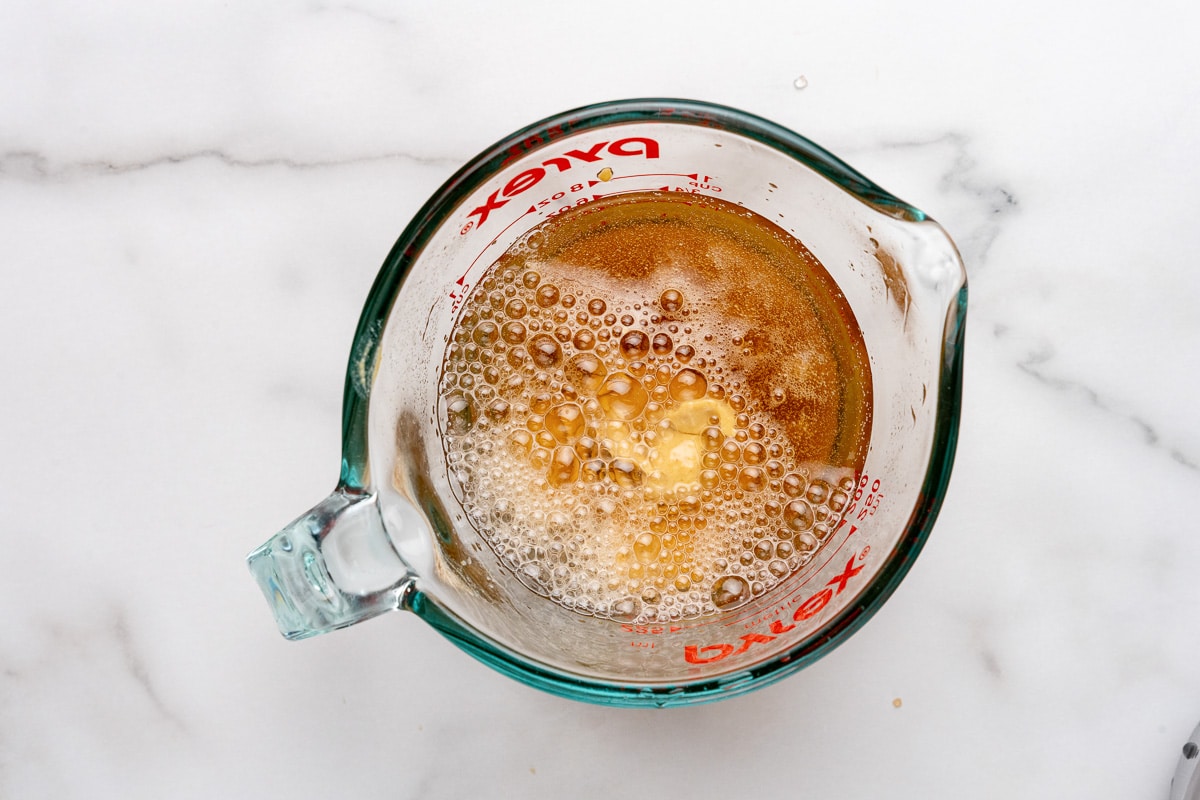 More Ways to Use the Brown Sugar Glaze
Use it as a marinade for chicken, pork, or beef. The sweet and savory flavors of the glaze will add a delicious depth of flavor to your meat. Try this marinated baked chicken with this brown sugar glaze!
Drizzle the glaze over roasted vegetables, such as carrots, sweet potatoes, or Brussels sprouts. The sweetness of the glaze will complement the natural sweetness of the vegetables.
Use it as a topping for pancakes or waffles. The sweetness of the glaze will add a delicious touch to your breakfast.
Use it as a glaze for roasted or grilled fruit, such as peaches or pineapple. The sweetness of the glaze will caramelize on the fruit, creating a deliciously sweet and tangy flavor. It would be great with these grilled pork and pineapple kebabs too!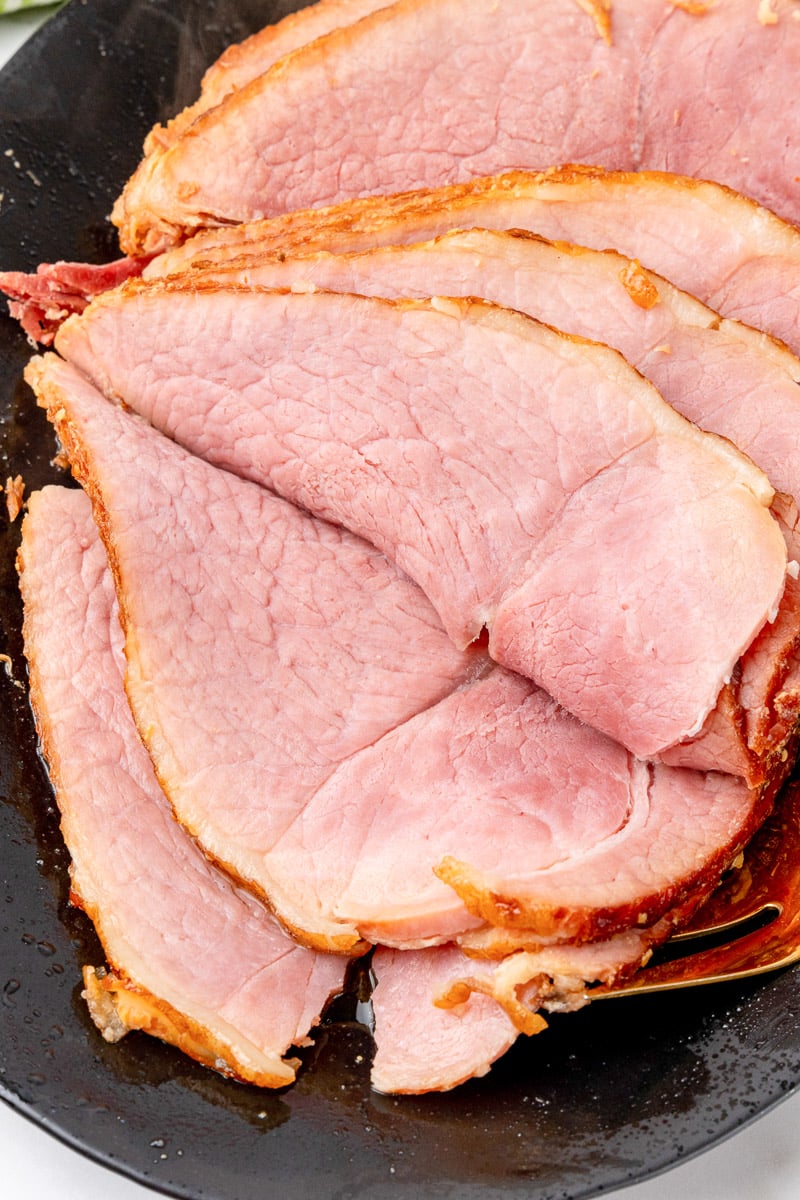 What to Serve with Glazed Ham
This simple glazed ham is easy enough to make for a Sunday dinner, but especially perfect as a main dish for Christmas dinner or Easter brunch. Here are some side dishes that pair perfectly with this ham:
These are just a few ideas, but the key is to choose dishes that complement the sweet and savory flavors of the ham!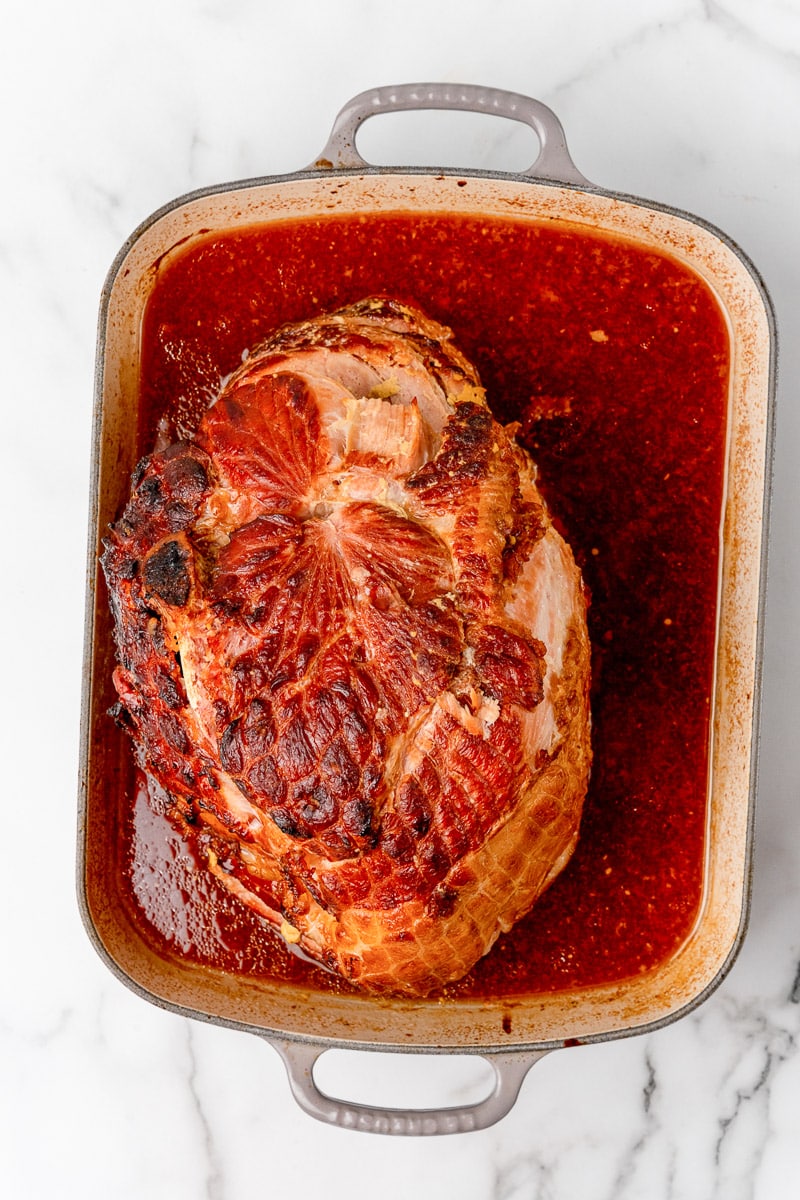 FAQs
As I was researching and testing out different ham glaze recipes, I came across some common questions that people tend to have when making this dish. Here are a few FAQs that I've answered to help you make the perfect glazed ham:
Do you glaze ham before or after cooking?
When working with a pre-cooked ham, like the spiral cut ham used in this recipe, you can glaze the ham before heating it in the oven. If you were using an uncooked ham, you would want to add the glaze towards the end of the baking time.
How can I thicken a ham glaze?
If your glaze seems too hi, try adding some extra brown sugar to the mixture. Alternatively, you can whisk in a small amount of cornstarch.
Is ham high in sodium?
Yes, ham is typically high in sodium due to the curing process. A serving of glazed ham can contain up to 800-1000 milligrams of sodium, which is about 35-45% of the recommended daily intake for most adults.
What are some alternatives to brown sugar in a ham glaze?
If you're looking for a healthier alternative to brown sugar, you can try using honey, maple syrup, or agave nectar instead. These sweeteners are still high in sugar, but they contain more nutrients than refined brown sugar. You can also use a low carb brown sugar substitute.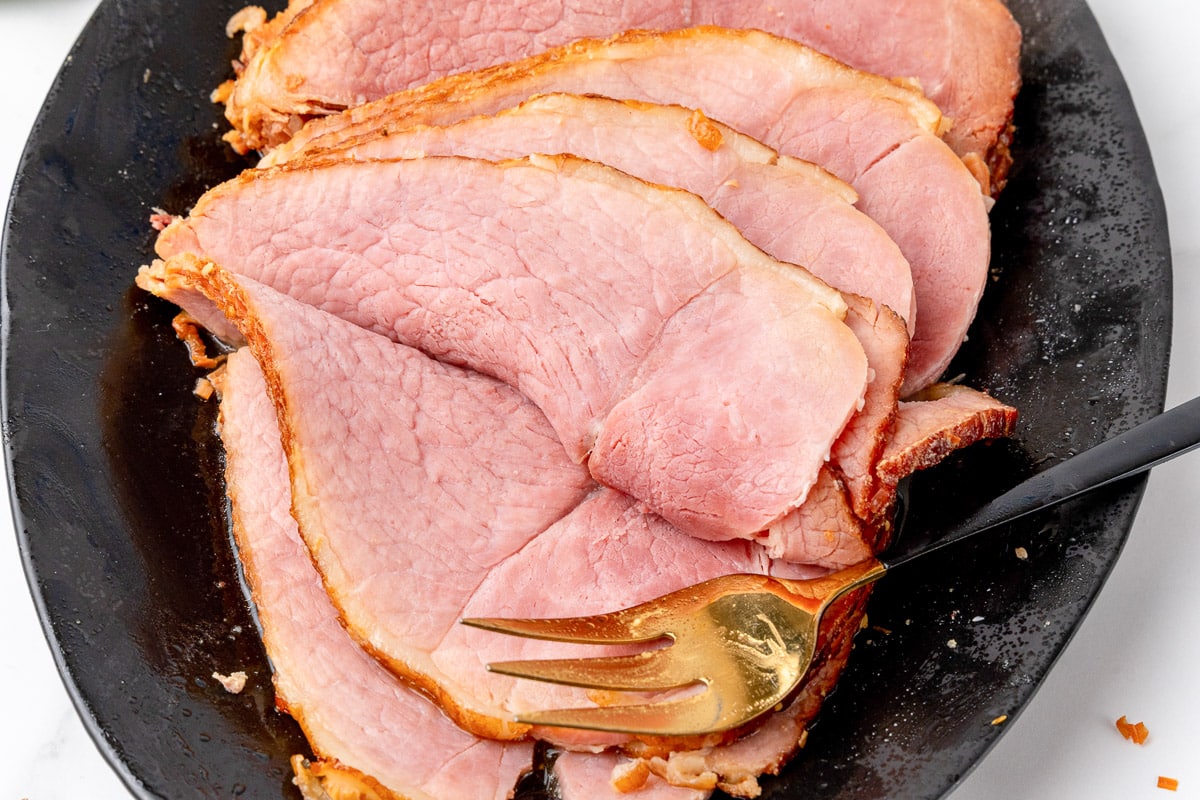 More Recipes to Try
If you love this easy three ingredient glazed ham, be sure to check out these other tasty ideas: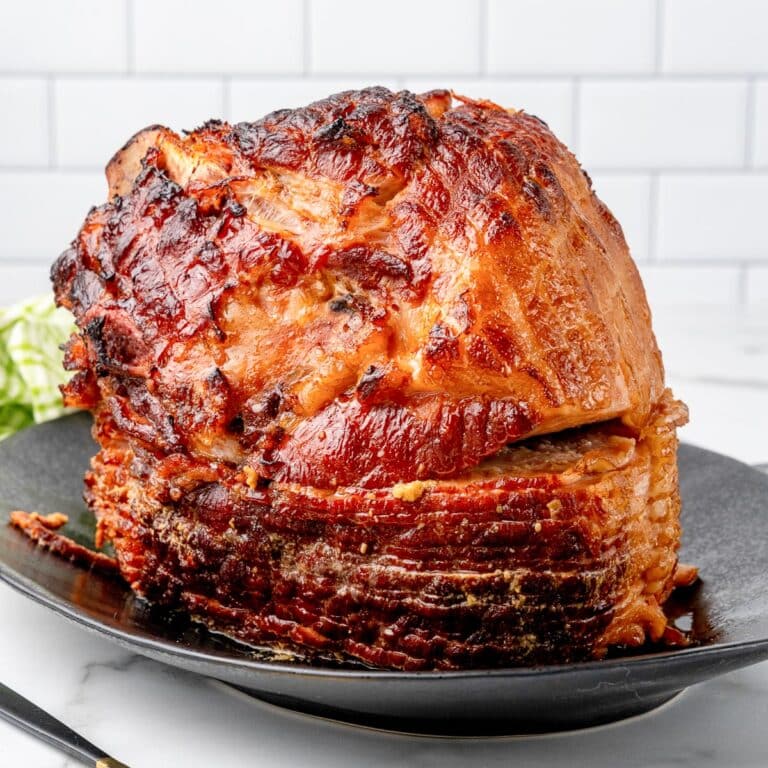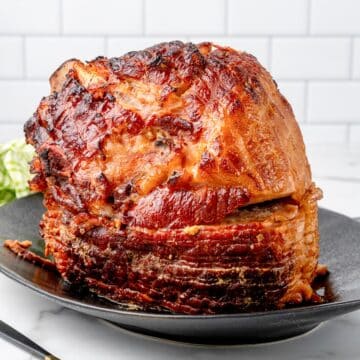 Easy 3 Ingredient Glazed Ham - Perfect for Holidays!
This 3-Ingredient Glazed Ham is the perfect centerpiece for a holiday meal or a big Sunday brunch. It's sweet, savory, and super simple to throw together.
Ingredients
½

cup

brown sugar

½

cup

gingerale

2

tablespoons

dijon mustard

One spiral cut ham
Instructions
Preheat oven to 325 F

In a small bowl, stir together the brown sugar, ginger ale, and dijon mustard in a bowl until smooth

Place the ham cut side down in a larger roasting pan, pour the glaze mixture over the ham and cover with foil, bake for 2 hours, basting once or twice during the cooking time

Remove the foil, turn the oven up to 400 F, baste, and cook an additional 20 minutes or until the glaze has slightly caramelized

Allow to cool for 10 minutes before serving
Notes
I used a pre-cooked spiral cut ham that was approximately 10 pounds. You will need to adjust the cooking time based on the size of your ham. It generally takes about 15 minutes per pound to cook the ham through to 140 degrees Fahrenheit. You should also consult the product packaging for guidance on your particular ham.
Nutrition
Calories:
60
kcal
Carbohydrates:
15
g
Protein:
0.2
g
Fat:
0.1
g
Saturated Fat:
0.01
g
Polyunsaturated Fat:
0.03
g
Monounsaturated Fat:
0.1
g
Sodium:
46
mg
Potassium:
24
mg
Fiber:
0.2
g
Sugar:
15
g
Vitamin A:
3
IU
Vitamin C:
0.01
mg
Calcium:
14
mg
Iron:
0.2
mg