This post is sponsored by our partnership with Festival Foods in recognition of Celiac Awareness month.

Celiac disease and non-celiac gluten sensitivity are both difficult conditions for people to understand. I didn't fully understand the complexities of either of these conditions myself until recently. The only way to treat celiac disease is to stop using products that contain gluten. That means 100%, no eating gluten whatsoever. No bread crumbs, no whole-grain pasta, no pre-mixed seasoning packets without first reading the label...so many nos.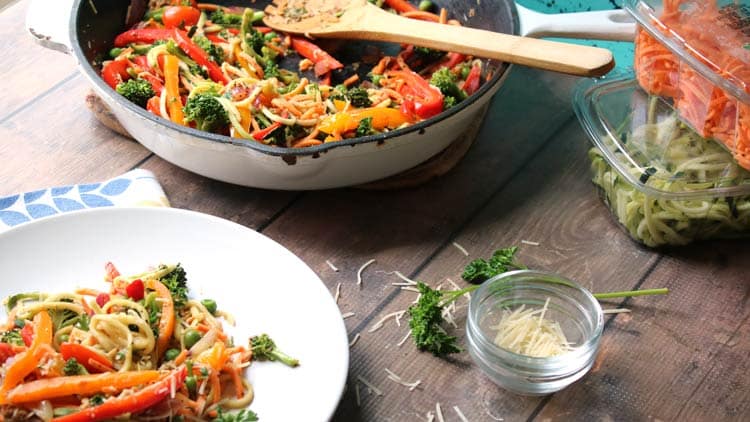 Understanding Celiac Disease and Gluten-Sensitivity
For the last 6-7 months, I have been cooking almost exclusively sans gluten. This is because of an illness my daughter had that was never really diagnosed, but the only thing that seemed to heal her was going on a gluten-free diet. Gluten sensitivity is a real thing, and like celiac disease, the symptoms can often be debilitating, as it was for my daughter. And let me tell you...having witnessed her suffering, I can tell you that neither of these conditions should be taken lightly.
Now, we're not talking about some fad-diet here. Non-celiac gluten sensitivity and celiac disease should never be mistaken as conditions or excuses that people make up. They aren't. And...a gluten-free diet should never be viewed as a fad. It's not. The vast majority of people who are eating gluten-free are doing it because they absolutely HAVE to. Their health (and life) depends on it.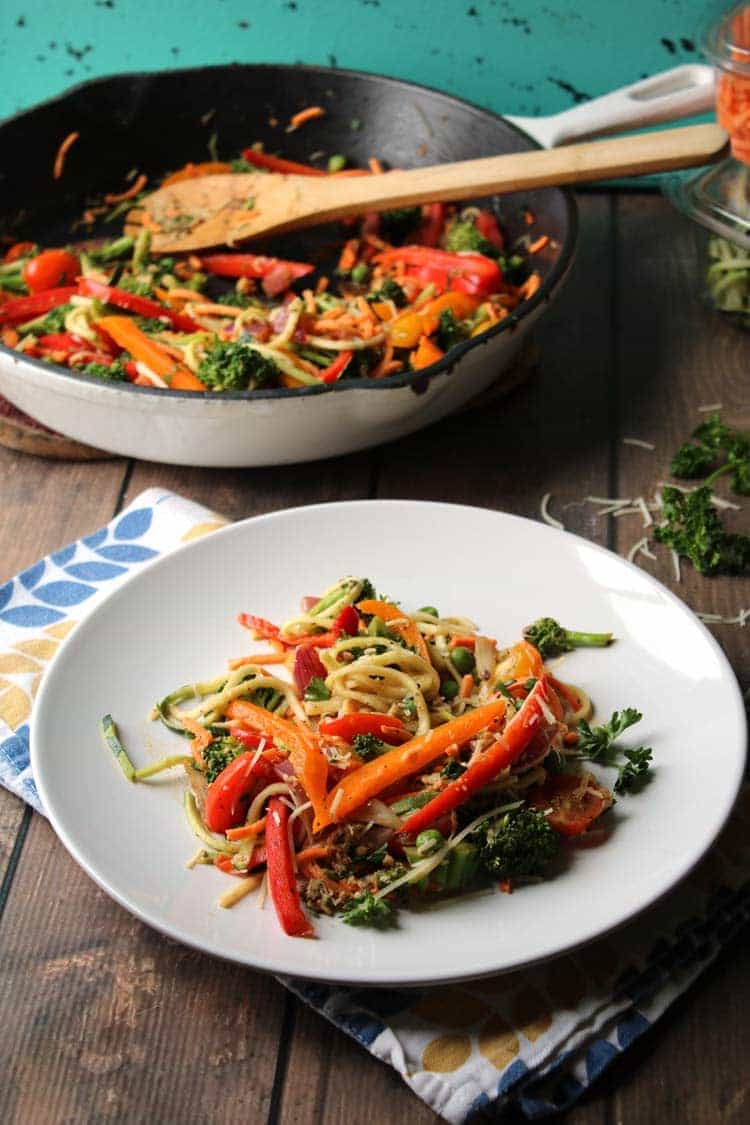 Going Gluten-Free--It's Not a Choice
With celiac disease, if someone ingests gluten, intestinal damage occurs. It is neither pleasant or painless, and the symptoms of those suffering are more varied than any disease I've ever heard of. The same can be said for those with gluten-sensitivities. While permanent damage is not necessarily leaving its mark on the intestines (however, some people think it is possible that those with gluten-sensitivities might have early stage celiac disease that hasn't yet started the damage) there still is a myriad of symptoms that mirror those of celiac disease.
The only way to curb the symptoms, whether living with celiac disease or gluten-sensitivity, is to stop eating gluten.
With that in mind, we whipped up a delicious recipe of Pasta Primavera, complete with Crazy Fresh 'vegetable noodles' from our friends at Festival Foods. Whether you are on a gluten-free diet, want to eat healthier or are looking for ways to use up more veggies from your garden, we're pretty sure you're going to love our Pasta Primavera!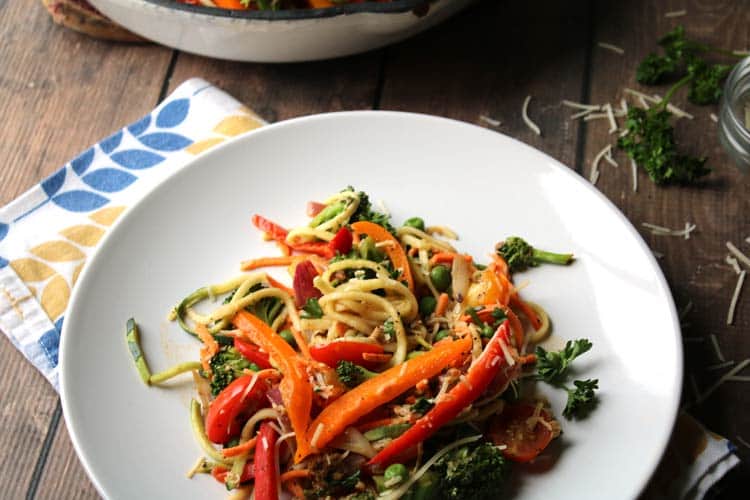 Why Colorful Food (and Pasta Primavera) Rocks
The thing about Pasta Primavera is that it is made with fresh everything. Fresh veggies are at the peak of perfection, which makes this recipe pop with color and a fabulous melding of flavors. For this recipe, we decided to use a combination of red bell pepper, broccoli, pressed garlic, onion, peas, parsley, cherry tomatoes, and Parmesan cheese...all mixed together with a few spices and the star of the show--sweet potato and zucchini 'noodles'.
Now, you might have heard these called zoodles before, and that totally makes sense for the zucchini noodles. I'm not sure if we should call the sweet potato 'noodles' swoodles or what. But, whatever we call them...they are colorful, fun and flavorful. And those three things make these noodles a huge it in my book.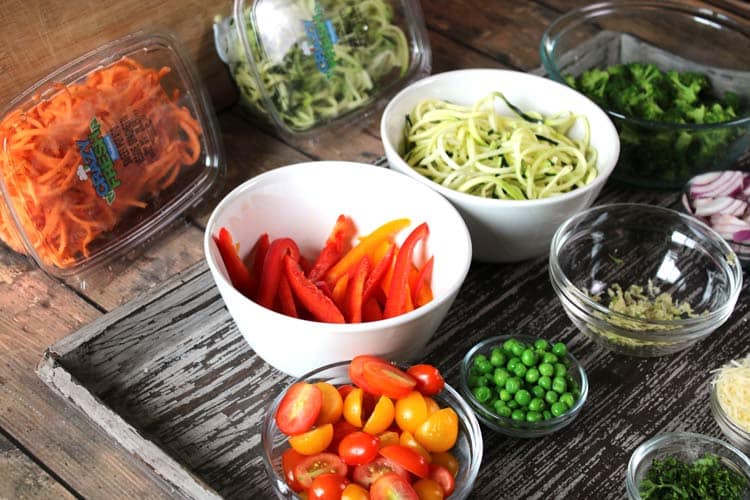 Cooking is easy when you're combining fresh ingredients like these. The only difficult part is not popping all those peppers and tomatoes into your mouth while cooking! Just make sure to have a little extra prepared so you can get away with a little bit of snacking.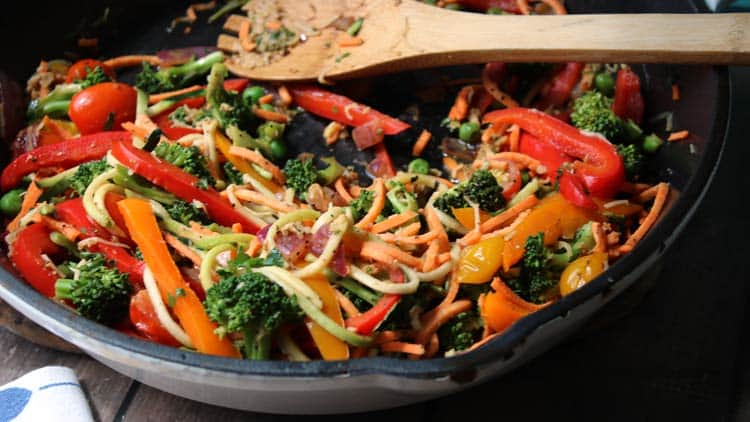 Pasta Primavera is so easy to make. If you can chop up vegetables, you can handle this recipe. So, get ready for a flavorful dinner that can be served up any time of year.
If you're brave...don't be afraid to vary the ingredients. That's the thing about Pasta Primavera. It's full off fresh ingredients...but don't limit the ingredients to just what we have in our recipe below. Do you have a bounty of squash? A bushel of beans? Maybe you'd like to toss in some kielbasa?
Think of our Pasta Primavera as a starting point and don't be afraid to get a little crazy in the kitchen. It's one of the best ways to experience new flavors.
From our kitchen to yours...we give you, Pasta Primavera. Enjoy!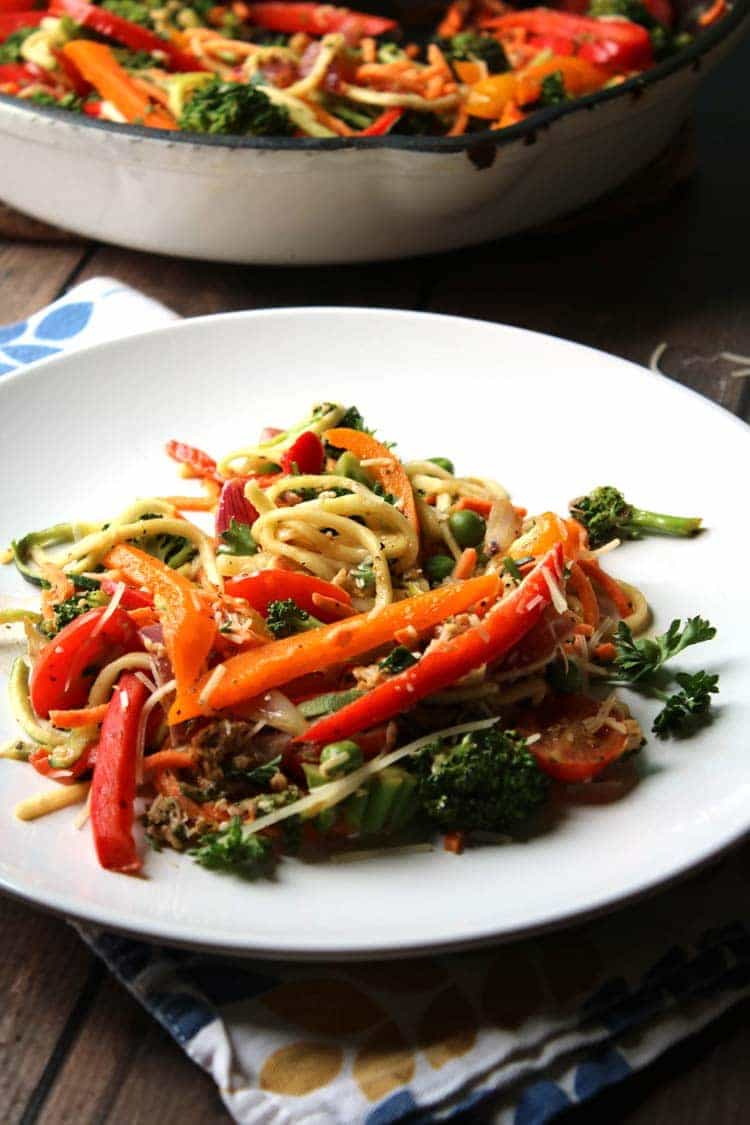 Recipe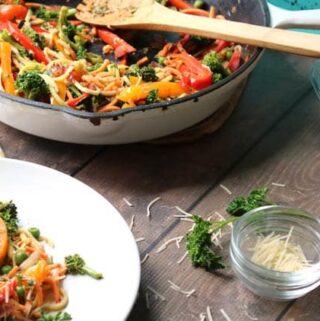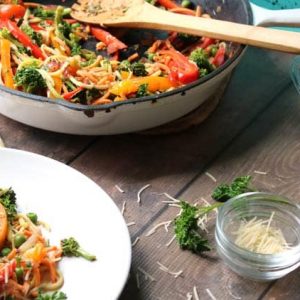 Gluten Free Primavera Recipe with Sweet Potato and Zucchini 'Noodles'
Enjoy Pasta Primavera with Zoodles, a healthy way to reduce calories and eat a gluten-free pasta dish.
Ingredients
1 ½

cup

broccoli florets

steamed until slightly tender

1

tablespoon

olive oil

3

teaspoons

minced garlic

Pinch

red pepper flakes

1

cup

heirloom cherry tomatoes

halved

½

small red onion

peeled and chopped

½

cup

frozen green peas

defrosted

1

red bell pepper

seeded and thinly sliced

salt and pepper

to taste

2

tablespoons

freshly chopped parsley

Zucchini zoodles

Sweet potato zoodles

2

tablespoons

lemon juice

½

cup

shredded Parmesan cheese

plus extra to garnish
Instructions
Steam broccoli on stove top or in microwave until just tender. Drain and pat dry and then set aside for later.

In a large skillet over medium heat, warm olive oil. Once it is heated, combine garlic, pinch of red pepper flakes (use up to ¼ teaspoon depending on how much heat you like), and onions. Cook for 2-3 minutes or until onions become translucent. Add in remaining vegetables (with the exception of the zoodles and broccoli) and lightly season with salt and pepper to taste. You can always add more seasoning later. Cook for 3-4 minutes or until bell pepper is soft.

Add zucchini and sweet potato noodles, lemon juice and parsley, stirring as you cook for another 3 minutes until noodles have cooked to al dente.

Add in broccoli and Parmesan cheese and toss completely to spread the cheese.

Plate into bowls or plates and top with more Parmesan cheese and a sprig of parsley, to garnish.
Nutrition
Calories:
133
kcal
Carbohydrates:
11
g
Protein:
7
g
Fat:
7
g
Saturated Fat:
3
g
Cholesterol:
9
mg
Sodium:
220
mg
Potassium:
348
mg
Fiber:
3
g
Sugar:
5
g
Vitamin A:
1731
IU
Vitamin C:
91
mg
Calcium:
183
mg
Iron:
1
mg

Save
Save
Save
Save