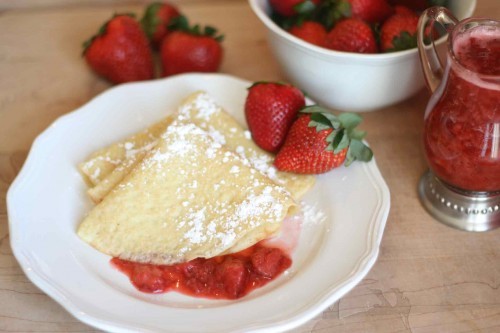 I love crepes.  Especially crepes with berries.  Like Cherry Crepes.
Strawberry Crepes however deserve a throne.  They are just that good.  There is something about a fresh berry that tastes so good and so sweet.  Still waiting for some fresh berries.  Believe me, I cannot wait for strawberry picking season.  I LOVE to pick fresh strawberries.
A couple of years ago we were part of a farm share program (totally need to sign up again!) and we got the sweetest tasting little organic strawberries known to man.  I kid you not!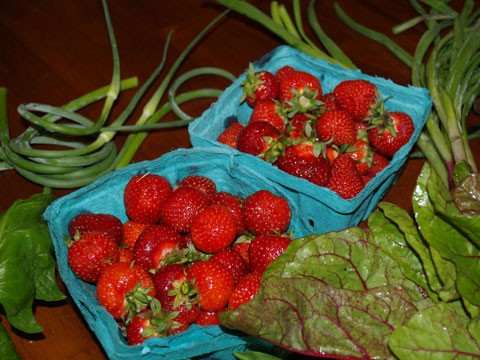 But I'm getting ahead of myself since our snow just melted here!
However, you can see how an image taken two years ago, and the taste that went along with it (not to mention the fun memories of berry picking with the kids) speaks to the essence of the organic strawberry.  Yum-delicious!  No lie.
Sidetrack: See the curly-cue green thing in the picture with the organic strawberries?  Garlic scape.  If you've never… well, you're just plain missing out.  I made the best garlic scape pesto from that and I'm eager to try it out again this year and share it with you.  But first… gotta sign up for that farm share!
Now… I know you're here for the Strawberry Crepes, and I can't say I blame you.  These crepes won't disappoint.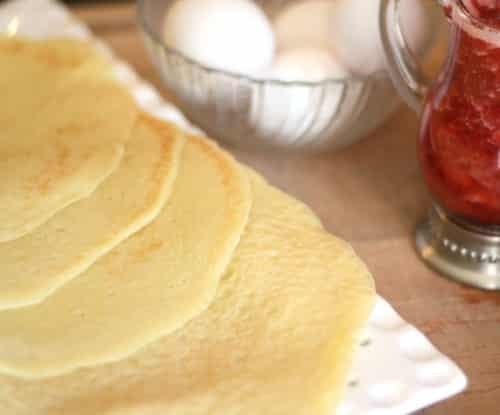 Start with the Basic Crepe recipe (below) and while you're cooking those, have the Strawberries cooking in a saucepan.  It's a simple strawberry sauce… much like a jam.
For the sauce: 16 ounces of strawberries (washed and ready to go), 1/4 cup sugar, 1/4 cup water.  I'm sure orange juice would work beautifully as well.  If you don't have fresh strawberries, frozen will work just as well.  Stir occasionally.
I used some frozen strawberries that I had on hand because I wanted to used the fresh strawberries for something else.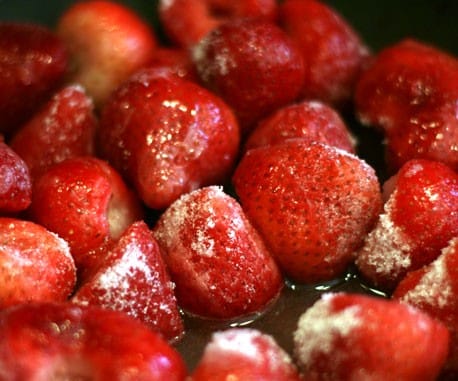 Cook the sauce up on medium heat, and crush the strawberries as they begin to soften, breaking the up into smaller pieces.  You could also chop the strawberries beforehand, but I prefer the crushed strawberries because it gets the juices incorporated with the sugar and water for that delicious jammy effect.
Now, as the strawberry sauce starts to thicken, you'll want to turn it down to low and continue to stir on and off while you are making all your crepes.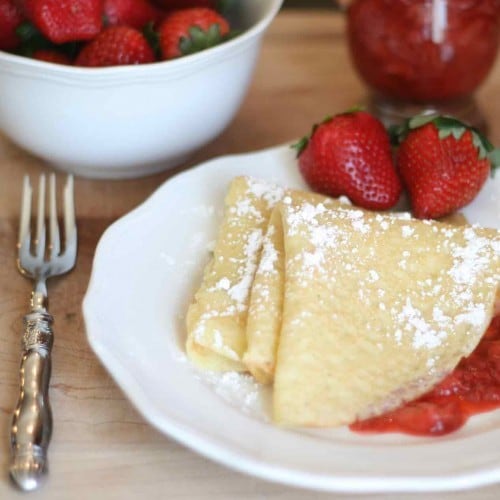 Print
Basic Crepe Recipe Strawberry Crepe Sauce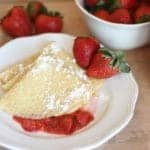 Author:

Jessica, AllSheCooks.com
Ingredients
3 Eggs
11/2 Cups four
1 Cup water
2 Teaspoons sugar
1/2 Teaspoon salt
4 Tablespoons melted butter
16 Ounces strawberries (fresh or frozen)
1/4 Cup Sugar
1/4 Cup Water
Instructions
Add ingredients in the order listed, beating together eggs and flour with a whisk or in mixer.
Slowly add in water so mixture is smooth. Add in sugar and salt and then mix in the melted butter, ensuring that batter is as smooth as possible.
Heat skillet over medium low heat and spray lightly with cooking spray. Pour out a small amount of batter and spread it around with a wooden spoon or spatula. You want the crepes to be thin..
Lightly cook on each side. The crepe is ready to flip when the top starts to cook (similar to a pancake), and a spatula can slide under the crepe easily.
Recipe makes 6-10 crepes depending on size made.
Combine all ingredients in a saucepan and cook over medium until strawberries have softened. Cooking time will vary depending on type of strawberries used (fresh or frozen).
When strawberries have softened, crush them and stir to combine with sugar water. As the sauce thickens, continue stirring now and then.
Turn to low and stir on and off as you prepare the crepes.
You May Also Like: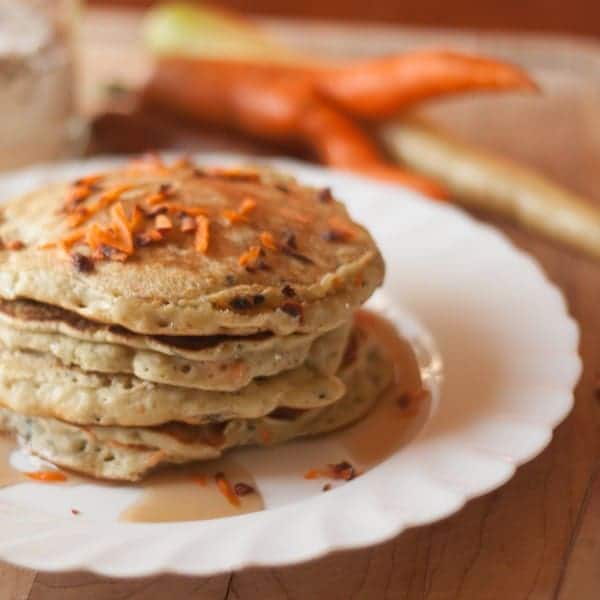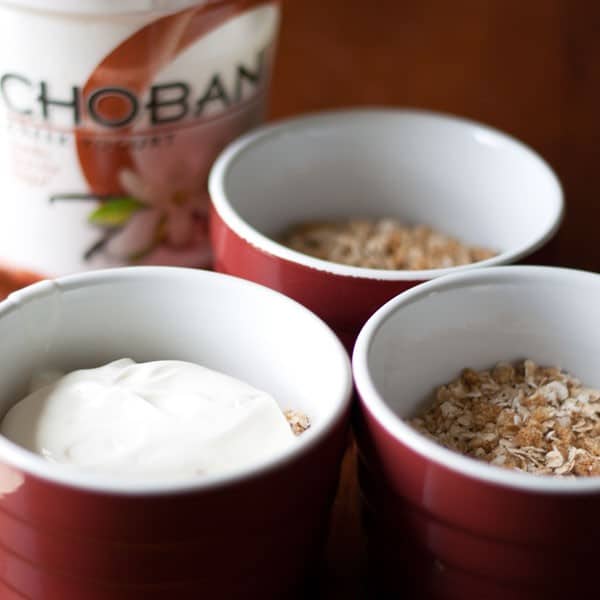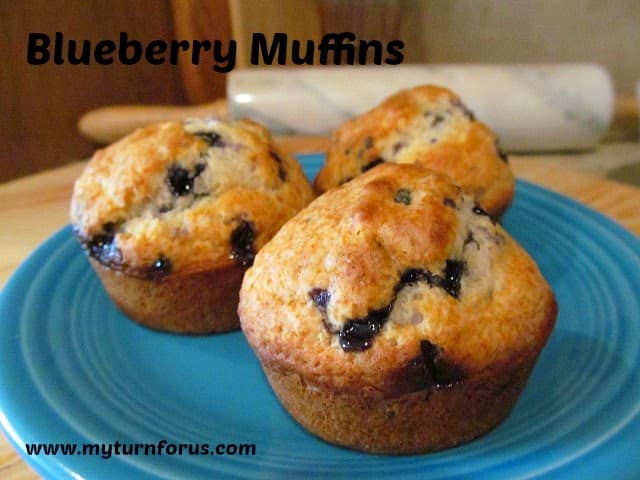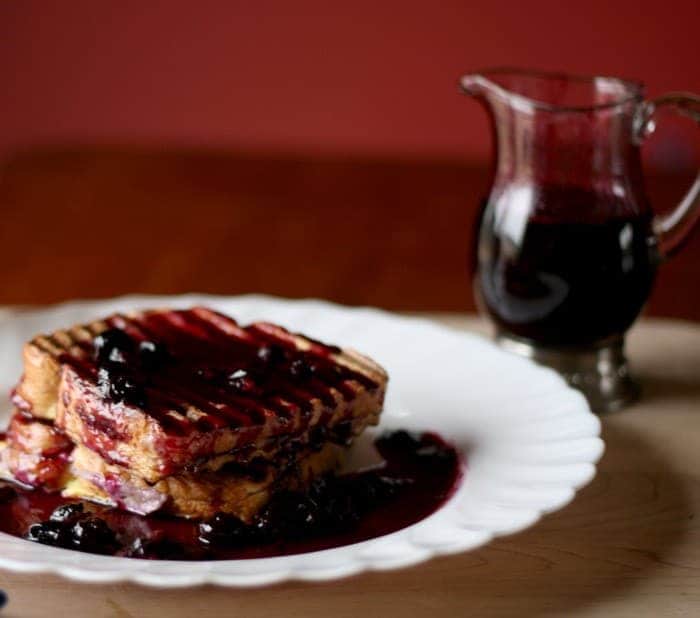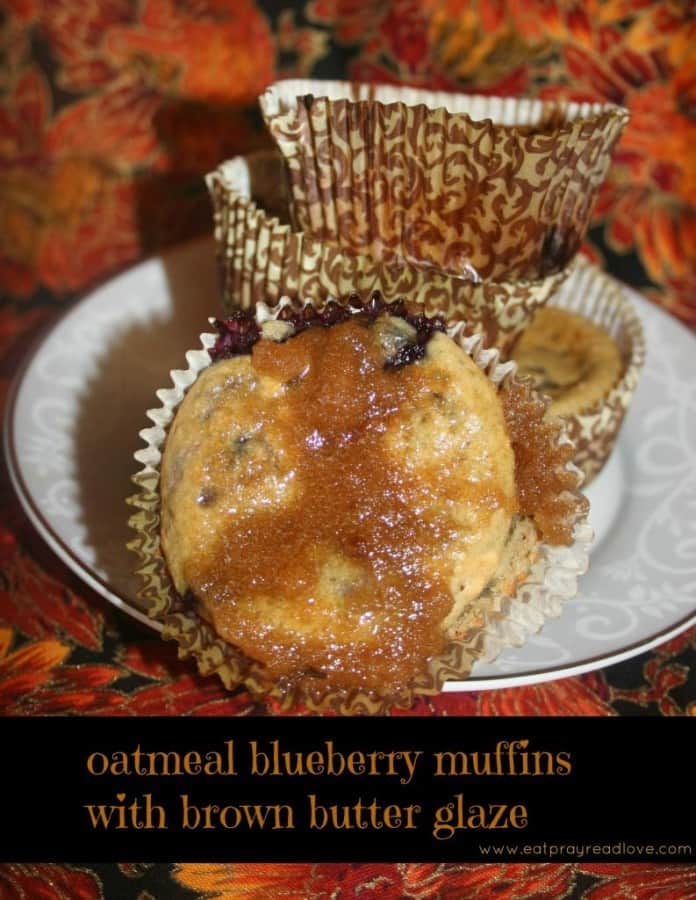 The following two tabs change content below.
Latest posts by Jessica McCoy (see all)