This easy chicken enchilada recipe will quickly become a dinnertime favorite. With the delicious cheesy texture and tender chicken with each bite, your entire family will love this dinner time recipe idea.
You'll have dinner served in less than an hour when you opt to whip up this cheesy chicken enchilada dish.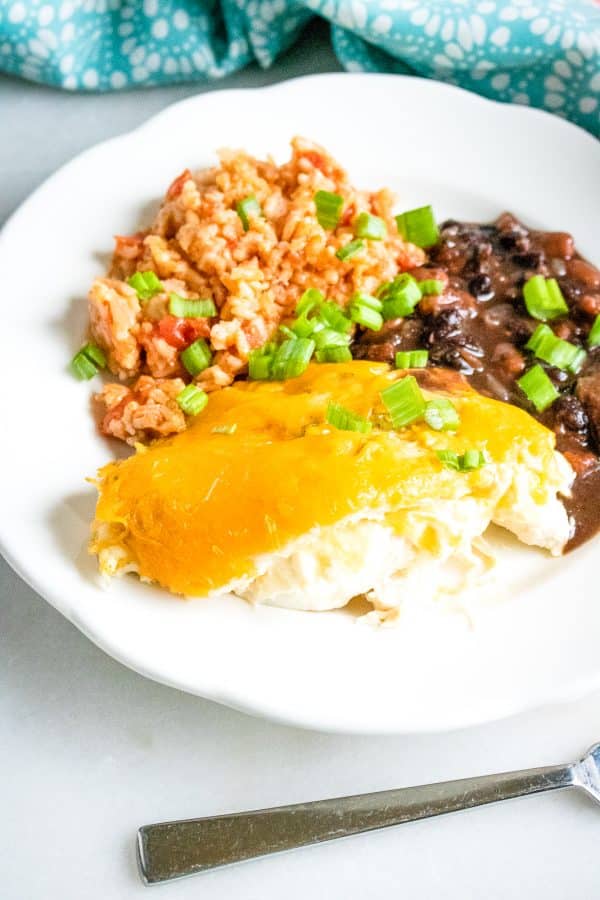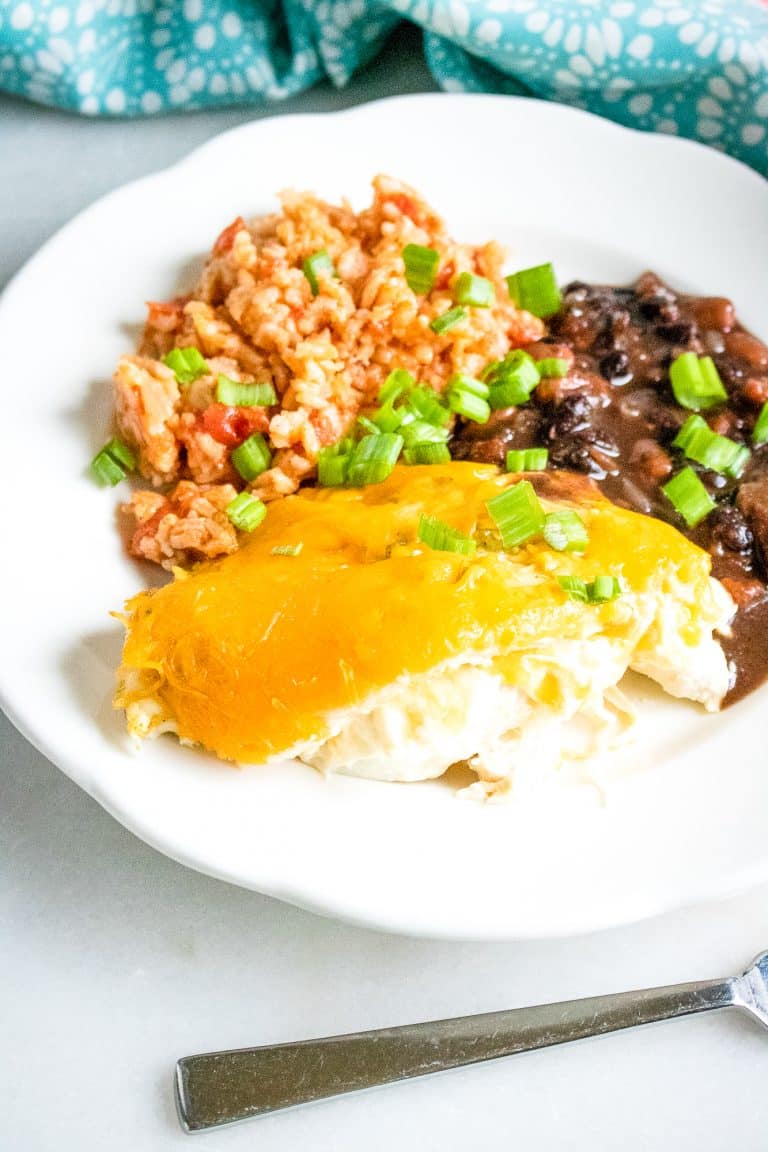 What can you add to enchiladas?
There are many things you can add to enchiladas, but the most popular ingredient to add to enchiladas is cheese. For this recipe, I'm using cheddar cheese which is a popular choice when making easy chicken enchiladas.
You'll need chicken, sour cream, cream of chicken soup, cheddar cheese, chili sauce, and soft taco tortillas to make this easy chicken enchilada recipe.
Another easy dinner recipe to add to your weekly meal plan while you're thinking about it is our Slow Cooker Boneless Pork Ribs. They are amazing!
How do you keep enchiladas from getting soggy?
There's nothing worse than a soggy enchilada, that's why I wanted to share a little secret to keep enchiladas from getting soggy. You can heat up your soft tortillas up in oil before using them in this easy chicken enchilada recipe.
Simply heat up a skillet with some oil and give your soft tortillas a slight brown to ensure they stay firmer in your chicken enchiladas casserole recipe.
How do you keep corn tortillas from falling apart in enchiladas?
Another option to make sure that your Chicken Enchilada Casserole doesn't get soggy and the tortillas don't fall apart in enchiladas is to warm your soft tortillas up in the microwave before layering your chicken enchiladas.
You'll only need to heat your tortillas up for a few seconds, being sure to wrap them in a paper towel before placing them in the microwave.
How to Store Cooked Chicken Enchiladas?
The best way to store any leftover chicken enchiladas is to allow the dish to cool. Once cooled to room temperature, usually within two hours, you can place the leftovers in an airtight container.
You can store cooked chicken enchiladas for up to 2 days in the refrigerator.
The chili salsa added to my easy chicken enchiladas recipe will give this meal idea a slight kick of spice. If you're looking for a milder flavor, you can use enchilada sauce.
There are different types of enchilada sauce found at your local grocery store in the Mexican or taco aisle.
What should you serve with enchiladas?
Now that you have an easy chicken enchiladas recipe, you're probably wondering what to serve with enchiladas. Most people serve a side dish of beans and rice with their chicken enchiladas.
Feel free to make my slow cooker baked beans to serve as a side with these easy chicken enchiladas. I also adore this Instant Pot Ranchero Beans recipe as well as this recipe for Instant Pot Black Beans.
 Do you use corn or flour tortillas for enchiladas in this Chicken Enchilada Casserole recipe?
You can use either corn or flour tortillas for enchiladas. As long as you're using soft tortillas, you can opt for corn tortillas or flour tortillas based on your preference.
I do feel each of these soft tortilla options will provide a different flavor for your easy chicken enchiladas recipe, so be sure to use the tortilla option that suits your taste buds best.
When it comes to meal planning it's all about having a good variety of recipes to serve your family during your busy work week. These easy chicken enchiladas can be prepared ahead, frozen and baked for a quick dinner idea during the week.
Simply prepare the chicken enchiladas according to my recipe instructions below, store in a freezer-friendly casserole dish, cover completely, and thaw before cooking in the oven on the assigned mealtime night.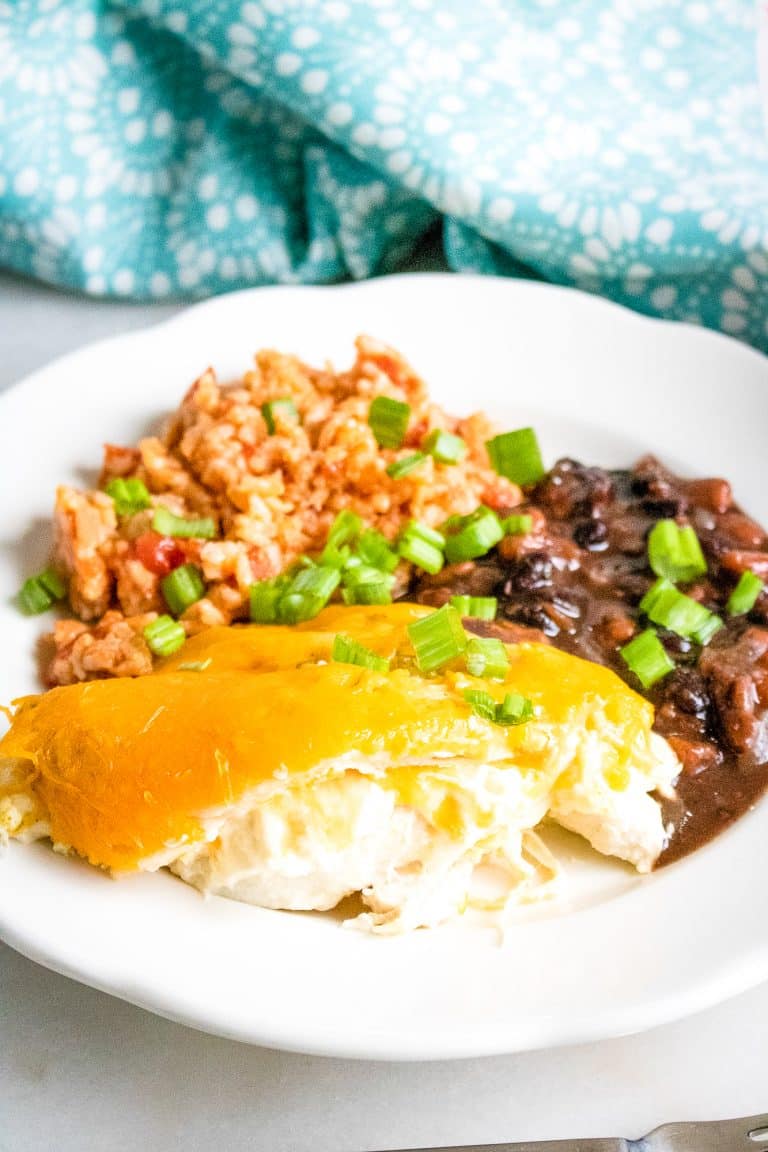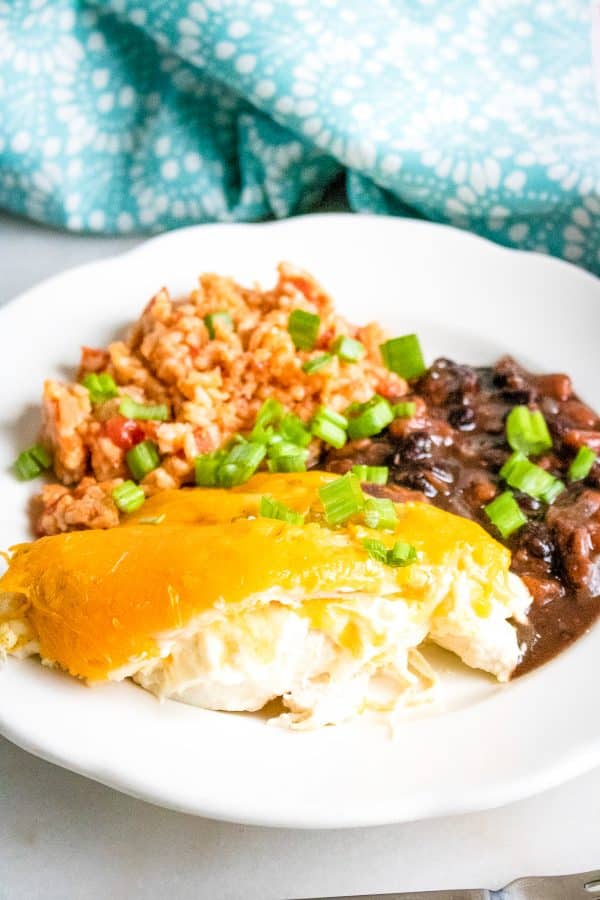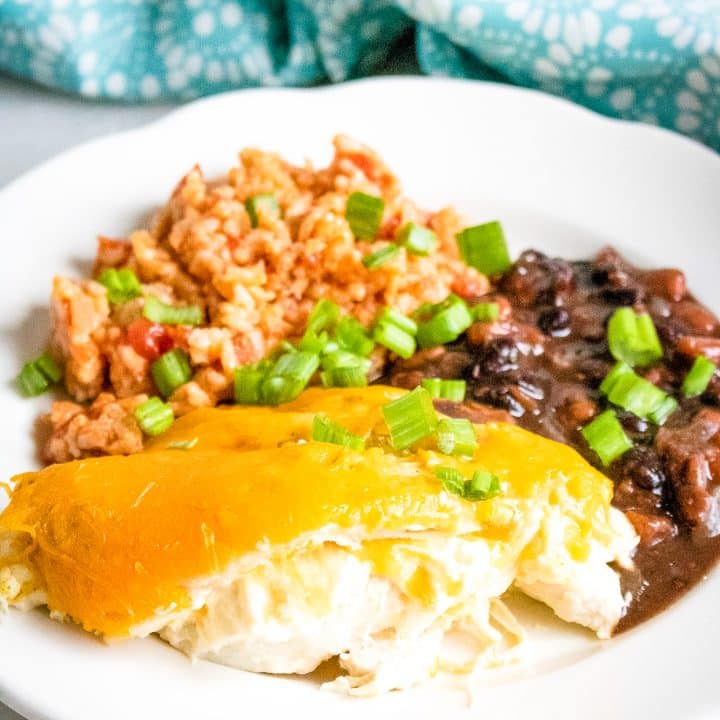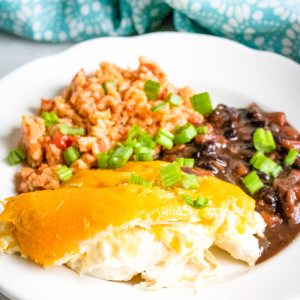 Easy Chicken Enchilada Casserole
Chicken Enchilada Casserole is an easy casserole recipe that is perfect for a weeknight dinner idea. Add this chicken recipe to your weekly meal plan rotation.
Ingredients
1.5

pounds

cooked chicken

chopped

16

ounces

sour cream

2

cans

10.5 ounces cream of chicken soup

2

cups

cheddar cheese

2

cups

green chili salsa

10

count package

17.5 ounces soft taco tortillas
Instructions
Preheat oven to 350 degrees.

Combine sour cream, cream of chicken soup and chopped chicken in a medium bowl. Mix well.

In a 9x13 baking dish (or 2 smaller baking dishes), spoon a small amount of green chili salsa onto the bottom of the dish and spread it around.

Top with tortillas torn and laid out to fit the shape of the pan.

Making 2 to 3 layers by topping the tortillas with ⅓ to ½ of each: chicken mixture, green chili salsa, and cheese.

Repeat with a layer of tortillas and ⅓ to ½ of the remaining ingredients.

For the final layer, top tortillas with remaining salsa and cheese.

Bake in a 350-degree oven for 30 minutes or until bubbly.
Nutrition
Serving:
1
g
Calories:
547
kcal
Carbohydrates:
29
g
Protein:
32
g
Fat:
34
g
Saturated Fat:
14
g
Polyunsaturated Fat:
15
g
Trans Fat:
1
g
Cholesterol:
128
mg
Sodium:
1061
mg
Fiber:
4
g
Sugar:
4
g