Make these boneless pork ribs in the crock pot for dinner tonight. With just 4 ingredients, this is the easiest weeknight slow cooker recipe ever!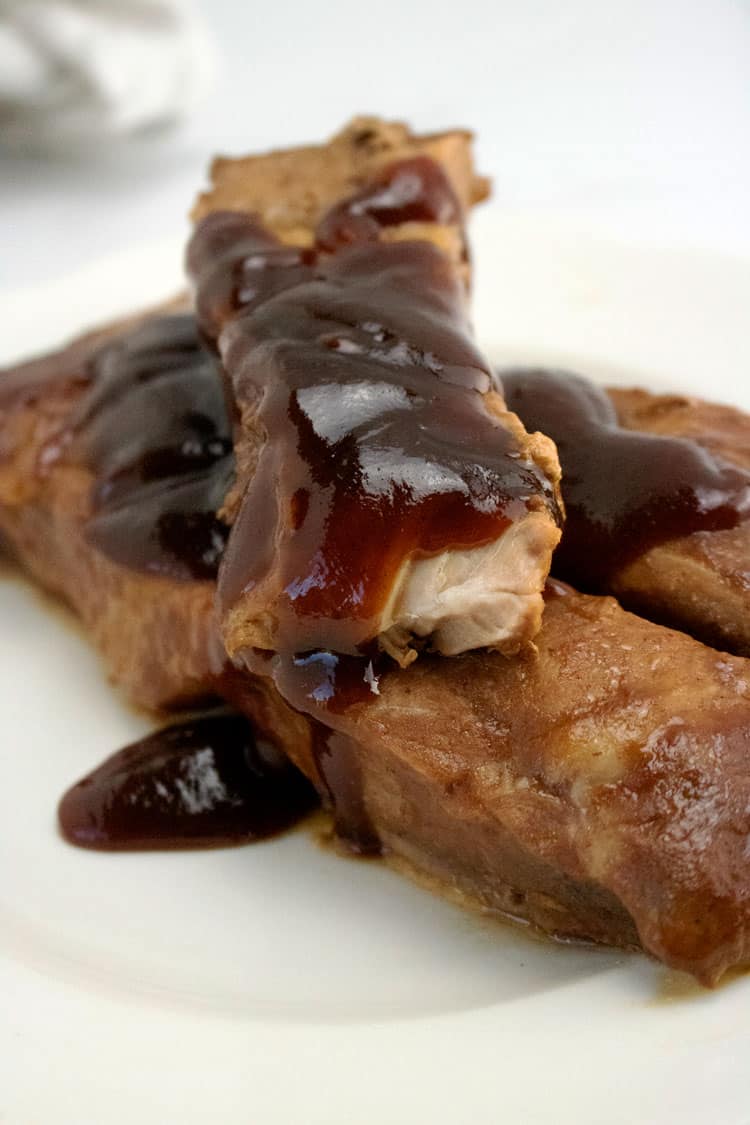 Ready to make our boneless pork ribs crock pot easy recipe? You are going to love how good this recipe tastes and how easy it is to make!
And you'll only need a few simple ingredients to pull this dinner together.
While you could make barbecue sauce from scratch if you wish, this recipe skips that step. Instead, we decided to make this recipe a quick and easy throw it in the slow cooker and go recipe. Perfect for busy weeknights!
How to Cook Boneless Pork Ribs
This recipe uses a simple combination of boneless ribs, onions, barbecue sauce and lemon juice. Four ingredients. That's all.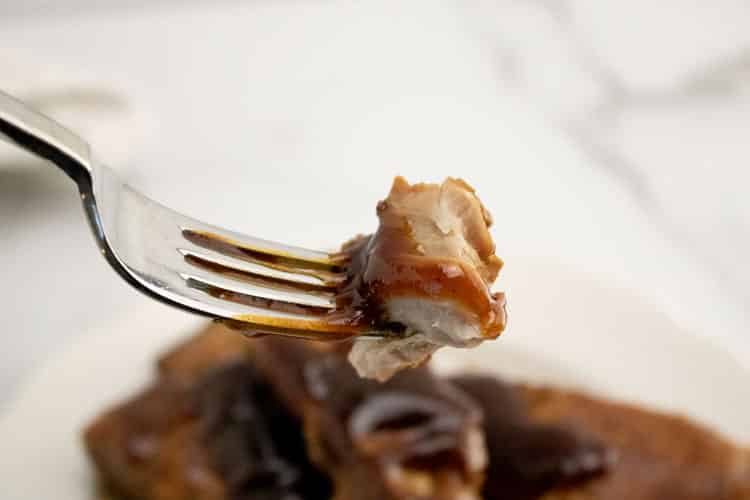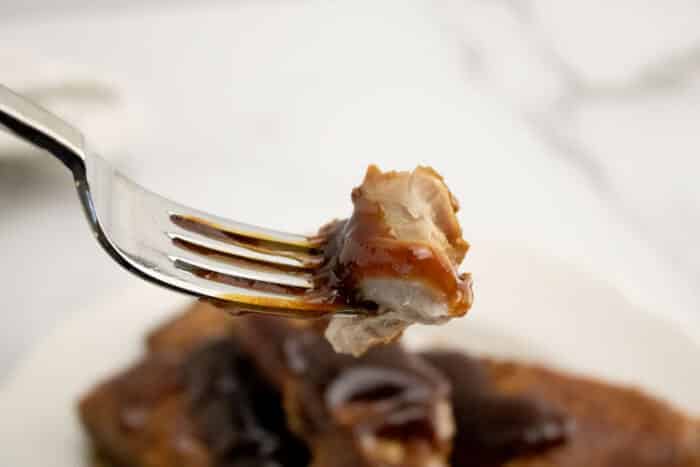 There are a lot of popular recipes that are time intensive and require you to bake ribs in the oven and go all out on the cooking process. Which is great when you have time to actually cook pork ribs in the oven.
But when you don't have the time to keep an eye on the oven all day, boneless country style ribs can be whipped up in the crock pot and left to do their slow cooking all day long while you go about your busy schedule.
To make this slow cooker ribs recipe, the first step is to add the ribs to the slow cooker. No searing or pre-cooking required.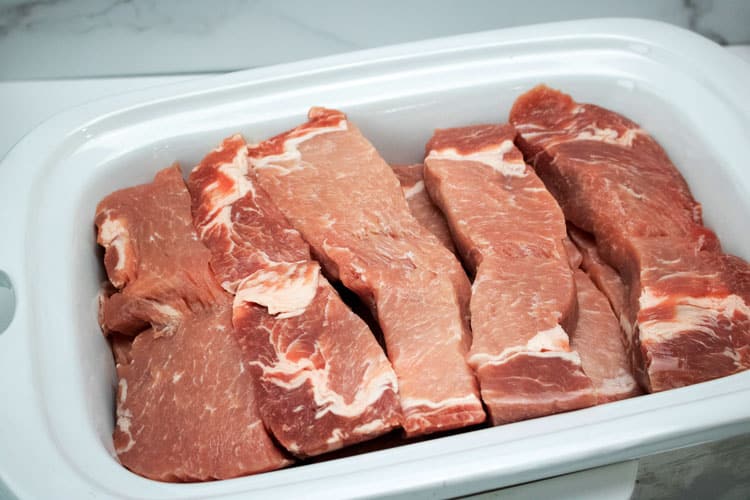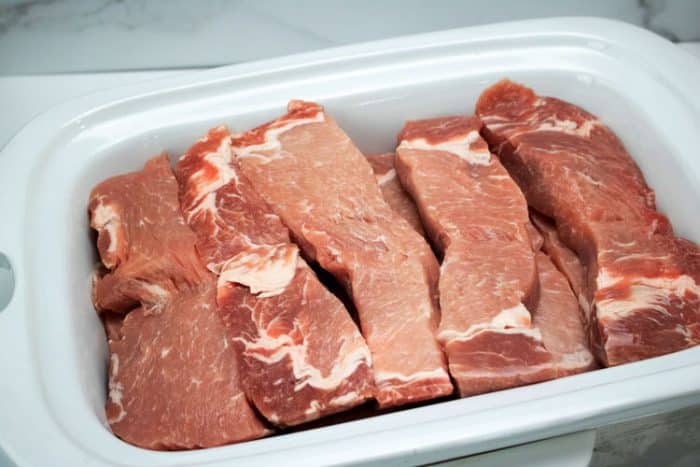 Next, top the meat with barbecue sauce mixed with lemon juice. Then, top with sliced onions.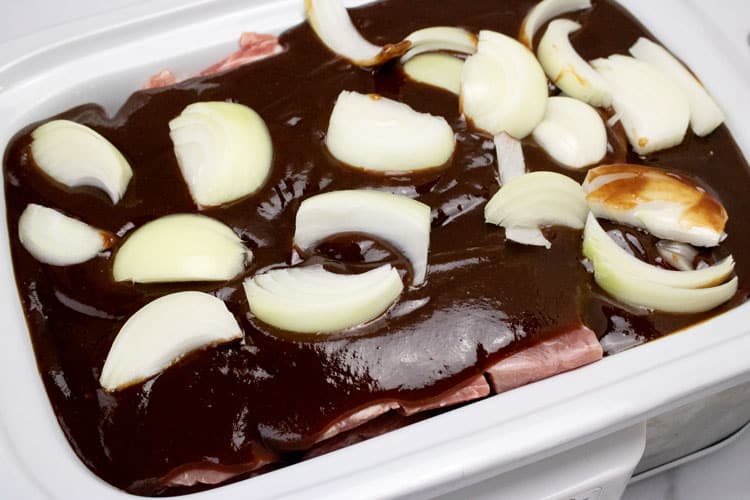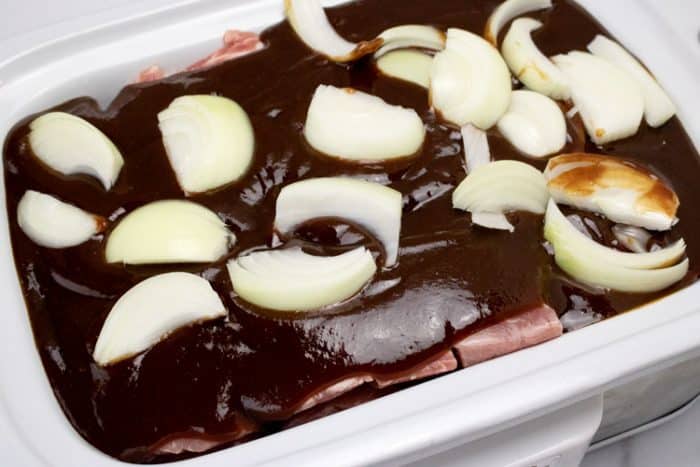 We cook our boneless ribs in the crock pot on low for about 8 hours, because we want the ribs to be nice and tender.
If desired after they are finished cooking in the slow cooker, you can also put the country ribs in a baking pan lined with aluminum foil to broil and get a crisp top. Just brush on some extra BBQ sauce first.
Slow Cooker Supplies and Resources
One of the best investments for slow cooker cooking is a slow cooker with a locking lid. You can also use a slow cooker liner to make dinnertime clean up easier. There are a variety of sizes available.
Is This a Country Style Boneless Pork Ribs Crock Pot Recipe?
Yes. The key to a good country style pork rib is the thick cut. Country style pork ribs can be either boneless or bone-in. They are both equally as good.
How Long to Cook Boneless Pork Ribs?
In this recipe, we slow cook the pork ribs for about 8 hours on low. You can speed up the process a little bit if you cook the ribs on high. However, to get that nice tender boneless rib, slow cooking is the best option. Low and slow is the way to go.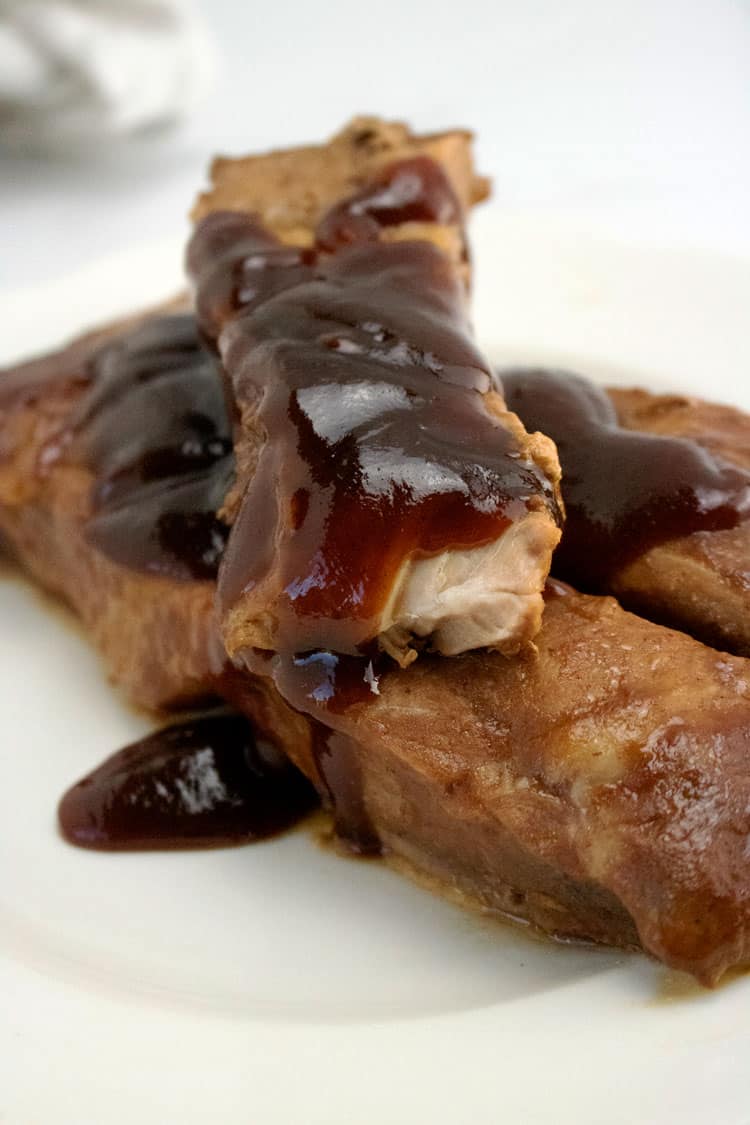 What to Serve with BBQ Ribs
After enjoying a meal of barbecue ribs, a simple dessert is just what is needed. Here are a few you'll want to make:
Cool Strawberry Whipped Dessert | This is a no-bake dessert that is frozen, but so much better than ice cream. Strawberries and an Oreo crust make every bite of this dessert delicious.
Instant Pot Chocolate Fudge Brownie Cheesecake | Absolutely scrumptious. Cheesecake is always amazing, but this Instant Pot cheesecake recipe mixes fudge brownies with a classic cheesecake to make a delectable dessert.
Peach Pie Recipe - An Easy and Delicious Dessert | Peaches are so refreshing, and this light dessert is gorgeous and a perfect dessert to serve up to a crowd.
Do I Have to Make "BBQ" Boneless Pork Ribs
Absolutely not! If you're not a fan of barbecue sauce, you can use a different type of sauce. This is one recipe where a number of sauces could be substituted in. A few that come to mind: Teriyaki, Sweet & Sour, and Jack Daniel's Rib Glaze.
You could also use a combination of a spice rub and a sweet sauce. You don't have to go for the typical BBQ sauce unless you want to.
How to Use Boneless Pork Ribs Leftovers
If you thought your rib dinner was good, just wait until you make dinner with pork rib leftovers! This is one of those recipes that is perfect for batch cooking.
What is batch cooking? Batch cooking is all about making something one time, like at the beginning of the week, and then using that ingredient for other meals throughout the week.
In this case, depending on the number of people you are feeding, you could make the pork ribs recipe (or double it if needed) and enjoy a tasty rib dinner the first night. The second day, have a BBQ rib sandwich with some sides.
Some other ideas of how to use leftover rib meat:
Pork Street Tacos
Rice Bowl with Pork
Baked Potato with Pork
Pork Burritos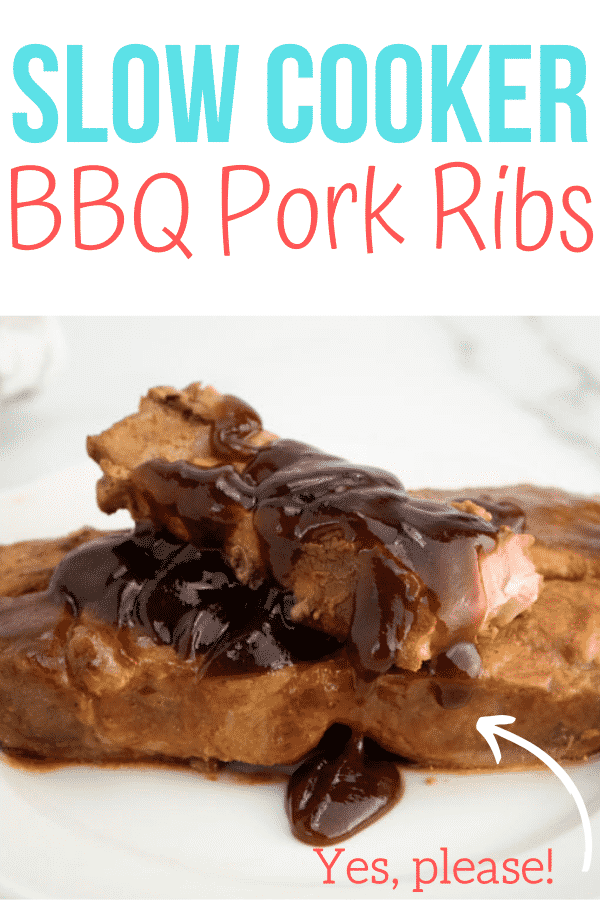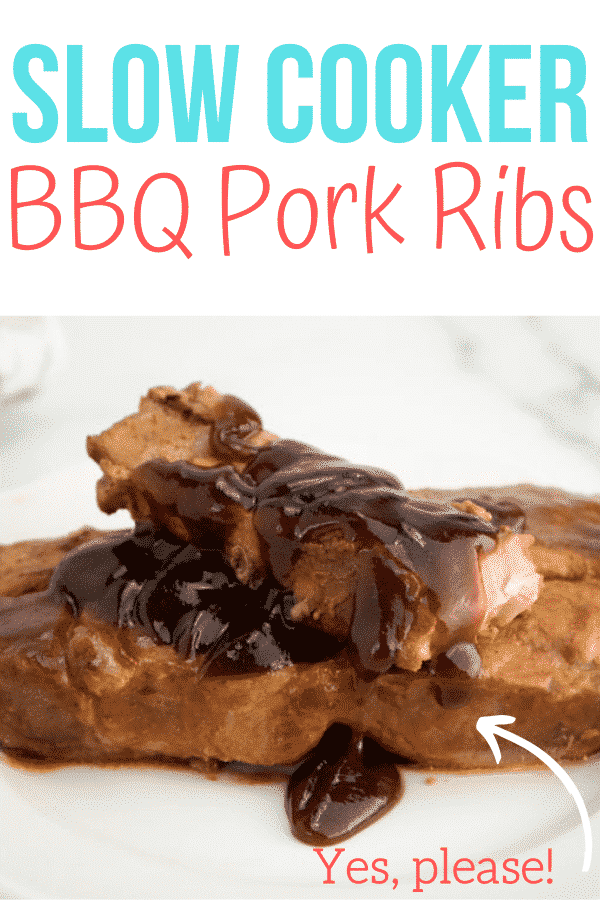 Here are Some of Our Best Slow Cooker Recipes
We're doing a 30-Day Slow Cooking Challenge. Here is a list of the recipes we're cooking up. Let me know if you try one of them by leaving a comment on that recipe post and rating the recipe!
There are several types of recipes that we are making during the challenge, from chicken slow cooker recipes, beef recipes, and even vegetarian recipes.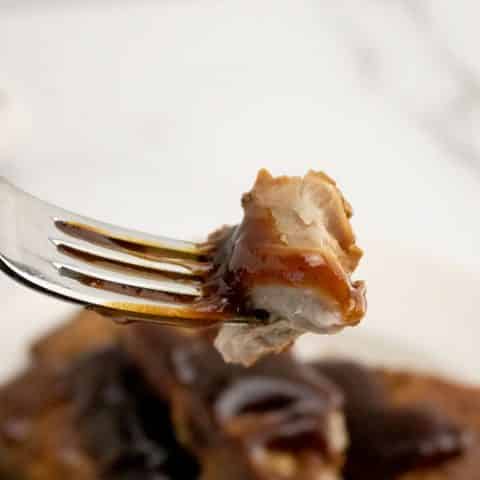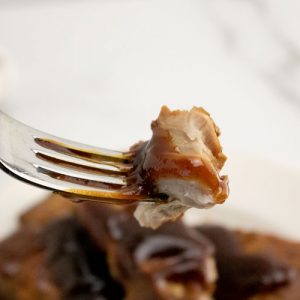 Slow Cooker BBQ Pork Ribs
This Slow Cooker BBQ Pork Ribs recipe is such an easy recipe to make. Just 4 ingredients is all it takes to have the perfect dinner on the table.
Ingredients
4

pounds

of boneless pork ribs

1

large onion

thinly sliced

2

cups

of barbecue sauce

2

teaspoons

of lemon juice
Instructions
Place the ribs into the bottom of a well greased crock pot. Lay the onions over the top of the ribs.

Whisk together the barbecue sauce and lemon juice until blended well. Pour the mixture over the ribs.

Place the lid on the crock pot and cook on low for 8-9 hours or until the ribs are cooked through and tender. Be sure to baste the ribs every once in while keep them coated on both sides.
Notes
Although removing the lid of the crock usually means an extended cooking time, this recipe calls for it. Making sure you baste the ribs occasionally will keep them from becoming to dry on the bottom and running your meal. It will not extend the above cooking time.
Nutrition
Serving:
1
g
Calories:
947
kcal
Carbohydrates:
30
g
Protein:
48
g
Fat:
70
g
Saturated Fat:
21
g
Polyunsaturated Fat:
31
g
Trans Fat:
1
g
Cholesterol:
238
mg
Sodium:
932
mg
Fiber:
1
g
Sugar:
24
g