You're going to LOVE this delicious Marinated Flank Steak recipe. It is so tasty! It has a flavorful Chimichurri Sauce that absolutely makes this recipe the exceptional meal that it is.
Marinated Flank Steak with Chimichurri Sauce is an Amazing Recipe
This chimichurri sauce is a classic flavor from Argentina that is traditionally served with various types of grilled meat. You can prepare the Chimichurri sauce easily and marinate the flank steaks the night before. It absolutely is an insanely tasty way to deliver up a flavorful dinner for the whole family.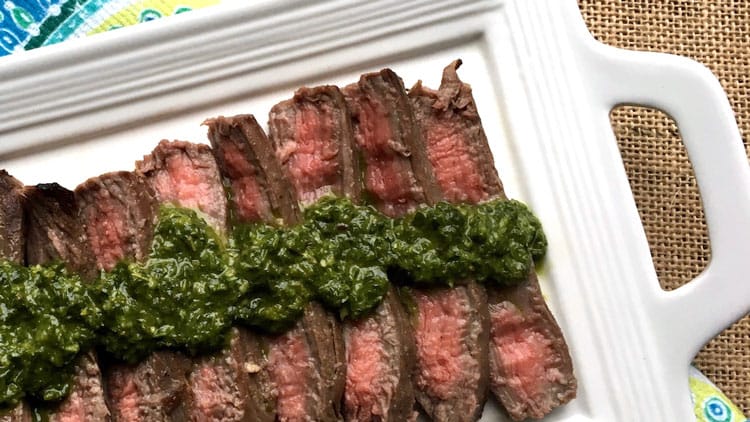 Best Way to Marinate Steak
You won't believe how easy it is to make steaks with a tasty chimichurri marinade sauce. The prep time to make these steaks is only ten minutes, and time to marinate.
The steak marinade is a simple combination of olive oil, red wine vinegar, herbs and seasoning…which is absolutely yum!
Easy Side Dishes to Serve with Steak
Looking for the perfect side dish to serve with your steak dinner? We love Garlic Mashed Potatoes, Cheesy Potatoes, and Grilled Asparagus as options for dishes to serve alongside a fine steak.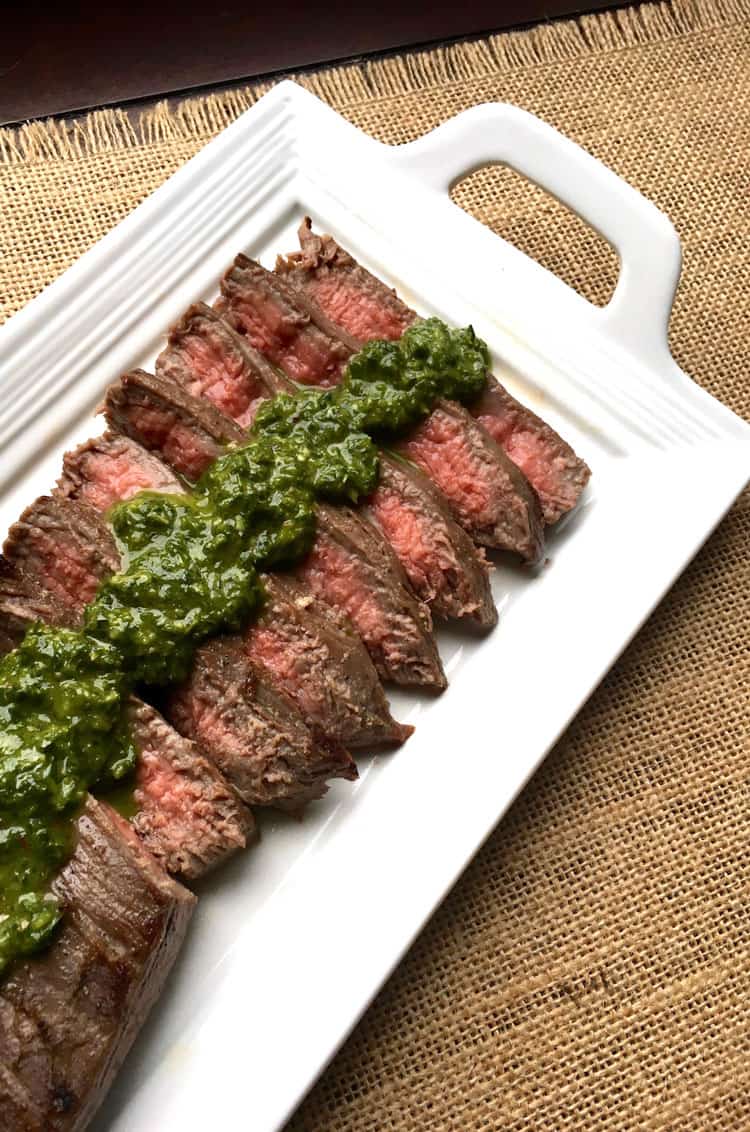 How to Make Chimichurri Steak
There are probably a hundred or more ways to make steak, but this is one that you really should try. The seasonings used to make this amazing steak dinner truly set this recipe apart from your typical steak dinner.
Follow our simple instructions below and you'll be on your way to enjoying this delicious Chimichurri Sauce Marinated Flank Steak…and a perfect steak dinner.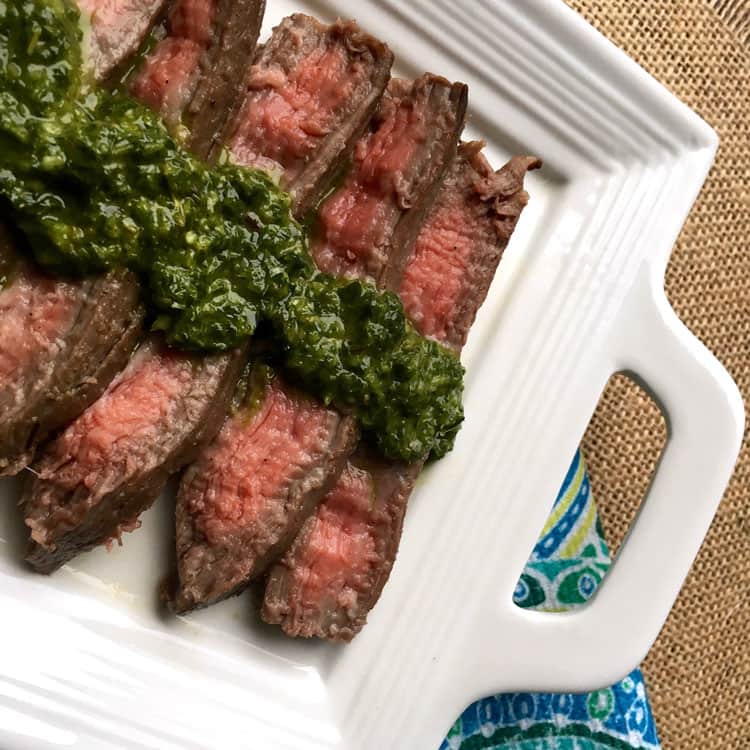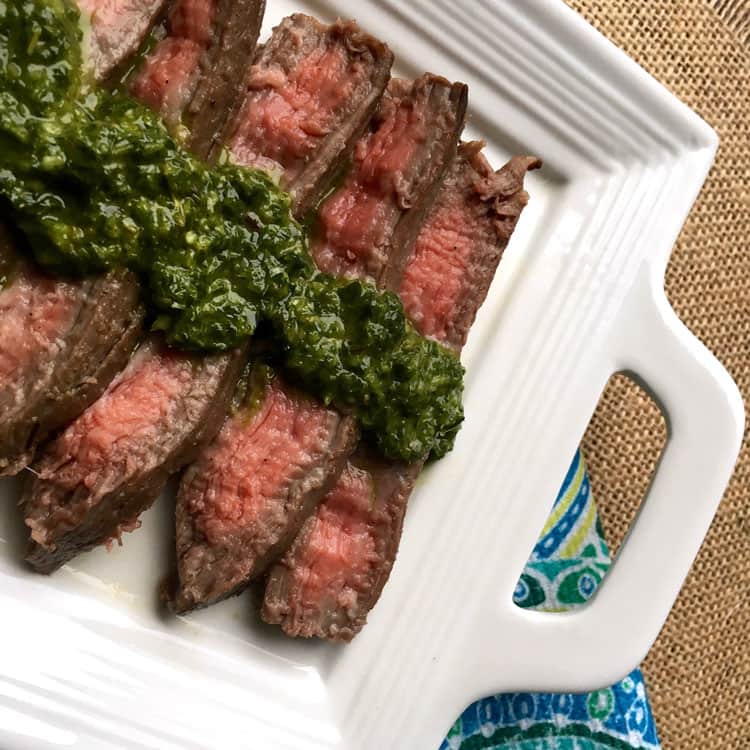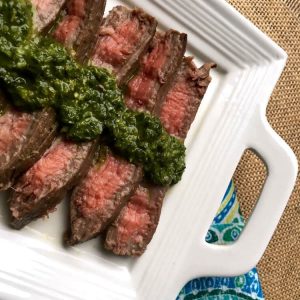 Chimichurri Marinated Flank Steak Recipe
Flavorful steak with Chimichurri sauce is an easy dinner recipe that is an amazing twist to an ordinary steak dinner.
Instructions
Combine the olive oil, vinegar, parsley, cilantro, garlic, red pepper flakes, lemon juice, and cumin in a food processor and blend until smooth.

Season with salt and pepper, to taste, and set aside.

In a small glass bowl, combine the olive oil, lime juice, and chopped garlic with a fork. Season with salt and pepper, if desired.

Place the flank steak in a large, Ziploc plastic bag and add the olive oil mixture.

Tightly seal the bag and turn a couple times to coat the steak in the marinade. Place in the refrigerator for at least 1 hour to overnight.

To prepare, heat the olive oil in a large skillet over medium-high heat.

Remove the steak from the marinade and allow excess to drip off before adding to the hot skillet.

Cook the steak for 3-4 minutes, then turn and cook for an additional 3-4 minutes for medium-rare results. Adjust cooking times to reach the desired level of doneness.

Remove from heat and transfer steak to a cutting surface. Let rest for 5 minutes before cutting into very thin slices against the grain.

To serve, drizzle steak with some Chimichurri sauce and pass remaining sauce for those who prefer a little more. Enjoy!
Nutrition
Serving:
1
g
Calories:
494
kcal
Carbohydrates:
3
g
Protein:
32
g
Fat:
39
g
Saturated Fat:
8
g
Polyunsaturated Fat:
29
g
Cholesterol:
90
mg
Sodium:
175
mg
Fiber:
1
g
Sugar:
1
g