These garlic mashed potatoes are quick, easy, and totally delicious. The perfect comfort food for Fall, and the ultimate Thanksgiving side dish too!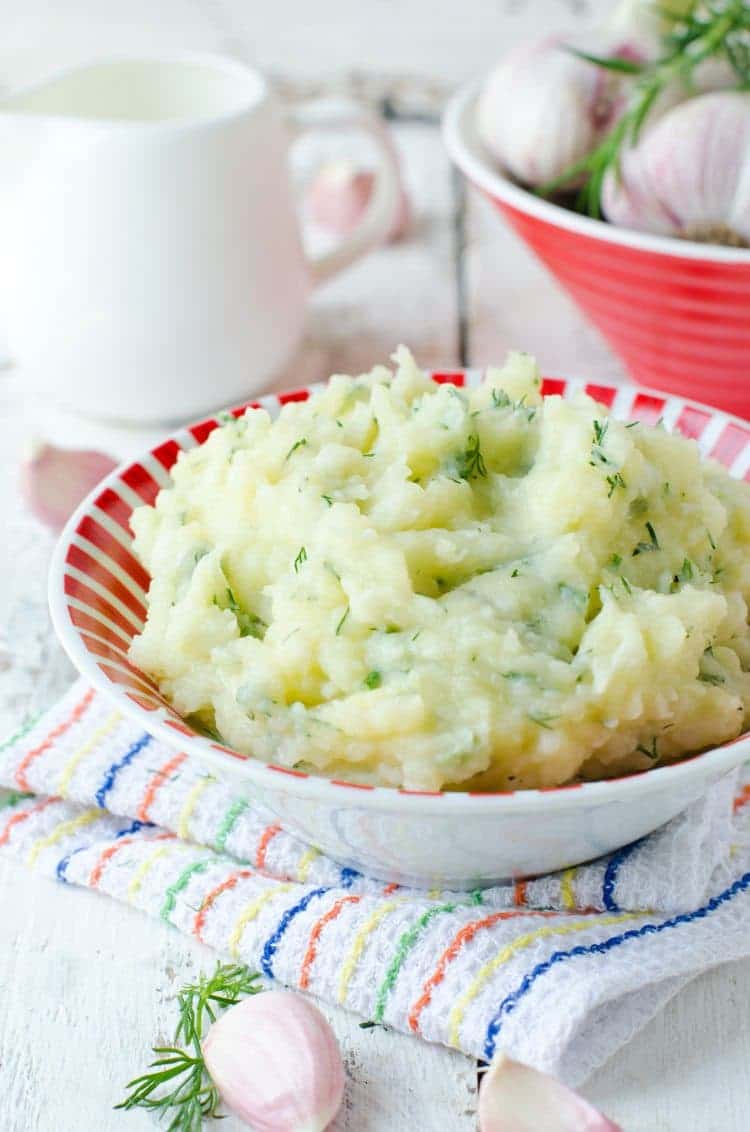 In this Article:
One of the favorite side dishes in our house is mashed potatoes. Any kind of mashed potatoes... from classic Southern Mashed Potatoes to these amazing Garlic Mashed Potatoes.
When you taste these mashed potatoes, you will fall in love with the flavor...as long as you're a garlic lover that is. Now these might not be first-date potatoes, unless you have some breath mints, but they are out of this world deliciousness in each and every bite.
Tips for Making Mashed Potatoes
I've been making mashed potatoes for a long, long time. So I have a few tricks up my sleeve!
First off, if you hate peeling potatoes, consider peeling them after cooking instead of before. In this case, you would go ahead and boil the potatoes with the skins still on. Then drain them and let them cool entirely so they are safe to handle. Then just rub each potato and watch how easily the skins slide off.
Second, consider using an electric mixer to mash the potatoes instead of a handheld potato mashed. While either will work fine, the mixer will save you a whole lot of work and be faster too.
Serving Garlic Mashed Potatoes
There is nothing better than creamy garlic mashed potatoes when you're craving comfort food. This is the perfect side dish for so many delicious recipes, and makes a great Thanksgiving side dish for your feast.
But we all know that meat and potatoes typically go hand in hand. If that sounds ideal to you, try serving them alongside these easy meatballs, this insanely good meatloaf, or these Southern Fried Porkchops.
Recipe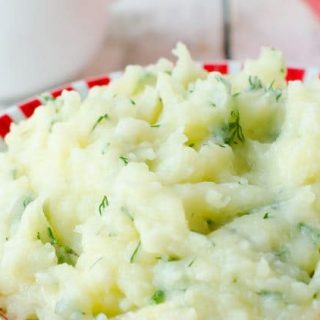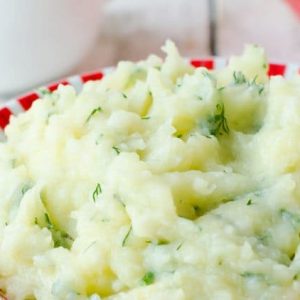 Garlic Mashed Potatoes
These garlic mashed potatoes are creamy, delicious, and packed with flavor from garlic and butter. Yum!
Ingredients
Instructions
Put the potatoes and garlic into a large saucepan. Add enough water to cover the potatoes. Bring to a boil. Cover and reduce heat. Simmer for 20-25 minutes or until potatoes are fork tender.

Drain and return the potatoes and garlic to the pot or transfer to a stand mixer.= bowl.

Using an electric mixer (or handheld potato masher), beat at medium speed for 1 minute or until smooth.

Add the milk, sour cream, butter, salt, and pepper. Add the chives, if using. Beat until well blended. Add additional butter, salt, or pepper if desired.
Nutrition
Calories:
217
kcal
Carbohydrates:
42
g
Protein:
6
g
Fat:
3
g
Saturated Fat:
2
g
Polyunsaturated Fat:
0.2
g
Monounsaturated Fat:
1
g
Cholesterol:
10
mg
Sodium:
320
mg
Potassium:
1007
mg
Fiber:
5
g
Sugar:
3
g
Vitamin A:
119
IU
Vitamin C:
46
mg
Calcium:
65
mg
Iron:
2
mg