One of the favorite side dishes in our house is mashed potatoes. Any kind of mashed potatoes...classic Southern Mashed Potatoes, and especially these amazing Garlic Mashed Potatoes.
Easy Recipe Garlic Mashed Potatoes
The best garlic press for that we've found for home cooking is inexpensive and works great. It's stainless steel and easy to use.
Make Garlic Mashed Potatoes Like Restaurants
There is nothing better than creamy garlic mashed potatoes when you're craving comfort food. This is the perfect side dish for so many delicious recipes, whether you are a meat lover or not.
Now, we all know that meat and potatoes typically go hand in hand, so if you want to stick to serving our Garlic Mashed Potatoes alongside meatloaf, meatballs (which are so easy to make with a meat-baller!) or stuffed pork loin--we completely concur.
GARLIC MASHED POTATOES
When you taste these mashed potatoes, you will fall in love with the flavor...as long as you're a garlic lover that is. Now...these might not be first-date potatoes, unless you have some breath mints, but they are out of this world deliciousness in each and every bite.
We happen to think a lot of down home comfort food around here. We'll take it in the form of Slow Cooker Ham and Beans, Pot Roast, and even Funeral Potatoes.
Comfort food is one of those things that just brings a sense of calm.
It could be a bowl of chili or soup on a cold day, warm and gooey cookies with a cup of hot cocoa, or perhaps a simple sandwich loaded with your favorite toppings.
It is food that makes us feel at home...food that is perfect for curling up on the couch with a good book or movie...food that in essence defines comfort, just in its very being.

Get the latest scoop on all the recipes I'm whipping up in the kitchen by following along with All She Cooks on Facebook, Instagram, and Pinterest. Also, don't forget to join my Facebook Group where you can share your favorite blogger recipes: Easy & Delicious Recipes.
Have you tried this recipe? Don't forget to Rate This Recipe below. While you're at it, share a picture on Instagram with #allshecooks so we can see how your recipe turned out!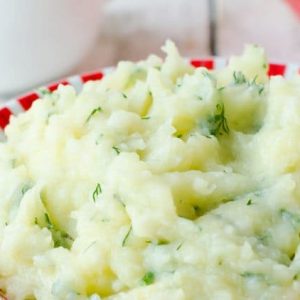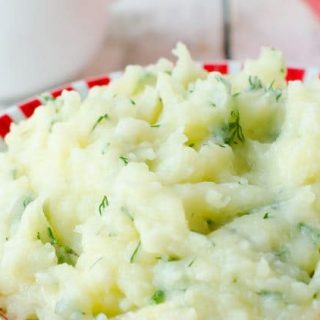 Garlic Mashed Potatoes – Weight Watchers Friendly
Weight Watchers Garlic Mashed Potatoes are an easy side dish recipe. You'll love these low fat mashed potatoes served alongside your main dish.
Ingredients
2

pounds

baking potatoes

peeled and cubed

4

large garlic cloves

peeled and halved

¼

cup

fat-free sour cream

2

tablespoon

skim milk

1

tablespoon

reduced-calorie stick margarine

½

teaspoon

salt

dash of ground pepper
Instructions
Put potatoes and garlic in a large saucepan. Add water to cover. Bring to a boil. Cover and reduce heat. Simmer for 20 minutes or until potatoes are tender. Drain and return potatoes and garlic to pan. Using a mixer, beat at medium speed for 1 minute or until smooth. Add source cream and remaining ingredients. Beat until well blended.

4 servings, 8 Smart Points. Serve smaller serving sizes to reduce the total Smart Points.
Nutrition
Calories:
222
kcal
Carbohydrates:
45
g
Protein:
6
g
Fat:
3
g
Saturated Fat:
1
g
Cholesterol:
1
mg
Sodium:
359
mg
Potassium:
988
mg
Fiber:
3
g
Sugar:
2
g
Vitamin A:
177
IU
Vitamin C:
14
mg
Calcium:
62
mg
Iron:
2
mg
Get More Weight Watchers Recipes
Weight Watchers Chili | Get a lower calorie chili that gives the classic comfort food flavor you love, with less guilt.
Weight Watchers Meatballs| Can you say lower fat meatballs? Switch up the meat you grab for in the grocery store!
Weight Watchers Taco Soup | Load this soup up with tons of veggies for even more of a health kick.
Weight Watchers Garlic Mashed Potatoes | There's just something about garlic. And if you love garlic, you're going to adore this recipe.
Weight Watchers Banana Bread | This is a fun take on banana and pumpkin bread, and combines two of our favorites.
Weight Watchers Hash Brown Casserole | One of my very favorites. This is a serious comfort food meal.
Weight Watchers Key Lime Bars | If you like dessert, these simple and delicious bars will be a treat.
Weight Watchers Peach Cobbler | This cobbler is so amazing! Feel free to swap out the peaches for other fruits or berries.
Weight Watchers Chicken Pot Pie | A meal like no other. You simply can't have chicken pot pie without feeling savoring each and every bite.
Weight Watchers Pumpkin Pie | One of our most popular recipes-- yes, you can have pumpkin pie on a Weight Watchers diet!
Weight Watchers Mac and Cheese | For the love of mac & cheese recipes! Calling all cheese lovers, this one's for you. It's a quick and easy solution for all your mac and cheese cravings.
Weight Watchers 1 point Brownies | Who says you can't have a brownie on a diet? We say you can!
Weight Watchers Cheese Biscuits | If you like Red Lobster biscuits, you'll get the general idea of these delicious treats.
Weight Watchers Deli Crab Salad | This salad makes a great lunch or dinner. 
Weight Watchers Cheese Lasagna | Pasta on a diet? Yes, please! And cheese on top of that?
Weight Watchers Meatloaf | This is one of my very favorite meatloaf recipes. I love that I can mix up a tasty lower-calorie meatloaf.
Weight Watcher Chicken Teriyaki | If you love chicken teriyaki, this recipe is for you. Hands down, one of the best low-cal chicken recipes I've had.