Try This Easy Chocolate Mousse Cake Recipe
You heard it here. This decadent Chocolate Mousse Cake Recipe, one that restaurant fans rave about on a regular basis, is now available to be made in your own kitchen.
If you are a chocolate lover–and why wouldn't you be–then you're probably constantly on the search for great new recipes that you can use to sooth that sweet tooth at home.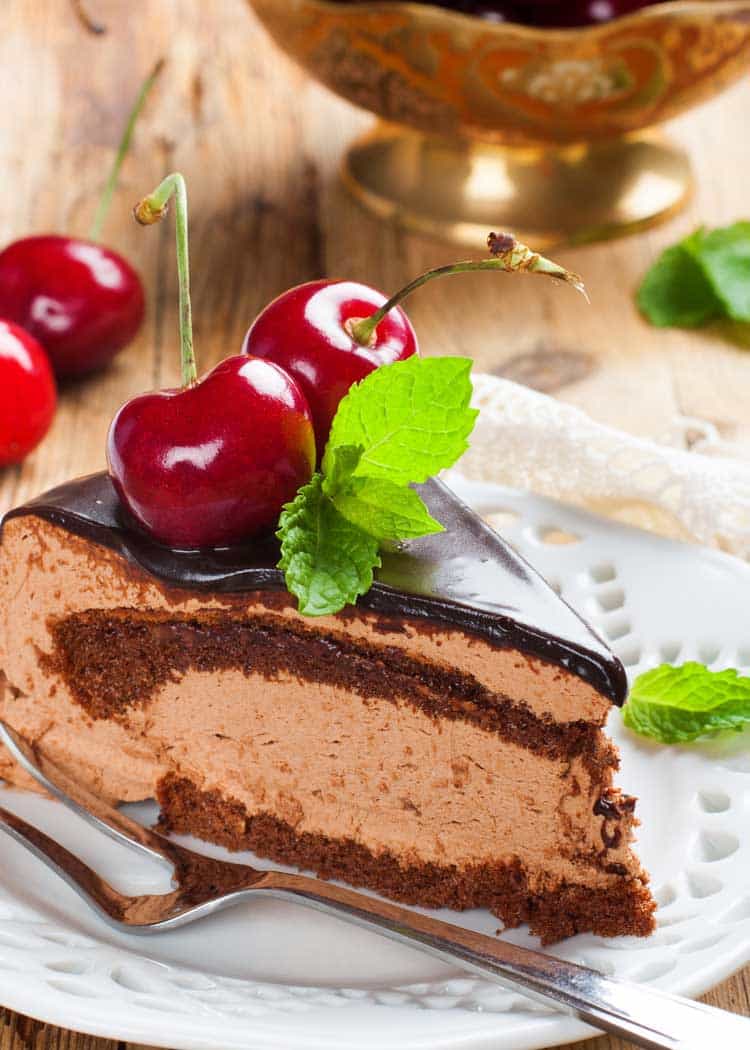 Easy Dessert Recipes–Bites of Perfection
This mousse cake recipe serves 12, and the portion size is more than enough considering how rich and indulgent this chocolaty sweet slice is.
You know its true.  Every now and then you go out to eat purely with the intention of ordering dessert afterwards.
And sometimes, you skip the main course altogether and head straight to the chocolate on the menu. Because hey, we all know that chocolate in moderation is really a good thing, right?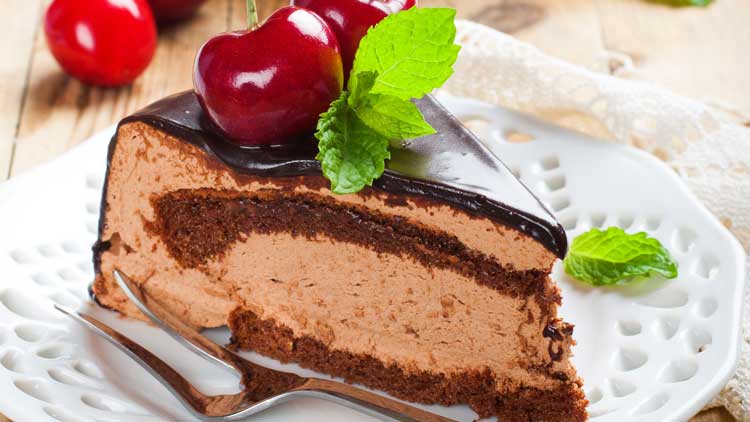 Chocolate Desserts Easy to Make
It's really so simple to make this delicious chocolate mousse cake, and for the amount of money it will take you to buy the ingredients for this cake, you can serve 12 people.  That's right…for the cost of one restaurant slice of cake, you can have 12 servings to share at home.
We're pretty sure that makes this chocolate mousse cake a huge bargain, and one that you can spend a lifetime savoring. Because, we're equally as sure you'll be wanting to make this delightful dish again and again.
And with a delicious chocolate ganache sauce to top this tasty dessert, you'll definitely want to try this dessert on for size.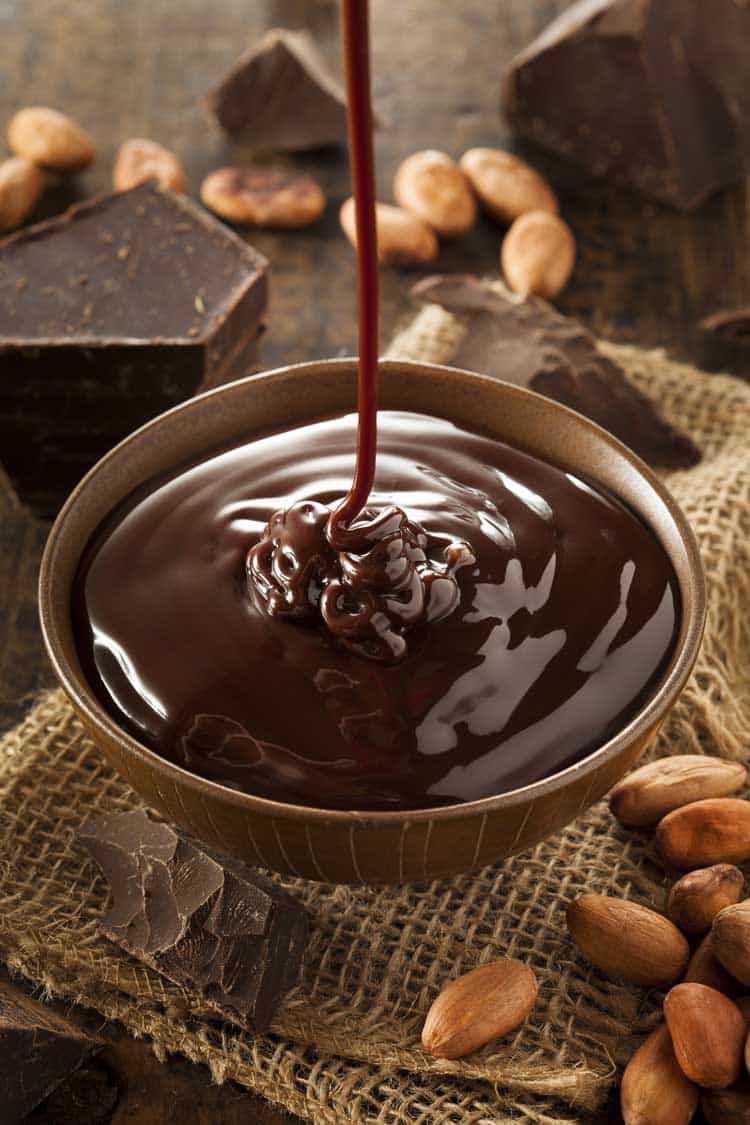 Best Ways Save Money Fast
Are you a fan of copycat recipes? We are too.
In fact, that's why we make so many of them and share them with our beloved readers. We get it. We understand how expensive it can be to take your entire family out to dinner.
But why should money keep you for enjoying your restaurant favorites? If you're ready to cut your dining out budget then you're on track to take advantage of one of the best ways to save money fast.
Food budgets shouldn't be a burden.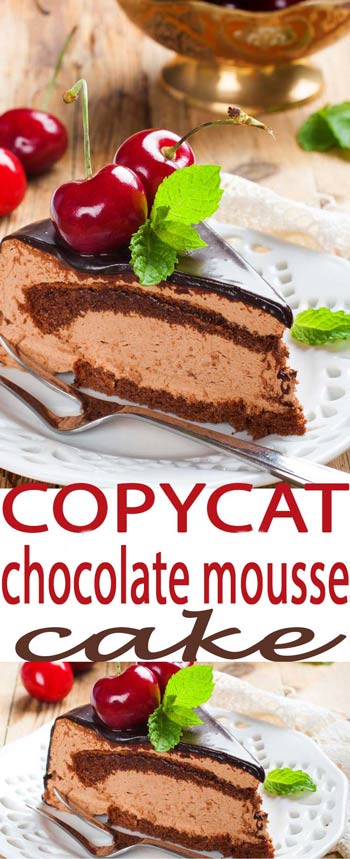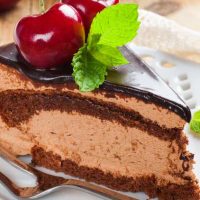 Copycat Chocolate Mousse Cake Recipe
Total Time:
7 hours
30 minutes
Try this easy Chocolate Mousse Cake Recipe. We're pretty sure you'll love it. You can enjoy this copycat restaurant recipe in the comfort of your own home. copycat-chocolate-mousse-cake-recipe-best
Instructions
Prepare a 9 x 13 inch cake as directed on the label of the cake mix box.
Bake and let it cool slightly in the pan. Invert onto a rack to cool completely.
Cleaning out the used cake pan, line it with plastic wrap.
Cut the cake in half lengthwise, and then in thirds crosswise, making 6 rectangles.
Slice each rectangle in half to make two layers, using a serrated knife.
Arrange half of the pieces snugly in the cake pan.
Crumble the remaining pieces and press tightly into 6 small balls.
Arrange 1 cake ball in the center of each cake rectangle in the pan.
To make the mousse: In a heatproof bowl set over a saucepan of simmering water, heat the chocolate, butter, coffee and 1/4 cup water. Do not let the bowl touch the water. Stir often, until melted.
After removing the bowl from the pan, stir until cooled off.
Reserve the simmering water.
Fill a large bowl with ice water.
Mix the egg yolks, 1 1/2 cups sugar and 2 tablespoons water in a separate large heatproof bowl, using a whisk.
Place this bowl over the saucepan of simmering water, whisking for 6 to 8 minutes, or until pale yellow.
Pour in the chocolate-coffee mixture and the vanilla. Mix with a whisk about 2 minutes, or until combined.
Remove the bowl from the pan and set in the bowl of ice water.
Whisk for about 4 minutes or until slightly cool but not thick.
Using a mixer, beat the egg whites and salt in a bowl until foamy.
Adding 2 tablespoons of sugar, beat until almost stiff.
Gently fold into the chocolate-yolk mixture to make a dark chocolate mousse.
Spread 5 cups over the cake and cake balls.
Freeze for about 30 minutes or until firm on top.
Beat the heavy cream and the remaining 4 tablespoons sugar until soft peaks form.
Fold this mixture into the remaining mousse.
Remove the cake from the freezer.
Spread with the light chocolate mousse.
Cover with plastic wrap and freeze at least 6 hours or overnight, until firm.
To make the chocolate shell- In a heatproof bowl set over a saucepan of simmering water, stir the chocolate, heavy cream and 4 tablespoons corn syrup, until melted. Do not let the bowl touch the water. Spread half of the shell mixture over the frozen mousse, a spoonful at a time. Return to the freezer.
To make the chocolate sauce - Add the remaining 1 tablespoon corn syrup and the butter to the remaining chocolate shell mixture. Put in microwave 30 seconds. Stir until glossy.
For serving the cake, beat the heavy cream with a mixer until foamy. Add the sugar and beat until soft peaks form. Remove the cake from the freezer. Invert it onto a baking sheet and unmold. Invert again onto a platter, with the chocolate shell-side up.
Using a warm knife, cut the cake in half lengthwise. Then cut into thirds crosswise to make 6 rectangles. Cut each rectangle in half diagonally to make 2 triangles.
Top each triangle with whipped cream, ice cream and the prepared chocolate sauce.
Adapted from this recipe.
Save
Save