Craving something sweet? Make these Homemade Peanut Butter Cups in less than an hour! With rich dark chocolate, a creamy peanut butter filling, and a hint of maple syrup, these delicious treats are way better than the store bought version.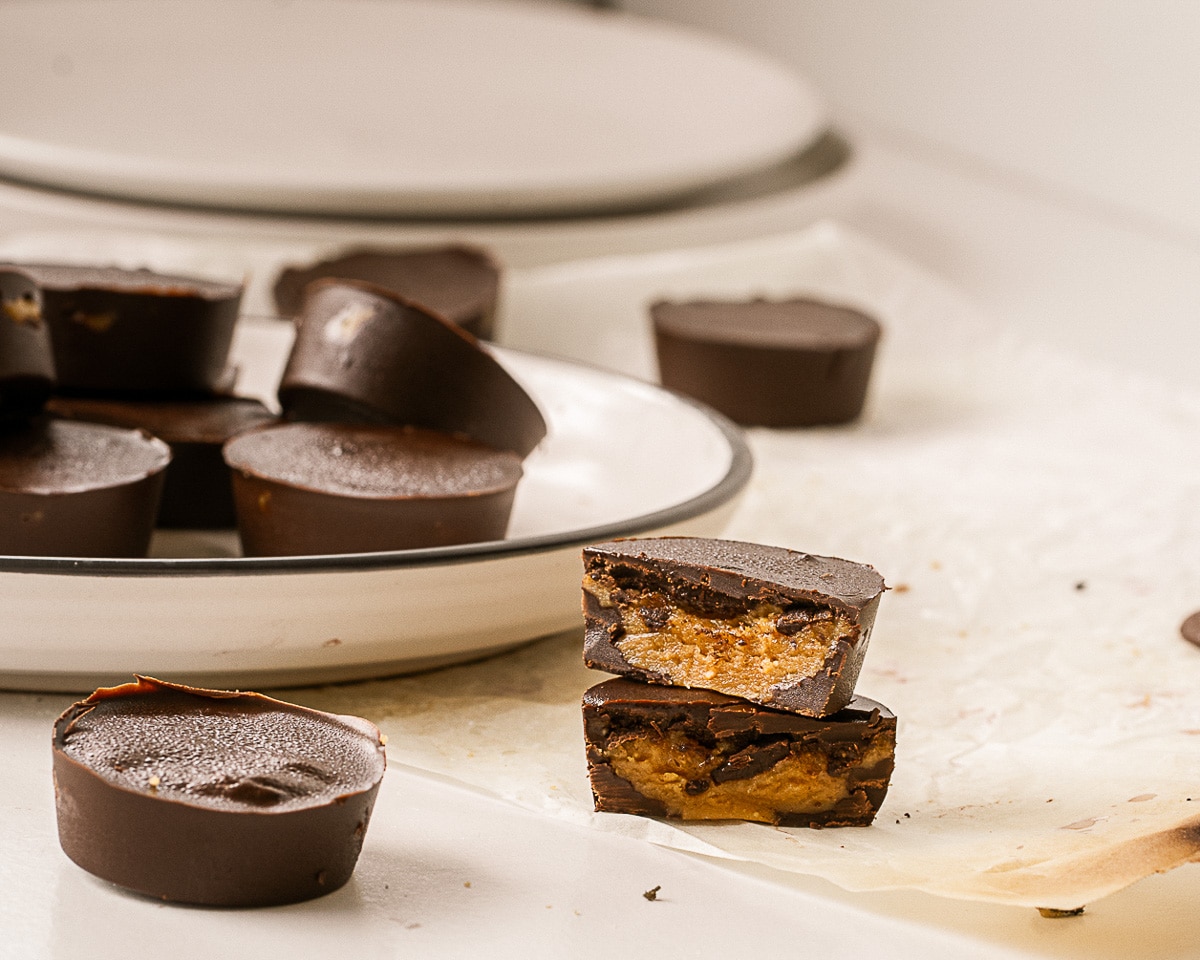 I'm totally in love with these Homemade Peanut Butter Cups. They're the perfect balance of sweet, salty, and creamy - and totally irresistible. I would even go out on a limb and say that they're tastier than my beloved Reese's Pieces (and that's saying a lot!).
They're perfect for serving up as a holiday treat, and you can even gift them as homemade presents. And making them is a fun family friendly activity to do with the kids too!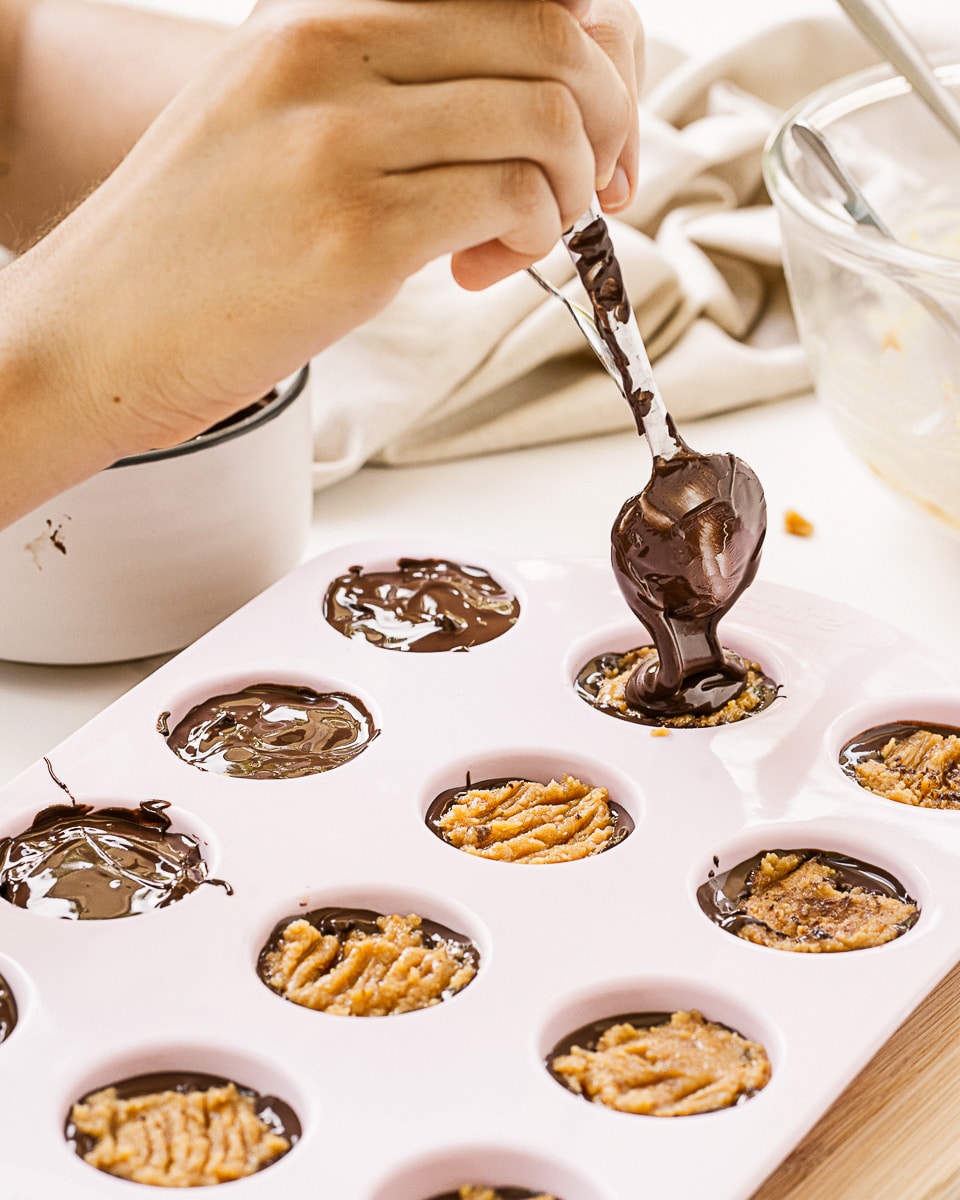 Tips and Tricks
Use your favorite chocolate.
If you're not a fan of dark chocolate, you can substitute milk chocolate for even white chocolate for a different spin.
Peanut butter substitutes.
If you're not a fan of peanut butter, you can substitute it with other nut butters like almond or cashew butter.
Maple syrup substitutes.
You can use honey or agave syrup in place of the maple syrup if you prefer.
Cool down the peanut butter filling.
Make sure the peanut butter mixture has cooled down fully before adding it to the chocolate molds. Otherwise, it may melt the chocolate.
Storing the peanut butter cups.
Store them in the refrigerator until ready to be served and enjoy.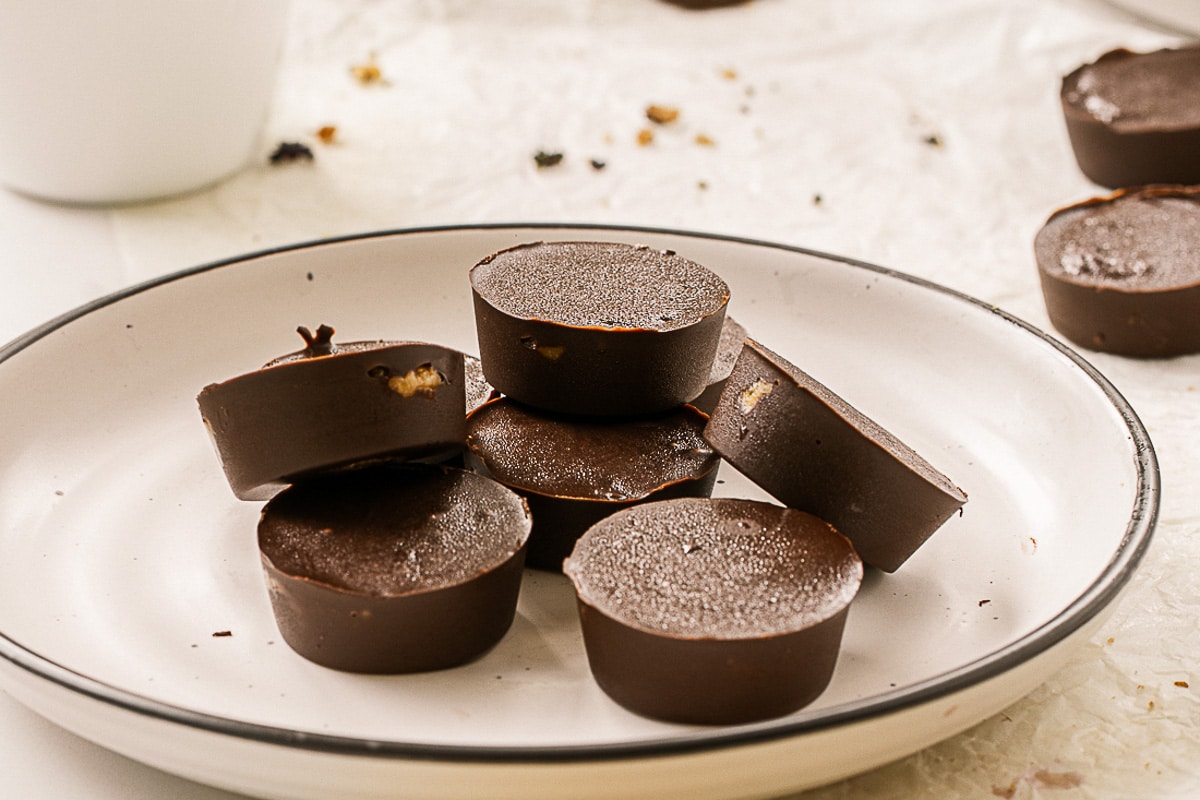 Variations
Chocolate Coconut Peanut Butter Cups
Mix a few sprinkles of unsweetened coconut flakes into the melted dark chocolate for a delicious twist on the classic peanut butter cup!
Chocolate Hazelnut Peanut Butter Cups
Replace the peanut butter with your favorite hazelnut spread for a deliciously sweet concoction.
Salted Caramel Peanut Butter Cups
For an extra decadent treat, try adding a layer of salted caramel between the chocolate and peanut butter.
Nut-Free Peanut Butter Cups
For those with nut allergies, try making peanut butter cups with sunflower seed butter.
Make it sweeter or spicier
If you prefer a sweeter treat, just add a bit more maple syrup. Or, if you're feeling adventurous, you could try adding a pinch of chili powder to the peanut butter filling to add a bit of a kick!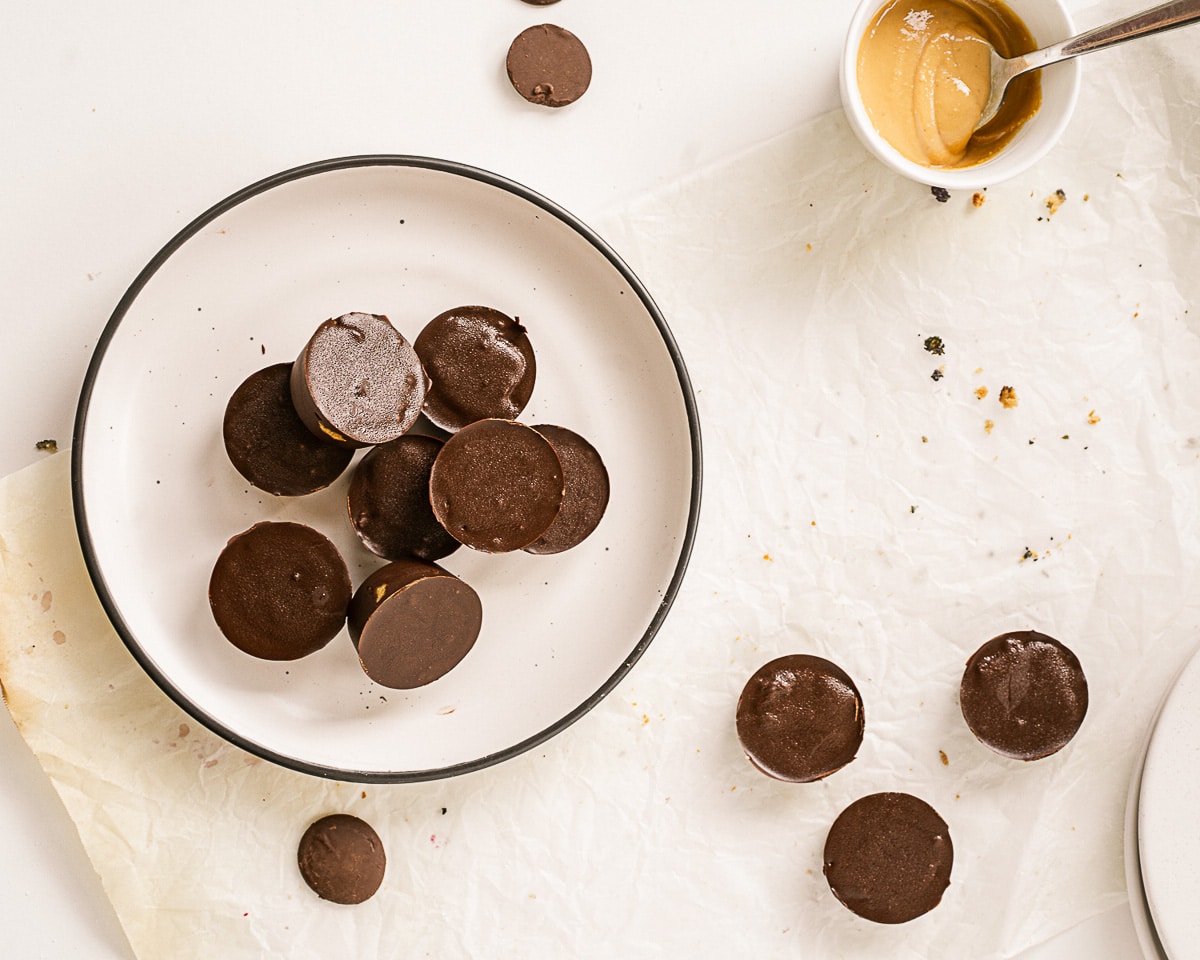 More Sweet Treats
If you love these homemade peanut butter cups, be sure to check out these other delicious ideas:
Recipe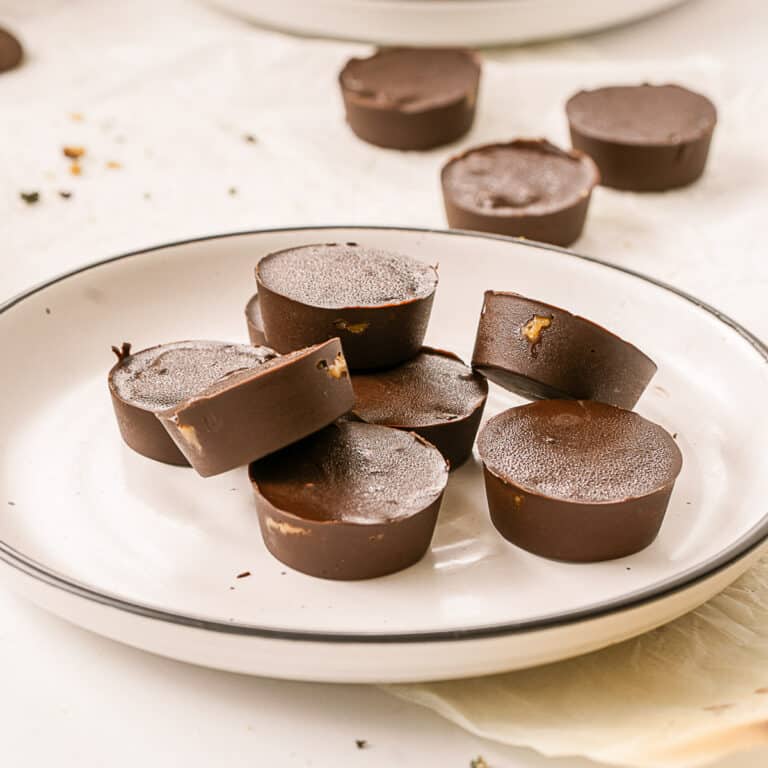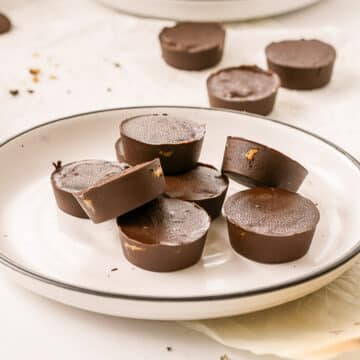 Homemade Peanut Butter Cups
These Homemade Peanut Butter Cups are the perfect balance of sweet, salty, and creamy - and totally irresistible. And way better than the store bought version.
Ingredients
½

cup

creamy peanut butter

room temperature

1

cup

dark chocolate

1

tsp

butter

softened

1

tsp

pure vanilla extract

1

tbsp

natural maple syrup

A pinch of salt
Instructions
Begin by melting the dark chocolate chunks in the microwave. Place in a microwave safe bowl. Heat for 45 seconds, then give it a stir. Repeat until they are all melted and smooth.

Carefully pour about ½ tablespoon of the now-melted chocolate into each compartment of a silicone mini muffin tray (or any similar small-sized silicone mold). See the pictures for an example!

Chill the tray in the refrigerator for about 20 minutes, or until the chocolate sets and becomes firm.

While waiting, prepare the peanut butter filling. Combine the peanut butter, softened butter, vanilla extract, and maple syrup in a bowl. Mix until it is a creamy consistency.

Once the chocolate bases have hardened, spoon a teaspoon of your peanut butter mixture into the center of each compartment.

Drizzle the remaining melted chocolate over the peanut butter filling, ensuring it covers the filling and reaches the edges of the mold. If the chocolate has started to solidify, you might need to reheat it briefly in the microwave.

Return the tray to the refrigerator and allow the peanut butter cups to harden for another 30 minutes.

Once set, gently pop the peanut butter cups out of the molds.

Store your homemade treats in the refrigerator. They'll stay fresh and delicious for up to 10 days—though they might get eaten up long before then! Enjoy your delightful bite-sized creations!
Nutrition
Calories:
160
kcal
Carbohydrates:
10
g
Protein:
4
g
Fat:
12
g
Saturated Fat:
5
g
Polyunsaturated Fat:
2
g
Monounsaturated Fat:
5
g
Trans Fat:
0.02
g
Cholesterol:
1
mg
Sodium:
52
mg
Potassium:
169
mg
Fiber:
2
g
Sugar:
6
g
Vitamin A:
16
IU
Calcium:
18
mg
Iron:
2
mg