Green beans are often seen at Thanksgiving coated in canned soup with canned onions. Green bean casserole can be delicious, especially if you make it from scratch, but it's not the healthiest dish.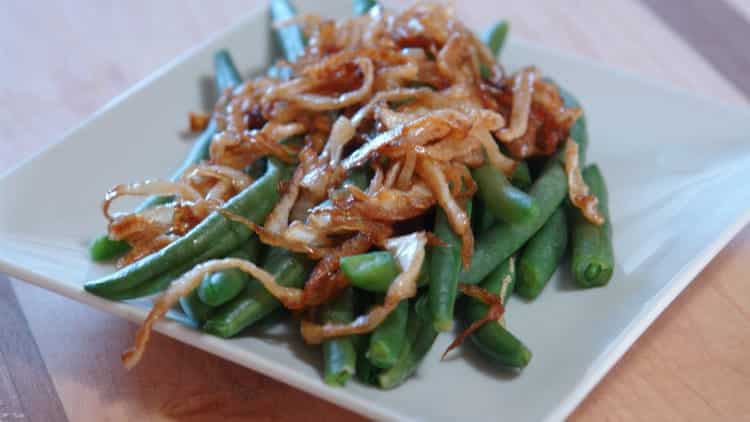 My favorite way to eat green beans all year is a simple and healthier option that is great for Thanksgiving, green beans with caramelized onions.
Caramelized onions are best when you cook them low and slow so they can be time-consuming but they are easy to make and you can do other things while the onions cook.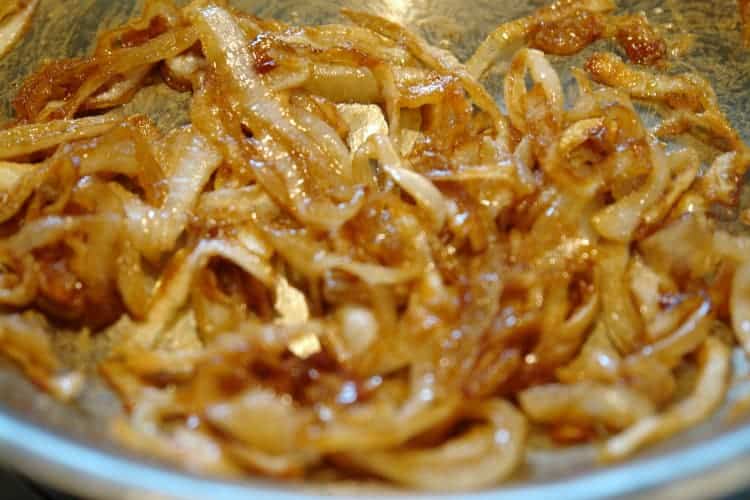 I like to have the onions cooking while I work on other parts of the meal that way they really aren't much work.
These green beans with caramelized onions are perfect by themselves but you can also add some bacon or almonds if you want to make the dish even better.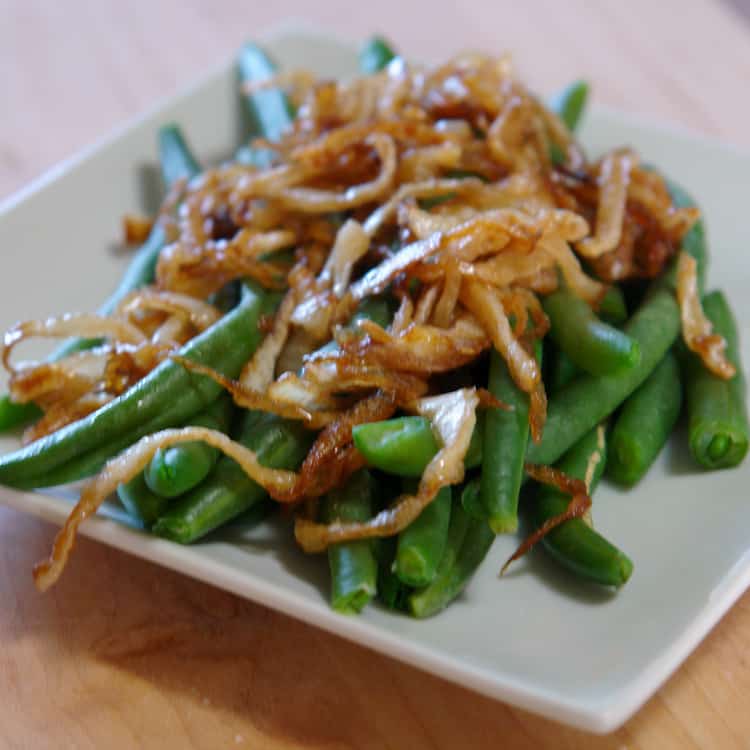 Thanksgiving in my family growing up was always a potluck. We have a huge family so it made it a lot easier for everyone to have a couple of dishes to make instead of a whole meal. We also always had a ton of options this way.
This is a great dish to take to a potluck. It gives a vegetable option that is healthier than the casseroles we often see. It can be a nice break from all of the very rich dishes.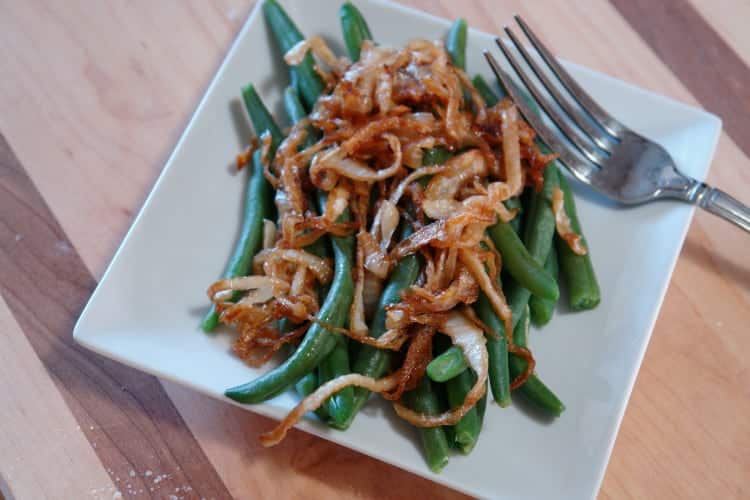 It's also a naturally gluten-free dish and with so many people now avoiding gluten that can be nice to have at the meal.
Since I've been married, Thanksgiving with my husband's family is a lot different than what I was used to growing up. He doesn't have extended family in the area so it's just us and his parents. His mom is disabled and dad doesn't cook so I make the whole meal.
When you are cooking Thanksgiving by yourself it's important to have simple dishes. This is a really good option. It also doesn't have a lot of prep or cleanup to worry about and that's always helpful.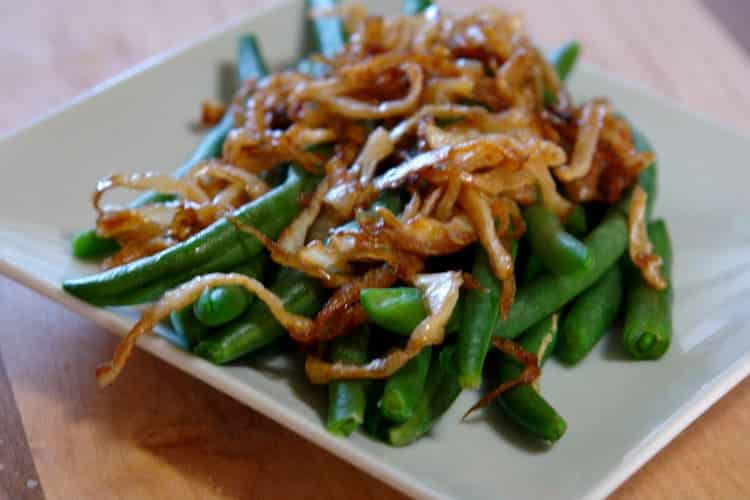 The onions can be made a day ahead and just warmed. I love things that can be prepped ahead, it makes Thanksgiving day so much less stressful.
Another tip to make caramelized onions quicker is to add ½ teaspoon of sugar and a pinch of baking soda at the start of cooking. This gives you sweet and soft onions. The flavor isn't quite the same but in a pinch, it works.
 Green Beans with Caramelized Onions Recipe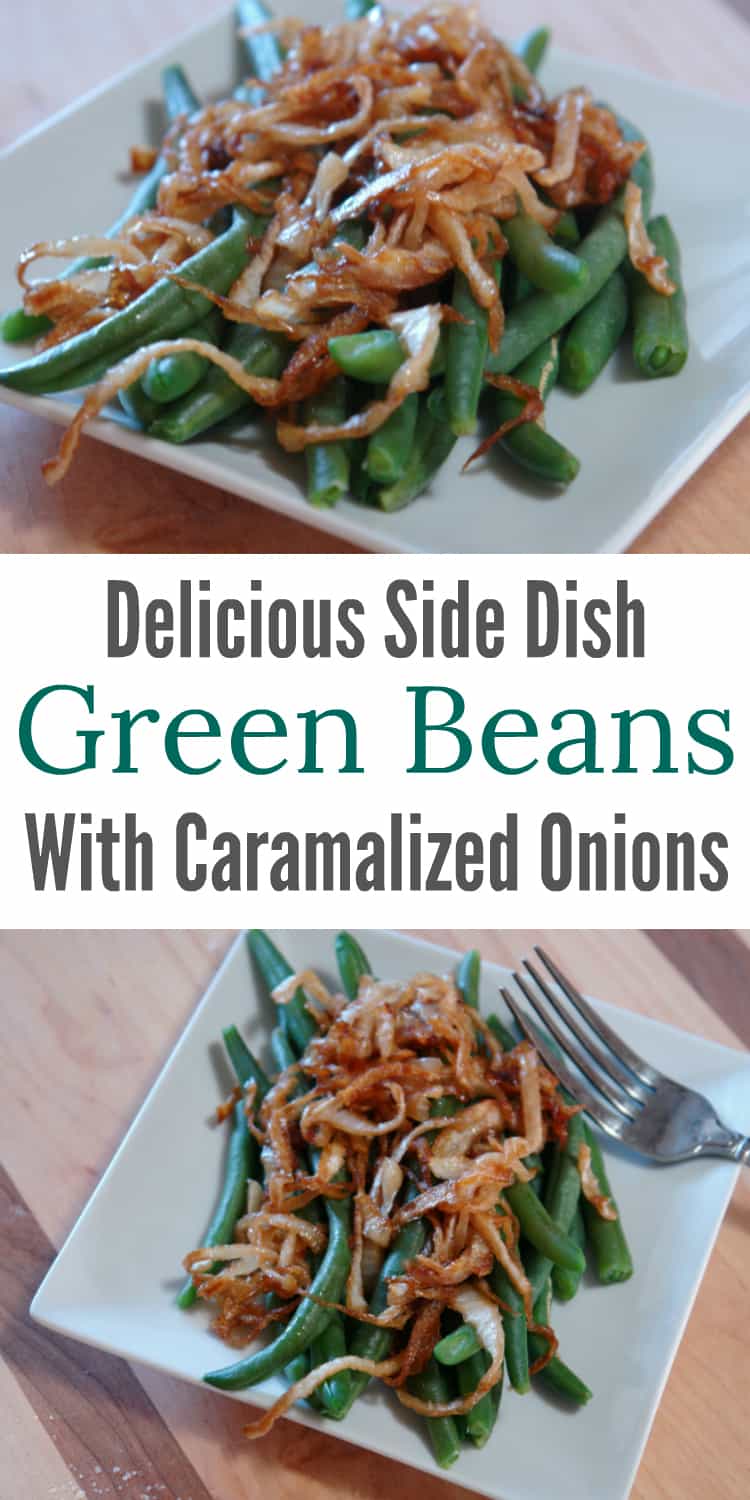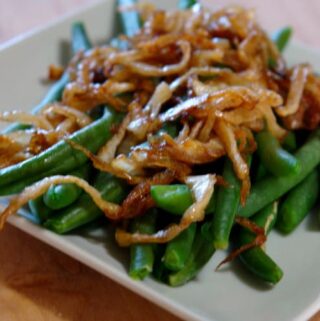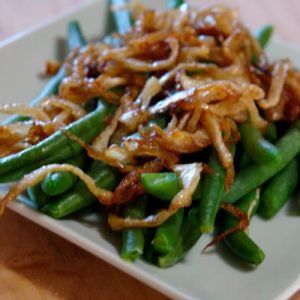 Green Beans with Caramelized Onions
Green Beans with Caramelized Onions, an easy Thanksgiving side dish
Ingredients
1

pounds

green beans

2

tablespoons

unsalted butter

2

tablespoons

extra-virgin olive oil

1

large onions

sliced thin

pepper

to taste

salt

to taste
Instructions
Heat butter and oil in a skillet over medium-low heat.

Once the butter has melted add the onions and salt and pepper.

Cook for 30-40 minutes until the onions are caramelized, stir occasionally.

While the onions cook, fill a large pot with water and a teaspoon of salt, bring to a boil

Add the green beans and cook for about 5-7 minutes, until tender but still crisp.

Drain beans and run them under cold water to stop cooking.

Top the green beans with the onions and serve.
Nutrition
Calories:
158
kcal
Carbohydrates:
10
g
Protein:
2
g
Fat:
13
g
Saturated Fat:
5
g
Cholesterol:
15
mg
Sodium:
9
mg
Potassium:
279
mg
Fiber:
4
g
Sugar:
5
g
Vitamin A:
957
IU
Vitamin C:
16
mg
Calcium:
48
mg
Iron:
1
mg