Dress up your French fries to a whole new level. These parmesan truffle fries are a French fry that is seasoned with white truffle oil, parmesan and salt to taste. Simple ingredients that offer an elegant fry for dipping.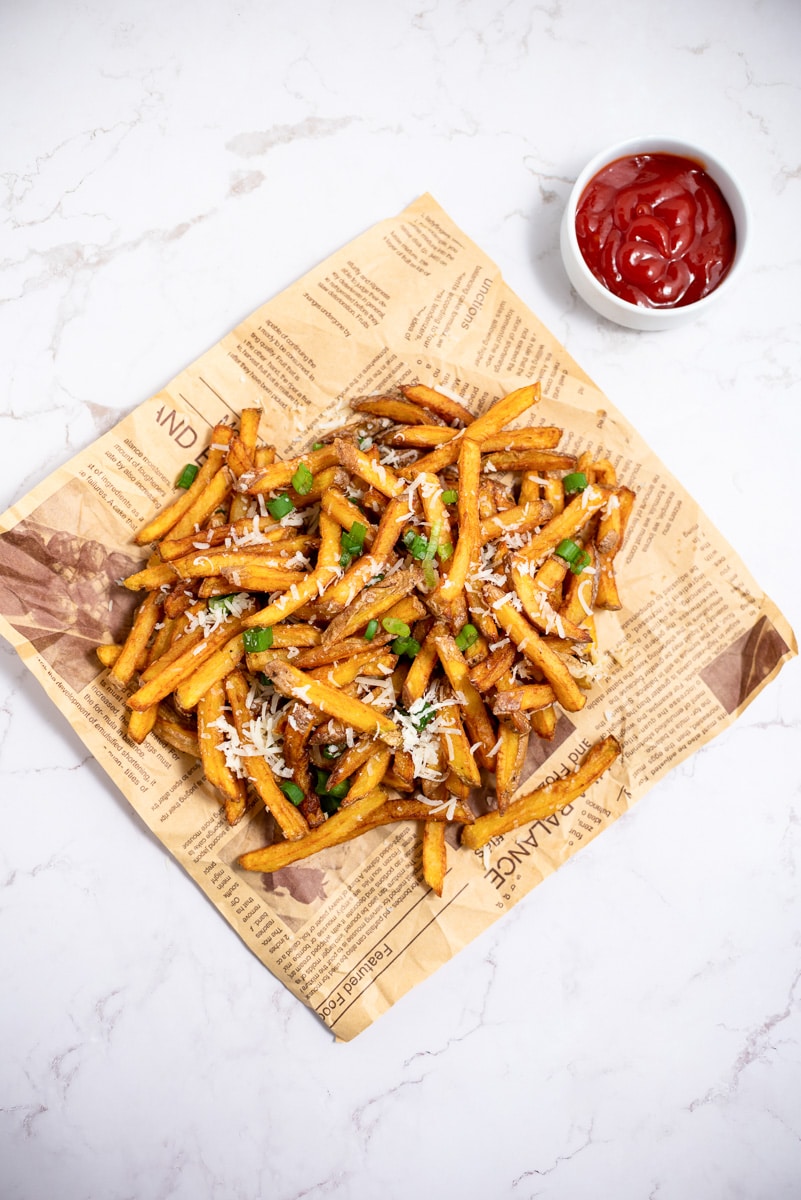 I mean who can resist the potato recipes that float all over the internet? I know I sure can't. Add in the word truffle and I am on it! Check out my steak fries recipe, these are so addictive. Or for a lighter option try my baked sweet potato fries.
These truffle fries make a great appetizer or side dish to serve up for any occasion. Pair with your favorite dipping sauce and devour these fries one by one.
These Parmesan Truffle Fries Are...
Made with 4 Ingredients
Gluten Free
Deep Fried
Easy to Make
Side Dish or Appetizer
How to Make Parmesan Truffle Fries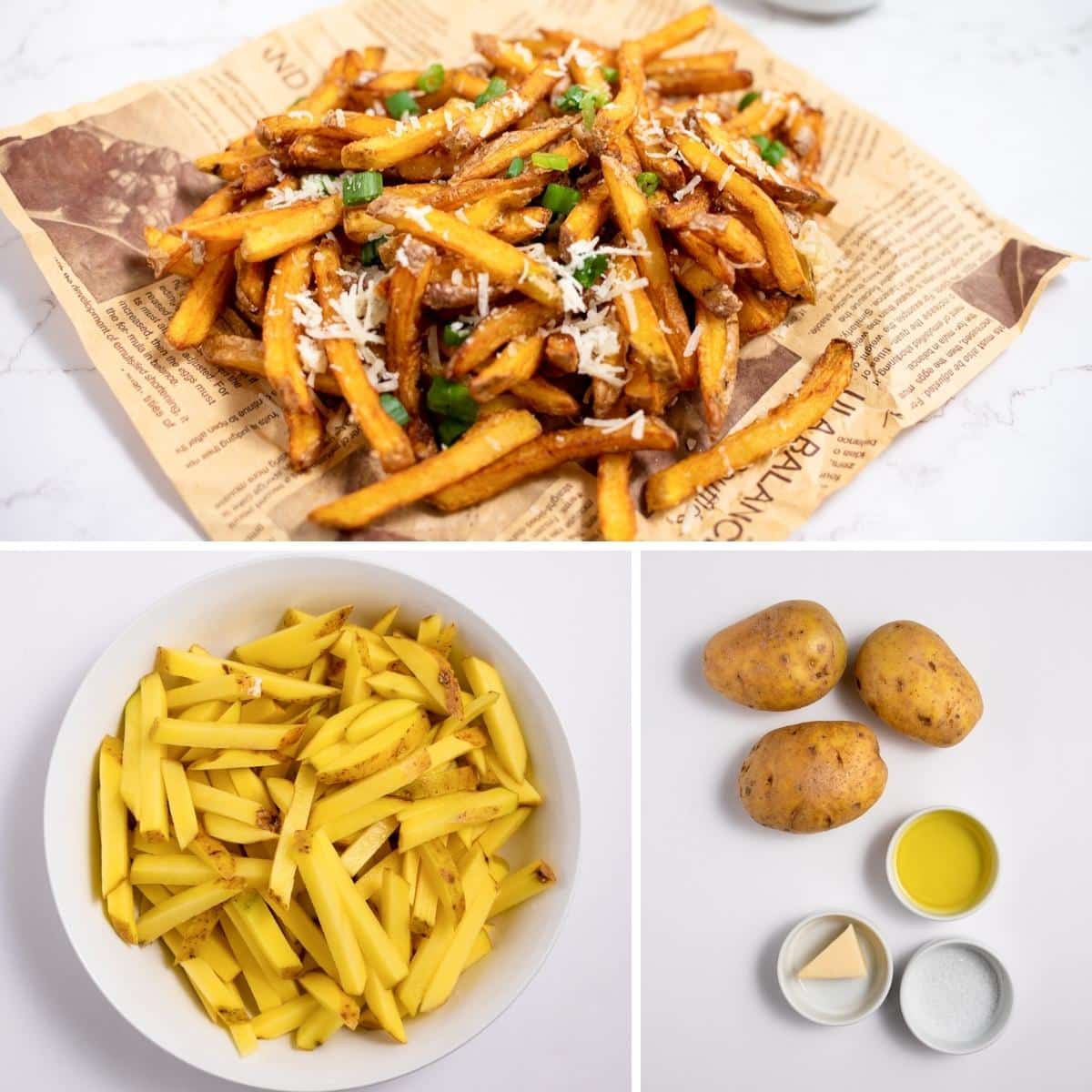 Full steps on how to make parmesan truffle fries are in the printable recipe card. This is a quick walk through on how to make these delicious fries.
Start by heating up your fryer and oil.
Then wash and slice your potatoes into fries.
Place sliced potatoes in a bowl with ice and rinse until water is clear.
Remove potatoes from water and fry as directed.
Once French fries are cooked, remove and place in a bowl and add truffle oil and parmesan cheese. Salt to taste.
Helpful Tips for Parmesan Truffle Fries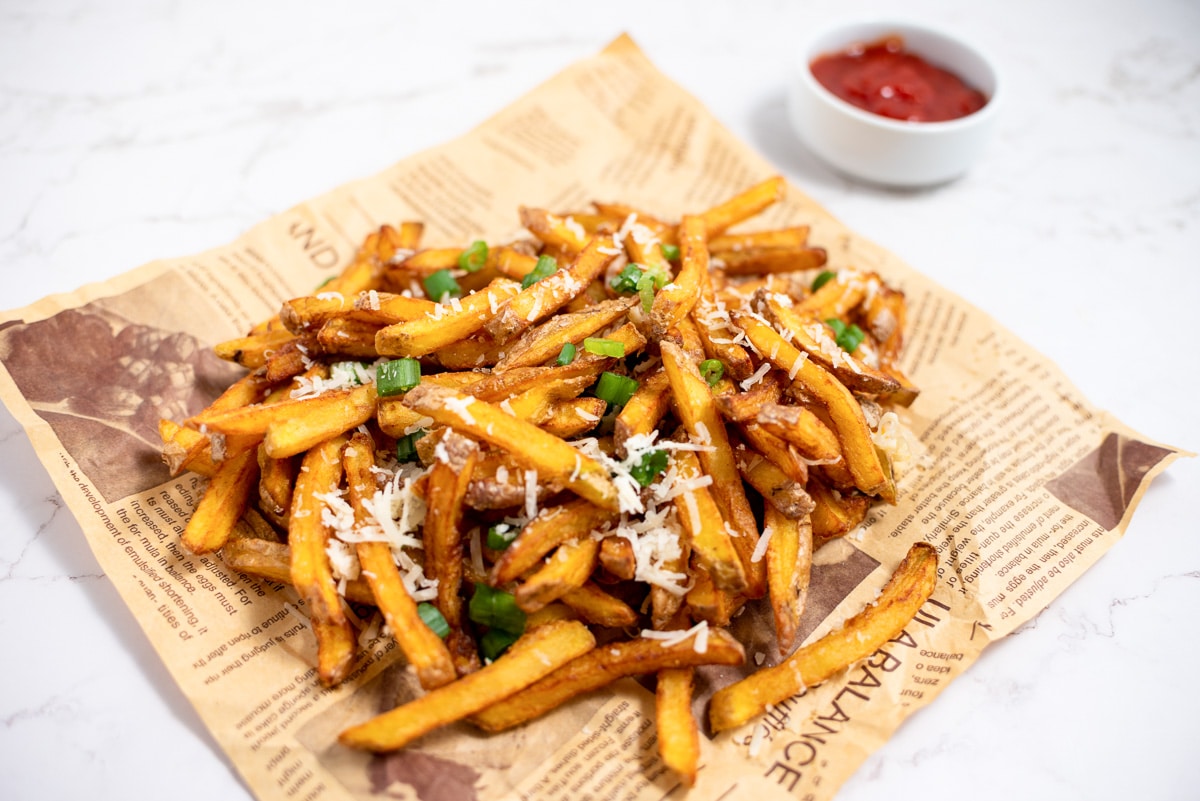 Pre-Heat Deep Fryer
I used a deep fryer to make these French fries. Make sure that if you use a fryer to regulate the temperature of the oil. It needs to be 350 degrees F. If the oil isn't preheated it will not create crispy fries.
Slicing Potatoes
You can buy a slicer to cut your potatoes evenly. This is a press that will make perfectly even shaped fries that will cook up beautifully. Or you can slice by hand if you don't have a slicer. Just aim for evenly sized pieces so they cook up evenly.
Variations to Parmesan Truffle Fries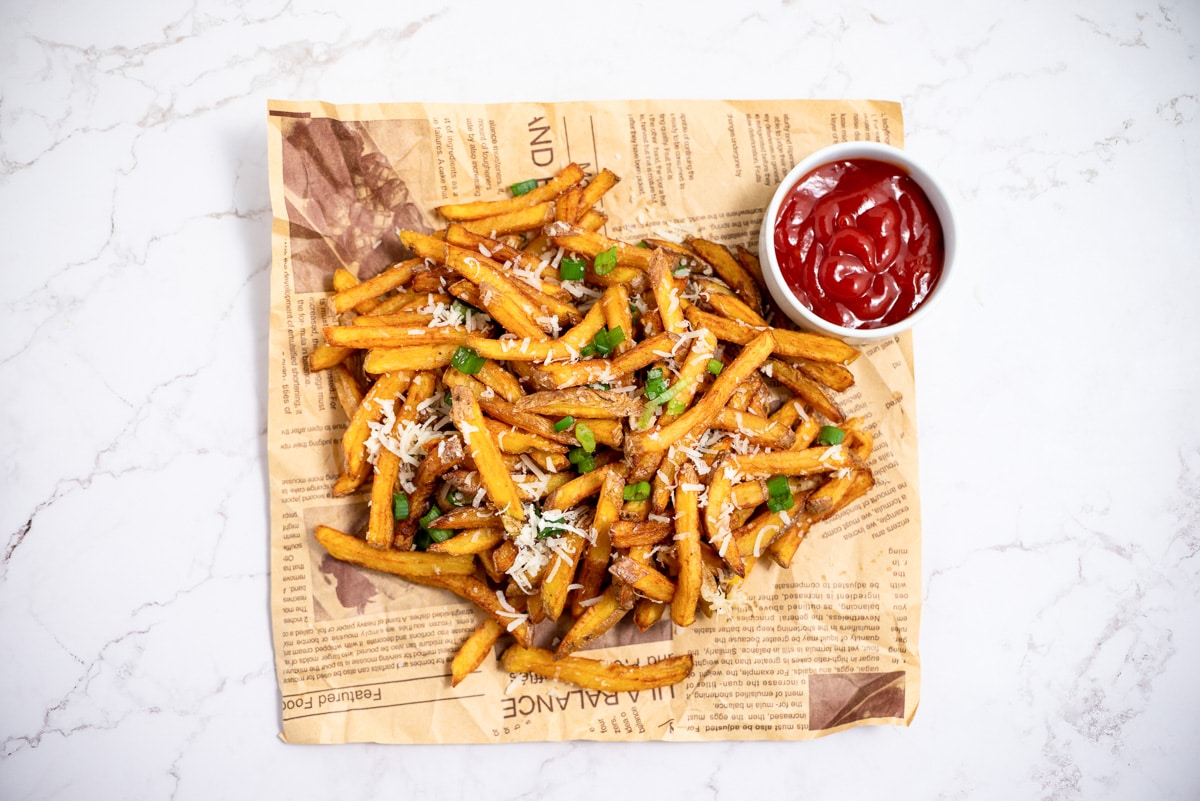 Truffle Oil
Depending on the brand of oil the flavor can vary. There is even black truffle oil you could swap out with the white. Earthy, rich, and a stand-out flavor that will truly elevate the fries to a whole new level.
Leave Off Parmesan Cheese
If you don't want the parmesan cheese you can leave it off if you prefer. I find that the parmesan adds a nice tangy bite to the fries that stands out. You could also swap with another type of cheese if you want.
Parmesan Truffle Fries FAQs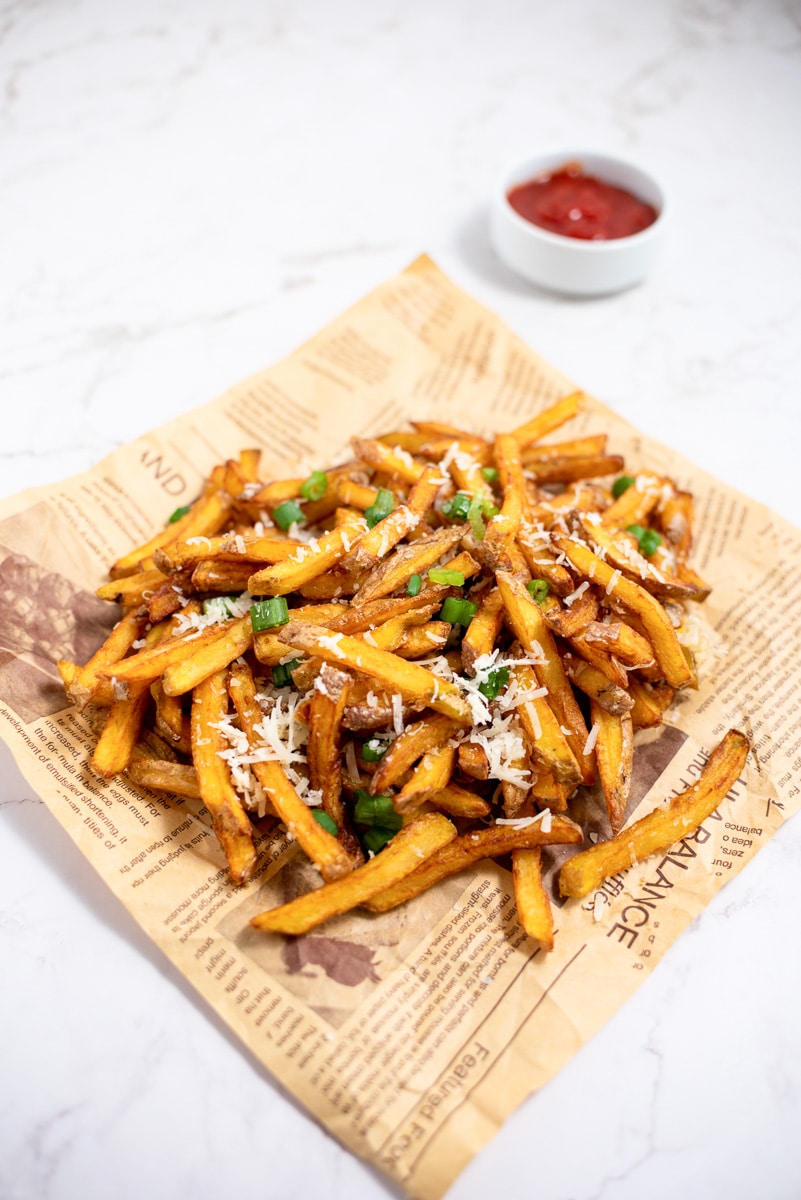 What are truffle fries made of?
Truffle fries are made with crispy thin fries that are then tossed in truffle oil, sprinkle of salt and parmesan cheese. These fries are so addictive and simple to make.
What does truffle taste like?
Truffles are a very earthy and woody flavor. The oil is going to have a distinct flavor that stands out, and is the flavor of a ground mushroom.
Can I make a double batch of fries?
Go right ahead and make as many fries as you think you will eat. These fries are best eaten fresh and warm, as they can become soggy once they sit a bit. Batch cook your fries to ensure you get an even cook.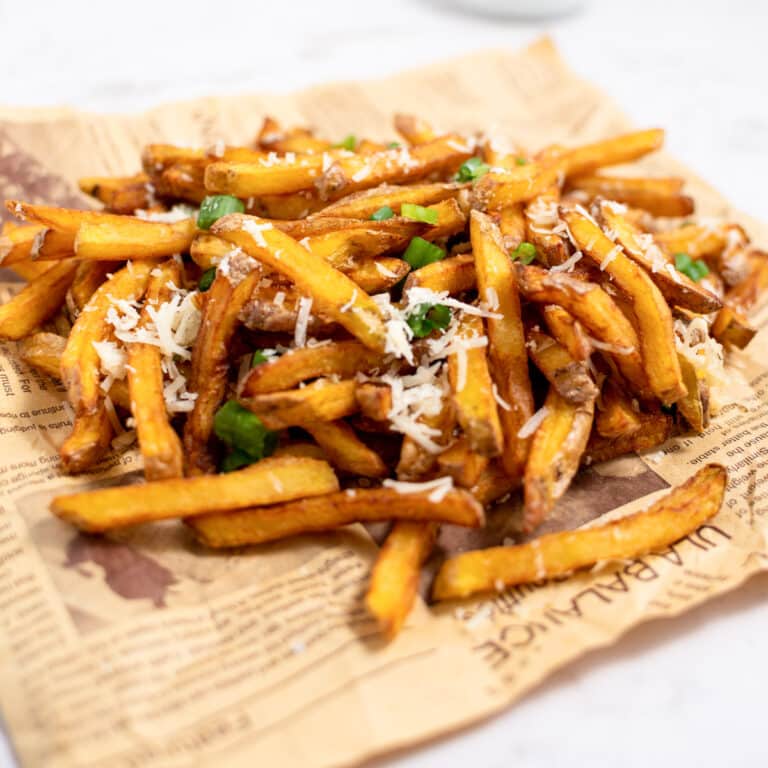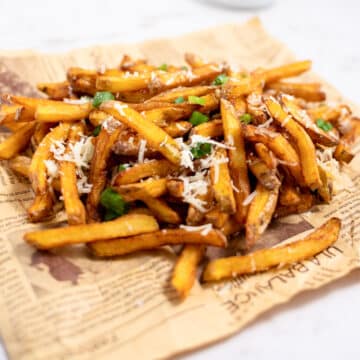 Parmesan Truffle Fries
These parmesan truffle fries are the ultimate indulgence! Homemade fries are topped with flavor-packed white truffle oil and fresh parmesan cheese. Yum!
Ingredients
3

medium or 2 large yellow potatoes

1

tbsp

parmesan cheese

1

tbsp

white truffle oil

Salt

to taste
Instructions
Heat your deep fryer to 350 degrees Fahrenheit.

Wash your potatoes thoroughly on the outside.

Cut your potatoes with a slicer to get the thicker julienne (fries) cut.

Put your potatoes in a bowl of ice water and rinse the water until the water is clear.

Once your fryer has warmed up to 350 degrees Fahrenheit, fry your fries twice. First time you fry them for about 6-8 minutes, or until light brown.

Then remove them from the fryer and let all the oil drip off.

Then fry them again, for about 2 minutes, or until golden brown.

Put them in a bowl with kitchen towels, so it can absorb all the oil.

Grab a medium-sized bowl and pour in the truffle oil, and then the fries on top. Mix and shake the fries on top of the oil, to make sure all the fries get some of the truffle oil on it. (I don't pour it over it because it can make it a little soggy)

Then top with some Parmesan cheese and season with salt to taste.
Nutrition
Calories:
318
kcal
Carbohydrates:
56
g
Protein:
7
g
Fat:
8
g
Saturated Fat:
1
g
Polyunsaturated Fat:
1
g
Monounsaturated Fat:
5
g
Cholesterol:
2
mg
Sodium:
59
mg
Potassium:
1347
mg
Fiber:
7
g
Sugar:
3
g
Vitamin A:
26
IU
Vitamin C:
63
mg
Calcium:
68
mg
Iron:
3
mg