I've been dreaming of tropical climates and tropical food for what seems like FOREVER. In fact, it was fueling my dreams of grilling out while in the midst of snowfall upon snowfall, freezing day after freezing day.
So...the idea to develop a recipe for grilling specifically using tropical ingredients, was very appealing. Pineapples, mango, kiwi... create something mouthwatering!
Grilled Pork Pineapple Kabobs with Mango Brown Sugar Glaze were born. They will be gracing the top of my charcoal grill many times this season, alternating with our favorite Grilled Chicken Halves and Jalepeno Popper Burgers.
Most of you know that I like recipes that don't take a ton of time, and this is another one to add to that list. It is seriously easy, and I don't overstate that fact.
While this recipe is super simple, do make sure to allow a little bit of time for it. As in- prepare ahead! Prepare the pork a day ahead so it can marinate overnight. You could try to let it go for just a few hours, but I can't attest to how that would turn out. It might be fine. I let my country pork ribs (cut into chunks for kabobs) marinate for about 24 hours. That wasn't my original plan, but it worked out great and so that is what I'm gong with for now on.
The marinade for Grilled Pork Pineapple Kabobs calls for just 3 ingredients added to the chopped up pork: crushed pineapple, brown sugar, and balsamic vinegar.
Toss it all in, mix it all up, cover and refrigerate overnight. Just like that.
I had to mix it up in a pretty bowl so I could take a picture. Okay, I didn't have to, but I did. You could just mix it up in a handy dandy ole glass storage container, which is exactly what I put in into as soon as I was done taking pretty food photos!
After letting the pork marinate overnight, it's time to make kabobs. Cut up a fresh pineapple and a couple mango. Reserve one mango to make a glaze for the kabobs.
If you aren't familiar with grilling kabobs, they are so easy to make. Simply alternate ingredients on the skewer. I use reusable metal skewers because I like to grill a lot. There are also wooden skewers available, and you would need to soak those in water prior to preparing your kabobs and grilling.
I love the look of colorful food on the grill! Gorgeous!
As is the case any time you are preparing meat on the grill, be sure to check internal temperature to make sure the meat is done. I cooked these kabobs for about 10 minutes on each side, but cook time is all dependent on the temperature of your grill- so be sure to keep an eye on food while you are grilling it.
You want to be able to enjoy a fabulously tropical grilled meal like this one:
Kabobs can be served up a couple different ways. One, serve each person a kabob. Or, two (and my preference), remove the food from the kabobs and serve it up on a platter. Let family or guests pick and choose what they would like from the grilled kabob selection. This works perfectly if you have picky eaters too. They can pick all fruit or all meat. As long as you have enough of each for everyone, that is a perfect solution to serving kabobs to everyone's liking.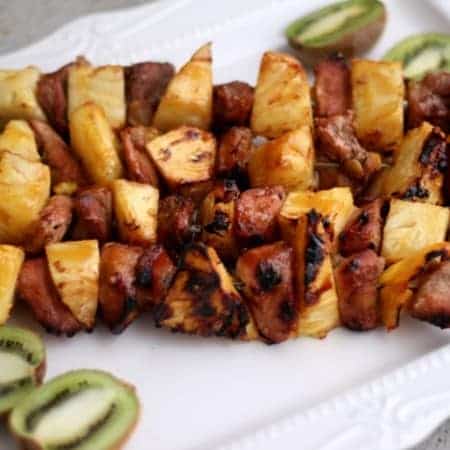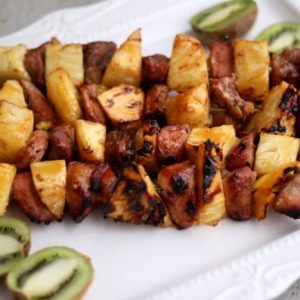 Grilled Pork Pineapple Kabobs Mango Brown Sugar Glaze
Pineapple Kabobs #MyPicknSave #CollectiveBias#shop
Ingredients
1.5

pounds

country pork ribs

chopped in 1-2 inch pieces

8

ounce

can crushed pineapple

do not drain

½

cup

brown sugar

¼

cup

balsamic vinegar

1

pineapple

2

mango

1

mango

cut in small pieces

½

cup

water

½

cup

brown sugar

½

teaspoon

ground ginger
Instructions
Place chopped pork ribs in a container with canned pineapple, brown sugar and balsamic vinegar. Stir together. Let marinate over night.

Before grilling, core and cut pineapple into chunks. Peel mango.

Prepare kabobs by alternating fruit and marinated chunks of pork.

Place on prepared grill to cook. Brush with Mango Brown Sugar Glaze (recipe below.) We used charcoal grill and cooked on each side for about 10 minutes.

Puree pieces of mango and ½ cup water in blender. Add to saucepan with brown sugar. Heat to a boil and reduce on low heat for 5-7 minutes. Add in ½ teaspoon ground ginger and remove from heat.

Brush on pork, chicken, and/or tropical fruit kabobs while grilling.
Nutrition
Calories:
449
kcal
Carbohydrates:
79
g
Protein:
16
g
Fat:
9
g
Saturated Fat:
2
g
Cholesterol:
55
mg
Sodium:
63
mg
Potassium:
680
mg
Fiber:
4
g
Sugar:
72
g
Vitamin A:
1226
IU
Vitamin C:
113
mg
Calcium:
87
mg
Iron:
2
mg
Want even more AMAZING recipes for grilling out? We've got you covered:
Perfectly Grilled Chicken Chicken Halves