If you're wondering how to make your own big mac that actually tastes like a big mac, then you've come to the right place. This Copycat Big Mac recipe is arguably even better than McDonald's! It's made with fresh ingredients right from your own kitchen, making it healthier and much more convenient.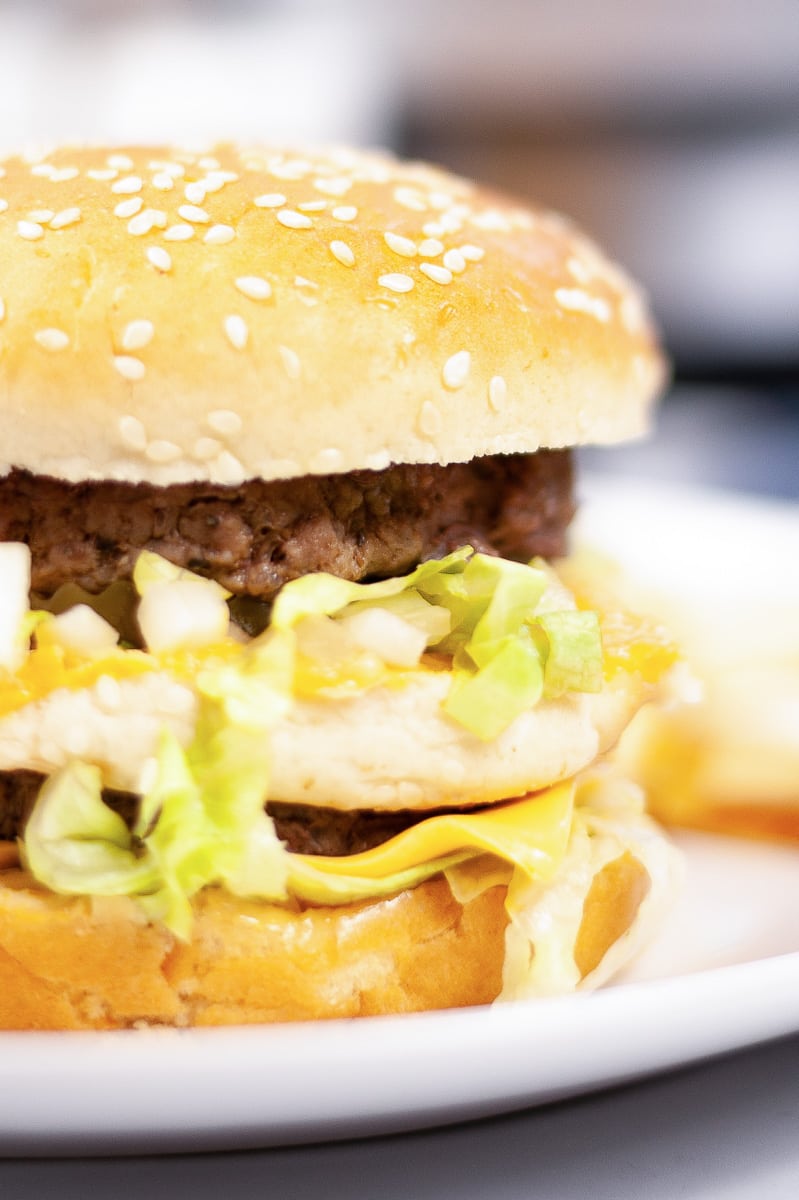 In this Article:
You don't have to stress about packing the kids up and getting to McDonald's to enjoy a big Mac when you have this recipe. This big mac recipe uses fresh ingredients that you probably already have in your kitchen. On this double-decker copycat big mac, you'll find the big mac classics, of course. Enjoy the taste of a fresh sesame bun, juicy beef patties topped, crisp lettuce, diced onions, and big mac sauce.
This big mac recipe is very simple to make. It's just a matter of cooking the beef patties, assembling the burger, and voila! Finally, the delicious copycat big mac is ready to eat.
This Copycat Big Mac recipe is...
Made with healthy, fresh ingredients
Served on a soft sesame bun
Quick to make and assemble
A great week-night dinner
Dare we say, better than McDonald's?!
Get the latest scoop on all the recipes I'm whipping up in the kitchen by following along with All She Cooks on Facebook, Instagram, and Pinterest. Also, don't forget to join my Facebook Group where you can share your favorite blogger recipes: Easy & Delicious Recipes.
How to Make Copycat Big Mac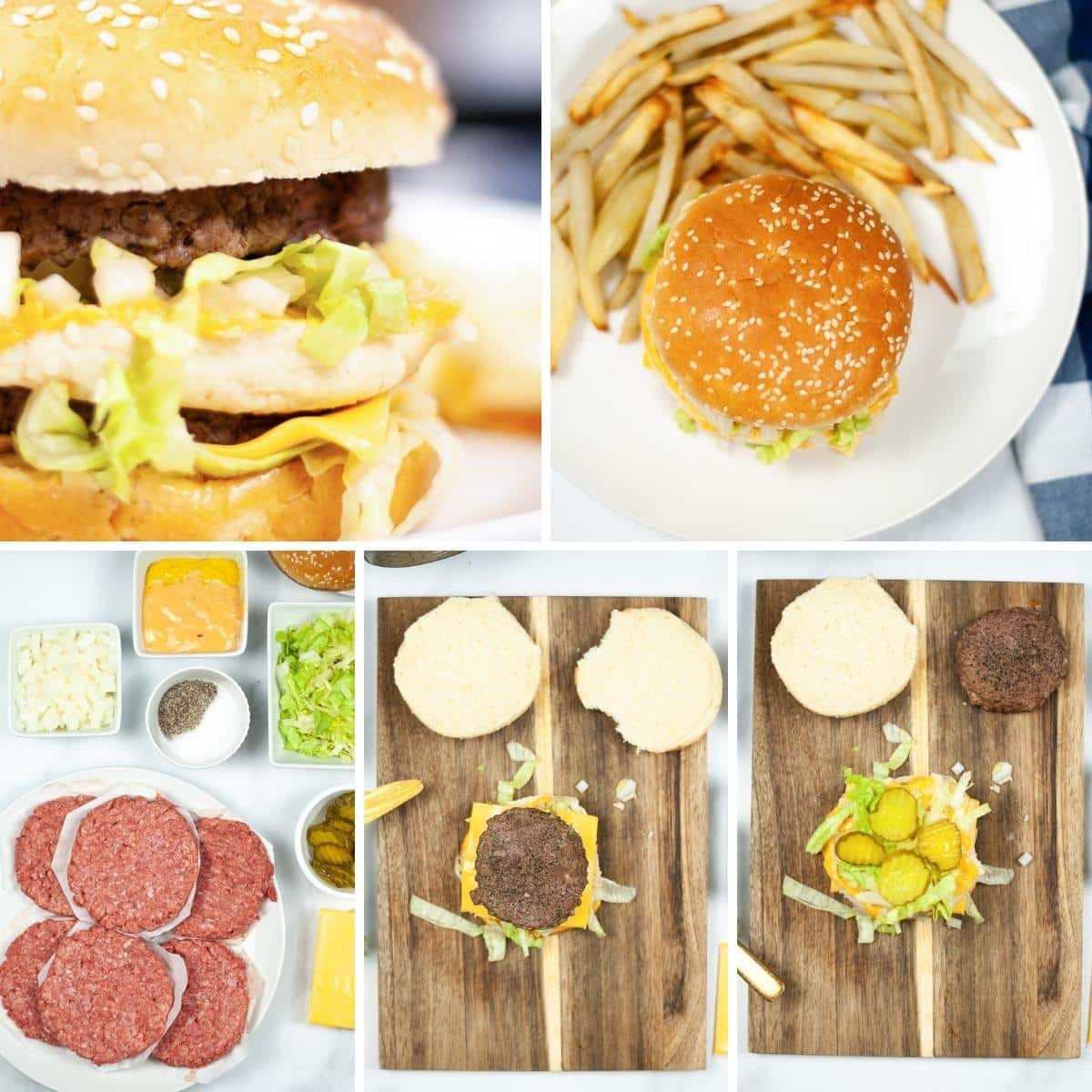 Season the beef patties and cook them over medium-high heat until done.
Combine dressing, mustard, salt, and pepper to make Big Mac sauce.
Assemble your copycat Big Mac with diced onion, lettuce, and one slice of cheese.
Place another patty atop the cheese and add the second bottom bun.
Top Big Mac with pickle chips and the second beef patty.
Add the top bun and enjoy!
Repeat for each copycat Big Mac until complete.
Full directions for how to make Copycat Big Mac are in the printable recipe card at the bottom of the post.
Tips & Tricks for Copycat Big Mac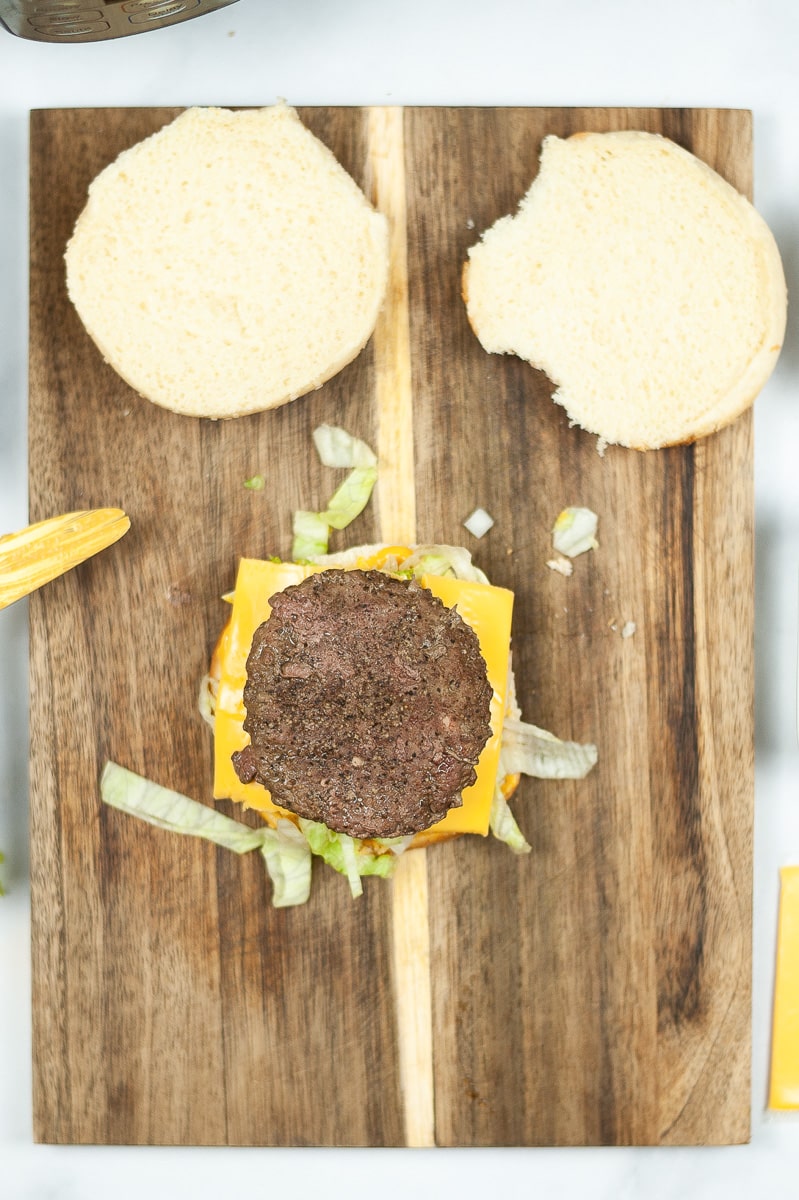 Wait until the large pan is heated before putting the beef patties on.
Allowing the pan to heat up correctly is important to keep your beef patties from sticking and allowing them to cook evenly. If you add the patties to the pan too early, you might get oil-soaked patties. This could lead them to becoming soggier or even having a dissatisfactory taste.
Use a meat thermometer to ensure your patties are thoroughly cooked.
Using a meat thermometer is a great habit to get into. It helps to ensure your meat is always safely cooked before you dive into eating it. Using a meat thermometer also promotes safe and healthy cooking and sets an excellent example for little ones who might be watching you.
Pair this big mac recipe with just about anything!
That's the best part about a great-tasting burger—you can serve it with nearly anything. A few of our favorite things to serve with this Big Mac are...
Variations to Copycat Big Mac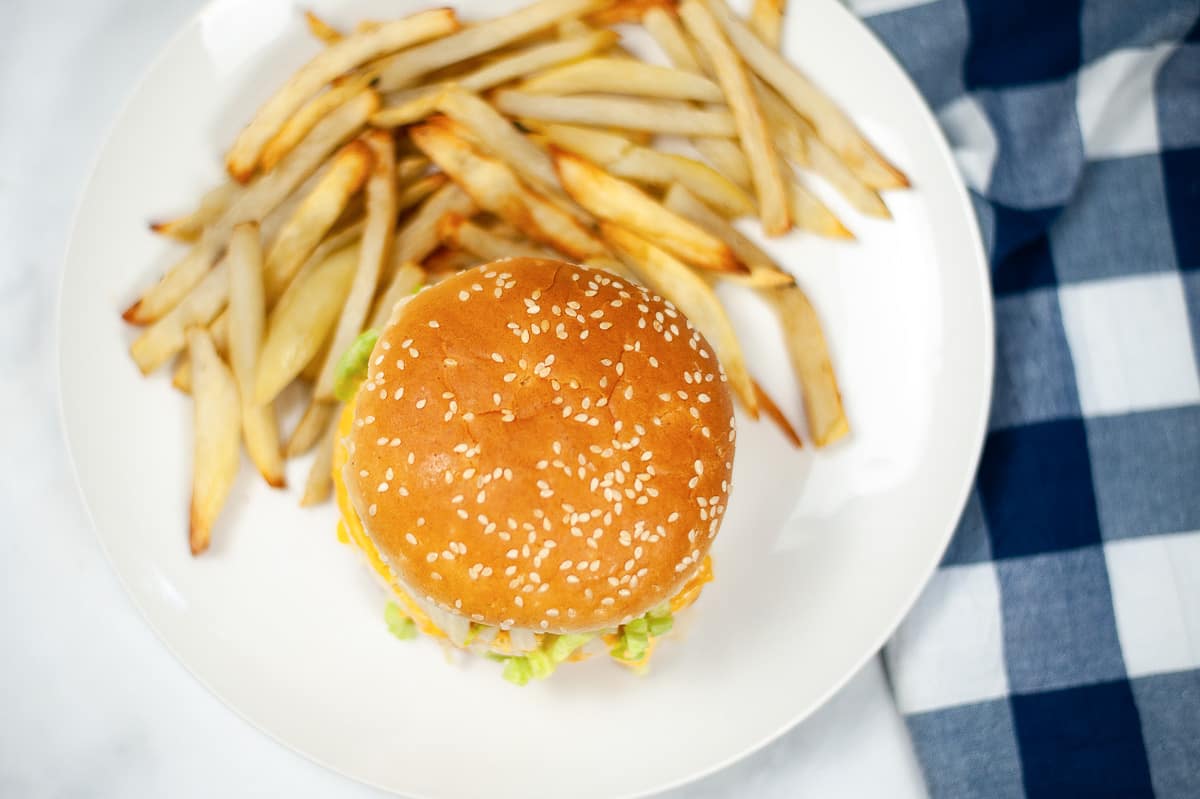 More cheese, please!
If you love that ooey-gooey goodness that melted cheese brings to a burger, then maybe you want to add an extra slice. Add another slice of cheese on top of the other beef patty to make it a double-cheese big mac burger. While you're at it, why not toss on some bacon too!
If you're a fan of bacon and cheese, you might also love these recipes:
Go big or go home?
If you're craving an extra-hearty burger, double up the beef patties to make it a double big mac. Just get ready to open your mouth really big to take a bite of this one!
Copycat Big Mac FAQs
What is big mac sauce made out of?
Our big mac sauce combines Thousand Island dressing with yellow mustard and a touch of salt and pepper. It's absolutely fantastic!
How long can beef patties stay good in the fridge?
We recommend enjoying this big mac recipe as soon as possible. However, you can store the cooked beef patties in the fridge for about two days.
Recipe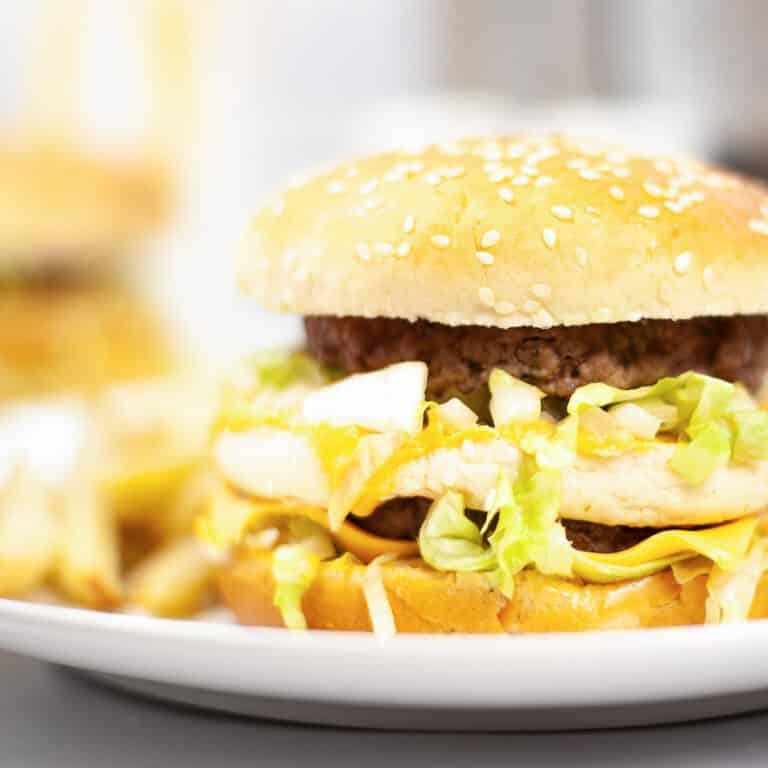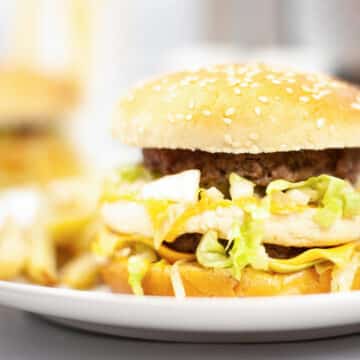 Copycat Big Mac
This Copycat Big Mac recipe is arguably even better than McDonald's! It's made with fresh ingredients right from your own kitchen.
Ingredients
6

quarter pound beef patties

6

sesame seed buns

3 full buns and 3 additional bottoms

12

dill pickle chips

3

tbsp

onion

diced

¾

cups

lettuce

shredded

⅓

cup

thousand island dressing

3

tbsp

yellow mustard

3

slices

American cheese

salt and pepper

to taste
Instructions
Season beef patties with salt and pepper, to taste, on both sides.

Heat a large, nonstick pan over medium-high heat. Cook the beef patties for 2–4 minutes on each side until cooked to desired doneness.

Make the Big Mac sauce by mixing together the Thousand Island Dressing and yellow mustard. Add salt and pepper, to taste.

Spread the sauce onto the bottom portion of one bun.

Then, top the bottom bun with some of the diced onions and lettuce. Add a slice of cheese on top of the diced veggies.

Place the first patty on top of the cheese slice, and add the second bottom bun to create the layers.

Add 4 dill pickle chips, followed by the second beef patty.

Add the bun top. Repeat for the remaining burgers.

Serve!
Nutrition
Calories:
822
kcal
Carbohydrates:
50
g
Protein:
54
g
Fat:
44
g
Saturated Fat:
15
g
Polyunsaturated Fat:
8
g
Monounsaturated Fat:
15
g
Trans Fat:
2
g
Cholesterol:
171
mg
Sodium:
1564
mg
Potassium:
831
mg
Fiber:
3
g
Sugar:
11
g
Vitamin A:
410
IU
Vitamin C:
3
mg
Calcium:
430
mg
Iron:
8
mg