Dare to dive into the spookiest treat of the season? These Skeleton Cupcakes are the perfect blend of creepy and cute- a perfect centerpiece for any Halloween bash.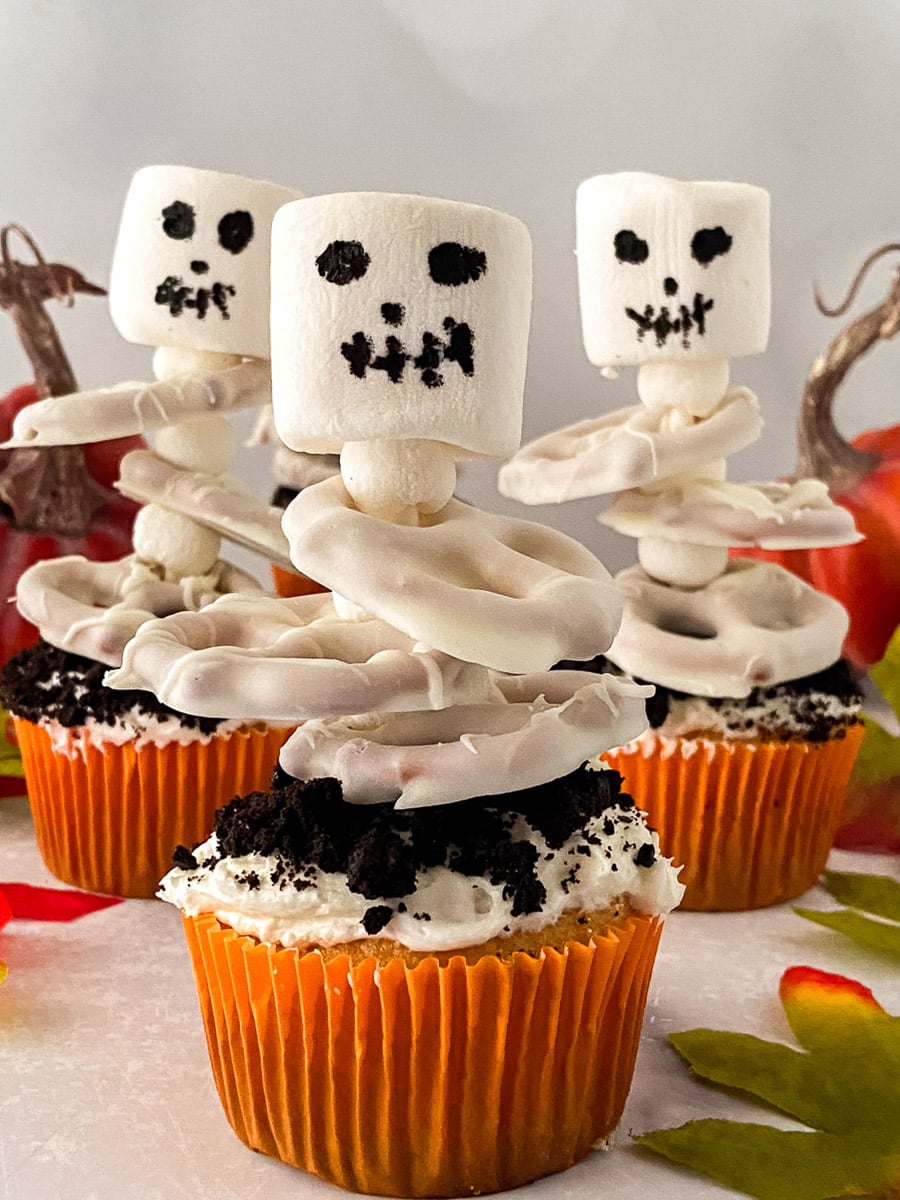 Get ready to charm your guests with a dessert that's as hauntingly delicious as it looks! These adorable little cupcakes are decorated with skeletons made from marshmallows and candy coated pretzels.
And while it might look like these took all day to make, you'll be glad to know they can be made in under an hour – and that includes homemade cupcakes!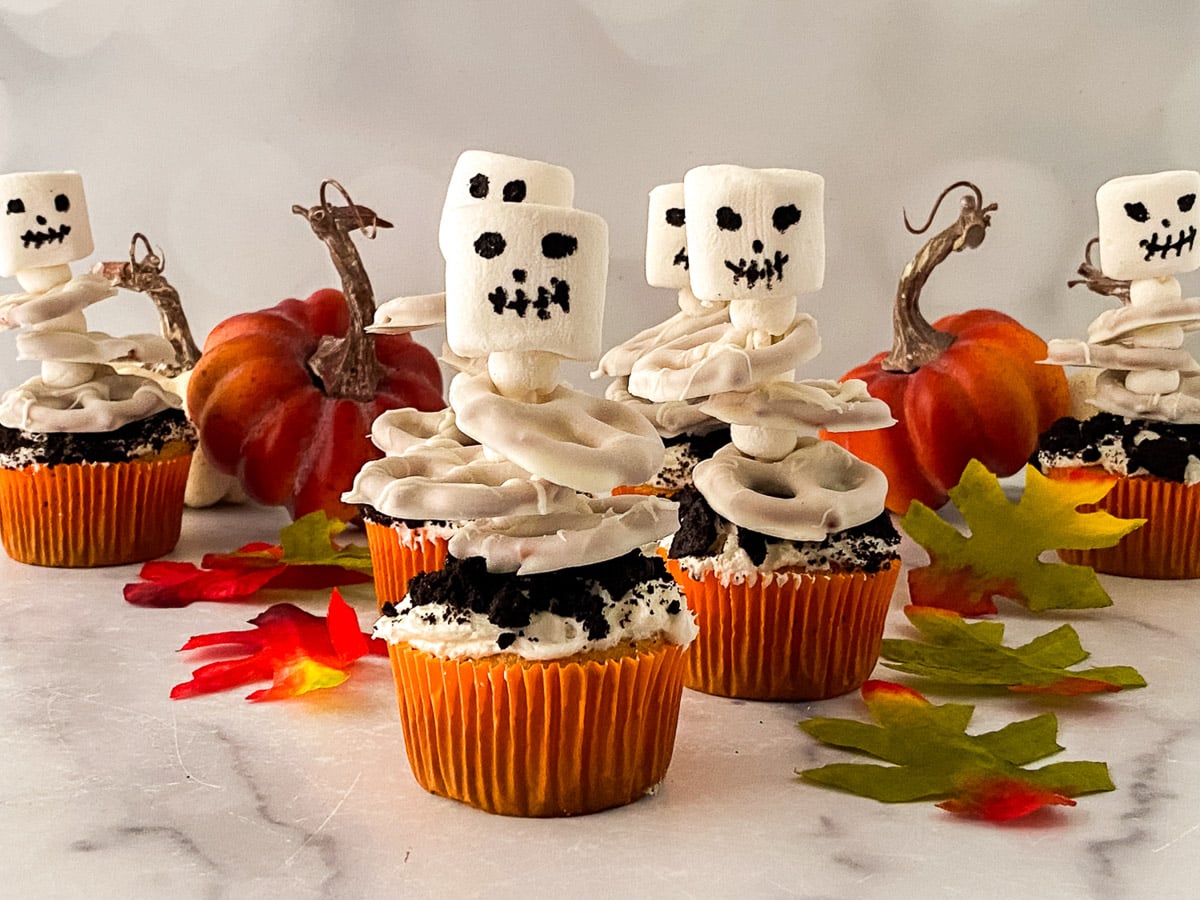 These Halloween Skeleton Cupcakes are:
A fun, kid friendly recipe.
Simply delicious.
Adorably spooky.
The perfect Halloween treat.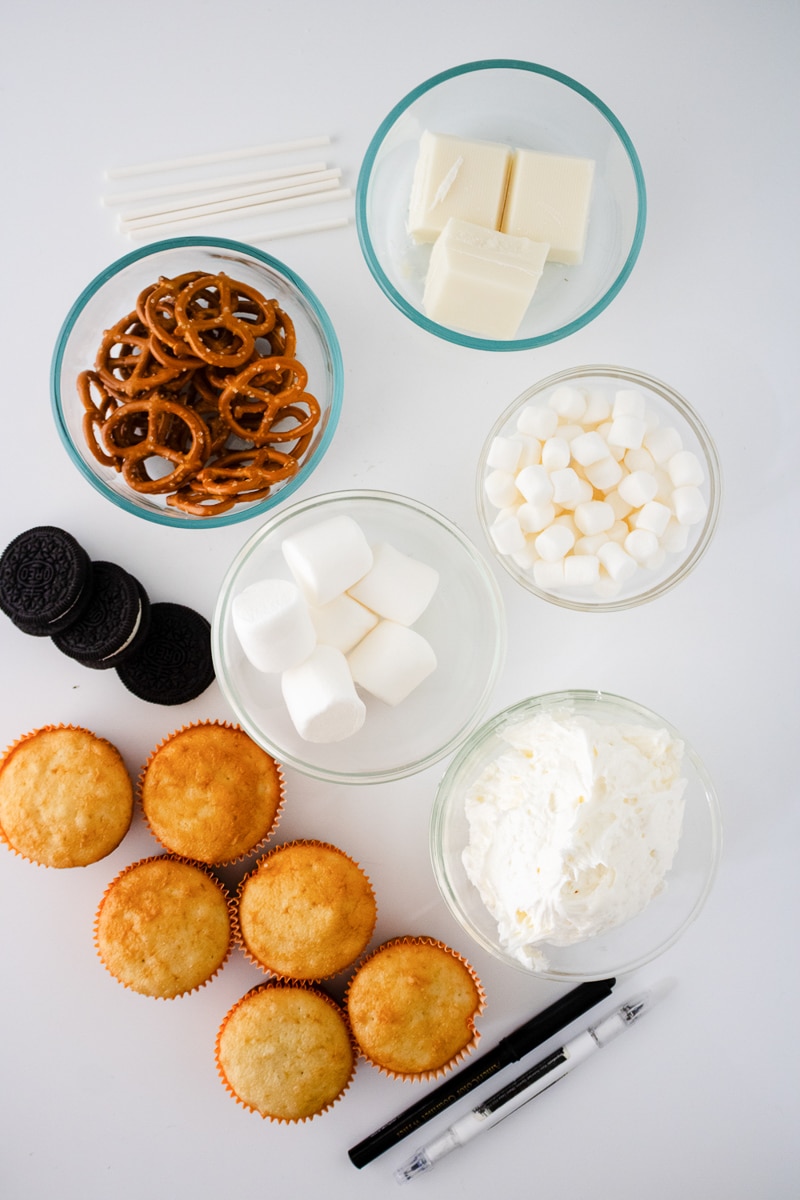 Supplies You'll Need
The full ingredient list and step by step instructions are in the recipe card below (along with a video), but here are a few unique supplies you'll need for this Halloween treat:
Lollipop Sticks – You'll need lollipop sticks (like these) for constructing the skeleton body. Popsicle sticks could work as an alternative.
Food Safe Marker – Be sure to only write on the marshmallows with a food safe marker that uses edible ink. I like these from Wilton.
Marshmallows – You will need both the traditional large size and mini marshmallows.
White Candy Melts – I like to use these Wilton Candy Melts, but you can use any similar brand or white chocolate.
Mini Pretzels – You'll need the tiny size pretzels for your skeleton bodies.
Oreo Cookies – Ok, this one is self explanatory. You'll want to remove the filling and crush up the Oreo cookies for the "dirt" topping. If you like, you can mix the Oreo filling into your frosting, as it's just buttercream.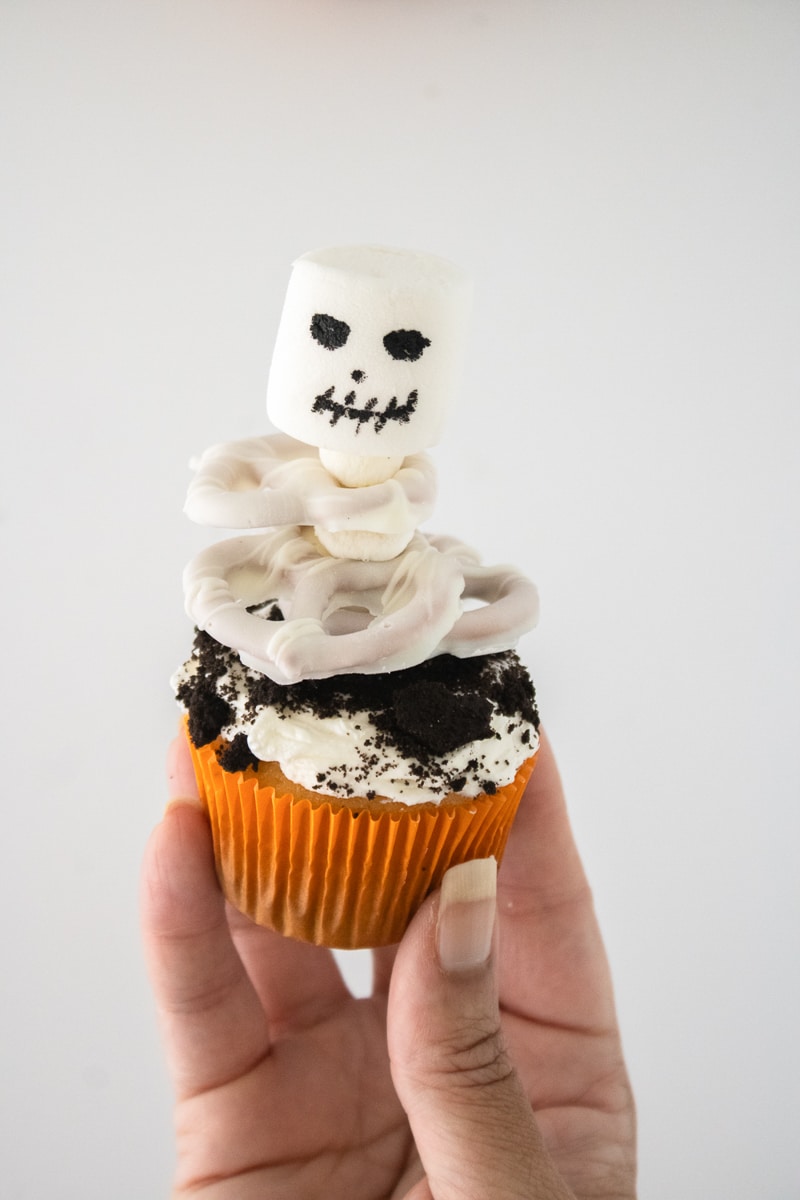 How to Decorate Skeleton Cupcakes for Halloween
Start off by prepping the candy coated pretzels. I used these Wilton Candy Melts, but you can use any brand you prefer or even a white chocolate instead.
Melt the white candies in a small bowl in the microwave. Then dip each pretzels into the white candy coating, and set them aside on a piece of parchment paper to harden.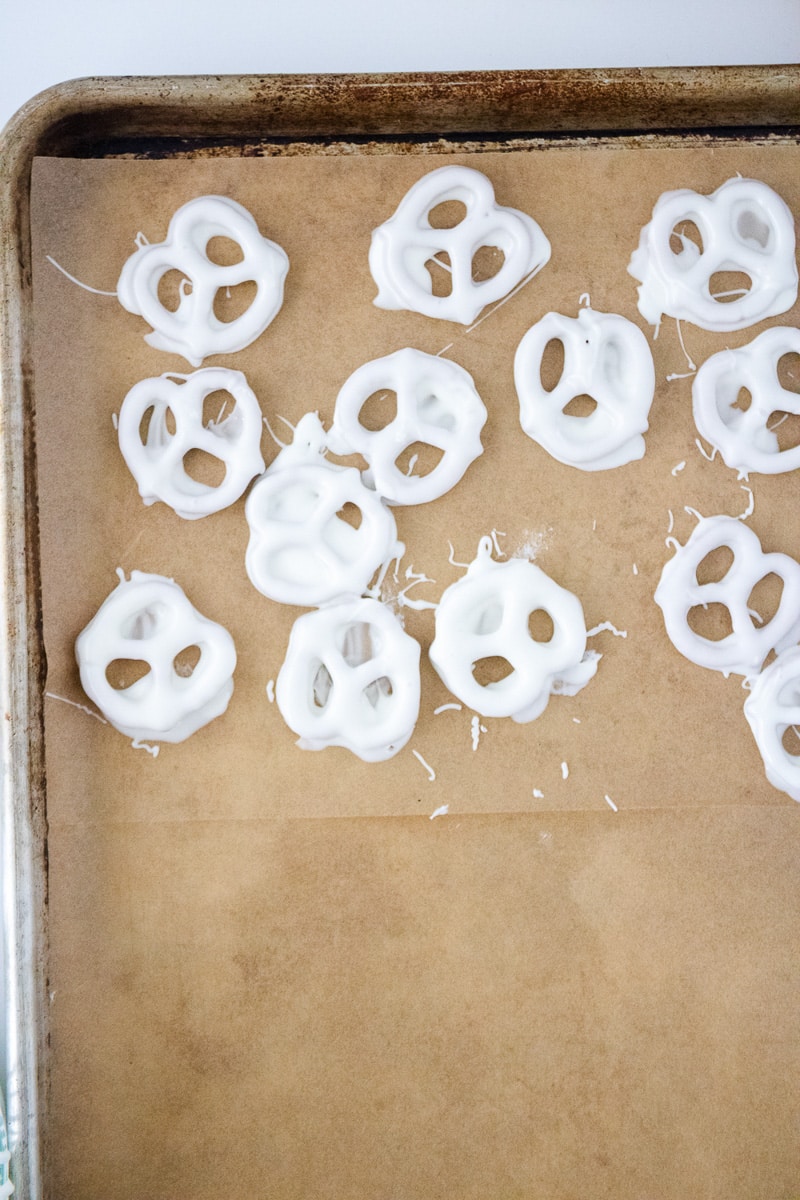 Meanwhile, add a big spoonful of white frosting to each cupcake and smooth into a flat, even layer. Then dip each cupcake into the crushed Oreos – or you can simply sprinkle the crushed Oreos over top of the cupcakes.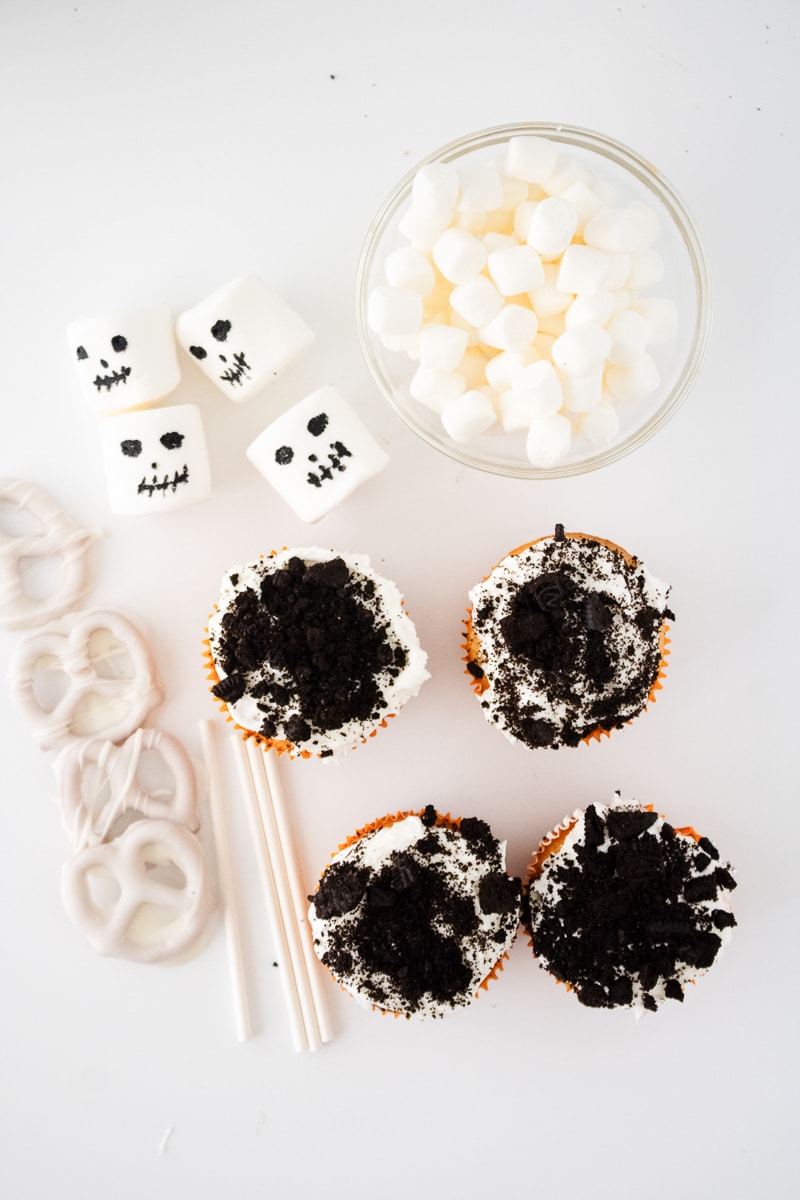 Next, take the large sized marshmallows and draw a spooky skeleton face on each one, using the food safe marker. (Make sure to only use a food safe marker for this!)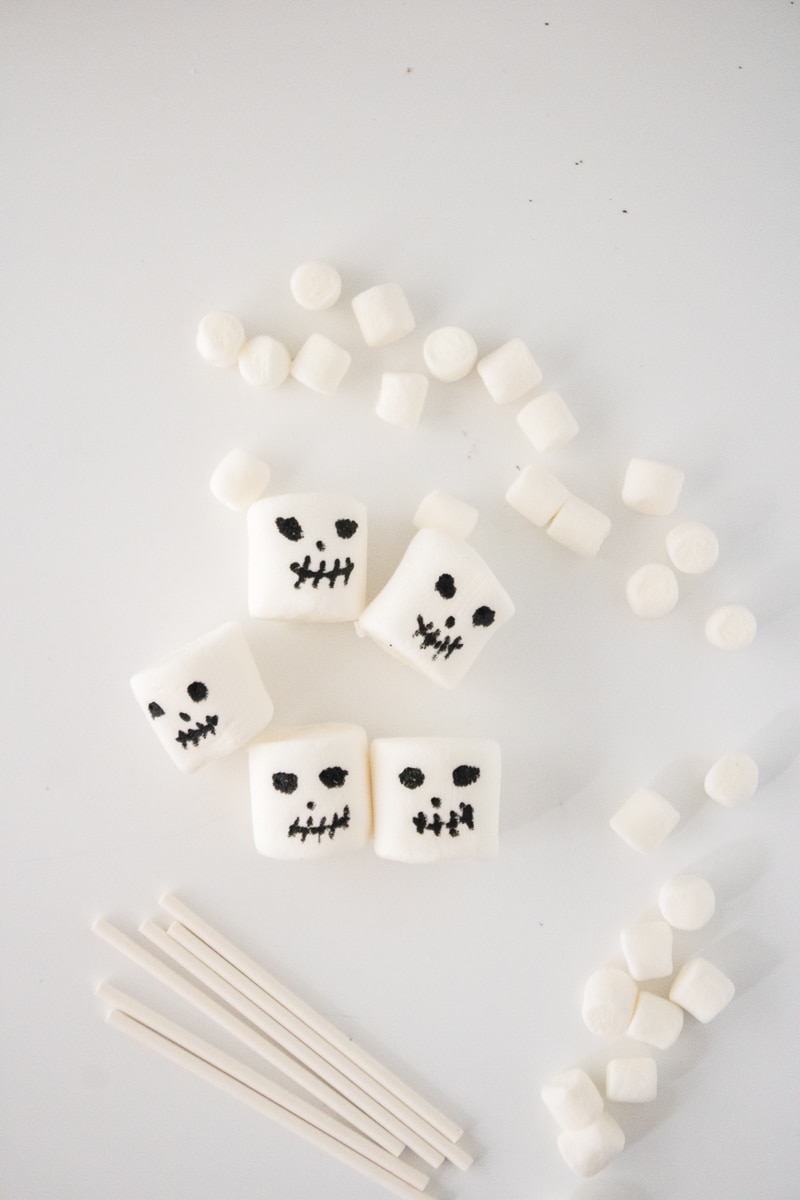 When the pretzels are hardened up and the cupcakes are cool enough to handle, you can assemble the skeletons! Stick a lollipop stick into each cupcake. Then thread on a mini marshmallow followed by a candy coated pretzel. Continue until you have three pretzels and four marshmallows on the stick- and then add the marshmallow face.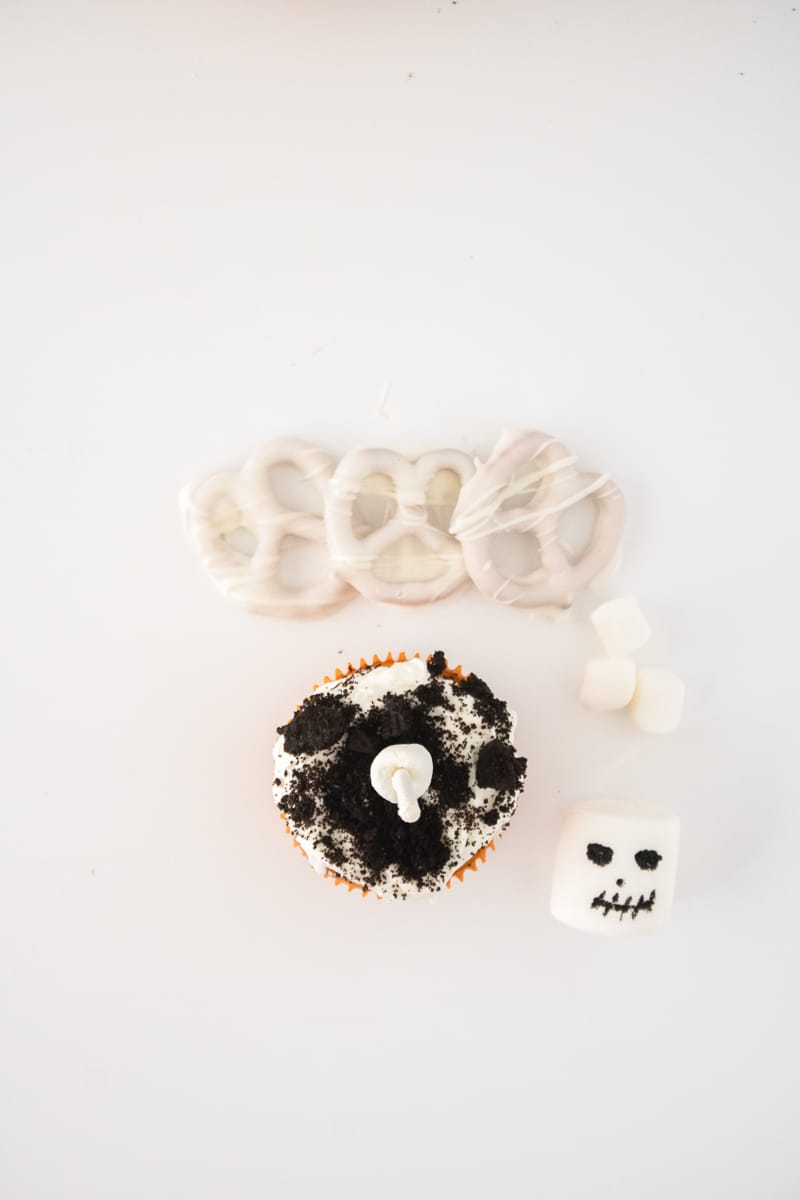 And ta-dah! You have the spookiest cupcake to ever grace your Halloween table.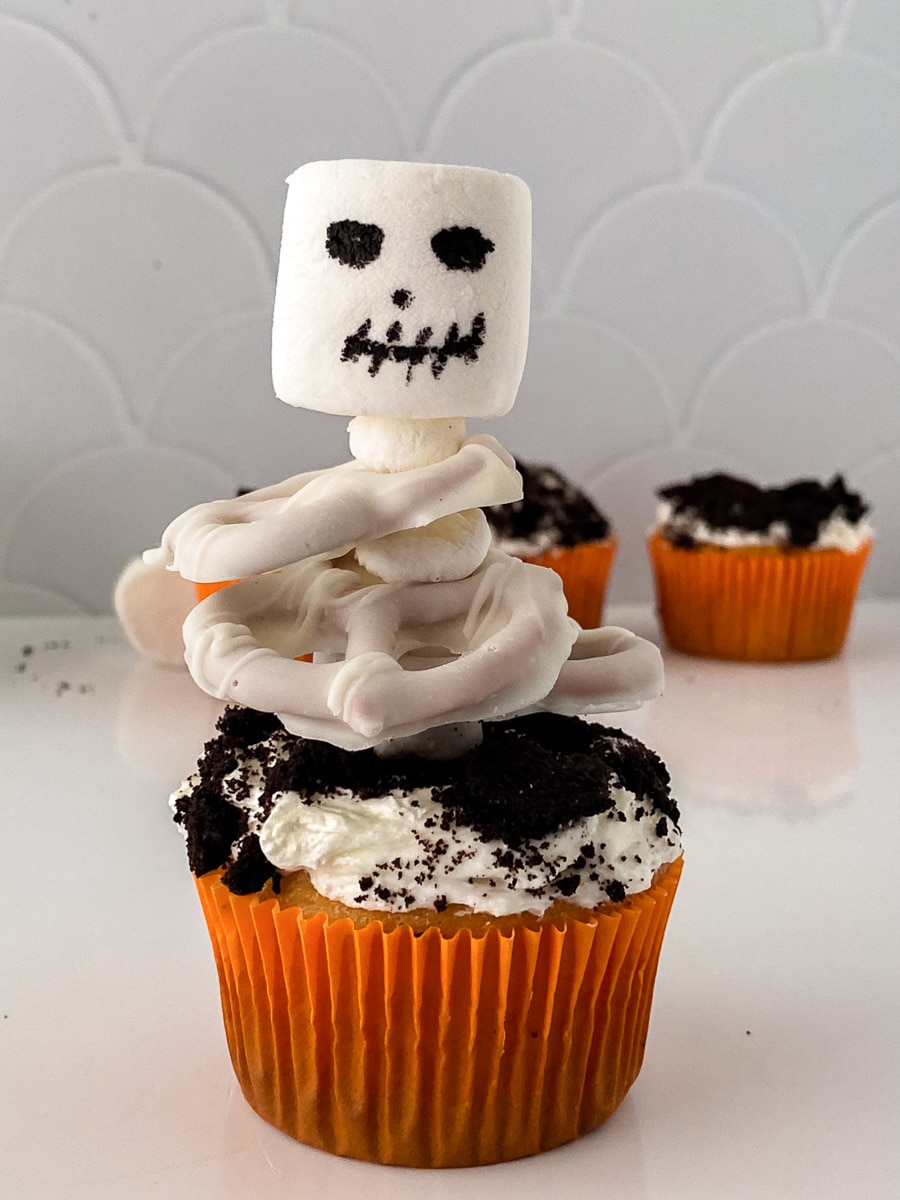 Helpful Tips & Variations
Cheat with store bought cupcakes. Take the easy way out and use pre-made vanilla frosted cupcakes. Then simply add the crushed Oreos and your marshmallow skeletons. Easy peasy!
Mix up the flavors. I used a simple vanilla cupcake and vanilla frosting for this recipe. But you can use any of your favorite cupcake recipes. Chocolate would also be a great easy choice.
Make different creatures! Get creative and make your own spooky ghouls and goblins. Try it with green candy melts and some green food safe markers for a Frankenstein cupcake.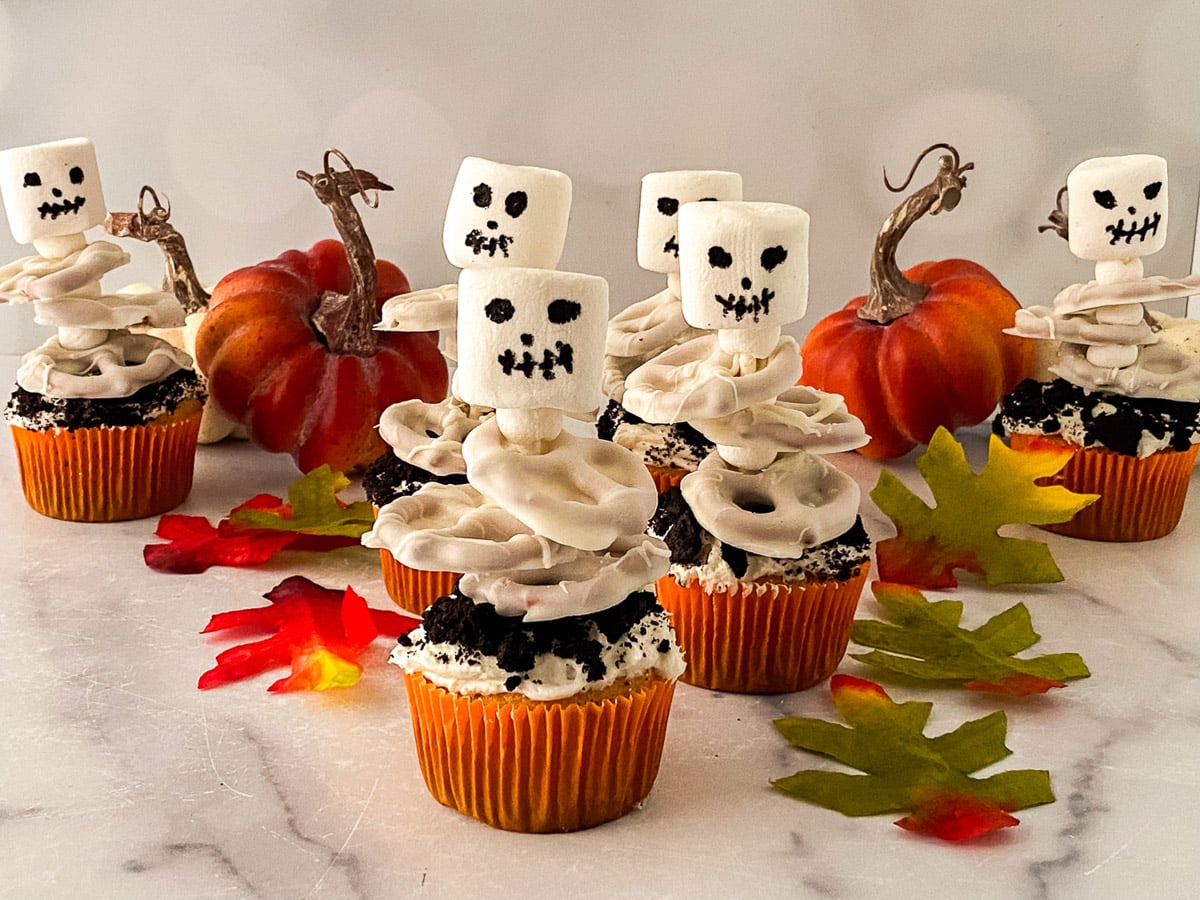 More Spooky Treats
If you love these Halloween Skeleton Cupcakes, be sure to check out these other delicious ideas:
Recipe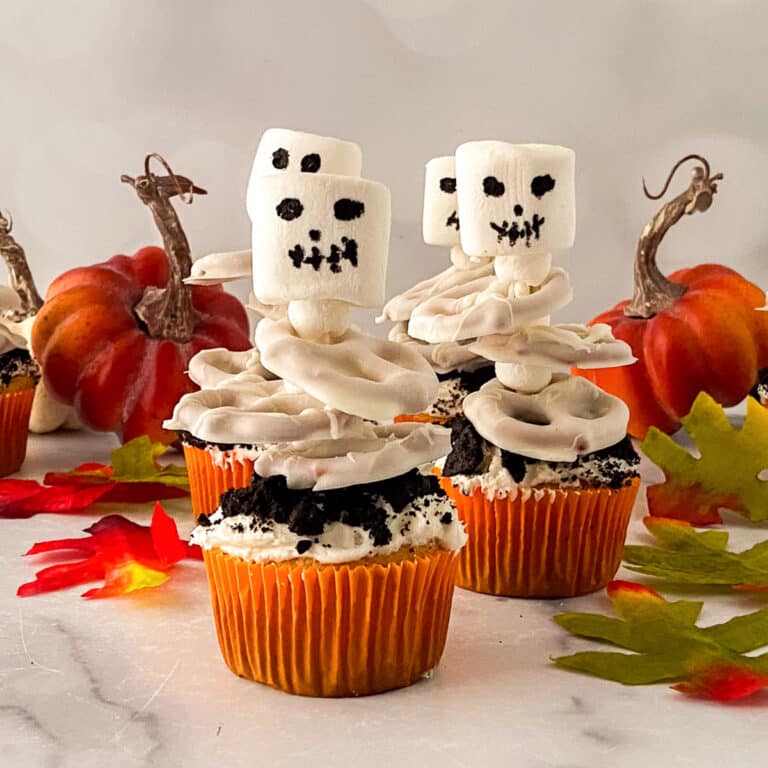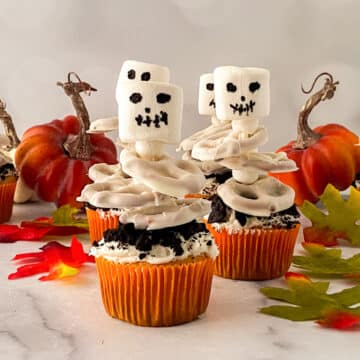 Halloween Skeleton Cupcakes
These Skeleton Cupcakes are the perfect blend of creepy and cute- a perfect centerpiece for any Halloween bash.
Ingredients
Supply List:
2

cups

Vanilla Frosting

1

cup

crushed Oreo Cookies

filling removed and cookies crushed

12

large Marshmallows

1

black food safe marker

12

lollipop sticks

48

mini marshmallows

36

mini pretzels

12

oz

white candy melts

Parchment Paper
Instructions
To Make the Cupcakes:
Preheat your oven to 350°F (175°C). Line a 12-cup muffin tin with cupcake liners.

In a medium-sized bowl, whisk together the flour, baking powder, and salt. Set aside.

In a stand mixer, beat the softened butter and sugar together on medium speed until light and fluffy. This can take about 2-3 minutes.

Add the eggs one at a time to the butter and sugar mixture, beating well after each addition. Stir in the milk and vanilla extract.

Slowly add the dry ingredient mixture into the dry ingredients, while mixing. Mix until just combined.

Divide the batter evenly among the cupcake liners, filling each about two-thirds full.

Bake for 18-22 minutes, or until a toothpick inserted into the center of a cupcake comes out clean or with just a few crumbs.

Once done, remove from the oven and allow the cupcakes to cool until they are safe to handle for decorating.
To Make the Skeleton Decorations:
Melt the white candy melts in the microwave, heating in 30 second increments, stirring after each to prevent burning.

Carefully dip the pretzels into the chocolate, using a fork to drain off any excess chocolate. Place the pretzels on a sheet of parchment paper to set.

For a thicker candy coating, you can allow the pretzels to set and then dip them a second time.

Add a spoonful of frosting to the top of each cupcake, and spread it into a thick, even layer.

Dip each cupcake into the crushed Oreos.

Use the food safe marker to draw a skeleton face on each large marshmallow. Set them aside until they dry.

Insert a lollipop stick into the cupcake. Then, slide one mini marshmallow onto the lollipop stick.

Follow with a yogurt covered pretzel. Repeat twice, until you have three pretzels on the skeleton body.

Top with a skeleton face marshmallow. Repeat for all the cupcakes!
Notes
You can mix the filling from the Oreos into your frosting if you wish – it's simply buttercream.
For a quick and easy treat – use store bought vanilla cupcakes and simply follow the decorating instructions to add your skeletons. Easy peasy!
Nutrition
Calories:
532
kcal
Carbohydrates:
82
g
Protein:
4
g
Fat:
21
g
Saturated Fat:
10
g
Polyunsaturated Fat:
4
g
Monounsaturated Fat:
5
g
Trans Fat:
0.3
g
Cholesterol:
49
mg
Sodium:
296
mg
Potassium:
97
mg
Fiber:
1
g
Sugar:
60
g
Vitamin A:
293
IU
Vitamin C:
0.1
mg
Calcium:
56
mg
Iron:
3
mg