For me, summer means backyard parties and picnics which call for quick and easy snack options that can be made ahead of time.  With the 4th of July coming up, what's better than a fun red, white & blue snack to add to your party menu?!  This patriotic party snack mix combines sweet and salty for an easy snack that great for feeding a crowd.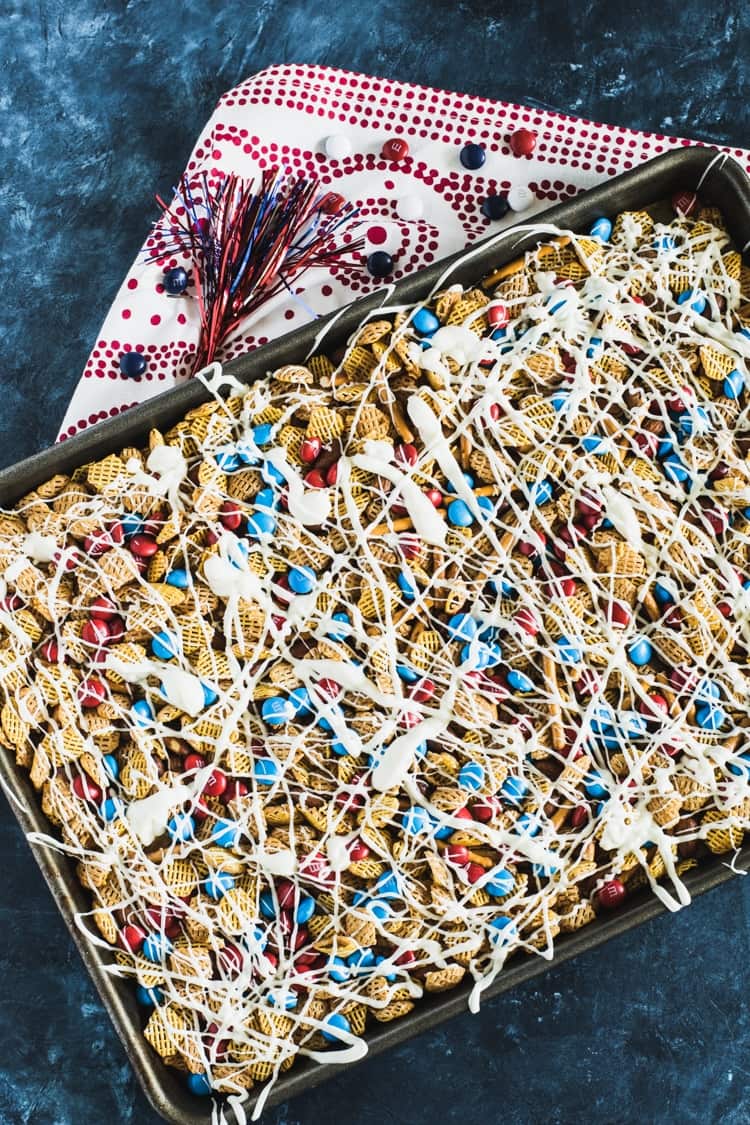 So you might ask why Crispix cereal instead of the traditional Chex cereal you see in most party mixes.  I personally prefer Crispix as it's a bit more light and airy which makes it absorb the flavorings a little bit better.
Also with Crispix you get corn on one side and rice on the other, so no need to buy two separate boxes.  And one big box of Crispix makes a lot of party mix!
I love this recipe because it's made entirely in the microwave.  No need to fire up your oven on a hot summer day.  It also only takes about 10 minutes of hands-on time, then about 30 minutes or so waiting for it to cool.
If you are in a hurry or just don't feel like waiting, you can serve it warm, it just gets a little mess from the gooey white chocolate!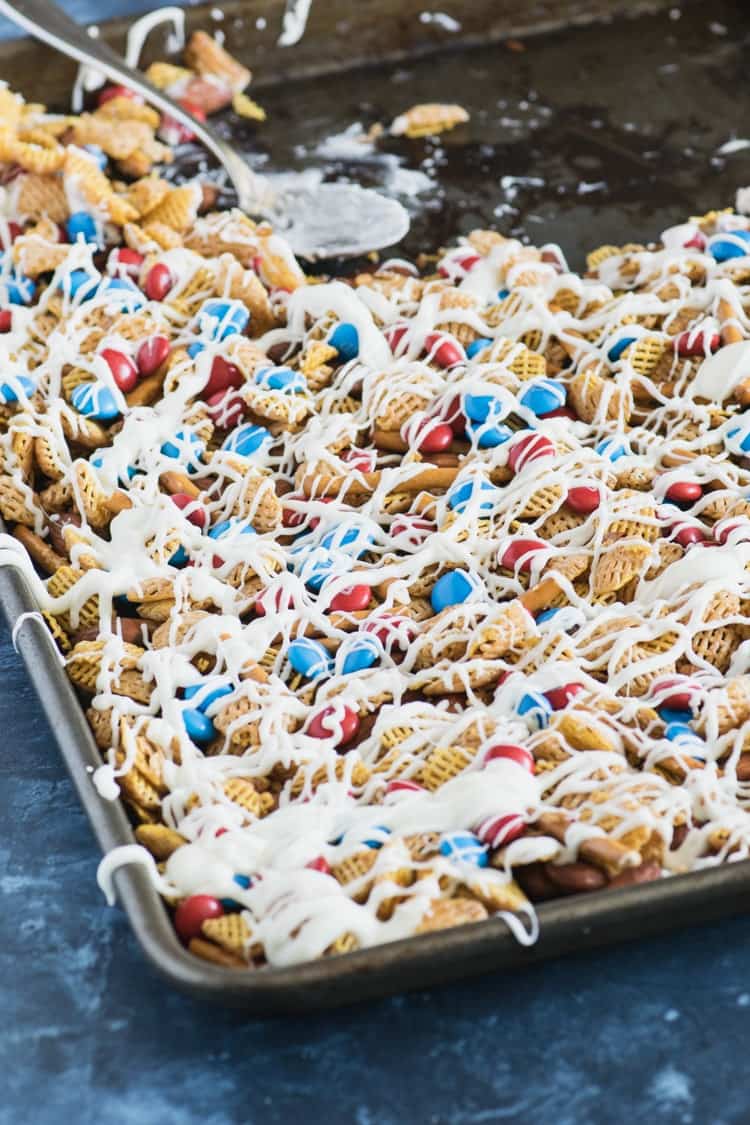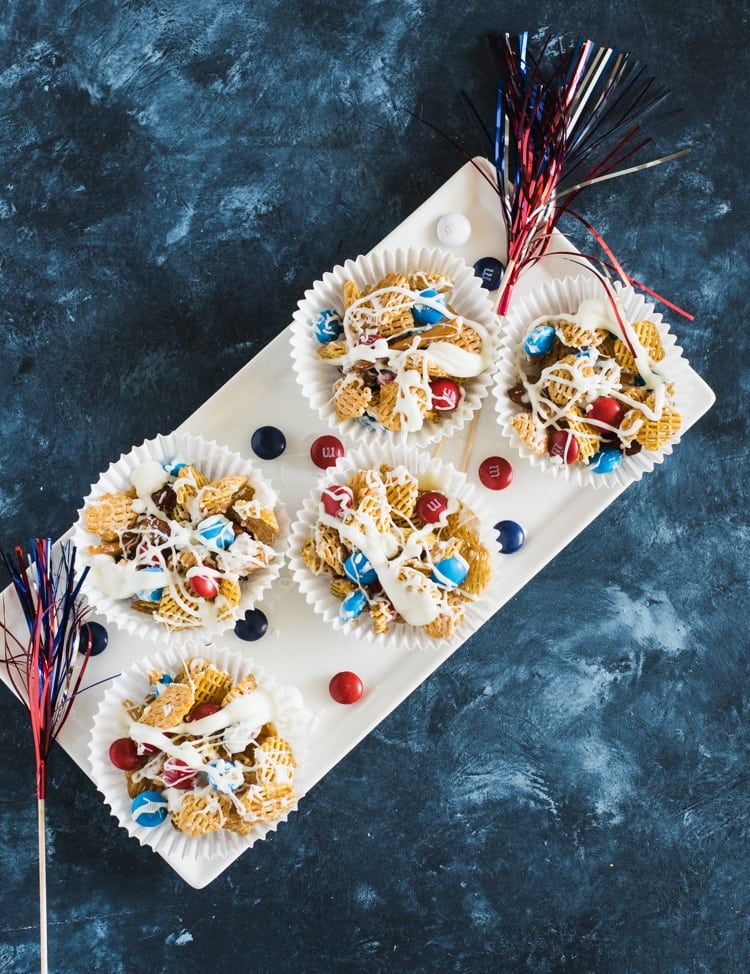 If you are looking for other ideas for your upcoming 4th of July party check out this Cowboy Caviar or these Patriotic Pretzel Rods.  Both are perfect for backyard summer parties and picnics!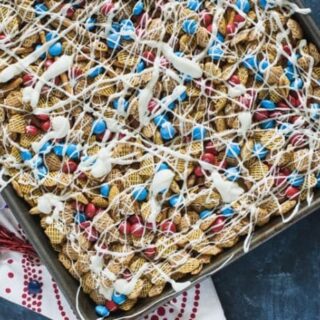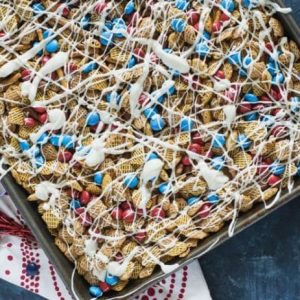 Patriotic Party Snack Mix
This easy party mix combines sweet and salty for a snack that sure to be a crowd-pleaser!
Instructions
Line a large, rimmed baking sheet with parchment paper.

Combine the Crispix, almonds, and pretzels in a large, microwave-safe mixing bowl.  Mix thoroughly.  Melt the butter in a small microwave-safe dish; add brown sugar and cardamom.  Mix well.  Add to the Crispix mixture and stir until well coated.

Microwave the Crispix mixture for 45 seconds.  Remove and stir well, being sure to stir any pieces stuck to the bottom of the bowl.  Return to microwave and cook on high for another 45 seconds.  Remove and stir again.

Spread mixture on the parchment lined baking sheet and let cool for at least 5 minutes.  Once cool sprinkle the M&Ms into the mixture.

Place the chocolate chips in a microwave-safe bowl.  Microwave for 20 seconds at a time, stirring between, until a smooth mixture is formed about 1 minute and 20 seconds.  After the last 20 seconds stir in the coconut oil to make the mixture easier to drizzle on the snack mix.

Using a small spoon, drizzle the mixture onto the snack mix in whatever pattern you prefer.  If you are planning to portion out to individual servings you can reserve about a quarter of the chocolate to drizzle on at the end.  Let the mixture cool for 20-30 minutes.  Serve or place in an air-tight container until ready to serve.
Notes
You can serve this snack mix directly from the baking sheet, pour it into a large serving bowl or portion out into individual servings.
Nutrition
Calories:
438
kcal
Carbohydrates:
63
g
Protein:
11
g
Fat:
18
g
Saturated Fat:
10
g
Cholesterol:
25
mg
Sodium:
286
mg
Potassium:
351
mg
Fiber:
6
g
Sugar:
40
g
Vitamin A:
827
IU
Vitamin C:
1
mg
Calcium:
113
mg
Iron:
9
mg