Craving your favorite Bonefish Grill Bang Bang shrimp? If so try this copycat Bonefish grill shrimp recipe. It takes just 30 minutes to make this breaded crispy shrimp that is smothered in a Sriracha and sweet chili bang bang sauce made from scratch.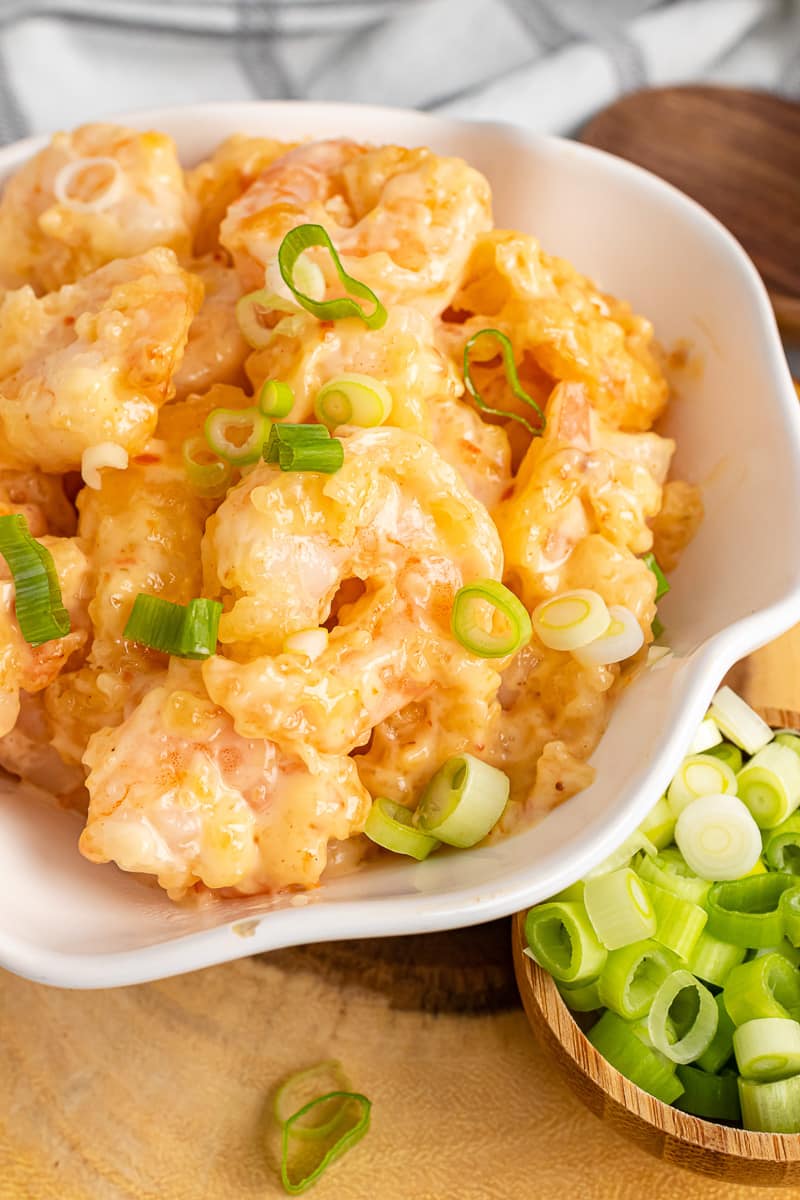 This crispy battered shrimp can be used for an appetizer or even a dinner to serve up your family. Learn how easy it is to whip up this copycat shrimp.
This Bang Bang Shrimp Recipe Is...
Homemade Bang Bang Sauce
30 Minute Appetizer or Dinner Idea
Crispy Battered Shrimp
Bonefish Grill Recipe
How to Make Bang Bang Shrimp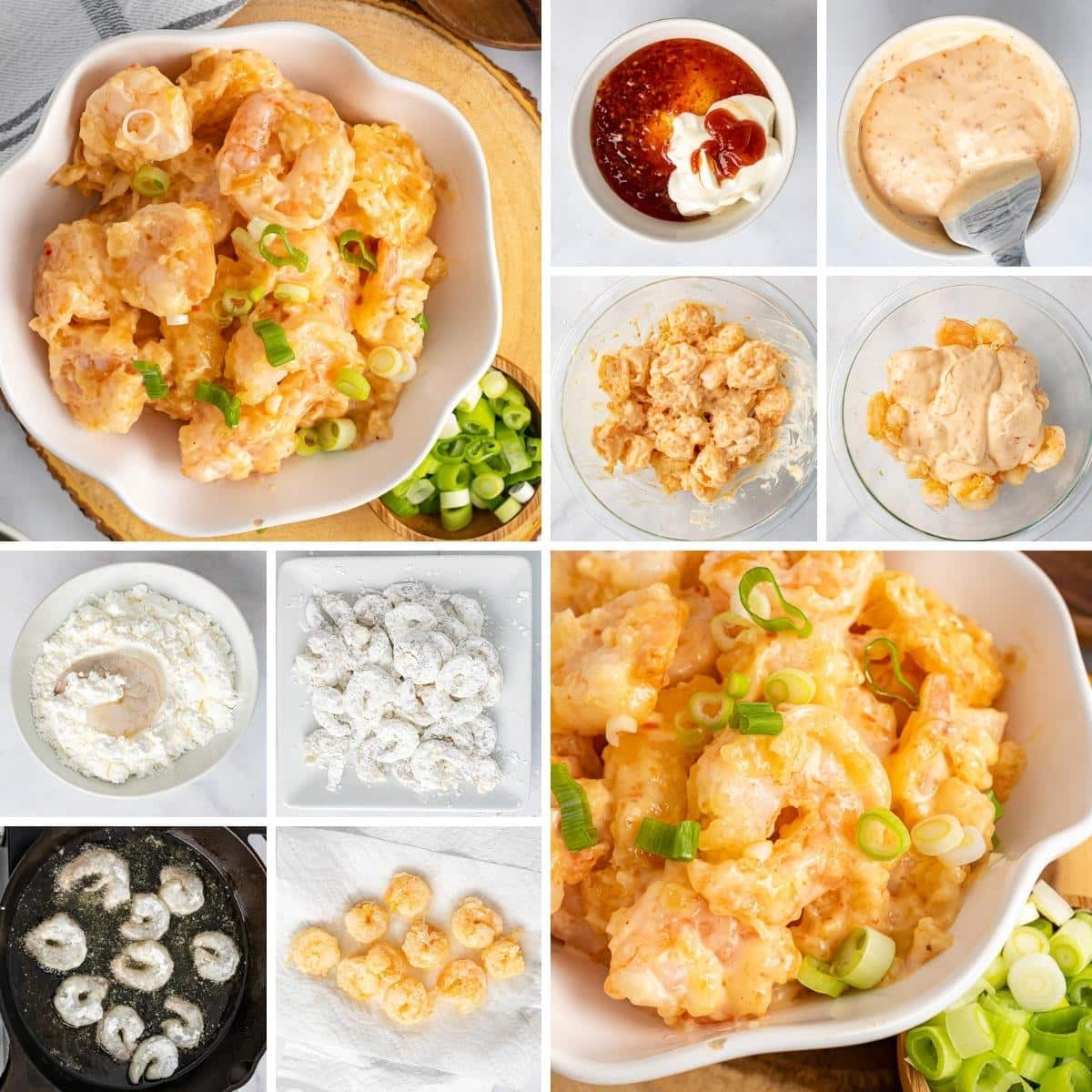 Full steps and directions on how to make this bang bang shrimp recipe is in the printable recipe card below.
In the bottom of the pan add oil and heat over medium heat.
While the pan is warming up, you will whip up the bang bang sauce.
Next you are going to dredge the raw shrimp and then pan cook until shrimp is fully cooked.
Drain the shrimp on paper, then transfer the shrimp to a bowl.
Toss in the sauce and pair with green onions.
Helpful Tips for Making Bang Bang Shrimp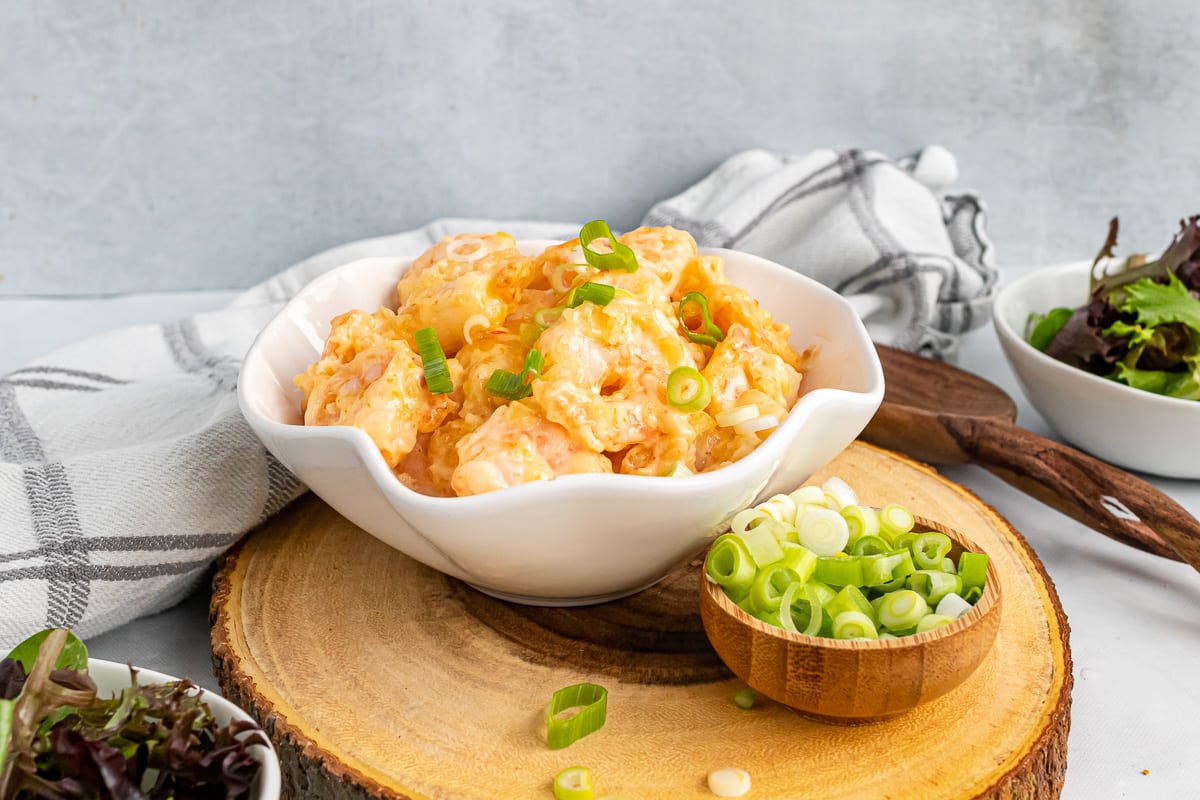 Dredging Shrimp
When you are dredging the shrimp in the cornstarch, make sure to shake off excess before you place in the pan to cook.
Heavy Bottom Pan
Make sure to use a heavy bottom pan that can hold up and create an even heat on the pan. If you use a lighter pan it can create hot spots which could unevenly cook your shrimp.
Hot Oil
The oil has to be hot or it will not create that crispy coated shrimp the way you want and need.
Variations to Bang Bang Shrimp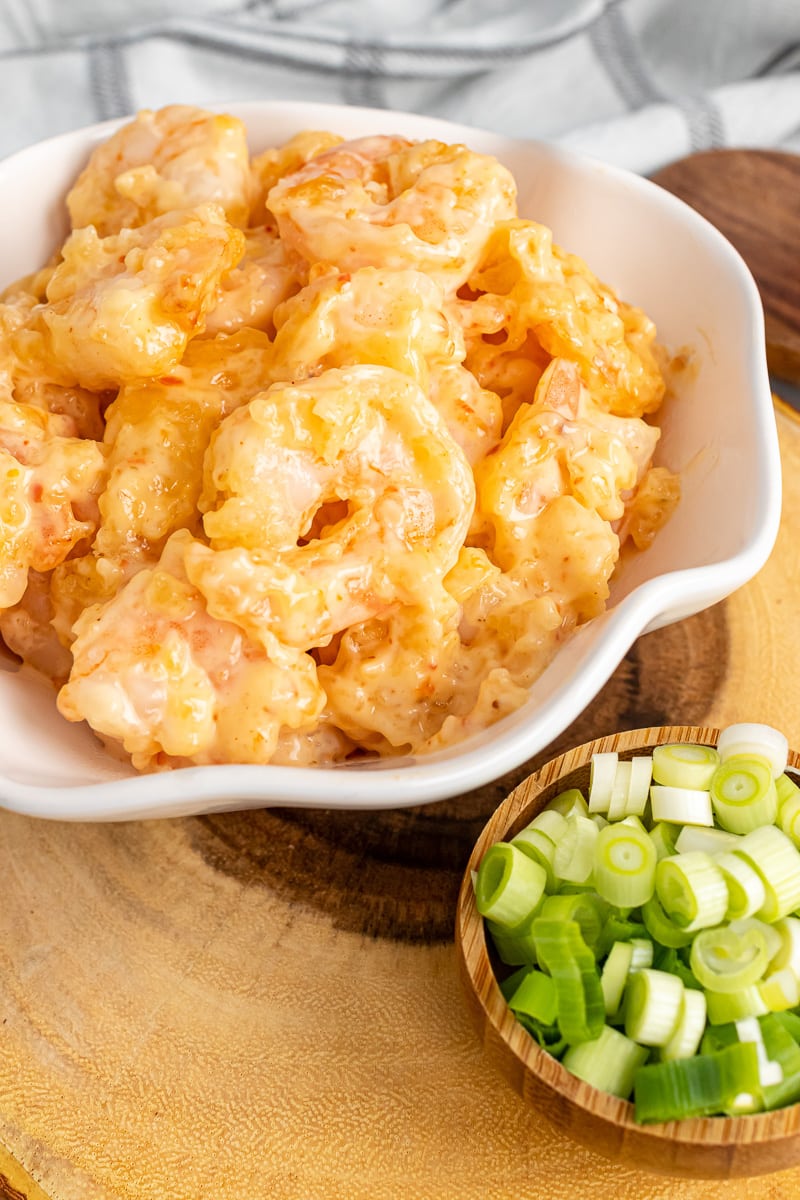 Spice Factor of Sauce
You are able to adjust the spice factor of the sauce. This sauce is a medium heat, not too spicy. If you want add additional sriracha to elevate the spice. Feel free to taste and adjust as needed.
Sauce
Feel free to buy homemade Bang Bang sauce if you don't want to make homemade sauce. Either way the shrimp taste delicious smothered in the sauce.
Bang Bang Shrimp Common Questions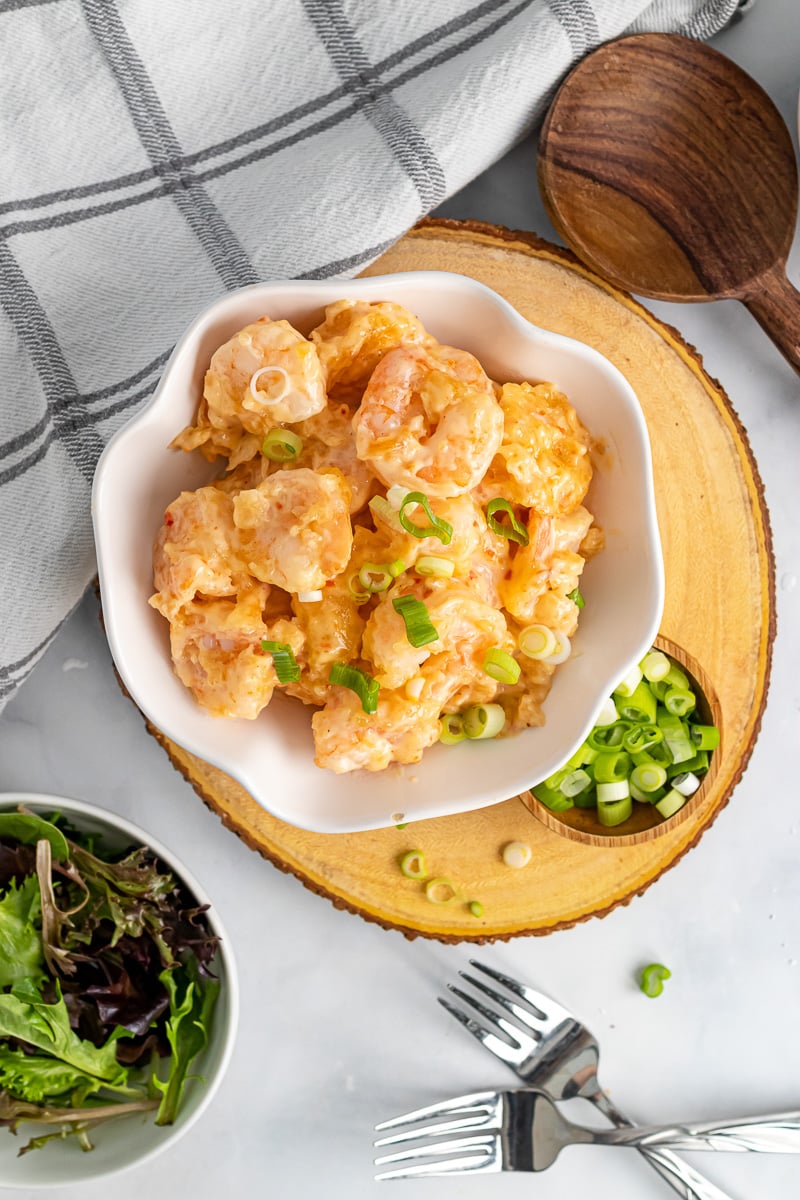 Why doesn't my shrimp have much breading?
When dredging the shrimp you need to make sure to coat the shrimp well. Just coat all the way through and then shake off excess.
How to know when the shrimp is done cooking?
Shrimp will curl in and create a "c" shape once it is done being cooked. You are going to see the shrimp curl as it is done cooking. You can also cut open a shrimp and see that it is cooked through, and no longer translucent.
Do you eat this shrimp warm or cold?
Bang Bang shrimp needs to be eaten warm fresh from being tossed in the sauce. It has a nice coating on it and will not stay crispy once it begins to cool down.
Can you store the leftover shrimp?
You can store the shrimp for 1-2 days in the fridge. Feel free to eat the shrimp cold leftover or warm it up in the microwave or stovetop.
Recipe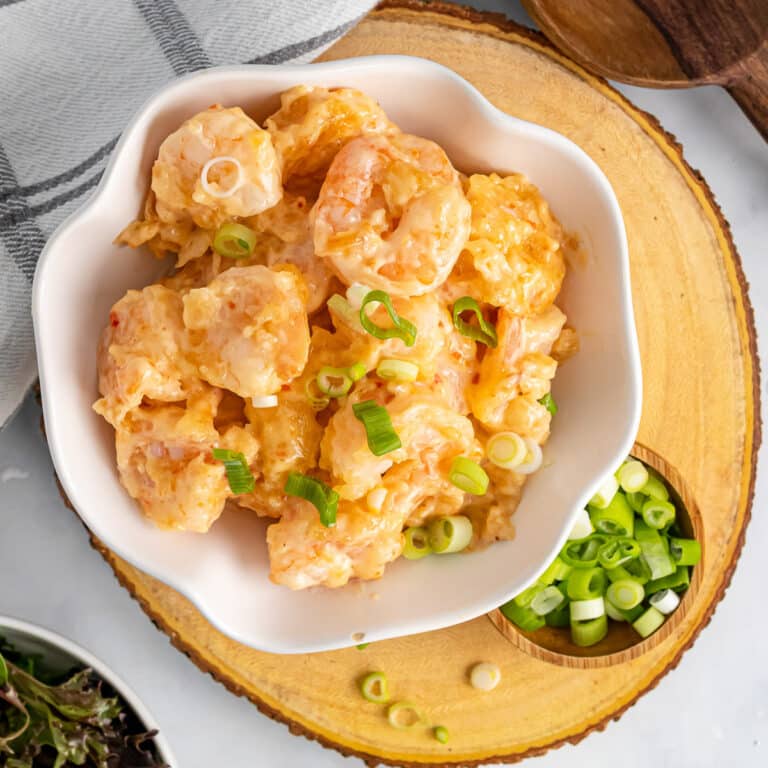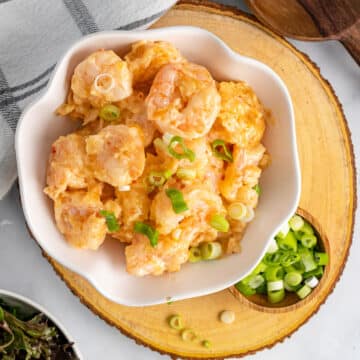 Bang Bang Shrimp - Copycat Bonefish Grill Recipe!
This quick and easy Bang Bang Shrimp tastes just like the famous Bonefish Grill appetizer! Crispy shrimp are tossed in a sweet and spicy sauce in this addictive copycat recipe.
Ingredients
½

cup

sweet thai chili sauce

⅓

cup

mayo

¼

cup

sour cream

1

teaspoon

sriracha

1

lb

shrimp

peeled and deveined

½

cup

cornstarch

Oil for frying

Green onion for garnish

optional
Instructions
Heat 1-2 inches of oil in heavy bottom pan over medium heat

In a large bowl, stir together the thai chili sauce, mayo, sour cream, and sriracha

Stir to combine until well blended and set aside

Dredge the shrimp in cornstarch

Then fry in batches, 3-4 minutes each side or until no longer translucent

Drain on paper towels, then transfer to a large bowl

Pour sauce over the shimps and toss to coat, top with chopped green onions if desired

Serve over lettuce, rice, or just enjoy as-is
Notes
You can either use all the sauce and make the shrimp very saucy, or use half and reserve the rest for dipping
Best served warm
These are not too spicy; if you'd like more heat increase the sriracha to 1 tablespoon and adjust as necessary
Make sure the shrimp are well coated with the cornstarch, and make sure the oil is very hot before adding them to ensure the coatings ticks well
Nutrition
Calories:
282
kcal
Carbohydrates:
31
g
Protein:
1
g
Fat:
17
g
Saturated Fat:
4
g
Polyunsaturated Fat:
8
g
Monounsaturated Fat:
4
g
Trans Fat:
1
g
Cholesterol:
16
mg
Sodium:
470
mg
Potassium:
24
mg
Fiber:
1
g
Sugar:
16
g
Vitamin A:
103
IU
Vitamin C:
1
mg
Calcium:
16
mg
Iron:
1
mg