Phyllo appetizer bites are easy to make and a tasty appetizer to have on hand for guests. You'll love the flavor of this cheese and cherry combination.
If you like these appetizers, you'll love our Pesto Cheese Blossom, Spicy Artichoke Dip, and Copycat Bloomin Onion.
Need a super easy appetizer for your next holiday gathering? If so, you'll definitely want to give these bite-sized phyllo cups a try.
You'll want to bake these cute appetizers up in a mini muffin pan if you're working with phyllo sheets instead of phyllo cups.
The flavors of warm, melted Brie and sweet dark cherries are enhanced with a slight hint of maple syrup. For a more complex and savory flavor combination, add some fresh thyme leaves to each cup prior to baking.
You'll love this fun and fruity appetizer. Cherry is a delicious filling for these appetizers, but you could also mix things up and try jam, fig, and berry fillings.
One of the best things about this appetizer recipe–besides the taste–is how easy it is to make. We're talking about a recipe that is so easy to whip up that you'll wonder why you haven't made them before.
It's also one of those recipes that will get your creative juices flowing. As in–think of all the vast fillings that you can put in these flaky phyllo cups.
Personally, we can think of about a dozen twists for this delicious appetizer recipe!
Remove from oven and serve warm.
If you enjoy these Brie and Cherry Phyllo Cup appetizers, you'll probably love making other kinds of appetizers with phyllo cups.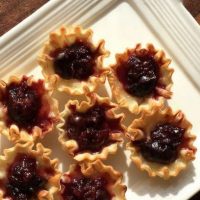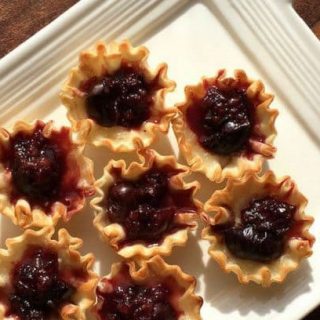 Brie and Dark Cherry Phyllo Bites
Ingredients
8 oz. Brie, rind removed and cut into 30 small cubes
6 oz. frozen dark cherries, thawed and cut into small pieces, reserve juice
3 T. real maple syrup
30 frozen phyllo cups
Instructions
Preheat oven to 350 degrees.
Line a rimmed baking sheet with parchment paper. Place phyllo cups on sheet and add one piece of Brie to each cup. Top off each cup with an equal amount of chopped cherries and reserved juice.
Drizzle a little maple syrup over each up and place in preheated oven for 7 – 9 minutes, or until Brie is completely melted. While baking, make sure the phyllo cups do not burn.
Yield: 30 appetizers
Total Prep Time: 15 minutes
The following two tabs change content below.
Latest posts by Jessica McCoy (see all)