Bloomin Onion Appetizer Recipe
Here it is. The best appetizer I've ever had at a restaurant is the Outback Steakhouse Bloomin Onion Appetizer. It's better than any onion ring I've ever had and includes the best dipping sauce in the world. I mean, this stuff tastes GOOD!
Why spend 7 bucks PLUS whatever you'd spend on entrees for your family, when you can make this tasty appetizer dish at home? You won't believe how easy it is to make. And of course--how easy they are to eat!
Seriously, these flaky bits of onion are so absolutely tasty--they are not to be missed.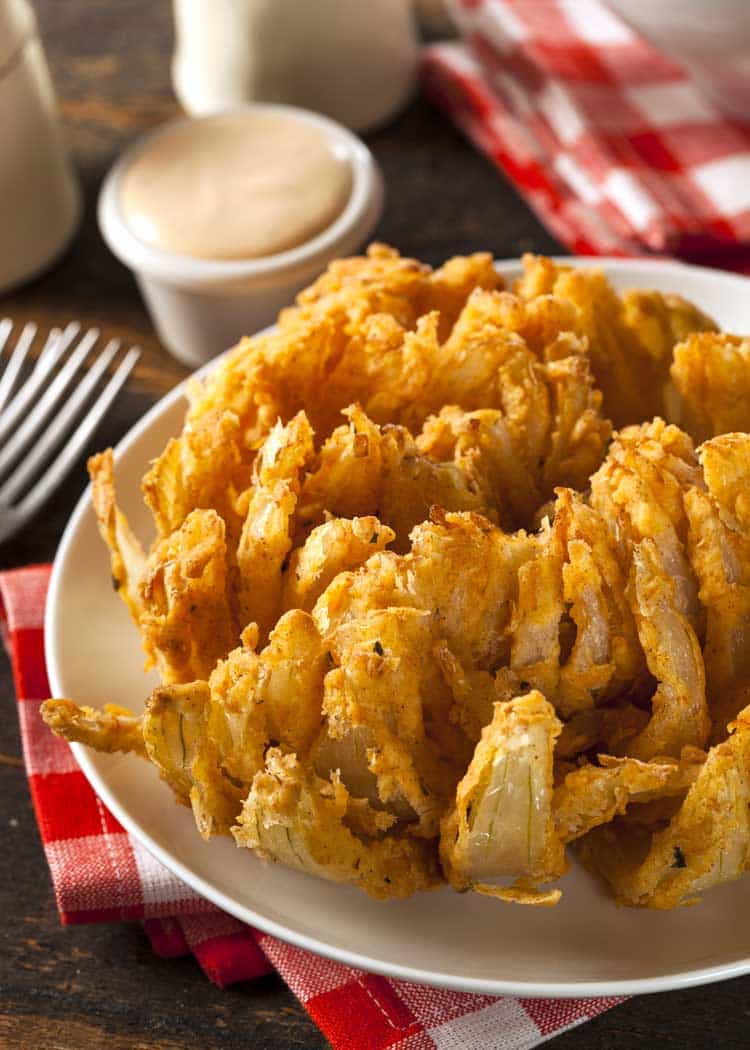 Kitchen Tools Needed
Just a couple things are needed to make the best Bloomin' Onion Appetizer ever. I can't tell you how much I love eating this up!
Pair Up with These Fab Entrees
Like I've said how much I love this appetizer. But, we can't forget about coming up with something equally amazing to serve as an entree.
We like our favorite Ribs Recipe, Grilled Chicken Halves, or Bacon Wrapped Stuffed Chicken Breasts, to serve with a Bloomin' Onion.
What About Something Sweet?
And for dessert?
Well, we can't forget about that, can we? An Apple Pie or Blueberry Tart . Because--dessert. And what a way to finish a meal, right?
Get Free Shipping on Amazon Prime
If you don't have a flower onion cuter or deep fryer already, you can order them on Amazon and get free shipping with Amazon Prime free 30 day trial. I've gotten so much use out of my Amazon Prime membership--free shipping, television shows, and movies. I love it!
Get more amazing copycat recipes here or buy restaurant gift cards online and go out to enjoy your favorite restaurant meals. They also make perfect gift ideas!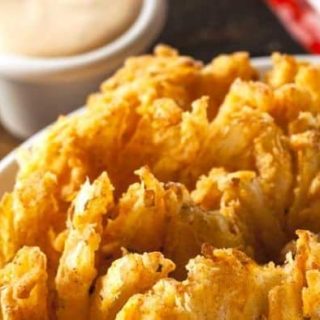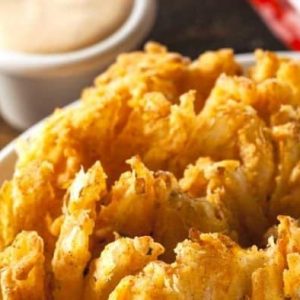 Copycat Outback Steakhouse Bloomin' Onion
We love this Bloomin Onion Appetizer recipe served up with grilled ribs or chicken. You won't believe how easy this is to make!
Instructions
In a big bowl, combine mayonnaise, sour cream, ketchup, Worcestershire sauce, horseradish, paprika, Cayenne pepper, Kosher salt and black pepper. Cover bowl and place in refrigerator.

To slice the onion, cut off ½ inch from the pointy stem end of the onion, then peel.

Placing the onion cut-side down, start ½ inch from the root, and make a downward cut all the way through to the cutting board.

Repeat each step to make four evenly spaced cuts around the onion.

Continue slicing between each section to make 16 evenly spaced cuts.

Turn the onion over and using your fingers, gently separate the outer pieces.

Using another bowl, mix the flour, cayenne, paprika, thyme, oregano, cumin and ½ teaspoon black pepper, using a whisk.

Whisk the eggs, milk and 1 cup water in yet another small but deep bowl.

After placing the onion in a separate bowl with the cut-side up, pour all of the flour mixture on top.

Covering the bowl with a plate, shake back and forth to distribute the flour.

Make sure the onion is fully coated, especially between the flower petals from the cutting.

Lifting the onion by the core, turn over and pat off the excess flour.

Save this bowl of flour.

Fully submerge the onion in the egg mixture with a slotted spoon.

Remove onion, letting the excess egg drip off, and then repeat the flouring process.

Place onion in refrigerator while heating the oil.

In a large deep pot over medium-high heat, heat the oil until a deep-fry thermometer registers 400 degrees Fahrenheit.

Pat excess flour off of the onion.

Carefully lower the onion into the oil, cut-side down, using a wire skimmer.

Adjust the heat of the oil temperature so that it stays close to 350 degrees Fahrenheit.

Cook onion until golden, about 3 minutes on each side.

Drain on paper towels.

Salt to taste and serve with the dip.
Nutrition
Calories:
8784
kcal
Carbohydrates:
72
g
Protein:
14
g
Fat:
954
g
Saturated Fat:
79
g
Cholesterol:
92
mg
Sodium:
164
mg
Potassium:
328
mg
Fiber:
3
g
Sugar:
9
g
Vitamin A:
695
IU
Vitamin C:
16
mg
Calcium:
120
mg
Iron:
4
mg