Mason Jar Salad is a genius way to conveniently pack multiple salads at once, plus they're pretty fun to look at (and eat!). Read this post for tons of salad in a jar ideas!
Why Mason Jar Salad?
I love healthy dinner options, and salad is one of the best ways to get those healthy nutrients that we all need. Preparing salads in advance via salad in a jar (Mason Jar Salad) is a healthy, time-saving alternative to the hectic rushing around that occurs when you just don't have time to make a healthy salad. And all too often, if you don't have time, you'll just skip that healthy option.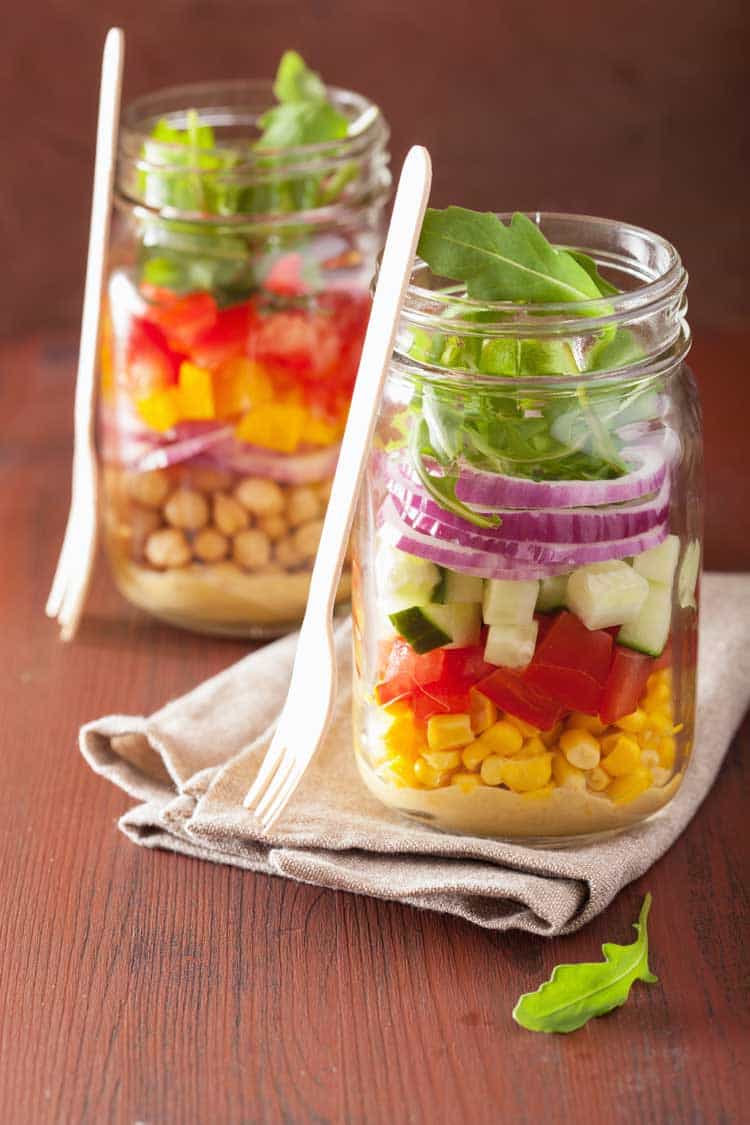 Anyway, I'm sure you have seen the idea of salad in Mason jars around a time or two (or three hundred). Honestly, I'm not even sure where I first saw this or how long this idea has been around, but it takes eating salad to a whole new level!
What are the benefits of a mason jar salad?
Whoever thought of Mason Jar Salads is genius. Genius! Do you want to know why?
Because what salad loving fool likes to make salad each and every time they want salad! I mean, come on people. Do you know how many times a week I would make a salad for lunch (or for an evening snack for that matter) if it didn't require me getting each and every ingredient out to prepare?
Does that make me sound lazy? Well, you know... whatever.
Should you put dressing on the bottom of your mason jar salad?
Now, the story goes you're supposed to put the salad dressing on the bottom and then layer your ingredients on top of that. In fact, that's what I did for the photos in this post.
But I'm just not there yet. Frankly, I don't know what kind of dressing I want until I get ready to make my lunch. Is it an oil and vinegar day, a ranch day, French, Italian? Who knows how I'm going to be feeling.
So, when I'm not taking Mason Jar Salad photos for the blog, I layer my veggies and add my dressing later. I am totally breaking the Mason Jar Salad rules and I'm okay with that!
What are the layers of a mason jar salad?
I know I just said I break the Mason Jar Salad rules, but here is a loose idea of how you're supposed to layer your Mason Jar Salads. (This list is based on the salad in a jar post at LunchBoxBunch, where I ogled their amazing photos of Mason Jar Salads. Flowers on a salad? Not my cup of tea, but it sure makes for a glamorous presentation. Gorgeous!)
From the bottom to the top...
Mason Jar Salad bottom layer: Dressing (this can include olive oil, vinegar, etc.)
Your heaviest ingredients that will hold up when touching/sitting in the dressing. Think beans, corn, etc.
Heavy ingredients that won't hold up when sitting in dressing (like tomatoes).
Leafy greens that take up a lot of space. (Oops, I broke the rules again by putting them on top... I think this proves that when it comes to Mason Jar Salads, you can make your own rules!)
A few heavy toppings. Nuts, croutons, and dried fruit are good choices here.
Mason Jar Salad top layer: Something colorful and fun (optional); the LunchBoxBunch used fruit and even edible flowers.
When should you eat mason jar salad?
A lot of people think of Mason Jar Salads as on-the-go salads. Pack 'em in your lunch box to take to work or put them in a cooler for a visit to the park or some other place outside the house.
But you can also use them to save time when eating at home! Yep, I actually use salad in a jar as a way to pre-assemble the salad that we'll eat later at home. It's impossible to skip the healthy dinnertime salad when it's staring at you from the fridge looking pretty!
We're actually having salad in a jar for dinner with the Crockpot Bountiful Beef Stew that has been cooking all day.
A Few Mason Jar Salad Ideas
Mason Jar Salad Idea #1 (bottom to top)
Lemon vinaigrette
Cucumbers
Tomatoes
Red onions
Spinach
Chickpeas
Mason Jar Salad Idea #2 (bottom to top)
Balsamic vinaigrette
Pasta
Cucumbers
Tomatoes
Spinach
Pinto beans
Black olives
Mason Jar Salad Idea #3 (bottom to top)
Ranch dressing
Chicken
Apples
Grapes
Romaine lettuce
Pecans
Try it for yourself so you'll believe that salad in a jar really isn't too good to be true!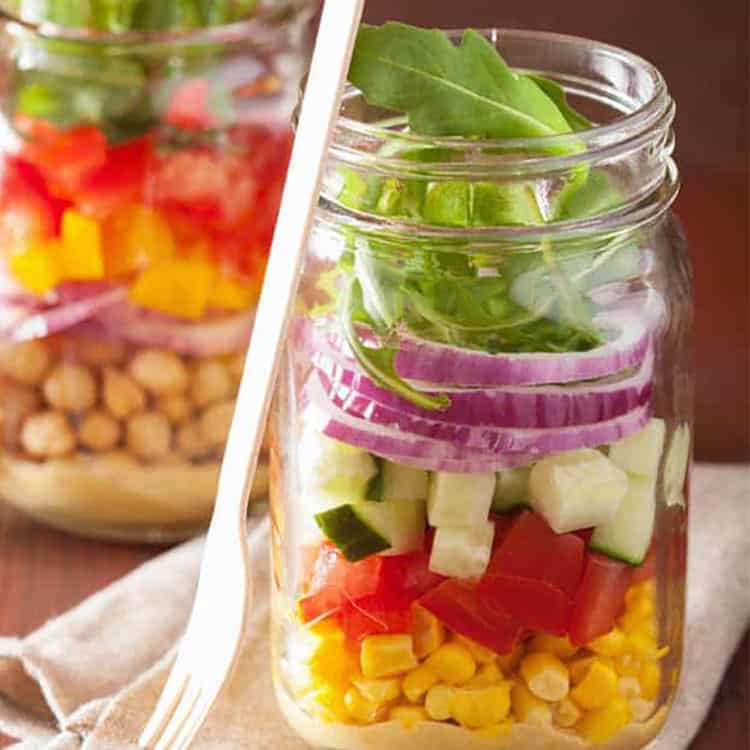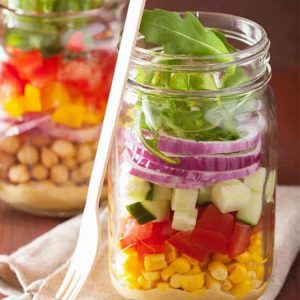 Mason Jar Salad
You'll love these fun Mason Jar Salads!
Ingredients
Veggies, such as:
Your favorite salad veggies. We used a variety of veggies like corn

chickpeas, tomatoes, cucumbers, onions, and lettuce.

15

oz

chickpeas

drained and rinsed

1

tomato

chopped

1

cucumber

sliced

1

onion

sliced

2

cups

lettuce

such as romaine or butter lettuce
Dressing:
¼

cup

Salad Dressing

such as Italian, Ranch, or Blue Cheese
More Optional Topping Ideas:
Instructions
Layer the salad in the following order:
If including the salad dressing in your mason jar, add it first to the bottom of the jar.

Next, layer harder veggies like carrots, pickles, olives, and peppers. These will resist getting soggy from the salad dressing.

Add lighter veggies like tomatoes and lettuce.

Top it off with meats, cheeses, or nuts (if desired).
Notes
Salad can be prepared at the beginning of the week and will last for up to a week in the refrigerator. For best results, layer according to directions above. Makes as many Mason Jar salads as you would like to eat in a week. Prep time 20 minutes and you're done making lunch for the week!
Nutrition
Calories:
480
kcal
Carbohydrates:
75
g
Protein:
22
g
Fat:
12
g
Saturated Fat:
2
g
Sodium:
322
mg
Potassium:
1175
mg
Fiber:
20
g
Sugar:
21
g
Vitamin A:
1039
IU
Vitamin C:
22
mg
Calcium:
157
mg
Iron:
7
mg