Whip up a batch of these homemade Strawberry-Mango Popsicles! These perfect creamy and sweet popsicles are made with seasonal fruit. They're the perfect refreshing treat to cool down with on a hot summer day.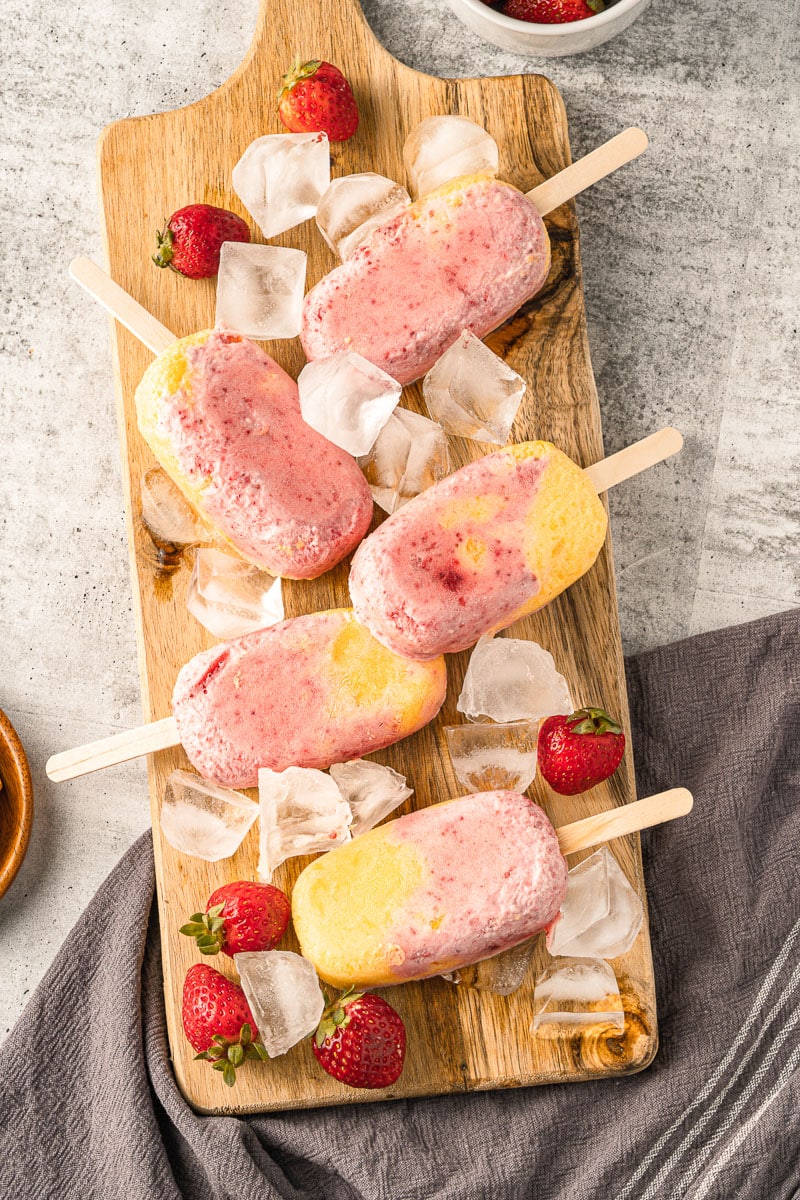 In this Article:
This healthy frozen dessert is just what you want to have on hand during the hot summer. If you love a classic mango popsicle, you will really enjoy the sweetness that the strawberries adds to this popsicle recipe. 
The yogurt in these popsicles gives them the ultimate creamy texture. Kids and adults alike will love these homemade popsicles!
This Strawberry Mango Popsicles recipe is...
Naturally gluten-free 
Made with 4 ingredients 
Easily made dairy-free 
Simple to make 
A great source of fruit
Good for helping kids eat healthy
How to Make Strawberry Mango Popsicles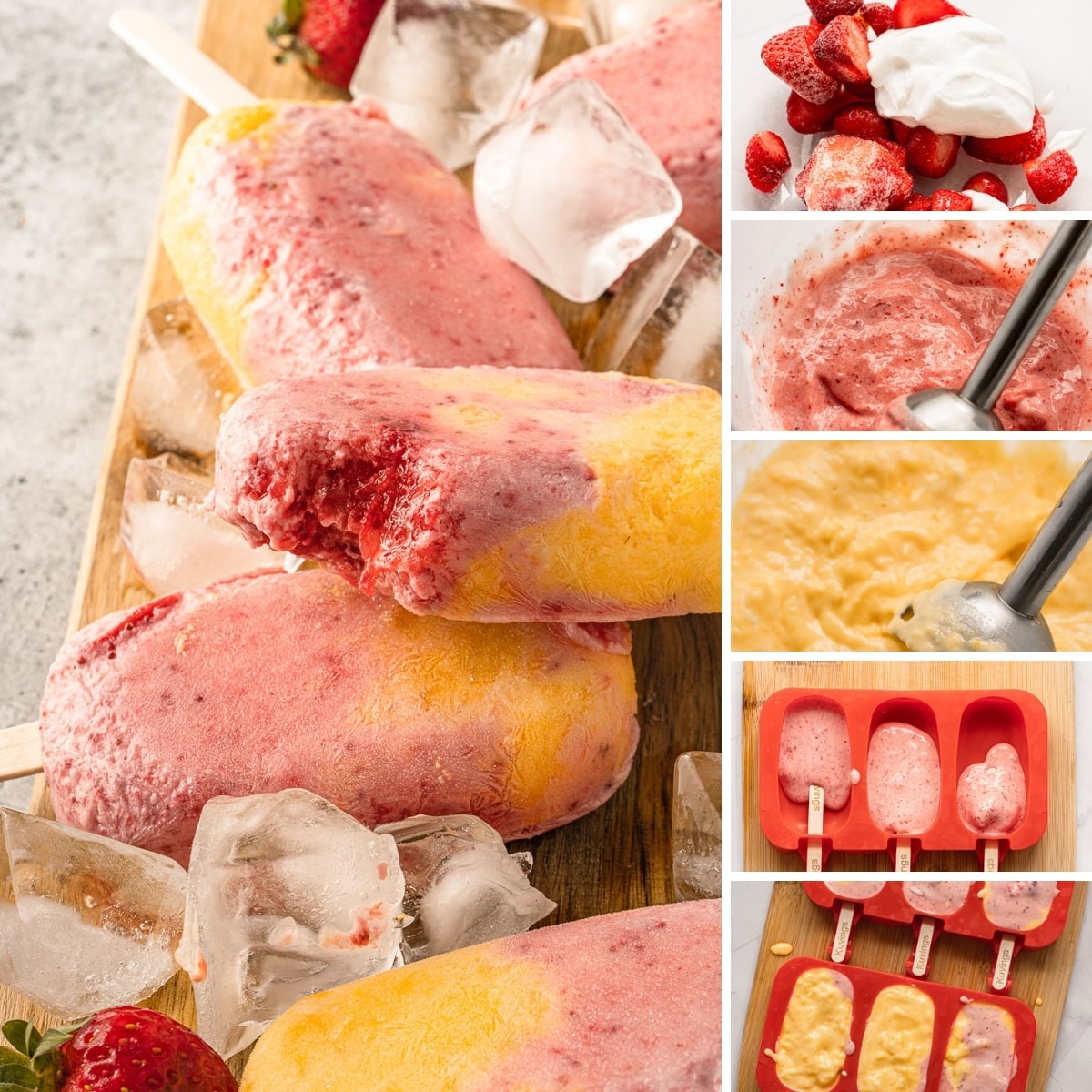 Start by adding your berries, honey, and part of the yogurt into your blender.
Blend until nice and smooth, then transfer to a bowl. 
Repeat the same steps but with the mango. 
Spoon parts of each fruit mixture into your popsicle molds, creating a layered look. 
Place the sticks in your mold, and freeze until fully frozen or about 4–6 hours. 
Remove popsicles and enjoy. 
Full directions on how to make Strawberry Mango Popsicles are in the printable recipe card below. 
Tips & Tricks for Strawberry Mango Popsicles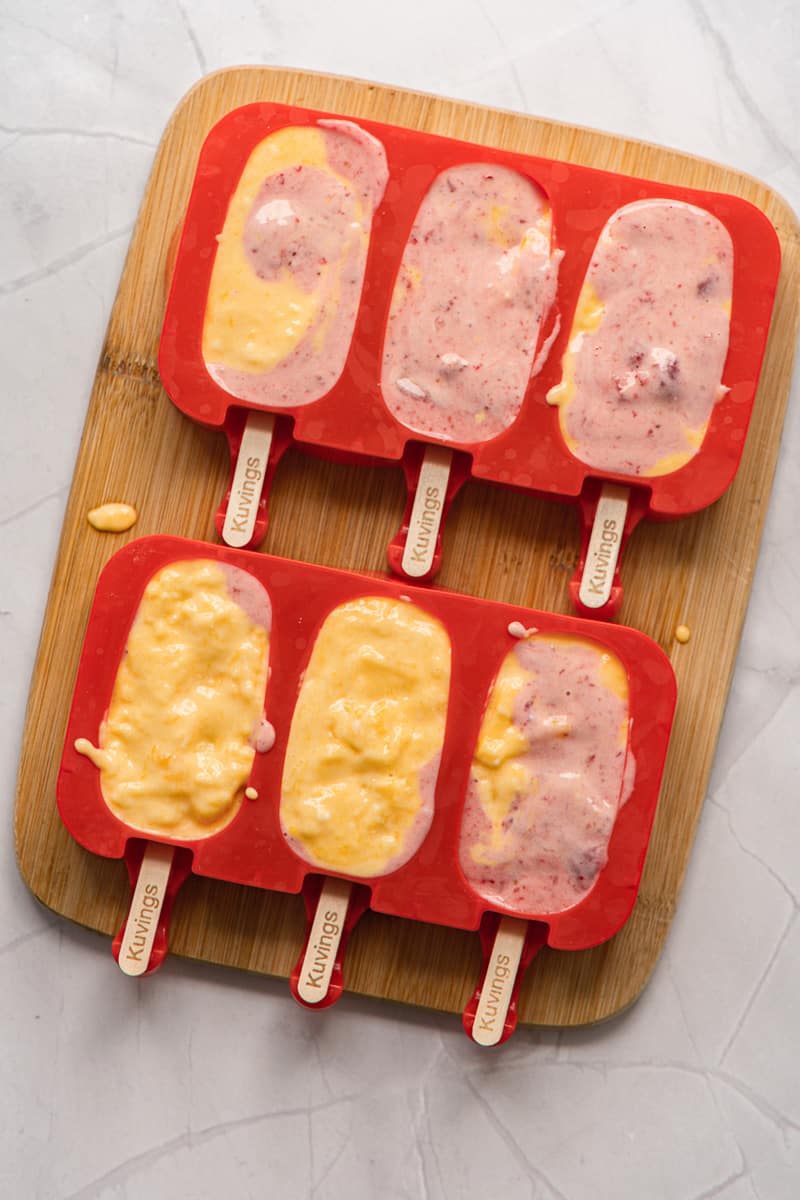 Fresh or Frozen Fruit
You will find this recipe works with both fresh and frozen fruit. Go right ahead and use whichever you have or prefer. If you are using frozen fruit, there is no need to thaw the fruit. Just mix it up still frozen. 
Sweetener
I used honey to sweeten the popsicles a bit. If your fruit is pretty ripe, you might find that it is sweet enough as is, and you won't need to add in the honey.
Alternatively, you can also sweeten your popsicles with agave or an artificial sweetener. 
Variations to Strawberry Mango Popsicles
Mix In Other Fruit
As with any fruit popsicles, you will find that this popsicle recipe is very easy to adapt. Feel free to mix in raspberries, diced peaches, kiwi fruit, etc. Have fun and create layers of flavors, or mix the fruit all together before pouring it into your molds. 
Yogurt
Another change you could make to your popsicle is using flavored yogurt. You could mix some strawberry yogurt with the strawberry side of the popsicles and vanilla yogurt with the mango mixture. Get creative!
Strawberry Mango Recipe FAQs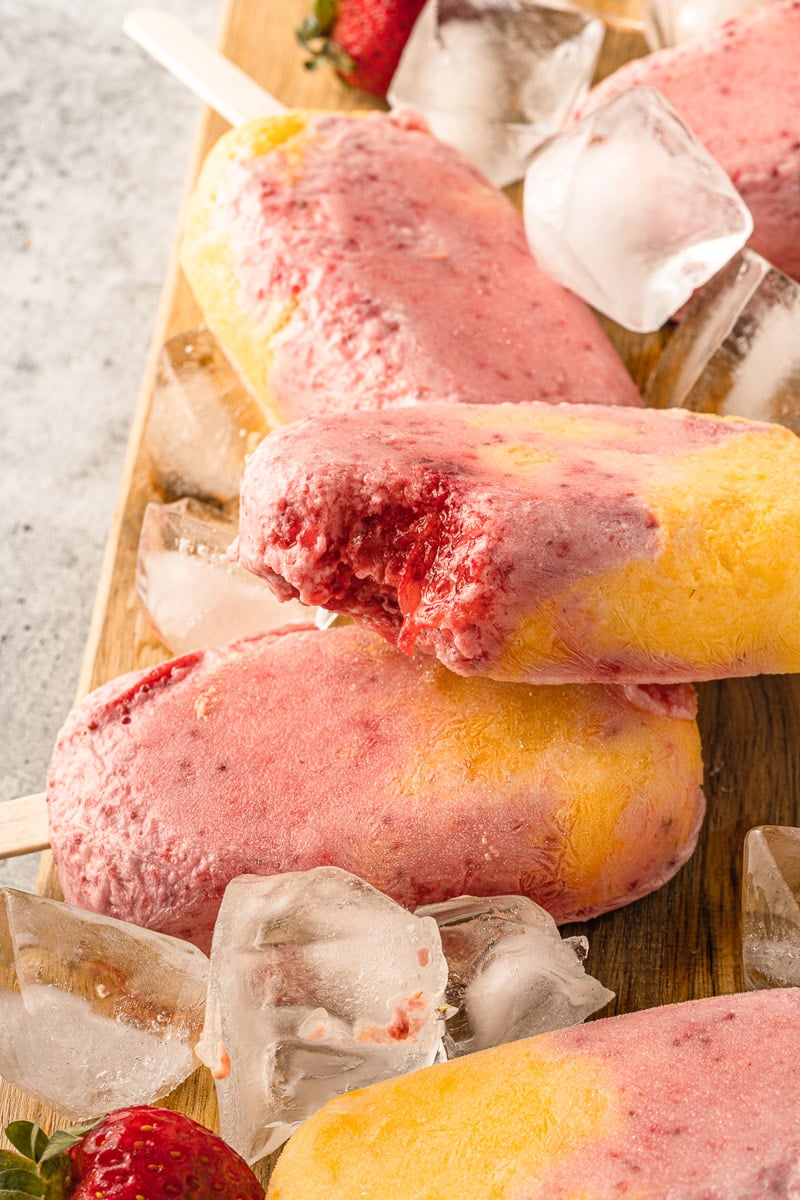 How to remove popsicles from the popsicle molds?
One of the easiest ways to unmold a popsicle is to run the mold under warm water for just a few seconds. The warm water thaws the popsicle just enough so that the popsicle slides out easily. 
How long does it take a popsicle to freeze?
The time it takes to freeze a popsicle depends on the size of your molds and how cold your freezer is. On average, it takes 4–6 hours for your popsicles to freeze completely. Letting them set overnight in the freezer will make it easy to ensure your homemade popsicles are fully set up. 
How long do popsicles stay good for?
You can store the popsicles in the freezer for around 3–4 months. If you store them any longer, you will notice ice crystals beginning to form and the popsicles beginning to go bad. 
Recipe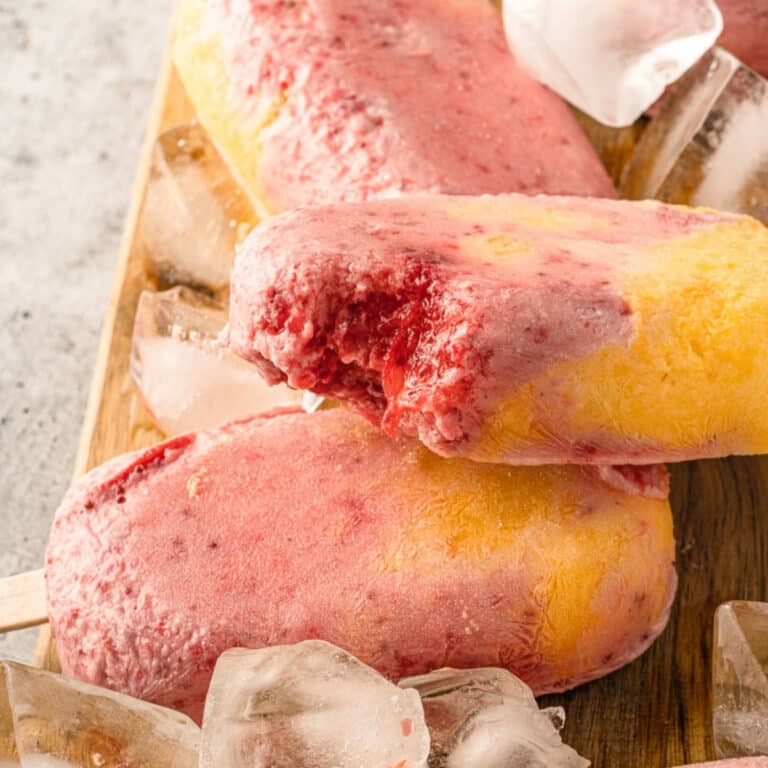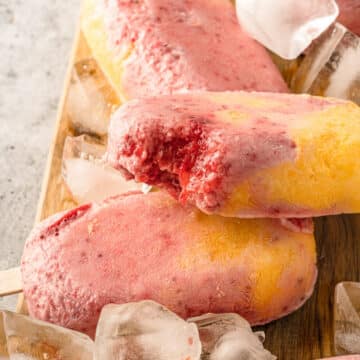 Strawberry Mango Popsicles
Whip up a batch of these homemade Strawberry-Mango Popsicles! These perfect creamy and sweet popsicles are made with seasonal fruit. They're the perfect refreshing treat to cool down with on a hot summer day.
Ingredients
1 ½

cup

strawberries

fresh or frozen

1 ½

cup

mango chunks

fresh or frozen

½

cup

plain or vanilla yogurt

1

tsp

honey

optional, for sweeter taste
Instructions
Add strawberries and ¼ cup of yogurt to a blender. Add the optional honey, if desired.

Blend until smooth. Transfer to a small bowl and set aside.

Repeat the first step but with the mango chunks.

Add a few spoonfuls of the strawberry mixture in one side of the popsicle moulds. Place the popsicle sticks on top of the strawberry mixture.

Then fill in the remainder with the mango mixture.

Freeze for at least four hours, or until fully frozen.
Notes
These popsicles will last several months in the freezer—enjoy them all summer long!
Experiment with flavors—use other fruits that you enjoy as kiwi, raspberries, or peaches. You can also try experimenting with different flavored yogurts.
Reduce the amount of fruit and add more yogurt for popsicles with a more creamy texture.
Nutrition
Calories:
52
kcal
Carbohydrates:
11
g
Protein:
1
g
Fat:
1
g
Saturated Fat:
1
g
Polyunsaturated Fat:
1
g
Monounsaturated Fat:
1
g
Cholesterol:
3
mg
Sodium:
10
mg
Potassium:
157
mg
Fiber:
1
g
Sugar:
9
g
Vitamin A:
471
IU
Vitamin C:
36
mg
Calcium:
35
mg
Iron:
1
mg