Looking for home remedies for cleaning?  You're not alone.  You might want to check out our 52 Weeks to a Cleaner House series.  But first, lets take care of the #1 question we hear about:  How to keep shower clean?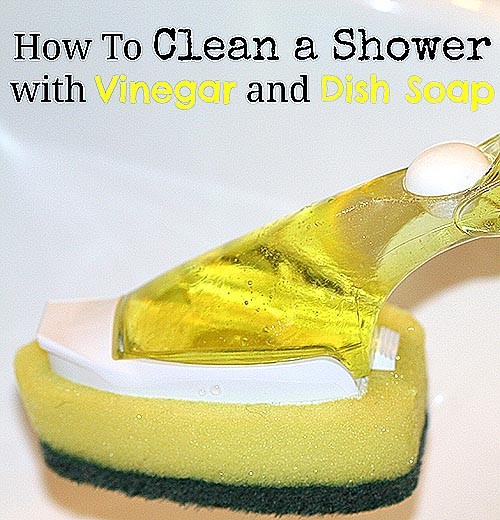 Clean Shower Head with Vinegar
Keeping a shower clean with vinegar is easy, but this idea that I discovered while browsing around on Pinterest makes that job even easier.  I love cleaning with vinegar and am happy that I found this super simple solution for the shower. Now, are you ready for an easy peasy homemade shower cleaner with Dawn and vinegar?
DIY Cleaning Solutions are frugal, simple and green.
How to Make Dishwasher Detergent
Easy Laundry Detergent Recipe
DIY Window Cleaner
Household Uses for Vinegar 
Easy Homemade Shower Cleaner with Dawn and Vinegar
Supplies:
Dish scrubber that you can fill with cleaner
Vinegar
Dish soap (I just used the cheap kind and it worked fine, but I've had feedback that Dawn dish soap is amazing for this.. the blue kind.)
Directions:
Fill scrubber up half-way with dish soap followed by half-way with vinegar.  The vinegar-dish soap cleaner works great with 1:1 ratio,  allowing the vinegar to work it's magic and the sudsy soap to do it's best as well.
When you're finished preparing the cleaner, simply wait until the next time you're in the shower and clean shower with vinegar and dish soap mixture.  Lightly scrub down those walls and tub, toss or spray some water to rinse of the soap, and you're done until next time.  Keep this cleaner handy in your shower for quick cleanings that you have no reason to put off!  While you're at it, go ahead and deep clean your bathroom floor.
Shower Cleaner with Dawn and Vinegar
Seriously, folks. I tested this cleaner myself and it works GREAT!  This is the only way I will be cleaning my bathtubs and showers.
I was so impressed by the time saving cleaning technique that I went ahead and bought another for our second bathroom.  I even used it to clean the sink and counter of our half-bath that received HEAVY traffic, and then wiped it down with a wet wash cloth to mop up some of the soap, followed by a towel.  The sink sparkled!  This cleaning solution is one that is worth trying.
Vinegar has about a gazillion household uses, besides to keep the shower clean.  What do you use it for?