DIY Laundry Detergent is a great solution to many needs.  Whether you are looking for a frugal alternative to store bought laundry detergent or looking for a greener cleaning solution, homemade laundry detergent will get you the result you are looking for.
DIY Cleaning Solutions like these are easy to use and to make.
Dishwasher Detergent
Shower Cleaner- cleaning showers just got simpler
Window Cleaner
Household Uses for Vinegar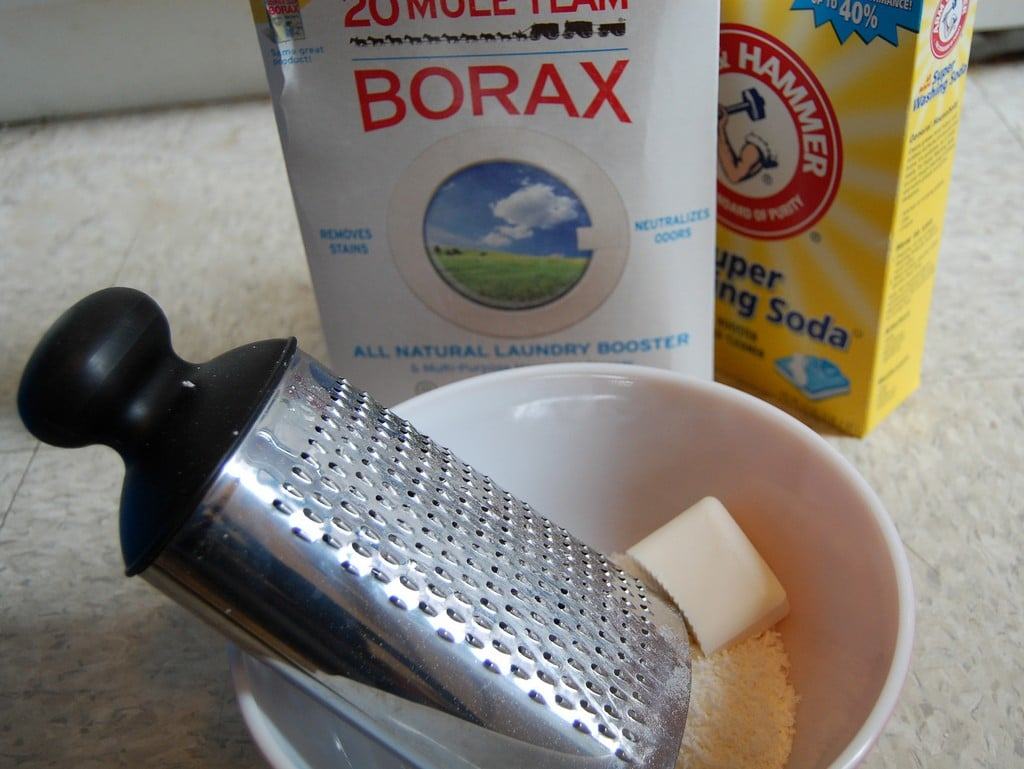 Just three ingredients.  That is all you need to make DIY laundry detergent that cleans just as good (if not better) than store brands AND saves you money.  I don't know about any of you, but I love saving money.  At the grocery store (which is why I started 52 Weeks of No-Repeat Meal Plans).  At the gas pump.  Movies.  Really just about anywhere.
But, I digress.  You're here because you want to learn how to make your own laundry soap.  Kudos to you!  Basically all you're going to do is grate the bar of soap, just like you would a brick of cheese.  This will take some muscle, but I'm sure you've got plenty to spare.  Believe me- if I can do it, so can you!  Okay... so I enlisted the help of my 10-year old daughter (who insists by the way that children should be able to hold jobs if they want to... I know, right?), and it was easy.
Once you've got the soap grated, really the rest is quite simple.  All you're going to do is mix in the other ingredients and you're done!  I'd suggest multiplying this batch of laundry soap by a few so you've got a few months worth of detergent.
DIY Laundry Detergent
Ingredients
1 bar (5.5 ounces) Fels Naptha soap
1 cup washing soda
1 cup borax
Directions
Use a cheese grater to grate the soap.  Mix all ingredients together in a mixing bowl and stir together to combine them really well.  Alternatively you could pour them all into a ½ gallon jar and shake the ingredients to combine.  Recipe yields approximately 1 quart.  Use 1-2 tablespoons per load of laundry depending on what you are treating.  For front load washers, you can put the laundry detergent in the drum prior to adding clothes.
If this post has helped you, please pin it!  Also- follow All She Cooks on Pinterest!