Cooking Kale Recipes - Angel Hair Pasta with Kale
If there is one thing I've learned over the last couple of years its that eating recipes with kale is super beneficial for you.
I'm sure you've heard it.  Kale is a super food. One of those power foods that is loaded with nutrients that helps your body in so many ways. In fact, the nutritional benefits of kale are so numerous, its a wonder why someone wouldn't include it in their diet.
Not only is kale good for you, it's also an ingredient that tastes great--especially in my favorite Copycat Olive Garden Zuppa Toscana and this wonderful Angel Hair Pasta with Kale.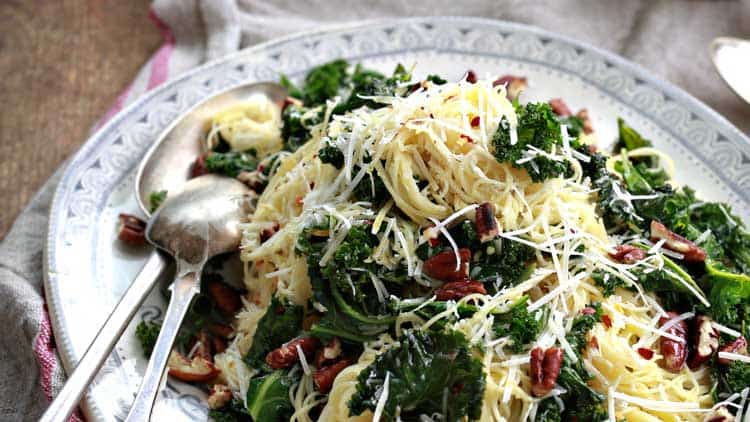 Add Easy Pasta Recipes to Meal Plan
I love Stuart O'Keefe's, The Quick Six Fix cookbook because it offers recipes that are just like the title describes- a quick fix to figuring out what's for dinner.
Here's the deal.
When you find recipes like the recipes in this book--recipes that are easy to make--hold on to them. Add them to your meal plan and recycle them.  Substitute ingredients to mix things up a little bit and you can use recipes on your meal plan over and over again--and it'll be like you're making a whole new recipe.
&
Put dinner on the table tonight with this easy recipe for Angel Hair Pasta with Kale.
You'll enjoy knowing that you're feeding your family a healthy meal in addition to something that just plain tastes out of this world impressive.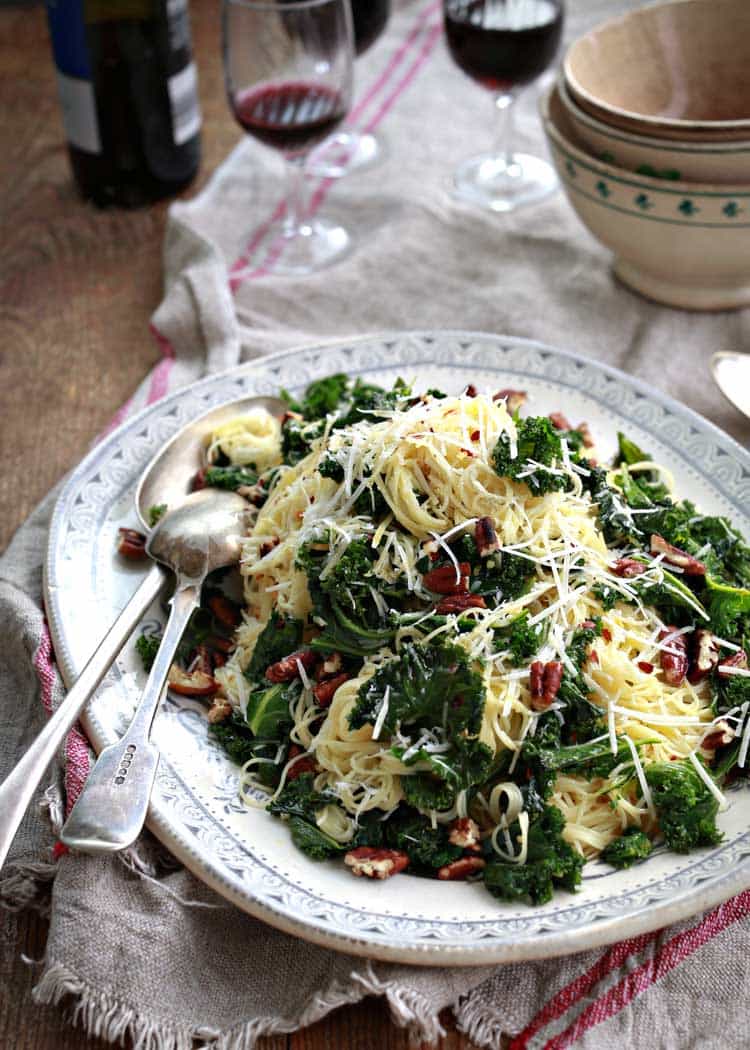 The nuts in this recipe give the dish an extra layer of flavor and a little bit of crunch. There is a little bit of bitter, some citrus, crunch and chili all combined together. This makes for a unique pasta dish that is SO SO good.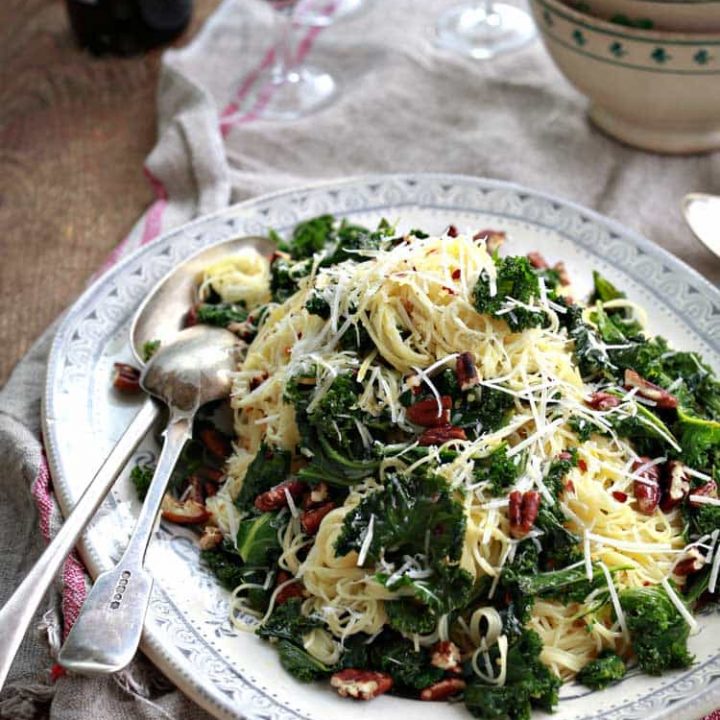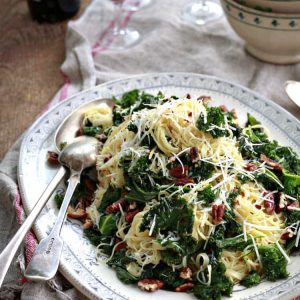 Angel Hair Pasta with Kale and Lemon
Angel Hair Pasta with Kale and Lemon is one the best way cook kale and enjoy a delicious superfood paired with pasta.
Instructions
Toast pecans in a dry nonstick skillet over medium heat for 3 minutes until fragrant. Remove from skillet and chop. Set aside.

Add 1 teaspoon of salt to a pot of water and bring to a boil. Cook the pasta for 1 minute less than the package instructs.

While the pasta is cooking, heat ¼ cup olive oil over medium-high heat in a large nonstick skillet until shimmering. Add the garlic and chili flakes and stir for 30 seconds until fragrant.

Add kale and lemon zest and cook for 2 minutes more. Stir carefully so that the kale will not fall out of the pan.

Add the pasta, remaining olive oil, lemon juice, basil, salt, and pepper. Toss until everything is coated.

Portion pasta onto plates. Sprinkle with the pecans and Parmesan cheese.

FYI: Keep in mind that angel hair pasta is very thin and cooks very quickly.

FYI: Toasting nuts releases their natural oils and flavors.
Nutrition
Calories:
802
kcal
Carbohydrates:
93
g
Protein:
21
g
Fat:
40
g
Saturated Fat:
6
g
Cholesterol:
4
mg
Sodium:
1273
mg
Potassium:
607
mg
Fiber:
5
g
Sugar:
4
g
Vitamin A:
5824
IU
Vitamin C:
69
mg
Calcium:
183
mg
Iron:
3
mg