Avocado Deviled Eggs are a spin on the classic deviled egg recipe. Creamy, protein-packed and bursting with vibrant flavors. Any avocado fan will love this avocado recipe!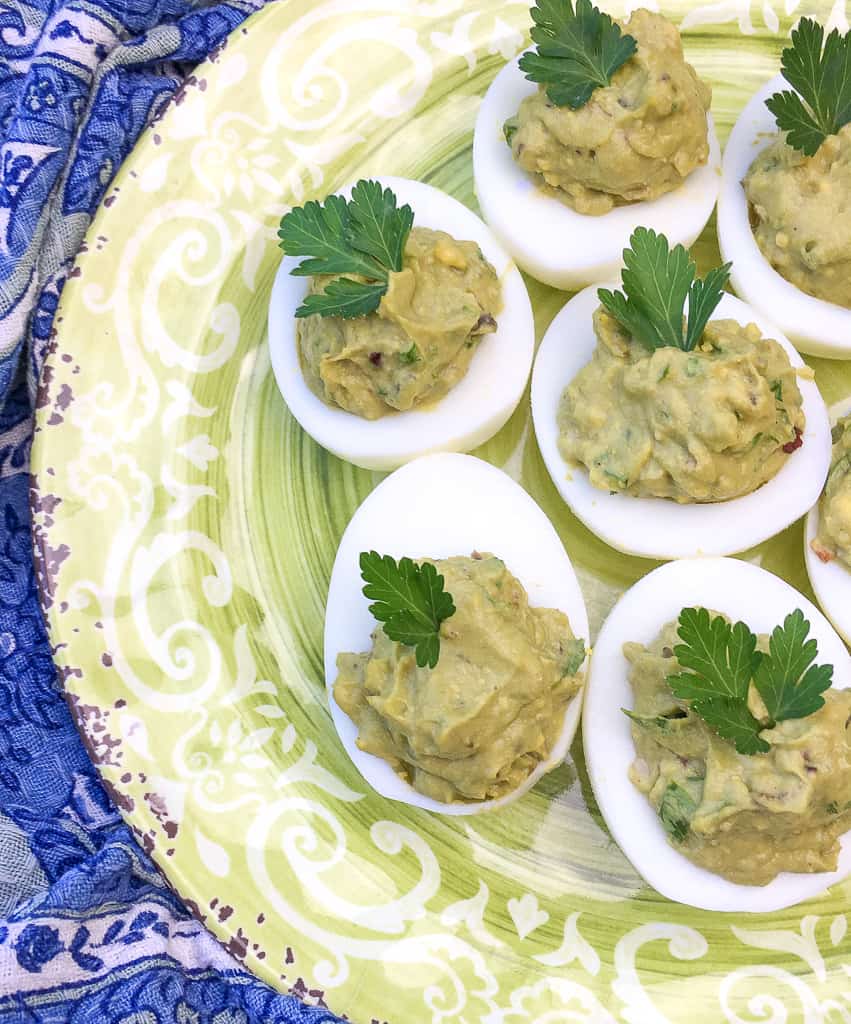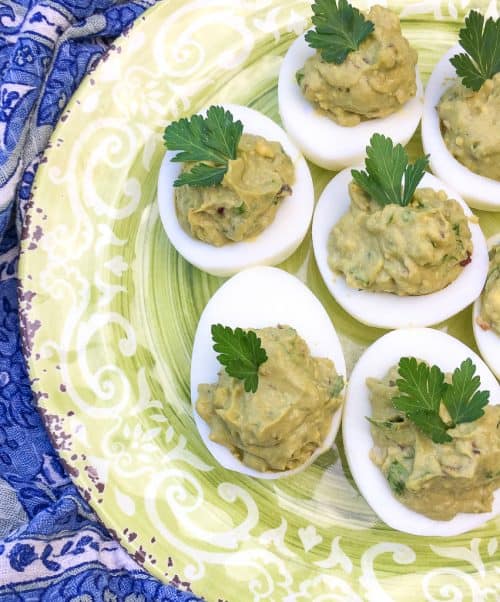 This avocado deviled eggs recipe is so simple, yet so brilliant on the flavor pairing. You do gain some heat from the crushed red pepper flakes, but you can easily adjust to your liking.
Make these healthy avocado deviled eggs for your next potluck, summer cookout, or even weekday snack!
Avocado Deviled Eggs
Let me walk you through on how to make avocado deviled eggs and troubleshoot any issues you might have when it comes to making these easy and delicious deviled eggs!
Craving More Appetizer Recipes
Spicy Tuna Cucumber Cup Appetizers | Bite-size stuffed cucumber cups that are filled with a spicy tuna. A quick and easy appetizer recipe that requires no baking.
Pesto Cheese Blossom | Any cheese lover will swoon over this cheese blossom recipe. A variety of cheeses come together for one incredible appetizer that offers a stunning presentation value.
Fried Pickles | Love Texas Roadhouse? Here is a copycat recipe for their fried pickles. Pair with your favorite dipping sauce for one savory appetizer anyone will come back for seconds.
How To Make Easy Peel Hard Boiled Eggs
I get asked all the time what an easy way to make easy peel hard-boiled eggs is? Vinegar!
Adding a bit of vinegar into the water of your eggs will help to make your eggs peel easily. This is a tried and true method I have done for years, and it always works wonders for me!
2 Pro Tips Methods For Peeling Eggs
Here are my two pro tip methods for an easy peel.
Mason Jar | Take a mason jar with a lid and add in an egg, pour in a little bit of water maybe ¼ of a cup. Then seal the jar and begin shaking. It will break up the eggshell, and you won't spend much time cracking and peeling off the shells.
Blow The Egg | Start by peeling off a small section off the bottom of the egg. Place your egg in your hand and have your palm covering it with our fingers making sure the bottom of the egg is exposed. Place your lips to the seal of the open section of the egg and blow hard into it, and it will break the egg out of the shell. I don't recommend this if you want to serve a ton of people the eggs, but it is a fun method to try.
Best Way to Hard Boil Eggs
Start by grabbing a large pot and adding your eggs in. Make sure not to overcrowd the eggs, and then add in cold water to cover the eggs by an inch or two.
Add in your vinegar, and then bring the pot to a rolling boil. Cover and turn off the heat, and allow the eggs to sit on the burner for around 11-12 minutes.
Then drain the eggs, rinse in cold water, and then peel once cool enough to handle. If you are in a hurry, put eggs in an ice water bath to cool them down a lot faster.
How To Make Deviled Eggs Ahead Of Time
You can make these deviled eggs ahead of time if you would like. I would recommend making the filling for the eggs and leaving it in a bowl separate from the eggs whites. Storing separate will offer the best quality of deviled eggs when you go to serve it.
Peel your eggs, slice and separate the yolks from the whites. Then place your egg whites on a platter, and wrap in plastic wrap tightly and place in the fridge.
Then whip up your avocado filling, and then store in a bowl or piping bag. Make sure to place plastic wrap directly on the surface of the mixture, to prevent the avocado from browning. Store in the fridge until you are ready to assemble.

How Long Will Deviled Eggs Last
You can keep your deviled eggs for up to three days. Anything after that, you will want to toss.
I always recommend using your best judgment in terms of if you feel the eggs are going bad before the three-day mark.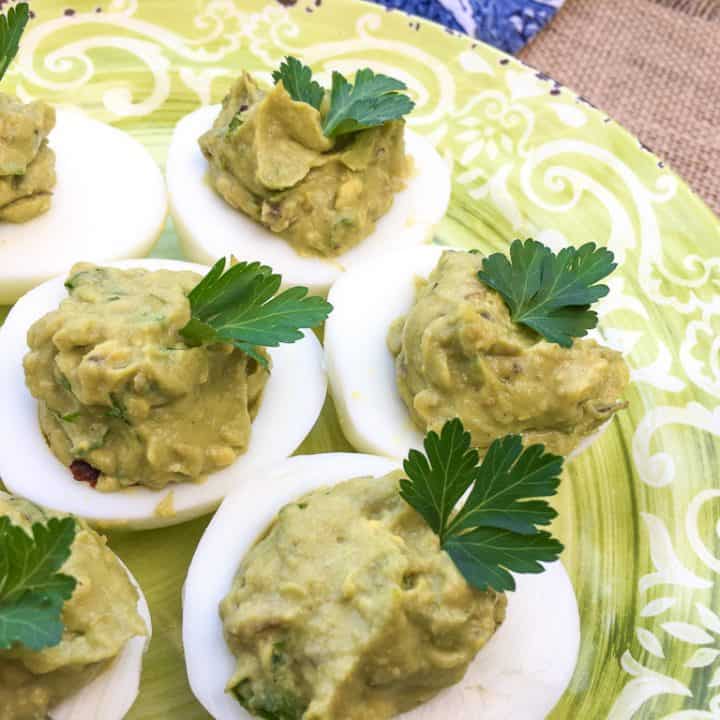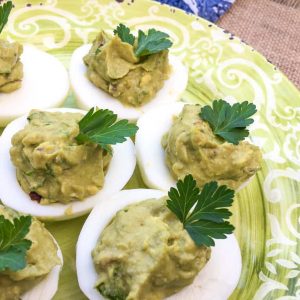 Avocado Deviled Eggs
Enjoy this spicy twist on deviled eggs. This Deviled Eggs recipe with avocado has red pepper flakes in it to give a spicy kick. Adjust the red pepper flakes measurement up or down depending on the amount of heat you like.
Instructions
Place eggs in a large pot and cover by an inch or two cold water. Add 2 tablespoons of white vinegar to the pot and bring to a rolling boil. The vinegar in the water will make it easier to peel the eggs. Cover and turn off heat. Let the eggs sit on burner, covered, for 11-12 minutes.

Drain the eggs and rinse in cold water to stop cooking process. Once cool enough to handle, gently peel and slice each egg in half lengthwise.

Carefully remove the yolks with a spoon and transfer to a small mixing bowl. Set the cooked egg whites aside.

Add the avocado, lemon juice,

avocado mayonnaise

, red pepper flakes, garlic powder, onion powder, and smoked paprika to the bowl with the yolks. Season with salt and black pepper, to taste, and mash everything together until thoroughly combined.

Fill each egg half with a tablespoon of the avocado mixture and top with fresh parsley. Serve immediately and enjoy!
Nutrition
Serving:
1
g
Calories:
307
kcal
Carbohydrates:
11
g
Protein:
13
g
Fat:
24
g
Saturated Fat:
5
g
Cholesterol:
328
mg
Sodium:
182
mg
Potassium:
635
mg
Fiber:
7
g
Sugar:
1
g
Vitamin A:
1146
IU
Vitamin C:
15
mg
Calcium:
65
mg
Iron:
2
mg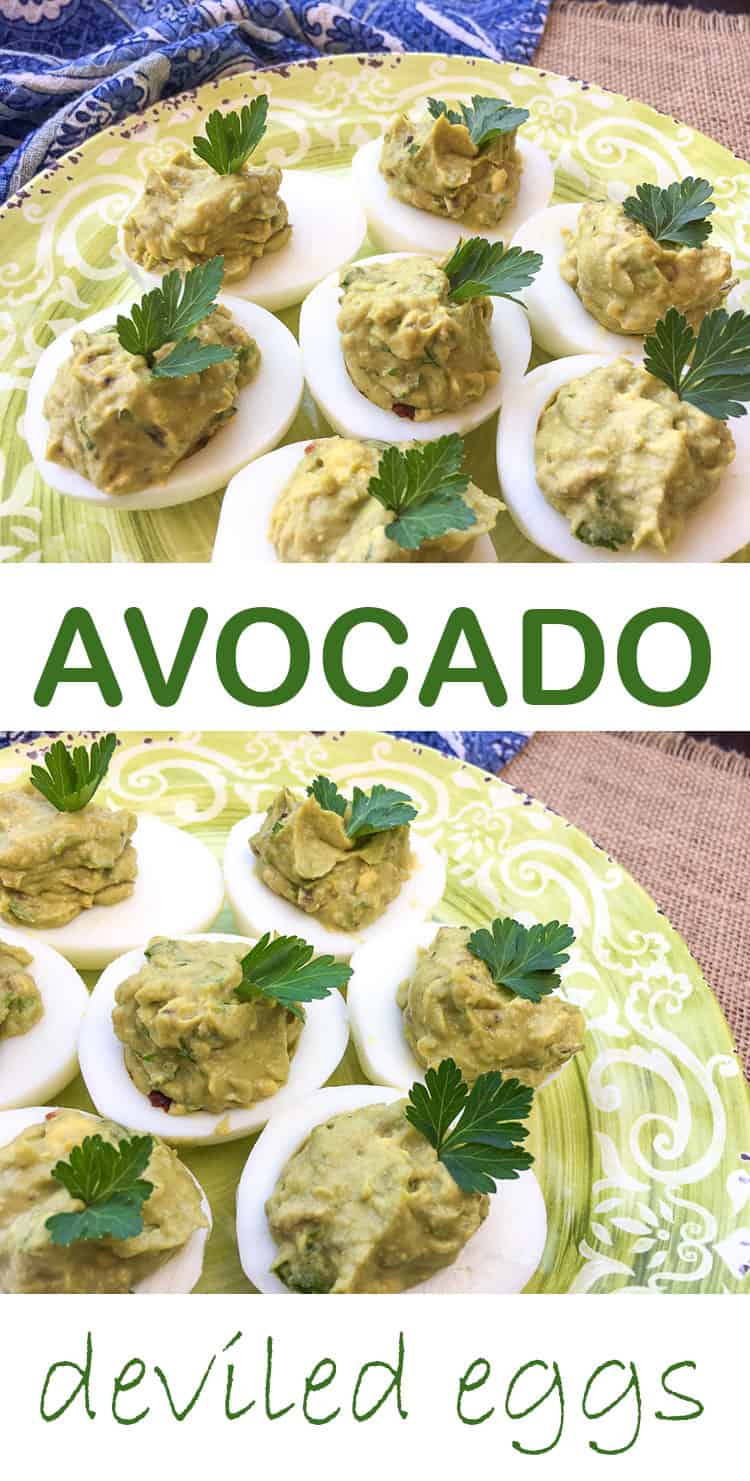 Have you ever tried an avocado deviled egg before?