Bacon Water Chestnuts are an easy and quick appetizer to serve up as a game day snack or holiday appetizer. Crunchy, savory, meaty, and a one-bite treat.
To elevate the flavors of these bite-size chestnuts, I added a homemade spicy mustard dip that kicks up the flavor. Water chestnuts and bacon are a quick and easy finger food to make for any occasion or snack.
I am always on the hunt for easy recipes for serving up family and friends. I needed a quick dish for unexpected guests coming over last week, and I quickly reached in the fridge and pantry and whipped up my go-to water chestnuts recipe.
A little bacon, a homemade dip, equals happy taste buds all around.
Bacon Water Chestnuts
You might be thinking this recipe is similar to, Rumaki. But, we don't use chicken liver and brown sugar as the traditional recipe. I am not a big fan of liver, so bacon works just fine for me.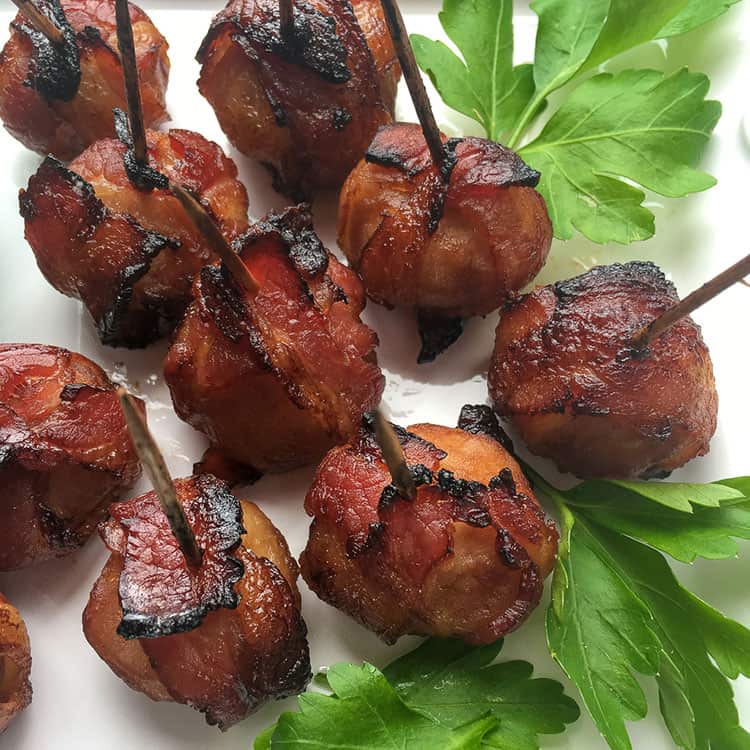 Craving more bite-size appetizers
Spicy Tuna Cucumber Cup Appetizers | If you are a fan of tuna, you have to give these cucumber cups a try! These are excellent, light, and refreshing with a bit of a spicy kick to them.
Pesto Cheese Blossom | Calling all cheese lovers! This pesto cheese blossom offers a stunning presentation but also bold flavors. I love pesto paired next to the cheese, and this recipe is dynamite.
Avocado Deviled Eggs | Any avocado lover will do backflips over this deviled egg recipe. A twist to a classic deviled egg that offers the creamy avocado flavor in every single bite.
Best Way To Keep Bacon Securely Wrapped on Water Chestnuts
You will need to buy some wooden toothpicks to stick into each chestnut. This is the best way to ensure that bacon stays wrapped around the chestnut as it bakes up in the oven.
Can You Reheat Leftover Bacon and Water Chestnut Wraps
Yes. They are best when served fresh, but if you don't eat them all, toss any leftovers in the fridge in an airtight container. They will store up to three days before you need to toss them out.
The best way to reheat is to place in microwave for a quick reheat or place on a baking sheet and warm up in the oven for a crispier texture.
Can You Freeze Water Chestnuts
Sadly, no. Water chestnuts will not hold up well once you go to thawing them and will break down and become mushy. You will not want to freeze any leftovers, as they won't hold up.
How to Make Bacon Wrapped Water Chestnuts
The first thing you want to do is prep your bacon, by cutting into three equal parts. Then in a bowl mix your soy sauce and honey to create a marinade for your chestnuts. Soak them for around 30 minutes, and stir them at least three times during the marinading time.
Once your water chestnuts are done marinading turn oven on and get it preheating. Then spray down your baking sheet with cooking spray, and set aside.
Then you drain marinade, and begin wrapping your chestnuts in the bacon pieces and securing with a toothpick. I do two slices of bacon per chestnut. Then place them on a baking sheet to cook, until the bacon is done, which takes around 20 minutes.
After they are done, you will whip up your dip in a small bowl, and then serve next to your warm appetizers.
What Size Water Chestnuts Do You Use For This Recipe
I scan over the cans at the store and buy what is called either jumbo or fancy. The larger the water chestnuts, the easier it will be to get the bacon piece wrapped and secured onto the chestnut. The smaller sized ones will work, you just will have a harder time prepping them.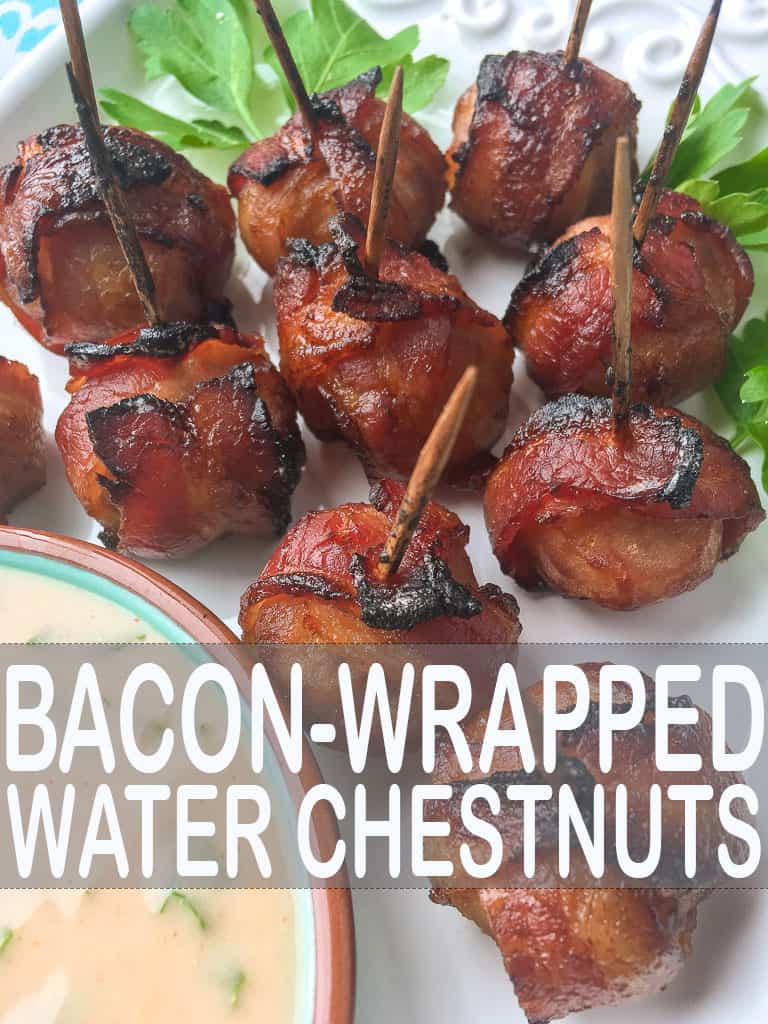 Supplies to Have on Hand for Appetizers
Appetizer Toothpicks
Serving Tray
Serving Bowl for Dipping Sauce
Can I Serve This Bacon Appetizer Without Mustard Sauce
Yes. If you don't think you will want the sauce, feel free to skip making it. We just love the sauce because it adds so much tang and zest to the recipe, but don't feel you have to use it.
If you are on the hunt for affordable appetizers or even a snack, give my recipe a try. We have made this for years, and it is always a success, and even those who don't spend a ton of time in the kitchen do well making these wrapped bacon chestnuts.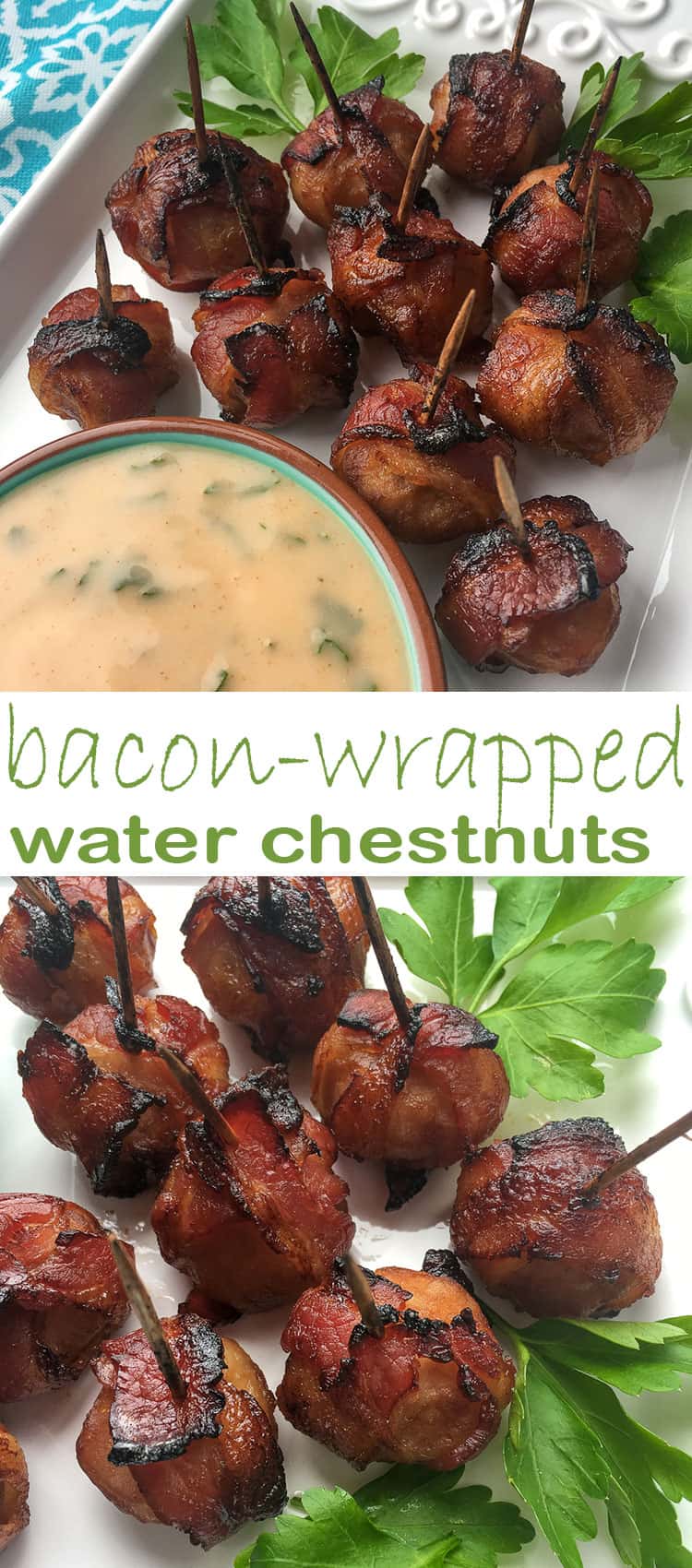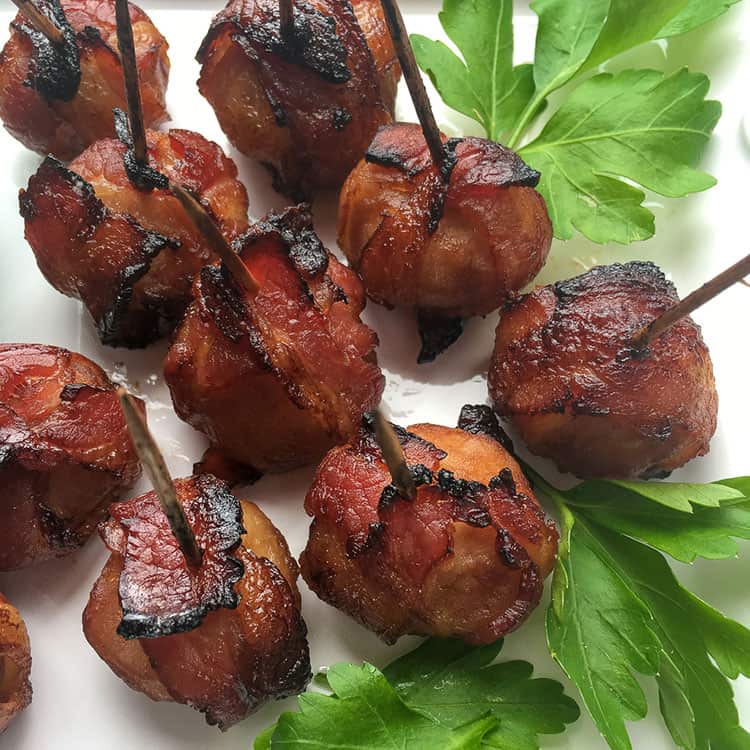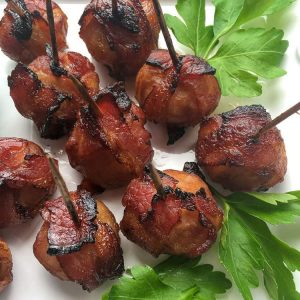 Bacon Water Chestnuts with Spicy Mustard Dip
Ready for a delicious little appetizer reminiscent of the classic Rumaki? These Bacon-wrapped Water Chestnuts skip the chicken livers and brown sugar. Instead, honey sweetens the appetizer and a spicy mustard dip heats things up.
Instructions
1. Cut bacon strips in half lengthwise, then cut each thin strip into 3 equal sections for a total of 48 pieces. Set aside.

2. Mix soy sauce and honey in a medium mixing bowl. Add water chestnuts and turn to coat. Marinate at room temperature for approximately 30 minutes, turning water chestnuts 2-3 times during that time.

3. Preheat oven to 400°F and place a metal rack inside a large, rimmed baking sheet. Spray rack with non-stick cooking spray and set aside.

4. Drain water chestnuts, but reserve the marinade. Wrap each water chestnut with a piece of bacon, then repeat with a second strip on the opposite side. Secure both pieces of bacon with a toothpick and place on baking rack.

5. Repeat with remaining water chestnuts. Each appetizer with reserved marinade on all sides. Place prepared baking sheet in preheated oven for 20 minutes, then remove from oven and brush with more marinade before returning to oven for another 10-15 minutes.

6. While the water chestnuts are roasting, combine Greek yogurt, Dijon mustard, hot sauce, cayenne pepper, and parsley in a small bowl. Season salt and black pepper, to taste. Cover and place in the refrigerator until ready to serve.

7. When finished, remove the bacon-wrapped water chestnuts from the oven and serve immediately with the spicy mustard sauce for dipping. Enjoy!
Nutrition
Calories:
183
kcal
Carbohydrates:
11
g
Protein:
8
g
Fat:
12
g
Saturated Fat:
4
g
Cholesterol:
21
mg
Sodium:
1053
mg
Potassium:
137
mg
Fiber:
1
g
Sugar:
10
g
Vitamin A:
158
IU
Vitamin C:
3
mg
Calcium:
36
mg
Iron:
1
mg