If you want to pretend you're chilling out on a beach, one of the surest ways to soak up that beach vibe is to don a pair of shades and slowly sip a tropical drink.
Tropical Fresh Banana Daiquiri Recipe
I can't think of much to compare with the delicate flavor of a banana daiquiri. We're talking about a fruit that has a sweet flavor that is often understated and more often than not accompanied by some form of sugar or nuts to cheer up its lonely self.
However, this tasty recipe relies on good old fashioned bananas, some essential ingredients of the alcohol variety, and a sprinkle of sugar to add to the sweet flavor of this frothy drink.
If you're looking for a step up from your favorite banana smoothie and want a grown up cocktail (I'm talking to the over 21 set--and if you're not over 21, go make banana bread instead. Ha!), then this is the drink for you. I'm not one to adhere to labels, but this drink definitely has all the bearings of your stereotypical 'girly drink'. That being said--I'll have to clarify that I've seen plenty of ladies slamming back shots, sipping on a beer, or enjoying a whiskey and coke.
I'm going to go out on a limb and change up the definition of a 'girly drink' to mean a sweet concoction with alcohol. See, it's sweet--that's it. Guys can--and do--drink them too. They just might not admit it. And too bad for them, because if they don't then they are truly missing out!
And we like a kick butt rum punch as much as the next person.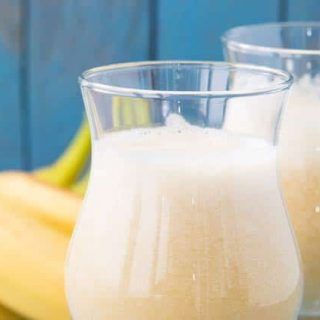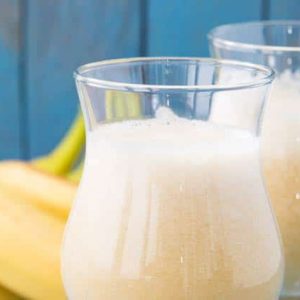 Banana Daiquiri
Easy Cocktail Recipes. Banana Daiquiri Recipe. Looking for the perfect tropical cocktail? Whether you're searching for a girlie drink or just like banana drinks, you've hit the mark with this banana recipe.
Ingredients
1

cup

ice

1 ½

ounce

light rum

1

tablespoon

triple sec

1

banana

1 ½

ounce

lime juice

1

tsp

sugar

1

cherry
Instructions
This drink is so easy to make. Combine all ingredients with the exception of the cherry with 1 cup ice in a

blender

. Blend until ice is frothy and ingredients are evenly incorporated. Pour contents into a champagne flute or other fun glass, top with the cherry to garnish if desired, and serve.
Nutrition
Calories:
281
kcal
Carbohydrates:
41
g
Protein:
2
g
Fat:
1
g
Saturated Fat:
1
g
Sodium:
16
mg
Potassium:
472
mg
Fiber:
3
g
Sugar:
25
g
Vitamin A:
76
IU
Vitamin C:
23
mg
Iron:
1
mg
Banana Daiquiris are one of those drinks you can sip in the sun and feel good about.
I mean, lets think about it. Sure--you've got a bit of alcohol in there, but you've also got a whole ENTIRE banana. Now, do something wild and make a couple of tropical fruit kabobs and use those as garnish--you know, kind of like how you see those entirely bulky loaded down Bloody Marys?
You can totally pimp out this Banana Daiquiri recipe and make this drink a light snack as you chow down on your daily allowance of fruit. Yum!
Save
Save
Save
Save
Save