Simple Banana Smoothie
I heart bananas.  Love them.
Banana shakes, banana muffins, banana bread.  Bananas with chocolate, bananas in baking or breakfasts like Chocolate Chocolate waffles (yeah, even those can have bananas).  I mean, what's not to love about bananas.
What's even more, I simply love a really easy smoothie recipe. Get out your blender and let's get blending with this easy 3-ingredient smoothie recipe. (And can I just tell you how much I love blending with the Ninja Professional Blender? It's amazing!).
For some reason, I used to tend to over-think smoothies.  I would put in way too many ingredients and that just doesn't work.  For a smoothie, simple is where it is at.  Just a few ingredients that compliment each other, don't try to compete with each other, and are so smooth when blended together.  Smoothie perfection.
Banana Foot Cramp Cure
Ever have a nasty foot cramp?  I used to have them all the time when I was pregnant, and my mother-in-law told me to eat a banana every day because of the potassium.  It really does work.  Kinda like an apple a day, except in this case its a banana.
Even if you're not suffering from a foot cramp, a banana smoothie on a hot day is just right.  Not a banana-lover?  Swap out the banana for some strawberries, peaches, or some other fruit or berry.  Add in a little flax seed for an extra health kick.
Now, you could make this in a regular old blender... or, you could prepare this in a Mason jar. It's really quite simple.
Are you kidding me? (Kinda like those Mason jar salads)
So seriously.  Go, check it out!  Really.  Because it makes preparing a smoothie at breakfast or for an after school snack super fast and super easy.  And who doesn't want to get a little more of a healthy boost to their morning?  I know I do!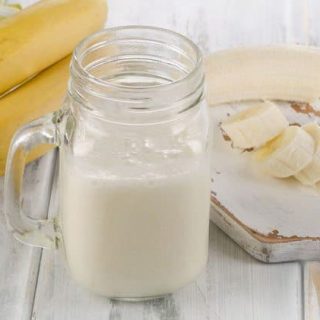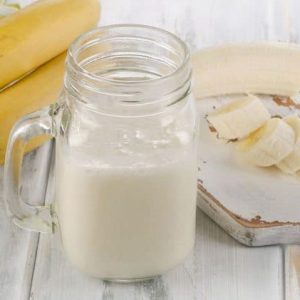 Simple Banana Smoothie- 3 Ingredients
Super Easy Banana Smoothie. This is the Best Banana Smoothie. It's simple. It's easy. And its just three ingredients. So get out your blender and get blending!
Instructions
Put ingredients in a blender jar and blend. Enjoy!
Nutrition
Calories:
217
kcal
Carbohydrates:
53
g
Protein:
3
g
Fat:
1
g
Saturated Fat:
1
g
Sodium:
15
mg
Potassium:
918
mg
Fiber:
4
g
Sugar:
35
g
Vitamin A:
572
IU
Vitamin C:
134
mg
Calcium:
27
mg
Iron:
1
mg
Save
Save
Save